In a Nutshell:
Offered by Invacare, one of the most respected companies in the industry, the Crossfire is a superb manual, all-terrain wheelchair you can customize to your heart's content. Recommended for anyone looking for a great outdoor wheelchair you can use inside in a pinch.
Ready for anything.
That's the first phrase that will probably come to mind when you see the Top End Crossfire All Terrain Wheelchair for the first time. It has the appearance of a lean, rugged adventure chair that's capable of taking you anywhere, and that's exactly what it is.
This is an amazing mobility aid for a couple of different reasons. One, it's offered by one of the most respected names in the industry, which means quality and world-class support. Two, the Crossfire isn't so much a wheelchair as it is a template.
Most of this review's content is located in the "Extras and Customization" section because just about every aspect of this model can be customized to taste. Because of that, there aren't many "baseline stats" for the model.
All we can say here is that the chair is proudly made in the USA, comes with a lifetime warranty, weighs in at a modest 19.5 pounds, and has a maximum weight capacity of 250 pounds. Everything else can be changed by each individual ordering one and customized to taste.
It's no surprise then, that the Crossfire ranked highly in our recent roundup review, placing a solid third on the list of the best manual all-terrain wheelchairs for sale today, and winning the award for best overall value in its class.
If you're in the market for a go-anywhere chair, we think you're going to love this one. In the sections that follow, we'll outline everything this thoroughbred can do so you can decide for yourself if it's the model you've been looking for. If that sounds good to you, let's jump right in and get to it!
An Overview of the Invacare Top End Crossfire All Terrain Wheelchair
Adjustability & Comfort
We're going to make this a short section and refer you immediately to the section on "Extras," because virtually every aspect of the chair can be custom-ordered to ensure that it fits you like a glove. With that in mind, you'll want to take careful measurements, so you get precisely the chair you want.
Once you get it, your adjustment options will be limited to tweaking the angle of the backrest, but on the front end, at the point of sale, you can customize to the point that no further adjustments will be needed when it arrives at your doorstep.
No Extras Offered, But Virtually Unlimited Customizability
Invacare doesn't sell any "extras" that are designed specifically for the Crossfire, but most aftermarket products intended for conventional wheelchairs should work if you find yourself wanting something after you've completed your purchase.
The real strength of this design, however, lies in the fact that the company allows you to customize just about every aspect of the chair before they ship it to you. We'll go over the options in this section, which will be the longest portion of our Invacare Top End Crossfire All Terrain Wheelchair review.
Customization Options
Color
Let's start with color. The Crossfire can be ordered in any of the following:
Seat Dimensions
Seat depth can be ordered to fit, ranging from 14" to 20" wide.
The seat of the Crossfire is angled, so there's not just one "seat to floor height," but two, as measured from the front of the seat, and as measured again from the back of the seat.
The front-of-seat height can be ordered in a range between 19" to 21". The back-of-seat height between 16" and 20," so you've got a surprising amount of play here, to adjust the angle at which you'll be sitting.
Then, you can specify the chair's center of gravity, choosing either "Active Position" (1.25" to 5.5") or "Extended Position" (-2.25" to 2") – extra fee for selecting this second option.
The seat width can be ordered in a range between 14" and 20," and where the back height is concerned, you can select from one of the following options: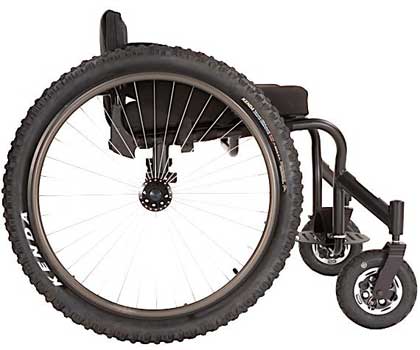 The default back type is a folding, lock-down back, but for an extra charge, you can change that to one of the following:
Upholstery and Cushioning
Where the back upholstery is concerned, the default configuration of the Crossfire is an adjustable tension back, but for an extra fee, you can upgrade this to fold-over upholstery. The default color of the upholstery is black, but again, for an additional charge, you can opt for either desert or woodland camo if you prefer.
Where the seat cushion itself is concerned, you've got half a dozen options to choose from:
All of these will add a nominal charge to the total price of the unit, but the bottom line is that you can make it as comfortable as you'd like.
Side Guard
If you thought you were getting close to the end where the customization options are concerned, think again! Once you select your cushioning, you get to pick out what type of side guard you want:
Next up: What kind of footrest do you want? You can select from adjustable (both height and angle), or 2" risers.
Wheel Rims, Spokes, and Tires
After that, you can select your rear wheels, choosing from:
The first two of these options (Sun Spoke Rims) can be selected without increasing the cost of the chair. All the rest will add several hundred dollars to your final price.
Where the tires themselves are concerned, you've got two choices: either grey knobby (24" x 2") or black knobby (25" x 2.5").
Rear Wheel Axle and Camber
Then there are the axles to consider for your Crossfire. Three options here:
Four different camber angle options:
Hand Rim
After that, you've got a wide range of hand rim options, including:
Positioning Straps and Mounting Options
The following ere are your positioning strap options:
And mounting options:
Wheelchair Accessories
Finally, the company lists a number of accessories, but most of these, we regard as essential. Not everyone will want or need everything listed here, but we don't view these as "accessories" per se. In any case, you can select from:
The following ere are your positioning strap options:
Whew, are you tired yet?
As you can see, you've got tons of options and almost unlimited flexibility regarding getting exactly the chair you want. In fact, there are so many options that you may need help selecting the ones that are right for you. If so, again, the company is Invacare. They've got world-class support and will hold your hand through the entire process if you need some extra help.
The bottom line is, there's no reason under the sun that your Crossfire shouldn't fit you perfectly when it arrives at your doorstep. You've got control over virtually every aspect of its design.
Extremely Portable
In addition to being almost infinitely customizable, the Crossfire only weighs 19.5 pounds, which means you can toss it in the trunk, or the back seat of most cars and take it wherever you want to go. Storage and transport is no problem at all.
Very Easy to Use
In a similar vein, there is no learning curve associated with the Crossfire. It works like any other conventional wheelchair, only better, because you get to design it such that it's a perfect fit!
---
Pros & Cons of Top End Crossfire All-Terrain Wheelchair
Since you can change just about every element of the chair, you can make it however you like. Given that, it's hard to find a downside to the Crossfire, except perhaps for its price. All those customization options don't come cheap.
Yes, you'll get precisely the chair you want, designed for exactly the way you plan to use it, but you'll pay a premium for it. We consider that to be a fair trade, and this is definitely a case of getting what you pay for.
---
Top End Crossfire All Terrain Wheelchair Review Conclusion
We love Invacare's Top End Crossfire All Terrain Wheelchair, and we think you will too. Most mainstream companies offer a handful of branded products with a limited number of customization options. Invacare has taken things to the next level with the Crossfire, and their efforts have paid off.
It's one of the best manual all-terrain wheelchairs on the market today, and well-deserving of its solid 3rd place finish on our recent roundup review. Highly recommended.
---
References & Resources: