Bean bag chairs are a fun and inexpensive type of furniture that many of us probably remember from when we were kids. They continue to be a great option for something simple and comfortable. Even the most intricate types of bean bag chairs are less expensive than a sofa.
Let's take a look at the concept of a bean bag chair, the various types you can find, and the history of this iconic design.
What Is a Bean Bag Chair?
The concept of a bean bag chair is simple: it's a large bag of fabric filled with beads. These beads or dried beans in some cases. The material within them varies based on the type of chair.
These types of chairs are preferable for those who are trying to conserve space. They take up less space, on average than a typical chair or couch. Various types of materials are used for the interior and exterior.
In some cases, the outside can be made from fabric, leather, suede, corduroy, or even synthetic fur. It's a practical piece of furniture that adapts to the shape of anyone sitting in it, which makes it versatile for all type of body shapes.
There are also multiple sizes for children or adults. Read on to find out what types are available.
Types of Bean Bag Chairs: Shapes, Sizes, and Filling
There are three main characteristics of bean bag chairs: shape, size, and filling. These aspects define the type of chair. Here are the options for each:
Bean Bag Chair Shapes
Novelty Chairs – You can find bean-bags for kids that come in all kinds of fun shapes and designs. There are chairs shaped like animals, sports equipment, and even emojis.
Large and Long – If you're trying to seat several people, some bean bag chairs come in massive sizes that stretch out and offer multiple seating options.
Bean Bag Sizes
Beyond the shape of your chair, you'll also want to consider the size. Here are your options:
Kids Sizes – The ideal bean bag chairs for children are small and mainly for kids who are up to 4'6" tall. They often have a circumference between 110 and 120 inches in total.
Teen Bean Bags – For the young adults in your life, up to 5'2", there are larger bean bags that range between 130 and 140 in circumference.
Adult Bean Bags – Large bean bags are meant for adults up to six feet in height. They have a size between 140 and 150 inches around and are great for full-grown people.
Massive Bean Bag Chairs – If you really want something huge, you can find bean bags up to 180 inches in circumference. These are for very tall people or for multiple users.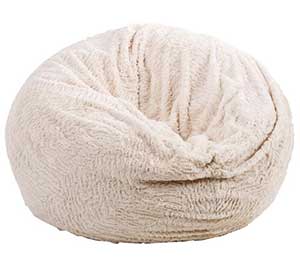 Bean Bag Fillings
The final characteristic that defines your type of bean bag chair, is the filling. There are several options you will come across here, each of which can affect the comfort and rigidness of the bean bag chair.
Polystyrene beads – These are small beads that can be moved and shifted easily within the confines of a bean bag. They allow you to collapse into the chair and be enveloped by it. A very comfortable option.
Shredded foam – Some bean bags are made with shredded foam filler that contains polyurethane foam, which is used for cushions.
Expanded Polypropylene – These are beads that are popular in Asia. They are extremely powerful. If you try to crush them, they will simply return to their original size. Having them inside of a bean bag chair means that it will return to its original shape when you get up.
A History of Beans Bag Chairs
The first successful bean bag chair was called Sacco. It was introduced in 1968 by three Italian designers:
Piero Gatti
Cesare Paolini
Franco Teodoro
It was created during the Italian Modernism movement. Since this was a post-war movement, it gave rise to new manufacturing processes. Given the focus on design and the various movements happening during this era, the shapeless chair Sacco was born.
Sacco was the first successful product created in partnership with Zanotta. It's predecessor, known as "Blow" was not able to sustain its form and never reached the production stage. Sacco used leather for the exterior and proper stitching to fix this flaw.
The targeted audience of this chair was the hippie community and the concept of non-conformist households. The launch of such a chair was meant to be an attack on good bourgeois taste, and a non-chair to combat conformity.
Other designers took the concept of a shapeless chair and ran with it. The most successful would be the Fatboy made by Jukka Setala. It launched in 2002 and brought this Finnish designer into the global limelight.
A Relaxing and Casual Furniture Design
While there are several types of beans bag chairs, they all have one thing in common: a casual and relaxing design. These chairs are easy to implement into any room and are very cheap in comparison to most other types of furniture.
They are great for additional seating, or as lounging chairs during long gaming marathons. Even if most of your furniture is fancy, everyone could use a good bean bag chair.
---