​The director's chair is an iconic piece of furniture that almost anyone will recognize immediately. There are several types of director's chairs out there, but all of them offer a comfortable and simple way to establish the person in charge.
Let's take a look at the available options for director's chairs today and where they originated. You'll be all set for your next film shoot!
An Overview of the Director's Chair
The director's chair is an iconic design used in film sets, studios, and many other places. Not only does it offer a simple and comfortable place to sit on, but they are often embroidered with names or branding giving them a personal feel.
There's nothing quite like a director's chair with your unique brand logo and color scheme. If you're in the business of helping customers, it can also make them feel like the star of the show.
While there are different types of director's chairs, the concept remains largely the same between each one. They are usually very light and easy to carry. They fold open and create a crossed frame beneath the chair that keeps it from moving.
The back and seat can be made from various materials, but are created with a taut piece of cloth or fabric that runs across the seat and back area.
With a low backrest and armrests, it's an incredibly functional design. The name "director's chair" comes from the classic image of famous movie directors using these types of chairs on their sets.
While the historical roots of director's chairs go back even further, they have become an easily recognizable design.
​Types of Director's Chairs & Customization Options
There are various types of director's seats that companies offer, but they most often come in a set selection of styles. The design is relatively the same between each one. The frame can be made of wood or metal.
Here are the types you'll come across:
​Classic Design
This is the original design that sparked the image of a director sitting and calling shots just outside the set. These chairs come in a standard height of eighteen inches and utilize canvas for the seat and backrest.
The most common material for the frame is wood with paddle-shaped armrests.
​Commercial Series
This type of director's chair comes in larger heights ranging from twenty-four to thirty inches. They use canvas for the seat and backrest as well. The main difference here is the height options.
Higher chairs can be used in different settings like restaurants or bars, for example.
​Star Director Chairs
These types of director chairs offer a similar design at lower costs. They come in three different heights and utilize canvas. While they have a lower weight capacity than higher-end chairs, they're great for those who are shopping on a budget.
Elite Series Chairs
For those who want nothing less than the best, there are elite options available. These have frames made from premium materials like bamboo or elm wood. They also have padded cushions for seating, as opposed to the standard canvas.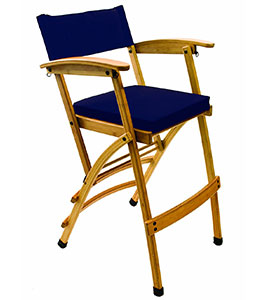 They come in a variety of heights and are manufactured with high-quality materials that are stain-resistant.
​Embroidering and Color Options
The most appealing aspect of director's chairs is the ability to customize them in a lot of different ways. Depending on which company you are working with, you'll have several options:
​Color logos
​Text or names
A variety of sizes
​Heat sealed for a long lifespan
The best types of image application are the ones that utilize heat to transfer images onto the canvas or fabric. These are a cost-effective means of applying a logo or vector-based file onto the surface of a chair.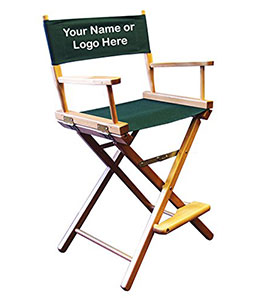 Custom embroidery is also a viable option for customization purposes. Simple text can be applied to the canvas if you want to highlight a name or position. Custom options allow you to apply an image using embroidered threads.
Finally, you can choose from different types of frames and colors. The frames are made of wood or metal but also come in different colors. The color of the canvas or material on the chair is also customizable with a variety of different colors.
​The History of The Iconic Director's Chair
The origins of the director's seat go back to the 15th century and perhaps even further. The modern design closely resembles the coffee-maker chairs used during that time. We're going to go back even further, however, to the Curule Chairs of the Roman Empire.
This style of chair was used during the ancient times of the Roman Empire exclusively for powerful people of high regard. It came in two distinct styles. One of them resembles a stool with curved legs and a cushion top.
The other design is very similar to what we know today. Criss-crossed scissor legs with ornate armrests and a low back. The chair quickly became a symbol of power in other parts of the world as well.
Famous kinds across Europe often had this style of chair, and even Napoleon was known to use one as well. The director's chair as we know it didn't make its debut in America until the late 1800's.
The Gold Medal Classic design was the winner of an award at the 1893 World's Fair in Chicago. Today you can find that same design manufactured by The Lord's Table Inc.
Final Thoughts: Types of Director's Chairs
All the different types of director's chairs have something in common: an association with importance and power. If you're sitting in a director's seat, you feel important.
The historical roots that date back to the Roman Empire prove that this design has always been associated with greatness. Today these chairs can be used for all kinds of seating, not just directors.
Whether you're a movie star or you want a personalized seat to call your own, a director's chair could be the perfect fit!
---