What Is An Event Chair?
Event chairs fall into one of two major types.
Those designed for indoor events are more commonly referred to as banquet chairs. These are lightweight, durable, four-legged, stackable or folding chair with no armrests used to provide short-term seating for events like banquets, from which its name is derived.
The second type of event chair is designed for outdoor events and are collapsible, with extremely short legs (so very low to the ground) and almost always made of canvas.
Main Usage
As the name implies, this type of seating is used in events, whether indoors or out, including:
Outdoor Concerts
Camping Trips
Celebratory Dinners
​​​​​​​​And the like. The defining feature of event chairs regardless of the type is their portability and ease of storage between events.
Different Types of Chairs for Events
As mentioned earlier, there are two primary types of event chairs. Those designed for indoor events, and those designed for outdoor events.
Indoor event chairs are also known as Banquet Chairs, and you can find the complete description of this sub-type in this article.
Outdoor Event Chairs are sometimes confused with Director's Chairs. It's a common mistake, but although both are collapsible and highly portable, the Event Chair sits very low to the ground, courtesy of its extremely short legs, and often has convenience features like cup holders.
The Director's Chair has significantly longer legs, giving the Director a better view of his surroundings, which is useful when overseeing filming.
Because people typically bring their chairs to outdoor events if and where they use them at all, they are designed to be extremely portable and made from lightweight aluminum and canvas.
Different Types of Wedding Chairs and Their Names
As the name indicates, wedding chairs are used for seating during weddings. As we mentioned earlier in the main article, the go-to choice for wedding seating is the Banquet Chair, which traces its roots back to Renaissance Italy and the development of the Chiavari Chair. Although that's certainly the most common type of chair for weddings, there are many other different types of wedding chairs you could use, depending on the tone and aesthetic of the wedding you have planned.
None of the different types of chairs used for weddings we'll talk about are great for long-term seating but are perfect for short durations, which is about all you'll need for a wedding ceremony. We'll give each a brief mention, just below:
Banquet Chair (Chiavari Chair)
We'll talk about this one first, even though we've already given it a mention previously. Of the types of wedding chairs available, the Banquet Chair is far and away the most commonly used and traces its roots back to the Chiavari Chair, which was born in Renaissance Italy. They're simple, straight-backed chairs designed for mass production that can be stacked for storage when not in use.
Most offer to cushion only on the seat itself, although it is possible to find Banquet Chairs with a nominal amount of cushioning in the seat back.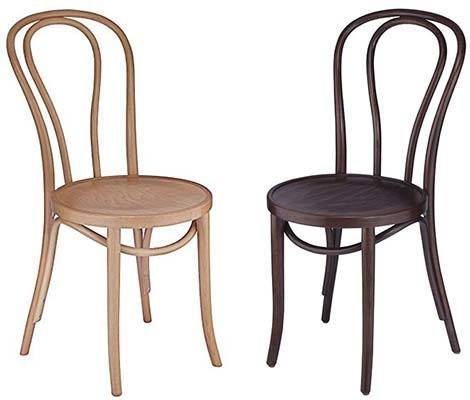 Bentwood Café Chair
Popularized by Michael Thonet in the 1800s, these chairs provide a laid-back elegance and add character and style to any event. Unlike many other types of chairs used at weddings, this isn't one you'll want to cover. They're too stylish in their own right!
As with the Cross-back chair (below), this is a great type of seating if you plan to have an outdoor wedding at a farm, garden or vineyard.
Chameleon Chair
These simple metal-framed chairs are seldom seen in their native (uncovered) form because they're specifically designed to be draped in fabric or otherwise covered. There are tons of different types of wedding chair covers (and sashes) you can use, including:
Lycra covers – Also known as spandex covers) provide a clean, contemporary finish.
Chiavari covers – Ideal for those who are looking to add a touch of class and elegance; these covers offer a shiny finish and are usually embroidered and ruffled.
Scuba covers – A stretchy cover that can be fitted over a variety of different types of chairs for weddings that offers a more comfortable, luxuriant seating experience than other types of covers.
Satin covers – A shiny, luxuriant type of covering that's a bit more expensive than other options but adds an undeniable touch of class to your big event.
Universal covers – An inexpensive chair cover designed to fit over multiple types of wedding ceremony chairs. They're designed more for looks than added comfort.
Polyester covers – One of the most common (and inexpensive) types of chair covers, polyester covers are made for all types of chairs used for weddings. As with Universal covers, their main function is to add a touch of elegance to the proceedings, rather than to provide added comfort.
Note that in addition to improving the aesthetic of your wedding and reception, covers are also a great, convenient way to give your seating a uniform appearance if, for whatever reason, you have to use multiple different types of chairs for your wedding reception.
Cross-back Chair
Of all the types of chairs used at weddings, these are among the most popular if you're holding an outdoor reception or ceremony at a farm, garden or vineyard. Their Tuscan-inspired styling, wood finish, and cross-back design add a rustic-yet-elegant feel to the event.
English Garden Chair
These wrought iron chairs are lovely, but also somewhat hard to find. A few vintage furniture companies offer them for sale, but this isn't (typically) one of the types of chairs you can rent for weddings. As such, unless you've got a big budget, or are having a very small, exclusive ceremony, it might be hard to secure as many of these as you need.
Folding Lawn Chair
A popular option for outdoor weddings. Here, we're not talking about the generic aluminum-framed, polyester-covered lawn chairs, but a more upscale variety, generally crafted of wood and featuring a modest amount of seat cushioning.
Note that if you're in a pinch, you could use the inexpensive lawn chairs mentioned above, but if so, you'll definitely want to use a universal or another type of chair covering.
Ghost Chair
Of all the types of wedding reception chairs available, these are so much fun that you might want some for entertaining at home. They feature a modern design, but they're made of clear lucite or acrylic, which makes them virtually invisible, so at first glance, it looks like your guests are seated on air.
If you want to take advantage of their attractive, modern styling, you can get Ghost Chairs in a variety of translucent tints, but doing so will, of course, destroy the illusion offered by the clear varieties.
King Louis XVI Chair
Nothing says elegance like these French-inspired chairs. They're distinguished by their large, oval backs and relatively plush upholstery (as compared to other forms of seating commonly used for weddings).
Typically, you'll find these upholstered in either velvet or linen. Whatever the case, if you're holding a formal or vintage event, these chairs are simply a must!
Marais Chair
These are French-inspired, steel-framed bistro chairs that offer a modern, industrial aesthetic. Typically, they're sold in metallic colors, but of course, with effort, you can find them in a wide range of other color options.
Rattan Chair
These natural cane folding chairs are a superb choice for a wedding at the beach or other tropical settings. Note that this is not a great option if you're planning on holding a formal, elegant ceremony, but are wonderful for more casual events.
Slotted Chair
Similar to wooden lawn chairs, these feature a metal folding frame and wood slats on the seat and seat back. They're perfect for more casually-themed outdoor weddings. If you like, you can easily add a splash of color by getting a variety of colored seat cushions.
As mentioned earlier, you can find event companies that offer almost all of these types of chairs for rent. The only type you'll struggle to find for rent is the English Garden Chair. You may have to call around a bit, but the others should be no particular trouble to source.
Different Types of Wedding Chairs: Final Thoughts
Ultimately, which type of seating you opt for is going to be a function of the type of wedding you're planning. If you're holding the event indoors, that will guide your thinking and selection in a different direction than if you're planning an outdoor event. Similarly, a formal wedding is going to demand very different seating than a more casual one. Just keep your overall aesthetic in mind, and you'll be fine.
Origin and Brief History of Event Chairs
The two types of event chairs (indoor and outdoor) have very different histories. Banquet chairs can trace their existence back to the Renaissance, with the development of the Chiavari chair, in Italy.
Outdoor event chairs are a strictly modern invention and owe their existence to modern materials science. They first appeared in the late 1960's and early 1970's, marketed to fishermen and campers, with their popularity growing over time and eventually bringing them into the mainstream.
Some Current Brands of Event Chairs
---