In a Nutshell:
The Via Seating Genie is an incredibly configurable, versatile chair. It is recommended for anyone weighing up to 400 pounds who loves mixed media chairs (mesh/vinyl or mesh/fabric). Fair warning, though—this is a one-owner chair!
* Brand Reliability is a measure of the strength and longevity of the brand, which by extension, is a measure of the level of support you can expect.
** While aesthetics is a matter of taste, Aesthetic Flexibility is a measure of how easily a given design would fit into a wide range of home or office décor schemes.
Are you in the market for a new office chair? Are you a fan of mixed materials chairs, say, a mesh seatback and a vinyl or fabric seat? And most importantly, are you buying a chair that's for your own personal use (as opposed to being a chair that several members of your household will use)?
If you answered yes to those three questions, then you're going to love what you read in this—our Via Genie chair review.
While Via Seating may not be a household name, they are a highly respected office chair company, making unquestionably great products. As you'll see in the following review, the Genie is one of the most versatile, customizable chairs the company offers.
That's a bit of a two-edged sword, though. On the plus side, the fact that you can customize so many of the chair's features when you order directly from the company is fantastic, and it means that you can create a chair that's perfect for you and fits you like a glove.
The downside is that if you've got a bustling household and several people will wind up using the chair, the chair you order may be a relatively poor fit for the other members of your family. These chairs are amazing, but we'd definitely rate the Genie as being a "one-person chair."
Note that while you can order this chair from various vendors on Amazon, doing so will dramatically limit your choices to whatever configurations the vendors have decided to offer.
If you want maximum customizability, you'll definitely want to order from the manufacturer's website directly. If you decide you want one of these, we'll walk you through that process later on in this review.
If your interest is piqued and you're curious to know more, read on, and let's take a closer look!
An Overview of The via Seating Genie
Sleek and modern—that's the phrase most likely to pop into most people's minds when they see the Genie for the first time.
It's a sharp-looking chair, no doubt about it, but if you're specifically in the market for something that evokes an Old World feel, then you're probably going to be put off by this chair's modern appearance.
It's attractive, and assuming the modern styling is a good fit with the rest of your office décor, you'll probably have no issues with its overall look and feel.
One thing to be aware of right from the start is that this chair leans heavily on the notion of mixed materials. The seatback is mesh, and the seat itself can be ordered with either vinyl or fabric upholstery.
Ultimately, this comes down to personal preference. Some people like—or at least don't mind—chairs that utilize mixed materials, and others can't stand them. If you happen to fall into that second category, then no matter how impressive you find the Genie's feature set, you probably won't want to spend your hard-earned money on this chair.
While we're not huge fans of mixed materials, the company made a good choice on the whole. Mesh is the ideal material for the seatback because it's delightfully breathable, which will help keep you cool and comfortable even if you spend several hours a day in it.
We're not overly fond of the vinyl seat upholstery option. Still, it is undeniably attractive, and as long as you're not planning to spend extended periods of time each day in the chair (say, longer than four hours at a stretch), the lack of breathability in the vinyl seat option shouldn't be an issue.
The fabric seat upholstery is, in our view, the superior option, providing a good mix of durability, breathability, and comfort—even if you spend eight hours or more a day in your chair.
Before we get into the nuts and bolts of this design, we should draw your attention to one more thing. The Genie is, in a very real sense, not so much a single model but rather a collection of features you can combine in a mindboggling number of ways in order to create exactly the seating experience you want.
The very first decision you'll be asked to make if you decide you want one of these is what size seat you want. The Genie offers six seat size options labeled AA (petite), BB, A, B, C, and D (extra-large), with the seat sizes growing larger as you move through that list.
The default frame is capable of supporting up to 300 pounds of user weight, which is the informal average if you look at a large number of chairs across the industry. Note, though, that if you order the extra-large seat, you'll get a chair with a ruggedized frame that's capable of supporting up to 400 pounds of user weight.
We can't say much more than this without getting into the actual ordering process and the various customization options you'll have available if you order from the company's website, so we'll bring this section to a close and use the next section to walk you through the ordering process and the various decisions you'll be asked to make.
Ordering A Genie Office Chair
If you're buying a Genie for your own personal use, we will rate this as the single strongest component of our Via Genie chair review. While there are tons of options to choose from and a number of decisions to make, the company makes the process of finding your way to your perfect chair surprisingly easy.
On the other hand, if you're in the market for a more general-purpose chair that anybody in your family can use, you may find all the hoops presented here to be a bit cumbersome.
The very first choice you'll be presented with when ordering from the manufacturer's website has to do with the seat size, which defines the chassis your chair will be built around.
Although there are six different seat size options, you'll only see four choices mentioned here: A, B, C, and D. The option to add a petite seat to the A or B versions of the chairs comes a bit later in the process.
Since this is the first choice you have to make, let's talk about the dimensions of the various seat sizes on offer. In order, they are:
Note that there are some slight variations from this based on the controls you order with your chair. Also, note that one of the options you'll get to pick later is the option to have a chair with an adjustable seat depth. This will add a bit to the price of your chair, but it does make it more versatile if multiple people in your home will be using it.
In any case, once you've settled on the seat size for your new chair, the next question you'll have to answer has to do with frame color.
There are just two options here, black or white, and while the white framed chair has a striking appearance, it's also a bit more expensive, so the question becomes how much that's actually worth to you. Either way, make your selection, and it's on to the next decision!
Next up, you'll find a question about which control mechanism you prefer. The differences are subtle here; honestly, most people will be happy with either. But if you have a clear preference, you can choose between either the Auto-Adjust Body Balance or the Quick-Adjust Advanced Synchro mechanism.
The first choice gives you a basic seat height adjustment with a 4.8" height range on offer and a three-position back lock adjustment. Those are the basics that most people are looking for in an office chair.
If you want more, the other option adds a back tension adjustment and a single rotation back tilt lock adjustment with five positions instead of just three. This addition only adds four bucks to the price of the chair and is definitely worth getting, but if it's not something you particularly care about, you can save a few bucks by going with the other option.
Then there's the question about the optional seat depth adjustment. If you get this, you'll have 2" of play in the seat depth, which can make all the difference in the world if multiple people in your family will use the chair. If nobody else in your family will be using your Genie, you can probably skip this extra.
After that, you'll be asked about the armrests, and here, you've got some interesting choices. You can either select an armless chair, black arms with 8-way adjustability, polished arms with 8-way adjustability, or a chair with rollback arms.
The armless variant is the standard and won't add to the price of the chair. Everything else will, but if you're going to spend extra on any one thing, spend it on the arms.
Even if you're not sure you want arms, we recommend getting the rollback arms. That way, when you want them, you've got them; if you don't want them, you can roll them down to get them out of your way. Better to have a thing and not need it than to buy an expensive chair and regret that you didn't get armrests six months down the road!
The best feature here, though, is the two 8-way adjustable arm options. These are amazing and give you virtually unlimited freedom in terms of tweaking the chair so that it fits you perfectly. We regard the armrest's amazing adjustability to be the best aspect of our Via Genie chair review.
You can adjust them for height, width, and angle and move them backward and forwards—it's amazing. The Genie offers one of the most highly configurable armrests in the office chair industry, and we absolutely recommend getting this add-on. Totally worth it, in our view, but at the end of the day, you know your needs better than we do!
The next option is an interesting one, and the Genie is one of the only office chairs on the market that gives you the choice of something other than casters.
Yes, you can order your Genie with casters. In fact, you can choose between black carpet casters or two-toned casters with soft rubber treads that won't tear up your hardwood floors. Or, you can order your chair with black all-floor glides instead of wheels.
It's a nice touch and something we've never seen offered on any other office chair. It may not be a good fit for you, but we love that the non-caster option is available here!
Then there's an optional safety brake, which is great if you have kids or small pets that like to get under your chair and could be a lifesaver if you've got some mobility issues, but unless one of those applies, this is something you're likely to skip.
Lumbar is up next, and honestly, we can't imagine ordering a chair without the adjustable lumbar support. If you spend any amount of time at all in your chair, you're going to want this. We consider this to be an essential addition, probably even more important than the super-adjustable armrests!
After you've decided whether or not you want lumbar support, you'll be asked a small but aesthetically important detail about the stitch pattern for the seat. You can either order your seat with visible stitching or seamless.
There's no right answer here. Ultimately, it comes down to which one you prefer.
From there, you'll have the option to pick the color of the mesh seatback. Lots of choices on offer here. You can pick from:
Then you'll be asked about the material and color you want for the seat. There are dozens of choices here, so we won't list them all. But first, you'll select either vinyl, leather, or fabric, and then you can choose the grade, color, and pattern of the material you selected.
You will be blown away by the options available here and may even suffer from some analysis paralysis trying to decide.
While this section is a little overwhelming, we have to say we love it. It gives you tons of flexibility to get a chair that looks exactly how you want it to and blends perfectly with whatever the prevailing color scheme of your office. Kudos to Via Seating for that!
Finally, you'll be able to order your chair—either blanket wrapped or not, and either fully or partially assembled.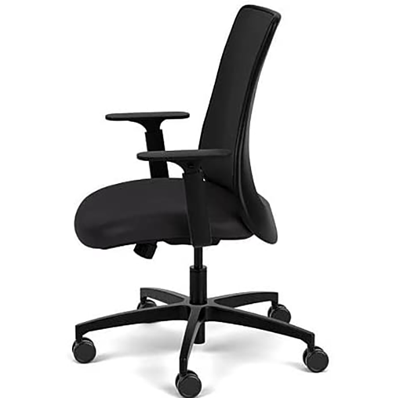 Honestly, here, we recommend the partially assembled option because when Via Seating says "partially assembled," they really mean 95% assembled. It will probably take you longer to get the parts out of the box than it will to put them together. This will be the easiest office chair assembly you've ever performed. Via did a great job here.
And that's it. Well, okay, that was actually a fairly involved process, but if you step through it, you'll wind up with a chair that looks amazing and has all the features you want and as much or as little adjustability as you think you'll need.
Genie Mesh Task Chair Color Variants
Pros and Cons of The Genie Mesh Task Chair
Given that there are so many customization options here and that you can literally order the exact chair you want, it's hard to find a negative to talk about. Price is an obvious one. These chairs aren't cheap, so if you're on a budget, the Via Genie task chair may simply be out of your reach, no matter how much you love it.
It's also a matter of getting what you pay for. Most value-priced chairs have a warranty of just one year. This one has a 12-year warranty on the amazing, proprietary cold-cured foam and a five-year warranty on everything else. While that's not the best in the industry, it's at the top end, and that speaks to the Genie's overall quality.
Another potential negative is that, as we mentioned before, this chair is really meant for one owner. That person can go to the website and customize to their heart's content to get a chair that fits them perfectly.
And that's great if you're buying a chair just for you, but again, if you have a busy household with lots of people sitting down at your computer, then your perfect chair might not be such a great fit for them and all the customization work can wind up working against you.
Those two potential wrinkles aside, we love it and think you will too.
Via Genie Chair Review Conclusion
This chair will spoil you. It's surprisingly comfortable, durable, and great looking, and it offers an amazing level of customization and personalization on top of that.
While we won't rate it as being one of the all-time greats of the industry (so not quite in the same category as the Steelcase Leap, for example), it is an extremely good office chair that will provide you with years of reliable service if you decide to get one, and that's compelling.
On that basis, we absolutely recommend it for anyone buying a chair for their own individual use and provisionally recommend it for anyone interested in a chair that multiple people will be using—if you opt for the seat depth adjustment and everyone is reasonably close to the same size, it can work in that context too!
Other Options to Consider
If, after reading to the end, you've decided that the Genie isn't the office chair you're looking for, here are a couple of other options you may want to consider:
While Via Seating isn't a household name, pretty much everybody has heard of La-Z-Boy, and the Delano is an excellent example of the company's work.
This surprisingly modestly priced chair is a study in opposites compared to the Genie. While it's not nearly as adjustable or customizable, it does have the basics well covered, and the Delano just oozes with Old World charm.
It's a gorgeous design that will look great in any classically styled office where a more modern chair like the Genie may clash a bit.
Far from being an off-brand, SIDIZ is one of the largest B2B office furniture manufacturers in the world, and their T-50 offers tremendous value for the money. You'll find this all-mesh chair somewhat less expensive than the model we just discussed (depending on the options you select).
While it's not as good-looking, it's an amazingly full-featured, highly adjustable office chair that will serve you well. The T-50 definitely belongs on your shortlist of options to consider.
---
References & Resources