In a Nutshell:
The Ziesel Off-Road Wheelchair is amazing. Nothing beats German engineering. On the other hand, you could put a down payment on a house (a nice house!) for what it will cost you. Strictly a plaything for the super-rich. It's versatile and capable, but only a tiny fraction of the population can realistically afford one.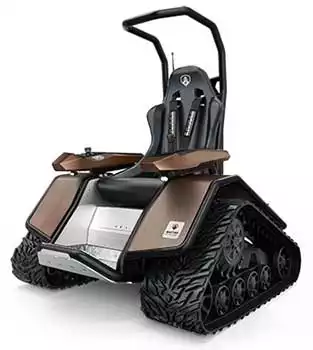 Do you suffer from a mobility issue that's keeping you from enjoying life the way you once did? Do you have an abundance of resources to address the issue any way you please?
If you answered yes to those questions, you're going to love this review. Even if you're not swimming in resources, you're still going to be interested, because the Ziesel Ground Squirrel Off-Road Wheelchair is a fantastic machine. Granted, it is off-the-charts expensive, which is why we downgraded it in terms of versatility, but there's no denying that it's incredible.
In the sections that follow, we'll give you all the details we have on it, but note that in this case, we're up against a pair of limitations: First, the company that makes it plays close to the vest, so there's not much information available. Second, given the extreme cost of the machine, the company is not in the habit of sending out demo models for review.
Even so, the details we've been able to unearth reveal the Ground Squirrel to be absolutely phenomenal.
An Overview of the Ziesel Ground Squirrel Off-Road Wheelchair
What do you get when you cross a mountain goat with the wheelchair belonging to Professor X from the X-Men? As near as we can tell it, you get the Ziesel Ground Squirrel Off-Road Wheelchair.
This mobility aid is flat-out amazing, and one of a kind. We mean that literally since every single one is hand-built by master craftsmen in Austria, to the exact specifications of the person placing the order.
There's nothing quite like Austrian engineering, and these machines are a superb example of that.
They're exquisitely built and designed to operate as a natural extension of anyone with a mobility issue.
You'll find state-of-the-art electronics, rubberized tracks, high-efficiency battery packs, rapid charging technology, wood grain accents, supple leather upholstery, a four-point safety harness to help keep the rider firmly in position, and more.
We don't have many baseline stats for the chair for two reasons: One, because the company is stingy with them, and two because virtually every aspect of the chair can be customized to your exact specifications.
There are, however, a few things that are set in stone. These include:
We were blown away by a couple of these stats. The top speed is as impressive as the maximum range. We'll talk about the Ground Squirrel's relative lack of portability a bit later on, but the good news is that with a hundred-mile range, it may be possible to simply drive it to where you want to go if transport proves to be a challenge.
Even better, while every tracked wheelchair offers exceptional handling over a variety of terrains, the Ground Squirrel takes things to the next level and is capable of handling slopes of up to sixty degrees. Honestly, most people wouldn't feel comfortable tackling a slope that steep, but if you do, the tracked wheelchair can handle it.
Limited Adjustability, But Virtually Unlimited Customizability
It's good that virtually every aspect of the Ground Squirrel is customizable, because once the device (it would be a gross oversimplification to call this a machine a 'chair') is made, it's only moderately adjustable.
There's some play in the position of the seat, and the arms are maneuverable, which makes transfers into and out of the Ground Squirrel easier, but that's about it.
What that means then, is that you'll want to work closely with the manufacturer and check your measurements twice before placing your order, or you're going to wind up with a product that doesn't fit you well. Take extra time with your measurements though, and communicate them to the craftsmen, and you'll get a machine that fits you like a glove and is a tracked extension of your own body.
There are no hard and fast rules here. Since each machine is hand-built, the company is willing to work with their customers and can accommodate many, if not most requests, so don't hesitate to ask if you have a special request or need.
While there are limits to what they can do, again, we're talking about Austrian Engineering here, so you're almost guaranteed to be pleasantly surprised.
Storage, Customization Options, and Extras
For all its excellence, the company doesn't offer much in the way of extras. Perhaps the biggest and most significant extra is the trailer the company sells to haul the Ziesel Tracked Wheelchair from one location to another.
Like the machine it was designed to transport, it is cunningly designed. You can hitch it to the back of your vehicle, tow the Ground Squirrel to where you want it, offload the machine, then hook the trailer up to the Ground Squirrel to tow whatever gear you'd like to bring with you on your adventure.
Given that the Ground Squirrel has a half ton towing capacity, there aren't many limits to what you can bring with you.​
Note that the lack of extras and add-ons isn't as big of a limitation for the Ground Squirrel as it is for most other wheelchairs. Since everything is customizable, if you want an extra, just make the request when you place your order. The team of craftsmen assigned to build your machine may well be able to incorporate it.
The key here is that you'll need to think far ahead and anticipate your own needs. Every detail matter, because there are no do-overs. Once you take delivery of your machine, that's it. Sending it back for modifications would be ridiculously expensive, so if you forget something, about the only thing you can do is use some applied creativity and rig a DIY solution.
Not Very Portable
None of the tracked wheelchairs we've reviewed are portable. That comes with the territory, and the Ground Squirrel is no exception.
It's true that if you have your own pull-behind trailer, you can use it and a sturdy ramp to move the machine around.
But in our opinion, if you're going to spend the money on a device like this, you may as well go all-in and get the specially designed trailer to pull it.
Yes, it will add to the already extravagant price, but as we mentioned in the section above here in our Ziesel Off-Road Wheelchair Review, the custom trailer pulls double duty, making it well worth the investment.
Masterfully Designed Controls
As with just about every other aspect of the Ground Squirrel, the controls are a masterpiece. Getting the hang of the machine's basic operation is a snap, although if you've never been in a tracked chair before, it will take you some time and practice to get used to the handling.
Even so, you'll love every second of those first few rides for the sheer exhilaration and discovery, and you'll enjoy every ride after that simply because tracked chairs are amazing. Once you've seen firsthand what a tracked chair can do, you'll wonder how you ever got along without one. A "regular" wheelchair will seem boring by comparison.
---
Pros & Cons of the Ziesel Off-Road Wheelchair
If money were no object for the bulk of the market, this would be the hands-down winner in the tracked wheelchair category. It can go anywhere. It can get you there quickly. It looks cool. Every aspect of the machine is customizable, and it's got a tremendous range.
On the other hand, for the money you'd spend on the Ground Squirrel and its custom trailer, in some parts of the country you can buy a plot of land, buy a kit home, pay someone to assemble it for you and still have money left over for furnishings.
It's not that the Ziesel Wheelchair is marginally out of reach for the bulk of the market, it's simply an insanely expensive piece of equipment, and that is its one big (fatal) drawback, which makes it more of a curiosity than anything else.
---
Ziesel Tracked Wheelchair Review Conclusion
There are no two ways about it. The Ziesel Ground Squirrel Off-Road Wheelchair is simply out of reach for more than 99% of the people who would be interested in owning one. It doesn't matter how amazing it is; it's simply so expensive that unless you're a multi-millionaire, you're probably not going to have the spare funds lying around to afford one.
If you can, and you're looking for something totally unique and next-level in terms of a mobility aid, you'll love it. The rest of us mere mortals will have to content ourselves with gazing longingly at the various videos of the Ground Squirrel in action, scattered around the web.
---
Official Manufacturer Support
REFERENCES & RESOURCES