In a Nutshell:
A beautiful, elegant patio bench made from exotic wood and offered with a lifetime warranty. The Amazonia Newcastle Patio Bench is a superb choice if you're looking for a quality product, and weigh 450 pounds or less.
* Brand Reliability is a measure of the strength and longevity of the brand, which by extension, is a measure of the level of support you can expect.
** While aesthetics is a matter of taste, Aesthetic Flexibility is a measure of how easily a given design would fit into a wide range of home or office décor schemes.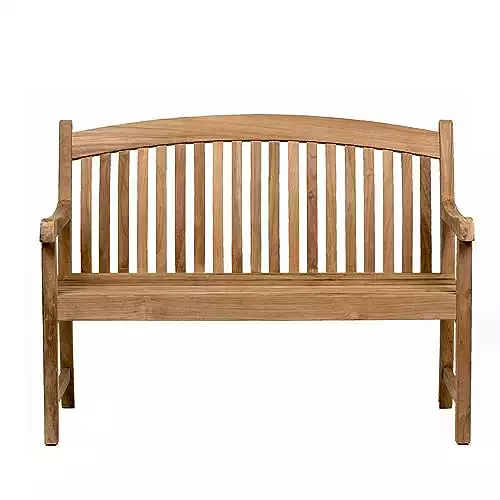 Do you have an eye for quality? Do you enjoy outdoor entertaining? If you answered yes to both of those questions, then you're going to love the Amazonia Newcastle patio bench. It looks great, is made from exotic wood, and comes with a lifetime warranty, making it quite possibly the last patio bench you'll ever own.
Having begun by singing the bench's praises, we'll be quick to point out that it's not perfect. It has a couple of drawbacks that may make some other option a better fit for you and your specific needs. For the right user, though, this could be the perfect addition to your outdoor spaces.
Are you the type of user this bench was designed for? If you're curious to find out, read on, and we'll give you full details!
An Overview of the Amazonia Newcastle Outdoor Bench
The first thing you'll notice about the Amazonia Newcastle patio bench is that it has a look of understated elegance.
It's not a complicated design, but its graceful curves give it an almost stately look. That can be either a good thing or bad, depending on your current décor scheme.
If you're looking for something fun, playful, and casual, and the rest of your outdoor furniture reflects that, then this bench will probably look out of place. On the other hand, if you're going for a more refined look, this bench could well serve as the centerpiece that ties the rest of the space together.
Before we say more than that, let's do a quick stats review to give you a better sense of the bench. Here are the basics:
There are a few things to say about these numbers. First, let's talk about the width of the bench. At 48," depending on the body shapes and sizes of the people you entertain regularly, it might be a struggle to get two people sitting side by side on this bench.
It's fine for two children, or one child plus an adult, but if you have two adults and both are large framed or heavier individuals, this bench probably isn't going to work for you.
The rest of the seat dimensions are generally good. With a seat height of 16.5," it's ideal for average-sized and most shorter people, though taller folks might not be quite as comfortable. The good news here is that since this bench is designed for outdoor use, there's almost always plenty of space to stretch your legs out and get comfortable.
The only time the seat height might be problematic is if you or one of your regular guests are taller and have some type of mobility issue. In that case, you'll probably want something with a higher seat.
We really like the weight of the bench. It's heavier than many of its peers on the market today, which gives it a feeling of stability and solidity while being light enough that if you have to move it around, you won't need to enlist aid to do that.
The only potential drawback where the numbers are concerned is the maximum supported weight limit.
It's easy to find benches comparable to this one that are capable of supporting six or even eight-hundred pounds.
If you're on the heavy side, you can probably sit on the Amazonia Newcastle outdoor bench by yourself without issue. But if you're looking for some type of outdoor seating you can enjoy with someone, you'll probably be happier with a 5' bench that has a higher weight limit.
One final point to mention before we leave this section is the fact that although you may have never heard of Amazonia Newcastle, you can buy with confidence because this bench comes with a lifetime warranty. Granted, you'll pay a premium for it, but it's hard to argue with a warranty like that.
With proper care, it may even outlast you!
Adjustability and Comfort
As is the case with most of the bench-style seating available, this model doesn't have any adjustable features on offer, so there's nothing to talk about there. Comfort-wise, it's about what you'd expect from a piece of solid wood furniture. The slatted design of the seatback makes it breathable. But, if you're planning on having guests sitting on this and other wooden furniture you've got outdoors, you may want to invest in some seat and or seatback pads to provide some additional comfort.
Bear in mind, of course, that doing this covers up the natural beauty of the wood, which works against you aesthetically. Most people buy this kind of furniture because they love the look and feel of wood. This model is made of teak, so it seems a shame to cover it up, but sometimes, comfort matters more.
Our recommendation here in our Amazonia Newcastle patio bench review would be to leave the wood proudly on display but buy some oversized throw pillows and/or a seatback and store them, so they're handy if you need them on occasion.
That gives you the best of both worlds.
Assembly is Required
Most of the furniture you can buy online these days comes unassembled, and that's the case with this bench as well. If you decide you want one, you'll have some work to do before you can put it into service and start enjoying it.
The good news on that front is that the assembly instructions are about as simple and straightforward as they come (see link above), so you won't have any difficulties on that front. Expect the process to take about thirty minutes from start to finish, including the initial unboxing and parts sorting.
Amazonia Newcastle Patio Bench Pros and Cons
In no particular order, here are the things we like best about this model:
The only two real drawbacks are that it only supports 450 pounds of user weight, and it's pricey.
It's not at all hard to find outdoor, bench-style seating that supports significantly more user weight, offered for less. Granted, those other options aren't made of teak, and they don't come with a lifetime warranty, so it comes down to having a clear understanding of exactly what you want in an outdoor bench before committing to a purchase.
Amazonia Newcastle Patio Bench Review Conclusion
Amazonia Newcastle isn't one of the biggest players in the outdoor furniture market, but they make fantastic furniture. They couldn't stay in business offering a lifetime warranty if that wasn't the case.
As gorgeous as it is, the Amazonia Newcastle patio bench is essentially a self-selecting product. Assuming you don't mind paying a premium for the lifetime warranty and assuming the weight limit isn't an issue for you, it's a fantastic piece that will probably become the focal point of your outdoor entertaining space. Unless both of those conditions hold true for you, we don't recommend this one.
It's an amazing piece of furniture, but we regard its two negatives as making it fairly narrowly targeted. On that basis, we provisionally recommend it.
---
References & Resources