In a Nutshell:
The Earthlite Vortex is a tremendously capable, high-quality portable massage chair, offered at a reasonable price. Recommended for anyone just starting out in the business. Took top honors in the budget segment of the market.
Are you currently in business as a massage therapist?
If not, are you interested in that line of work?
If so, then you've probably already started pricing equipment and may be suffering from a bit of analysis paralysis. With so many options to choose from, it can be hard to narrow the field.
We can help with that!
Recently, we conducted an extensive search to find the best portable massage chairs available for sale today. The Earthlite Vortex won top honors in the budget section of the market, delivering exceptional value and utility for the money.
And in this Earthlite Vortex portable massage chair review, we'll outline everything this great little massage chair can do and detail a few areas where it comes up short, so you'll have all the information you need to make an informed purchase decision.
Let's dive right in and see what the Vortex is all about!
Overview of the Earthlite Vortex Massage Chair
The first thing to note in our Earthlite Vortex review is that the company made the (wise, in our view) decision not to mess with a tried and true design. As such, the Earthlite Vortex chair boasts a conventional design and is functionally similar to the chairs you probably trained on when you were getting certified.
The chair has a reasonably small footprint, measuring 29" x 19" x 51" and weighs in at just 15 pounds, making it the lightest of the portable massage chairs we reviewed in the roundup, setting the standard where portability is concerned. It can support up to 300 pounds of user weight.
While that's not an industry standard, it is a common weight limit that many of the chairs sold today are designed around. If you're looking for a chair that can support heavier clients, in the value segment of the market, we recommend the Master Massage Bedford, with its impressive 500-pound weight limit.
Features of the Earthlite Vortex Chair
Unlike most of the chairs in the budget segment of the market, there's a surprising amount to talk about here, starting with the color selection.
Color Options
At the point of sale, the Earthlite Vortex massage chair package can be ordered in a variety of colors, including:
Comfort
The chair is comfortable, featuring generous quantities of Pro-Lite foam padding. And although the upholstery is PU, it's high-quality PU — the company's patented Naturesoft upholstery, which stands up better than you might expect to the rigors of daily use and transport.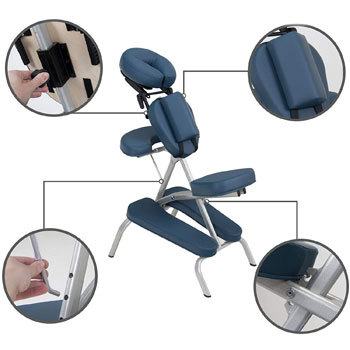 Adjustability
Regarding adjustability, Earthlite Vortex massage chair reviews around the web offer consistently high praise for how quickly and easily this chair can be adjusted, allowing you to tailor the seating experience to each client's needs.
The following can be modified:
Extras
Where extras are concerned, the Earthlite Vortex portable massage chair package includes the extra sternum pad mentioned above, and a duffel-style zippered carrying case which makes moving this already light piece of equipment even easier.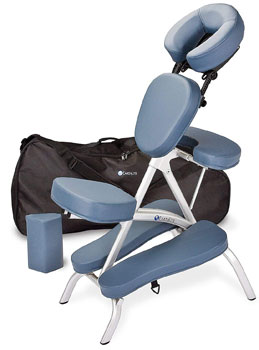 Warranty
An important point we want to draw particular attention to in this review is:
Unlike most companies with portable massage chairs for sale in the value segment of the market, the Vortex has a limited lifetime warranty on the frame, and an impressive three-year warranty on cushioning and upholstery, so you know going in that this chair is going to "age" much better than most of the lower-priced chairs on the market. This is quality workmanship from end to end.
Pros and Cons of the Earthlite Vortex Massage Chair
We don't have anything negative to say about the Earthlite Vortex. It's a solid piece of engineering.
Yes, it's more expensive than our second-place pick, the Master Massage Bedford, but you're paying a premium for higher-quality materials and workmanship, and the option to color-customize your chair. If those things are important to you, then the Vortex is well worth the extra money.
Given its price, anything we could suggest to make this model even better would take it out of the realm of being a value-priced chair, so we can't say we'd change a thing. It's a good piece of equipment that verges on greatness, and that's a hard thing to find in budget-priced equipment.
Earthlite Vortex Portable Massage Chair Review Conclusion
And that brings us to the end of our Earthlite Vortex portable massage chair review. We highly recommend this model to anyone who's on a budget but wants top-quality workmanship, backed up by an impressive warranty.
While it's true that your skills as a massage therapist will be the deciding factor where building your client base and getting repeat business is concerned, having high-quality equipment to work with matters. If your goal is to make a great first impression, then the Vortex is the way to go. It's well-deserving of the top honors we gave it.
---
REFERENCES & RESOURCES