In a Nutshell:
The Elite Care Lightweight Deluxe Transport Chair is an incredibly well-priced and capable transport chair. Best value for the money in its class!. Recommended for anyone – given its modest price, it's just hard to say no to this model.
Do you suffer from mobility issues, either short- or long-term? Do you struggle to get around and enjoy life as you once did? If so, then a high-quality transport chair can be a real game-changer, improving your quality of life and allowing you to enjoy things you may now struggle to do, with limited mobility.
Many people struggle when trying to decide whether they should get a manual wheelchair or a transport chair. One of the great things about the Elite Care Lightweight Deluxe Transport Chair is that it's so modestly priced you don't have to struggle at all. Just get one of each, then you'll have exactly what you need when you need it.
As you'll see in the sections that follow, this is a superb product with a lot to offer, no matter who you are, how old you are, or what the exact nature of your mobility issue is. The Elite Care Deluxe won high honors in our roundup review of the best transport chairs, placing second, and being named the best overall value for the money.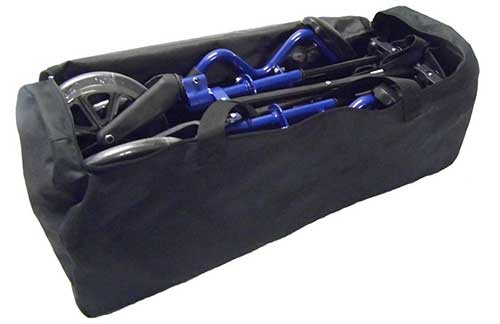 Even if you decide this model isn't right for you, we think you'll agree; this is an excellent chair, offered at an almost unbelievable price. Let's take a look under the hood and see what it can (and can't) do!
An Overview of Elite Care Lightweight Deluxe Transport Chair
Elite Care is not a giant in the industry, which makes its high ranking on our roundup review a pleasant surprise. The first thing you'll notice about this transport chair is that it's a strikingly handsome design with its bold, blue coloration and black seating and footrests, contrasted against its white wheels. The best way to describe it is that it has a delightfully sporty look that many people will find appealing.
It's not just visually appealing though (or, as visually appealing as a transport chair can be said to be), it's got a solid frame made of high-strength aluminum that stands up well to daily use and regular transport.
Unlike our top pick in the transport chair market the legendary MVP502, this one doesn't boast the same level of point-of-sale customization, preferring instead for a much more standardized approach.
The chair is what it is, boasting a seat height of 19", a seat width of 18" and a seat depth of 16" and weighs in at just 25 pounds, making it incredibly easy to transport in most vehicles. Even if you don't have a specialized vehicle (say, a full-sized sedan or a hatchback), you won't have any particular difficulty collapsing this chair and toting it with you wherever you wish to go.
Despite its light weight, it can support a hefty 250 pounds of weight, which makes a viable choice for a considerable segment of the market.
Adjustability & Comfort
At first glance, the Elite Care Lightweight Transport Wheelchair is only average in this regard, but as you'll see, that's by design.
As we mentioned in the section above, Elite Care made the design decision not to offer their product with any "at-point-of-sale" customization options. The dimensions are what they are and cannot be altered. That's not necessarily a bad thing, but it does mean that you need to carefully measure yourself to be sure that the seat dimensions will work for you before you make your purchase.
The chair comes mostly assembled and will only take a few minutes of setup before it's ready for use. Part of what makes the chair so easy to assemble is the fact that there aren't a lot of adjustments you can make on it. At first glance, you might think you can adjust the armrests, and they do lift up and come off, but only for storage. They're not height adjustable.
Although the seat contains two crossbars for added strength, stability and support, they can't be adjusted either, and their presence does make the chair less comfortable than some other models on the market today. This is compounded by the fact that both the seat and the seat back are perfectly straight, rather than being slightly angled back, which does make chairs more comfortable.
On the other hand, this is a transport chair, and as such, is not designed for long-duration sitting, so we really can't count that heavily against the manufacturer.
The leg rests, however, can be adjusted, which does give you some degree of flexibility and customization. In addition to that, they swing away, enabling you to navigate right up to the edge of a table and sit with the family for dinner (out or in). They're also really easy to remove, which is another factor that makes transporting this chair a snap. In the next section, you'll see why we gave this model relatively high marks for adjustability and comfort.
On-Board Storage & Extras
Unfortunately, the Elite Care Lightweight Wheelchair doesn't offer any onboard storage. In some respects, this is understandable. After all, it's a transport chair and idea for short trips. That, combined with the chair's incredibly low price makes it easy to see why the company opted to cut that feature from the list.
Besides, if you decide you want or need a bit of storage, it's a trivial matter to add a pouch or pocket aftermarket, and if you don't care about storage, there's no point in paying for something you don't need. Again, while that might put a few people off, we find it hard to fault the company for the decision.
The one thing we were somewhat disappointed with was the absence of a safety belt. If the seat and seat back had been angled back slightly, one wouldn't be necessary, but given the configuration of the seat itself, a seatbelt would have been a great addition. Even so, that's another thing that's easy to add aftermarket, so is certainly not a deal breaker.
It should be noted that one of the reasons we rated this chair so highly in terms of versatility is not because of its customization options (it doesn't have many). But, because it's such a low-priced model that you can add as many aftermarket "extras" as you like, and wind up with the chair you want, while still paying less than you would for most other models.
If you want a more comfortable ride, you can have that. If you want a seatbelt or storage, you can have those things too. You just have to pick them up separately. That's not a bug, it's a feature, and one of the ways the company was able to offer their product at such an attractive price. For the most part, the only people who will be bothered by this approach are the ones who thought they were getting a chair with all the extras.
If you know going in that you're getting a great, basic, high-quality chair for a song, and that you'll need to buy whatever extras you want later, most people aren't going to have an issue with that.
One great "extra" that this chair does come with though is a carrying case. The Elite Care Wheelchair ECTR04 can be collapsed in under a minute, stowed in the durable nylon bag and popped in the trunk in no time. Not all transport chairs come with their own travel bags. We wish they did. After all, transport chairs were designed to be transported, and the presence of a travel bag makes that process a whole lot easier.
Even better, it was designed to be small enough to fit in the overhead compartment of airplanes, although before you take a trip, you'll want to double check with the specific airline you're using to be sure there's room. Even so, this (the ease of taking their Elite Care Deluxe on a plane) is one thing that many owners have commented on.
Capable of Handling a Variety of Terrains
The rear wheels aren't as big as we've seen on some models but are a "flat-free" design, and at 12" (front wheels are 8" and also flat-free) are large enough to navigate indoor terrains with ease and handle a wide range of outdoor terrains too. Granted, you might not be 100% comfortable going over gravel or cobblestones, but the chair can certainly make the trip without difficulty.
Regarding handling outdoor terrains, the thing we were most impressed with is the fact that it can handle slopes like nobody's business. The wheels are large enough and roll freely enough to make navigating slopes a breeze, and the attendant handbrakes at the back of the chair have two functions: They can either be used to slow the chair on the downslope or lock the brakes for transfers into or out of the chair.
No Learning Curve to Speak of
As we mentioned, the chair comes mostly assembled and can be prepped for first use in a matter of minutes. That, combined with the fact that there aren't many features to adjust makes the chair a snap to use.
Having said that, you will want to spend some time using it in its default configuration so you can decide for yourself exactly what "extras" you'll want to buy aftermarket to make it ideally suited for you and how you use it. That will take some time, but not much. After three or four trips, you'll have a pretty good handle on what you'd like to add.
---
Pros & Cons of Elite Care Lightweight Transport Wheelchair
We don't have anything bad to say about this chair. Any critique we could level at it (limited customization, no extras, except for those you buy aftermarket) are a function of the chair's design.
It's inexpensive because it's a basic, no-frills transport chair, and you can make it your own by adding anything you like to it and still wind up paying less than many other comparable chairs on the market.
If you like that kind of flexibility, then you're probably going to love this chair. If you'd rather just purchase something that already has all the bells and whistles attached, then this one will likely leave you underwhelmed. For us though, it really hits the right note. After all, why pay for features you don't want, or won't use on a regular basis?
All that to say, we love this chair exactly as it is, and as long as you know what you're getting before you make your purchase, you'll probably love it too.
---
Conclusion: Elite Care Lightweight Deluxe Transport Chair Review
The Elite Care Lightweight Deluxe Transport Chair is an exceptional model. In our view, it's (almost) a perfect transport chair. Incredibly lightweight, very small collapsed footprint, handy traveling carrying case, and it's easy to add any extras you'd like to make it a better "fit" for how you plan to use it.
If you have a short-term mobility issue, this is a fantastic, cost-effective option to help you get around until you're healed and no longer need it.
If you have a long-term mobility issue, this is a great occasional use chair that's super easy to stow in just about any vehicle, giving you the freedom to go just about anywhere. A great chair offered at a reasonable price, and in our view, the best value in the transport chair market today. Recommended.
---
REFERENCES & RESOURCES