In a Nutshell:
It's a stool. It's vaguely reminiscent of an ottoman on springs. It's strangely attractive and comfortable, and most importantly, it's fun to sit on! It is recommended for anyone looking for a quirky, fun alternative to the conventional office chair.
* Brand Reliability is a measure of the strength and longevity of the brand, which by extension, is a measure of the level of support you can expect.
** While aesthetics is a matter of taste, Aesthetic Flexibility is a measure of how easily a given design would fit into a wide range of home or office décor schemes.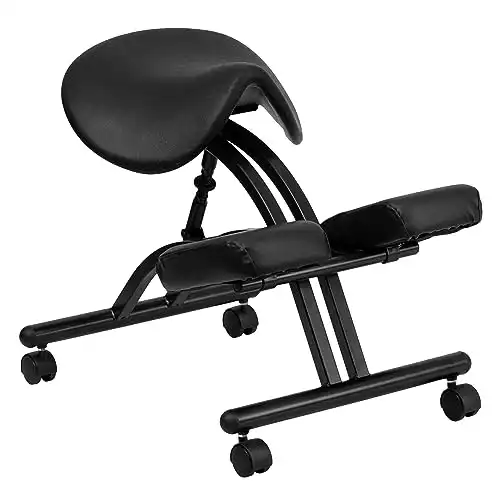 Are you disappointed in your current office chair? Have you been frustrated in your search for a replacement? If you answered yes to either of those questions and you've begun investigating the possibility of alternative office seating solutions, then you're going to be intrigued by what you read in this review.
We'll be quick to admit that the saddle-style kneeling chair isn't for everyone, but if you suffer from chronic back and/or hip pain and your current office chair only seems to be making things worse, then a chair like the Flash Furniture Ergonomic Kneeling Chair with saddle seat can provide a lot of pain relief.
It may even make it possible for you to get through a full workday without pain. If that sounds good to you, keep reading.

In the sections that follow, we'll tell you about everything this great little chair gets right, and we'll be quick to let you know about its shortcomings. That way, you'll have all the information you need to decide if this is the seating solution you've been looking for.
An Overview of the Flash Furniture Saddle Seat Kneeling Chair
Kneeling chairs are odd-looking ducks, to begin with, and the addition of a saddle-style seat to the design doesn't change or improve that. The Flash Furniture Ergonomic Kneeling Chair with Saddle Seat is not an ugly chair, but it is unusual looking. The good news is that it's small and unobtrusive, so even with its unusual aesthetic, it tends to fade into the background easily, no matter where you decide to put it.
In terms of the basic stats that define this model, here's a quick overview:
These numbers are pretty typical for chairs of this type. It's a smallish chair that only supports a modest amount of user weight.
Then again, almost every kneeling chair on the market today supports no more than 250 pounds, so in that regard, this model is right in line with the average. We wish kneeling chairs supported more, but you almost never find one that does.
Flash Furniture is one of our favorite companies. They're not a well-known brand, but they have a reputation for making consistently good furniture and their products are often featured in our roundup reviews where they steal top spots from much larger and better-established brands. This little chair is a good example of their work, and we're thrilled to see Flash Furniture making a push into the alternative office seating market.
Features of the Flash Furniture Ergonomic Kneeling Chair With Saddle Seat
Adjustability and Comfort
There are two major adjustments you can make with the Flash Furniture Saddle Seat Kneeling chair. First, you can tweak the seat height for a comfortable seating and working experience at any standard sized desk. The height range makes this model a good fit for users ranging from about 5'2" to 6'2," although again if you're at the taller end of that spectrum, you'll want to keep the maximum weight limit firmly in mind.
The other thing you can tweak is the distance between the seat and the knee pads, which allows you to set the spacing optimally depending on the length of your legs.
Note that the knee pads have more padding than the seat itself, which is only minimally padded, which marks this chair as one that's best suited for light to moderate daily use, or for someone with a very active job that only sees them seated for shorter periods of time before getting up and moving about to do something else.
If you need a chair that's optimized for sitting for eight uninterrupted hours a day (or longer), this is a poor choice.
There's just not enough padding to make it comfortable enough for that.
The other issue here is the upholstery. It's PU, which isn't terribly durable and simply won't stand up well to the rigors of heavy daily use. Even if you only use it lightly to moderately every day, you can expect the upholstery to start showing its age after about a year. You might be able to milk two years out of it if you're super careful, but anything beyond that is unrealistic.
Despite that, this chair still represents a good value for the money. It's being offered at such a low price that it's easy enough to simply retire it when the upholstery starts showing its age and buy yourself a new one.
Note that another advantage this model offers is the fact that it comes equipped with rolling casters. Chairs of this type are hit or miss where rolling casters are concerned, but if you're trading in your office chair for one of these, finding a model with rolling casters is a good choice because you can use this chair just like you're used to using your office chair, which makes the transition from one to the other a simple matter.
Assembly is Required (but Fairly Straightforward)
It will probably come as no surprise, but this chair won't arrive fully assembled and ready for first use when it hits your doorstep. It will be in several pieces in a large box. Even if you've never seen or used a kneeling chair though, you'll be able to work out where all the pieces go easily enough, and none of the pieces are large or cumbersome to work with, so the process should go smoothly enough.
The production quality helps here too. Flash uses lower-end materials, but their production quality is better than average, so you shouldn't see too many instances where the holes don't line up the way they should.
From start to finish, it will probably take about 25 minutes to put the chair together, and having an assistant on standby on the day the chair arrives won't really shave any time off of that.
Note that this product is available with an expert assembly option, offered for an additional fee.
The fee is quite steep, and given the relative ease of assembly, we don't recommend it. You'll wind up paying an arm and a leg for something that would take you less than thirty minutes to do yourself, which will significantly add to the total cost of the chair. Still, if you are just adamantly against the idea of putting it together yourself, it's nice to see that the company makes that option available.
Pros and Cons of the Flash Furniture Saddle Seat
The Saddle-style kneeling chair is a great seating option for anyone who suffers from chronic back pain because it helps properly align the spine, while the saddle-style seat opens up the hips and helps reduce chronic hip pain. If you suffer from either condition, a chair like this will absolutely help minimize your pain.
It does come with some tradeoffs, however. Although the knee pads are reasonably well padded, if you suffer from chronic knee pain, a kneeling chair of any type, no matter what kind of seat it has, is simply a poor choice for you. As we mentioned, it's also a poor choice for anyone who needs a chair for constant use over the course of a full workday.
In our view, here are the things you'll like best about this model:
We feel that the pros far outweigh the cons, making this an excellent option for the right kind of user.
Final Thoughts: Flash Furniture Ergonomic Kneeling Chair Review
Here's a quick sketch, in bullet point form, of the ideal user for the Flash Furniture Ergonomic Kneeling Chair with Saddle Seat. Someone who:
The more of those that apply to you, the happier you'll be with this chair. On that basis, we provisionally recommend it.
---
Official Manufacturer Suppo​rt
References & Resources