In a Nutshell:
While Kneeling chairs aren't for everyone, they can offer a huge level of comfort and benefit to those who have lower back injuries. Among these types of chairs, the kneeling chair from DRAGONN is easily one of our top picks for an ergonomic chair under $150.
* Brand Reliability is a measure of the strength and longevity of the brand, which by extension, is a measure of the level of support you can expect.
** While aesthetics is a matter of taste, Aesthetic Flexibility is a measure of how easily a given design would fit into a wide range of home or office décor schemes.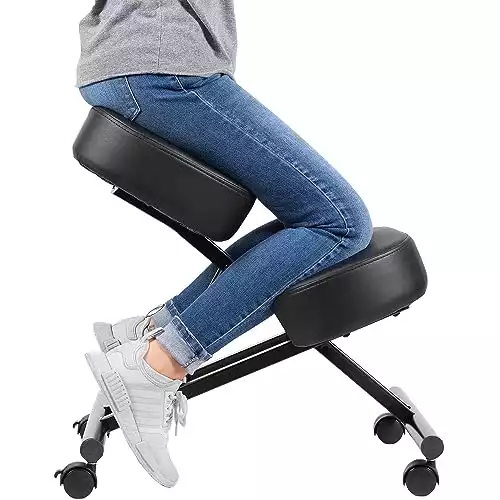 Kneeling chairs are an exciting design that has been gaining traction in recent years. With these chairs, the kneeling position takes the pressure off of your spine and legs. These are excellent chairs for anyone with lower back pain or injuries. Our DRAGONN Ergonomic Kneeling Chair review takes a look at one such chair for under $150.
Does this kneeling chair represent the future of ergonomic office furniture, or does this style have an expiration date? Join us as we look at the features it offers, and the pros and cons of this particular kneeling chair.
DRAGONN Ergonomic Kneeling Chair Overview
The DRAGONN brand has a strong reputation on Amazon. They sell a large selection of products, but high ratings are something all of them have in common. When it comes to their kneeling chair, you may be wondering what these types of chairs offer, other than a different way of sitting.
One thing that ergonomic chairs offer is reduced pain from lower back injuries, and an improved posture overall. The way these chairs are built, they force you to lean forward slightly, which helps align your spine.
People with chronic pain as a result of herniated discs, scoliosis, or other back injuries can also benefit from kneeling chairs like this one. The kneeling position takes the pressure off of your legs and back, thus relieving pain through a better sitting position.
All of these things combine to create a chair design that many people can benefit from. While it will take some getting used to, it's a great option for someone who wants to sit in multiple positions throughout the day, thus keeping their muscles and back engaged.
Let's take a look at the features and benefits of a kneeling chair like this one can provide you in your pursuit of comfort.
Features & Benefits of an Ergonomic Kneeling Chair
This DRAGONN Ergonomic Kneeling Chair is one of the best options we've seen for an ergonomic office chair under $150. Below you will find a list of the features and benefits it provides, along with a description of each:
Three-Inch Thick Mesh Cushion
This kneeling chair is equipped with a 3-inch cushion that has a mesh exterior for ideal comfort and breathability.
Ideal Posture and Weight Distribution
When you're seated in the chair, the cushion sits at a 90-degree angle which takes the pressure off your legs and back. It evenly distributes the weight across your legs and keeps your spine in alignment throughout the seating experience.
Durable Base
The Dragon Kneeling chair's base is a metal frame with four caster wheels to move around as needed or slide the chair beneath your desk when it's not in use.
Adjustable Height
The chair's height is adjustable between 21 and 28 inches. It can also hold up to 250 pounds.
DRAGONN Kneeling Chair Specifications
Pros and Cons of DRAGONN Kneeling Chairs
With a sleek and modern design, ideal posture, and enhanced comfort, it's not hard to see why this ergonomic kneeling chair is among our favorites for the price point. Take a look below to see the pros and cons:
The 90-degree angle that you kneel into is ideal for both your legs and back. Weight is distributed evenly in this position. Thus, allowing your spine to fall into alignment. For people with back problems or prior injuries, this type of comfort is extremely important.
The large cushions for both your knees and thighs ensure that you won't feel any discomfort, even if you've been kneeling in the chair for several hours. Finally, the caster wheels and steel frame give the chair a sturdy durability that we always like to see.
It's important to remember that kneeling chairs aren't for everyone. People who are very tall, over six feet, may not be able to kneel comfortably in the chair. The same goes for people with a low height. The kneeling position, in general, isn't appealing to everyone either.
Some users who are just over six feet in height have said that the chair is comfortable for them, but their feet touch the ground in the kneeling position. One user who was just over five feet in height also said the chair was comfortable for them.
The weight capacity of the chair is 250 pounds. This isn't as high as other ergonomic chairs out there, so it's also something to take into account. Ideally, this type of chair is perfect for someone who has issues sitting in standard office chairs as a result of a back problem or injury.
Final Thoughts on DRAGONN Ergonomic Kneeling Chair Review
The DRAGONN Ergonomic Kneeling Chair is a strong and sturdy design that caters very well to people with lower back pain. Our review shows how this chair can meet your needs and possibly exceed them as well.
This chair is one of our top picks for an ergonomic office chair under $150. While it may not be for everyone, it offers enough to suit a large majority of office workers who want something different and comfortable to sit in during their long work days. If you are someone who suffers from back pain, this chair could offer some relief.
---
REFERENCES & RESOURCES