In a Nutshell:
These don't offer quite the value punch as Flash's Plastic Folding Chairs, but they offer a more elegant, refined aesthetic. Recommended for anyone who wants a little more than a basic plastic or metal folding chair.
* Brand Reliability is a measure of the strength and longevity of the brand, which by extension, is a measure of the level of support you can expect.
** While aesthetics is a matter of taste, Aesthetic Flexibility is a measure of how easily a given design would fit into a wide range of home or office décor schemes.
Are you looking for something a bit more than the generic folding chair? Hoping to find something that offers a reasonably handsome look and feel and supports an amazing amount of user weight?
If you answered yes to either of those questions, then there's really only one folding chair to consider.
Flash Furniture essentially has a lock on the folding chair market. Their Hercules line of furniture is incredible, and the folding chairs that are a part of that lineup are no exception. While no folding chair can be said to be a thing of beauty, the Flash Furniture Hercules Resin folding chairs are pretty sharp looking pieces of furniture and will impress you on multiple fronts. Read on, and we'll tell you why you need one (or several) of these!
Flash Furniture Hercules Series Resin Folding Chair Overview
The first thing to comment on is Flash's selection of materials for this model. At first, and even second glance, the Flash Furniture Hercules Resin folding chairs appear to be wooden folding chairs, which gives them a look of refinement you don't expect to see in a humble folding chair.
The material is actually durable and sturdy resin, offered in your choice of black, white, or red mahogany. They also sport a very thin layer of padding in the seat, upholstered with PU. We'll have more to say about that in a bit. For the moment, though, it is enough to simply acknowledge that it exists.
Chair Specifications
As to the core stats that define the model, here they are:
1000 Lbs Weight Capacity
There are a couple of fascinating things to point out about these numbers. First and foremost, check out the maximum supported user weight! Your average metal folding chair supports 300 pounds or so, but these things – a thousand pounds? That's not a typo, either.
The entire Hercules line by Flash Furniture is known for its ruggedness and the impressive amount of weight they support. Still, this one takes the cake, even surpassing Flash's plastic and metal folding chairs, which can support up to 650 pounds.
It's unlikely that you'll never need a chair that supports anything approaching this amount of weight, but if you do, then this model has you covered. They're unbelievably strong, which is made even more surprising, given this chair's scant 9-pound weight.
The only real drawback we see here is the seat isn't all that wide or deep. If you're a bigger, heavier person, the chair will certainly support you, but given the smallish seat dimensions, it's not something you're going to want to spend a ton of time sitting on. It'll be fine for an hour or two, but more than that, and you're going to start noticing the seat size, padding, or no.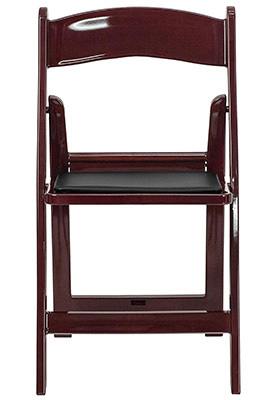 The good news on that front is that most of the occasions you're likely to use a chair like this won't call for you to spend the whole day in it, so that's usually a minor issue.
No Assembly Required
This will be a short section. It probably won't come as a surprise, but there's no assembly required where the Flash Furniture Hercules Series Resin folding chairs are concerned. You simply unbox them, unfold them, and have a seat. That's it.
Adjustability and Comfort
This will be another fairly short section since these chairs don't offer anything in the way of adjustable features. The only thing to talk about here is comfort. The presence of the thin seat pad makes them more comfortable than most other folding chairs, but the padding is so thin that the impact on comfort is nominal.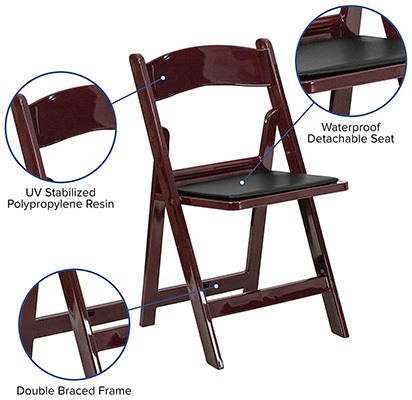 The PU clad padding is detachable from the seat to make washing it a simple matter, but note that when the company says these pads are washable, they don't mean you can chuck them into your washing machine. PU won't stand up to that, but you can use warm soapy water and a damp cloth to keep them looking great.
We're kind of torn where the seat pad is concerned. It's a great idea on paper, but it's too thin to be genuinely useful.
In any case, the PU will start cracking in about a year, even if you're extremely careful with the cushions.
At that point, you're better off simply cutting some memory foam to the dimensions of the seat cover (using it as a template) and having that wrapped with something more durable to replace the old seat pads. It's a simple, cost-effective move because the chairs themselves will last far longer than the seat pads.
Pros and Cons of Flash Furniture Hercules Resin Folding Chair
Honestly, these are amazing chairs. They're great looking, durable, and they support a crazy amount of user weight. They're a bit more expensive than Flash's metal and plastic folding chairs, but the tradeoff is that they're also a lot better looking. If aesthetics are important to you, they're probably worth the extra money. The company allows you to buy "packs" of four. So if you need several chairs, that's a convenient option.
The only real downside we can point to is the thin seat pad. It's not entirely worthless, but a) it won't last nearly as long as the rest of the chair, and b) it doesn't offer enough padding to make a huge difference in comfort. Given those two things, after about a year, you'll either remove them entirely or come up with a DIY replacement for them.
Flash Furniture Hercules Resin Folding Chairs Review Conclusion
We still regard Flash Furniture's Plastic/Metal folding chairs as being the final word in the world of folding chairs. Yet, as we said in the last section, aesthetics matter, and if they're important to you, then the Flash Furniture Hercules Resin folding chairs are the ones you want. We recommend them.
---
REFERENCES & RESOURCES: