In a Nutshell:
This Vintage Style Recliner from Flash Furniture is a lovely design with a comfortable feel. Unfortunately, the chair's features are very basic and the long-term durability isn't highly rated. Even so, it's a comfortable and budget-friendly choice.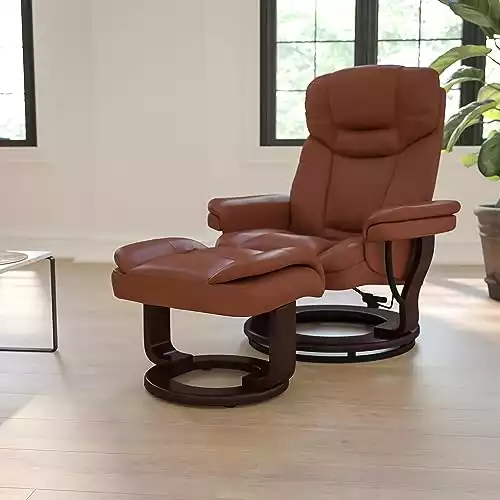 Comfort is a priority in a chair, but design comes in at a close second. You want your chair to look good and feel good when you sit in it.
In our Flash Furniture Vintage Recliner review, we'll take a look at a beautiful design that also promises ideal comfort. Does this chair manage to combine these two factors into one great easy chair? Read on to find out!
Flash Furniture Vintage Leather Recliner Overview
Flash Furniture is a brand with a strong online presence and a willingness to improve. Their recliners have been redesigned in recent years to fit the needs of their customers better. They have a wide selection of options in their catalog.
This particular recliner comes in several colors, but the brown vintage is perhaps the most striking from an aesthetic standpoint. A detached ottoman footrest rounds out the package nicely.
The wood base and upholstered leather has an inviting look and feel, with plenty of padding on the armrests. If there's one thing this chair does, it plays it safe. There aren't a lot of bells and whistles on offer here, but the design may be enough to sway potential buyers.
Flash Furniture Vintage Recliner Features
While Flash Furniture's recliners don't offer some of the high-end features we've seen in other contemporary options, we've chosen it as one of our best easy chairs for back pain because of the strong features it does have.
Here's a look at what you can expect:
Recliner and Ottoman Set
For a single price, this recliner from Flash Furniture includes both the chair and a detached ottoman footrest. Given the budget-friendly price point, the ottoman is a nice bonus.
Integrated Headrest
The integrated headset offers a comfortable and plush place to rest your head when you're relaxing in the chair.
Padded Armrests
The worst sin a recliner can commit is having uncomfortable armrests. Thankfully, this recliner includes thick padding on the upholstered armrests, so you have a space to rest your arms.
Swivel Seat
The seat has a ball-bearing swivel base for easy movement and smooth rotation. You won't need to worry about getting up to reach a nearby switch or table.
Mahogany Wood Base
A gorgeous mahogany wood base rounds out the excellent design and aesthetics of this recliner.
Flash Furniture Leather Recliner Specifications
Color and Model Variations
Take a look at the table below for a breakdown of the recliners that Flash Furniture offers, and how they compare to one another.
| FLASH FURNITURE RECLINER AND OTTOMAN VARIANTS | Flash Furniture Vintage Recliner | Flash Furniture Leather Recliner | FF Contemporary Leather Recliner | Flash Furniture Microfiber Recliner |
| --- | --- | --- | --- | --- |
| Dimensions | 44.5 x 33 x 41.2 inches | 27.2 x 39 x 37.5 inches | 29.5 x 41 x 41 inches | 38.5 x 31 x 41.5 inches |
| Product Weight | 55 pounds | 44 pounds | 56 pounds | 64 pounds |
| Material | Leather, Mahogany | LeatherSoft Upholstery | Maple wood base, LeatherSoft Upholstery | Microfiber upholstery, mahogany wood base |
| Colors | Beige, Brown Vintage, Black, Palomino | Palomino, cream, burgundy, brown. black | Black, brown | Black, brown |
| Swivel & Adjustment | Swivel on chair and base | Swivel seat, knob adjusted recliner | Ball-bearing swivel base on the recliner | Ball-bearing swivel base on the recliner |
As you can see, there are some slight variations in the chair designs across these different models. Some offer more or fewer colors, while others change the materials used in the base or upholstery.
The most striking difference is between the microfiber and leather options. One of the models also includes a wrapped leather base instead of the more plush ottoman you see in the version we are reviewing.
Newer models of the chair have been redesigned for greater durability and structural integrity. This allows customers to buy with confidence.
Pros and Cons of Flash Furniture Vintage Recliners
The impressive look and feel of this Flash Furniture Vintage Leather Recliner is only the tip of the iceberg. Let's take a look at the pros and cons:
Beyond the initial visual impression, the next thing you'll notice about this chair from Flash Furniture is the price. This is a very budget-friendly choice when you're looking for an easy chair for back pain.
The general look of the chair is also worth mentioning. It has a wonderful vintage approach that would look excellent in any living room. The lack of special features like heating, massage, or power reclining is unfortunate, but this is a result of the low price point.
Some customers have said that users over 250 pounds have had trouble with the chair not supporting their full weight. This is something to consider when choosing a recliner for your needs.
Some customers have also reported that the crevices in the chair's design easily capture crumbs and other debris, making it difficult to clean efficiently.
Our Verdict: Flash Furniture Vintage Recliner Review
If you take a look at other Flash Furniture Vintage Recliner reviews, you'll find that people have a lot of positive things to say about this chair. While it's not perfect by any means, the design and feel of the chair make it a great choice for a lower budget.
---
REFERENCES & RESOURCES