In a Nutshell:
On paper, this is an excellent, well-rounded model with features sure to please everyone, but it has a few quirks you may not like. The Fujita SMK9700 Massage Chair is recommended for anyone, but people who suffer from chronic back and foot pain will find it especially appealing, assuming you can live with its quirks.
Do you suffer from chronic leg, foot, or back pain?
Looking for a full-featured massage chair that can help you feel better?
If so, then you'll be intrigued by our in-depth Fujita SMK9700 massage chair review.
We say "intrigued by," rather than "love" because this is an unusual mode.
Fujita massage chairs tend to fall into one of two broad categories. They're either really robust designs, or they're good designs on paper that have poor or unusual feature implementations.
This model falls into the latter category.
On paper, it's an almost perfect design, but as you'll see in the sections that follow, the way Fujita implemented some of the chair's features leaves a bit to be desired.
You'll want to read this review closely and decide for yourself whether or not you can live with those issues. If you can, then there's a lot to like about this model.
Let's get right to it and see what the 9700 has to offer!
Fujita SMK9700 Massage Chair Variants
Fujita SMK9700 Massage Chair Features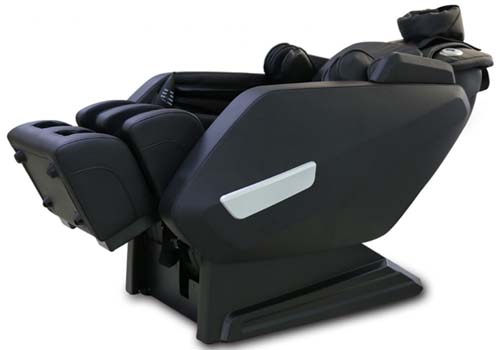 L-Track Design & Quad Rollers
Right out the gate, we see that Fujita spared no expense where the basics are concerned. Not only is the 9700 built around a Hybrid L/S massage track and quad rollers, but the track is insanely long, measuring a staggering 50"!
That's awesome! It means that when you sit down, you're going to get something pretty close to a full-body, roller massage that starts at your neck and goes all the way under the seat and to the backs of your thighs.
Add quad rollers to the equation, and you get an exceptional basic massage experience.
3D Body Scan
Here's where we begin to see the first of several questionable design decisions. The 9700 utilizes 3D Body Scanning Tech, which is fantastic. Each time you sit down, the chair takes a scan of your back and makes adjustments to the roller positions and the width of the massage field to match your body shape.
This is supposed to ensure that the rollers hit all your pressure points and enhance the massage experience.
Most mid-range and top-end chairs also offer buttons on the remote that allow you to manually tweak both the roller position and the massage field width in case the tech gets it wrong. But Fujita is supremely confident in their tech and does not provide a manual workaround in the event the computer misses the mark.
In our view, that's a weakness, because no tech is perfect, and sometimes, you're going to want to make those manual, fine-tuning type adjustments. Sadly, there's no way to do so with this model.
3D/4D Switch Technology
This is another incredibly strong implementation, and a real innovation, to boot. The Fujita SMK9700 is the first massage chair we've encountered that allows you to switch between 3D and 4D mode. To explain why that matters, we need to provide a bit of background:
All massage chairs that utilize an S-Track or Hybrid L/S-Track allow their rollers to move in three dimensions: Up/Down, Left/Right, and "In"/"Out" as the rollers follow the track along the curve of your spine.
4D Roller Technology changes the game slightly by mounting the rollers on extension arms, which allows for a deeper and more penetrating massage experience.
Most chairs that offer this feature see their rollers moving up to 3" away from the track, but in the case of the 9700, the rollers can move up to 5" away from the track. When set to maximum intensity, this results in an extremely intense massage.
That's perfect for people who suffer from chronic back pain, but is almost certain to be way too strong for casual or hobbyist users, who will likely feel that the chair is trying to kill them.
The Fujita design team went out of their way to make this model appeal to both casual users and chronic pain sufferers by allowing you to turn this feature on or off at your preference, which is fantastic, and again, the first time we've seen a company offer that particular functionality. A job very well done!
Zero-Gravity Seating
Inspired by NASA, Zero-G Seating reclines you to a position of maximum comfort, leaving you feel virtually weightless.
One of the side-effects of doing so is that it presses most of your body's weight down and against the rollers, which further increases the intensity of the massage you get from the chair, adding to its therapeutic value.
Most massage chairs at this price range that offer Zero-G seating offer at least two, and sometimes three different seating positions. Unfortunately, the 9700 only offers one, making this a somewhat inferior feature implementation.
Nonetheless, the fact that it is present at all has to be counted as a net positive for the design.
Head And Scalp Massage
Opinions will vary on this point, but we don't like this feature. There are two reasons why:
First, because we feel that it's poor design to require the user to strap anything onto his or her body to use, which is exactly what's required here. Second, because once you've strapped this headgear in place, you're going to look rather ridiculous as you get your massage.
Granted, the headgear allows you to get a full head and scalp massage, and for some, that alone makes it worthwhile.
In our view, this would be better had they simply built the functionality into the chair itself, without requiring you to strap your "massage helmet" to your head, even if the resulting massage doesn't reach all the way to your temples.
If you don't mind taking the extra step, and you don't care about wearing the silly looking head gear, then you might get some value from this feature. Our view is that this is one of the weakest design elements in the model.
Fewer Options Than We Expected
For a massage chair at this price point, we expected to see more options than the 9700 brings to the table.
You may have read other Fujita SMK9700 massage chair reviews that praise the model for the number of options it has, but when you take a closer look at them, you realize that it's mostly smoke and mirrors.
For example, starting with the massage techniques, we find the following:
Massage Techniques
This is all pretty basic, and you can get these techniques in a massage chair that costs half as much.
Further, while music sync is interesting, it's not a proper massage technique, although it is well worth experimenting with, because depending on the kind of music you're listening to while using it, you can get a wide range of roller behavior, which you may find of value.
At a minimum, we would have expected to see at least one, and possibly two additional advanced techniques. But it gets worse when you look at the pre-programmed massage options available.
Pre-Programmed Massages
As you can see, these aren't genuine pre-programmed massage routines as much as they are partial massages. In other words, in other models, you get routines like "Relax" and "Refresh" which are full-body programs that vary technique and intensity for different effects.
In this case, you don't get any of that, but rather a selectively incomplete full-body massage.
It's true that you can modify your experience through five different intensity levels, and while that does allow for more total combinations, again, you're not really getting a menu of varied programs, which we found disappointing.
In addition to that, all massage times default to a twenty-minute duration and cannot be time-adjusted in any way. We rate this a sub-par feature implementation, especially in light of the price of the chair. This was a real missed opportunity for the company.
Air Massage Mode
Before we get into the details, we have to say that we love the way this feature was implemented. We think you will, too.
Although Fujita hasn't published the precise number of airbags, after evaluating their schematics, we put the number at 48, which is on par with, and slightly better than most of the chairs it competes with.
The quality of the air massage the 9700 is capable of delivering is superb and is one of the stand-out features of the design. Plus, they've done something interesting that we haven't seen in chairs by other manufacturers.
Many massage chairs offer a music sync, roller based massage, but the 9700 is the first one we've seen to apply that technology to the air massage, and the result is intriguing.
We raised the point before that this isn't a genuine massage technique, but depending on the kind of music you listen to while getting your massage, it may be a feature you greatly enjoy, and this is a novel implementation you can experiment with.
Moreover, you can either opt to enjoy a full-body air massage or selectively activate airbags by body region:
However you activate this mode, the intensity of the massage can be modified via the remote through three intensity settings, and as with the roller-based massage, all of these options default to a twenty-minute duration.
Heated Massage Rollers
Heat plus massage provides more therapeutic value than massage alone, which makes the presence of heat in any form a welcome addition to any massage chair marketed to chronic pain sufferers.
Given the length of the massage track, the fact that the 9700's rollers are heated means that you get those benefits over most of your body, from neck to glutes, which is outstanding.
Having said that, the presence of a proper heating elements in the lumbar area and/or the foot wells would make an even bigger impact, especially when combined with the heated rollers.
We regard this as a good, but not great feature implementation, and a missed opportunity by the design team that we hope to see corrected in a future model upgrade.
Hip Swing (In Place of Body Stretching)
The hip swing is driven by the chair's Air Massage Mode and provides the same basic benefits as a chiropractic adjustments, but in a form that's milder and less aggressive than a proper body stretch.
Given the sheer intensity of the deep tissue massage the 9700 offers, we were disappointed that a true body stretch was not included in addition to the hip swing. Though it gets the job done, it may leave you wishing it was more aggressive.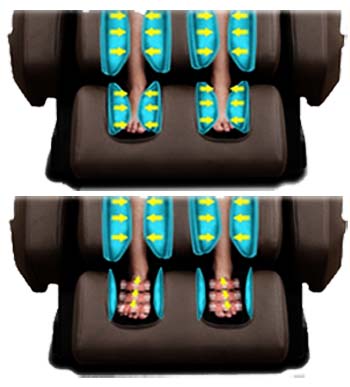 Superior Calf & Foot Massage
If we had to select just one feature to name as the stand-out for the design, this would be it. In fact, if you suffer from chronic leg or foot pain, you will be hard-pressed to find a massage chair that can match the 9700 on this front.
Both the calf and foot massage are rendered via a combination of airbags and rollers. Yes, you read that correctly, this model even offers massage rollers for your calves!
Even better, there are tri-foot rollers at the bottom of the foot wells, which deliver an exquisite foot massage, and on top of that, you can even utilize a foot stretching program for maximum relief.
The design team went out of their way to make this feature as good as they possibly could, and it shows. Even if you don't suffer from chronic pain in your lower extremities, this is destined to be one of your favorite aspects of the design.
Extendable Ottoman
This is a feature that Fujita gets right in just about every model they produce. Their chairs come with an extension module built into the Ottoman which allows their products to accommodate users up to 6'5" in height, which gives taller users another solid entry to consider.
Bluetooth Compatible
While offering no direct therapeutic value, music is a welcome addition to any chair it's offered in. In this case, the implementation is excellent.
Bluetooth compatibility is the simplest and most seamless way to offer the feature, allowing you to wirelessly connect your phone to the speakers built into the headrest of the chair.
There are no extra hoops to jump through here. Just connect your phone and enjoy all your favorite music while you're getting a massage.
(Fairly) Simple Remote
The layout and design of the 9700's remote is good, but not great. Coupled with the fact that many of the massage options are virtually indistinguishable from one another, and it leaves you with the feeling that the options you're selecting don't matter much, or notably change the massage you get.
There's more of a learning curve here than there needs to be, because at the root, a lot of the options you're selecting don't differ very much from each other, or could be presented in a much cleaner way.
Pros & Cons of the Fujita SMK9700 Massage Chair
There are only two additions we'd love to see in this model. The addition of heat beyond what the rollers provide, and a more robust collection of massage options.
Otherwise, our main complaints about the Fujita SMK9700 have to do with the way some of its features have been implemented, which we've already covered in the sections above. If Fujita would improve the way they present some of their features, this would be a nearly perfect chair.
Fujita SMK9700 Massage Chair Review Conclusion
The Fujita SMK9700 massage chair is a strong design. But saying that has a couple of provisos. While it has an impressive collection of features and a few innovations we haven't seen elsewhere, some implementations are problematic and may leave you cold.
We recommend this model for any and everyone, provided you can live with the sometimes-cumbersome ways the features are presented.
---
References & Resources