Is it time to replace your current office chair? Are you on a bit of a budget and looking for something a little off the beaten path? Something that's got a slightly different and unique look to it?
If you answered yes to any of those questions, then you're going to be very interested in our in-depth review of the Hbada ergonomic office chairs.
Never heard of Hbada? If you live in the United States, we'd be surprised if you had. Although they're well-known in Europe, they don't have a huge US presence. That's a shame in one sense, because the company makes excellent, well-priced products.
On the other hand, it's also a bit of a blessing in disguise, because it gives you the opportunity to buy a great piece of office furniture with a unique aesthetic at a price that won't break the bank. If that sounds good to you, keep reading! Join us as we explore this hidden gem in the world of office furniture!
To begin, we'll take a high-level view of the various products the company sells. Their lineup has undergone some recent changes, so if you already have some familiarity with the brand, you may notice that one or more of your favorite models is missing from the current list. If this is the first you've ever heard of them, then don't worry, we've culled our listing to reflect the current state of the brand's product lineup. Here's what they offer:
Summary:

A solid, unconventional design offered by a great company. An underappreciated gem.

Summary:

Incorporating the best features of the company's Diamond chair and the High-Backed Racing chair, plus adding a footrest, this is a super strong design.

Recommended for:

Anyone but shorter users who need a good ergonomic office chair.

Recommended for:

Anyone looking for a great office chair that can pinch hit as a recliner.
Summary:
A solid, unconventional design offered by a great company. An underappreciated gem.
Recommended for:
Anyone but shorter users who need a good ergonomic office chair.
Summary:
Incorporating the best features of the company's Diamond chair and the High-Backed Racing chair, plus adding a footrest, this is a super strong design.
Recommended for:
Anyone looking for a great office chair that can pinch hit as a recliner.
An Overview of the Hbada Brand
Hbada is quite well-known in Europe, but they have a minimal footprint in the United States. This gives many US residents the impression that they're a small, weak brand with little heft. That's inaccurate.
The company actually has a very good reputation for post-sales service and support, although it should be understood that dealing with an overseas company does present its share of challenges. Even so, the overwhelming majority of people who have dealings with the company's Customer Service Department report a positive experience, which we reflected here by issuing a slight penalty in terms of overall brand reliability.
Broadly speaking companies in the office furniture space tend to take one of two basic approaches to the products they sell: They'll either offer tons and tons of models – each only slightly different and often of wildly varying quality, or they'll offer a few well-designed products and periodically tweak and improve them.
Hbada takes this second approach, and in our view, it's the superior option.
Having said that, Hbada ergonomic office chairs are mostly self-selecting. Not everyone is a fan of the minimalist European styling, and not everyone wants a mesh office chair, preferring either leather or fabric upholstery.
If you're a fan of both, then the furniture the company makes deserves a spot on your short list for consideration. If you're not, then it doesn't matter that they make good products, you're overwhelmingly likely to give them a pass.
Common Features
While the various products on offer by the company vary (often markedly), they do have a number of features in common. These include:
Now, let's take a closer look at the specific models the company is currently selling:
Hbada High-Back Racing Style Ergonomic Office Chair
Let's start by reviewing the basic stats for this Hbada Office Chair:
Doing so reveals a handful of interesting points. First and foremost, although it's a fairly large piece of furniture, it's got a delightfully light weight. And yet, the lightness of the chair doesn't hinder its ability to support an impressive amount of weight. That's a sign of the quality of the materials Hbada uses in the construction of its office furniture.
Second, check out the seat height range. Most chairs marketed to the big and tall market have a height range that spans 18" to 22" which puts this chair clearly in that territory, which is to say that if you're on the shorter side, this probably isn't the chair for you.
In particular, short users will suffer one of two ways: if they scoot all the way back in the seat to get lumbar support, it's likely that their feet will be an inch or more off the floor which is bad for the circulation in your legs, to say nothing of the fact that your knees aren't likely to hit the seat edge properly.
If you sit forward, toward the edge of the seat, you'll be able to reach the floor, but you'll lose all the benefits of lumbar support. So, if you're a shorter person, you're much better off looking for a chair that's a better overall fit.
Another noteworthy detail about this model is that although it doesn't come with a footrest or an ottoman, it does recline to a maximum of 150 degrees. With a little DIY ingenuity, you can rig up a homebrew ottoman and have a passingly good recliner, giving you the means of shifting your position to relax between tasks, which is good for those extended working periods.
Granted, it would be even better if the model already came with an ottoman or footrest, but if that's what you're looking for in particular, Hbada makes another model better suited to your needs. Even so, this is a versatile, well-built chair.
The headrest stands out and in our view, is the best feature of the chair. Not only is it articulated, providing highly customizable head and neck support, but it's also removable, so if you decide you don't want it or aren't using it, it's a simple matter to just take it off.
The combination of the very comfortable headrest and the generous maximum recline angle makes this an excellent impromptu office recliner – again if you're willing to spend a bit of time engineering your own ottoman.
About the only thing we don't like about this model are the armrests. Opinions and tastes will vary, of course, but in our view, the arms are shorter than we'd prefer. Worse, they're upholstered in PU. While there's a moderate amount of padding underneath, if you're in the habit of making heavy use of your office chair armrests, then this model will be great for light to moderate use but will become increasingly less attractive to you if you need something for heavy daily use.
Of course, if you tend to minimize the use of office chair armrest, this won't be an issue for you in the least, and the opposite side of the armrest length argument is that the shorter armrests make it easier to tuck the chair under your desk when it isn't in use. Mostly then, it comes down to personal preference and how you plan to use the chair.
Overall then, this is a very good model, better suited to taller folks. If you plan to use the armrests extensively while working, it's best to consider this a chair for moderate daily use. If not, then it's certainly capable of standing up to the rigors of heavy daily usage.
Hbada Ergonomic Office Recliner Chair with Footrest
Although this chair didn't rank quite as well as the company's flagship design, The Diamond, we regard it as our emotive favorite. That said, we'll be quick to add that this model isn't for everyone. After all, unless you're specifically looking for an office chair that can pull double duty as a proper recliner when you're ready to take a break, there's no point in paying a premium for that feature.
On the other hand, if you're prone to working long hours in your trusty office chair and looking for something that will facilitate a bit of R&R between power work sessions, this is a great option that incorporates the best of the features the other models we've talked about bring to the table, in addition to offering a few surprises that make it unique.
Let's start by reviewing the basic stats of the chair:
This chair falls somewhere in the middle between the first two we talked about. Its height adjustment range starts well below the Big and Tall category, but extends partway into it, making the model attractive to a broad swath of the market.
This is somewhat offset by the fact that the maximum supported weight is identical to the company's flagship model, at 300 pounds. While that's better than average, true big and tall chairs, tend to support more weight than this, so it's an important limitation to bear in mind if you fall into the big and tall category.
As with the models we talked about earlier here in our Hbada Ergonomic Chairs review; however, the raw statistics only tell part of the story. This chair comes with a raft of features that make it highly attractive to power users who are looking for a chair for heavy daily use, including:
All of these are well-implemented, high value features that make this chair a joy to sit in. Although you might think, owing at least in part to its minimalist styling that the chair is a bit too lightweight to make a decent recliner, you'll be pleasantly surprised to learn that this is incorrect. Although the frame is a light gauge, it is solid steel and is delightfully durable.
It reclines back to a maximum angle of 150 degrees. As such, it's not the type of recliner you'd ever consider spending the whole night in, but for a quick power nap, it's ideal.
While the built-in footrest isn't as well-padded as the seat, it doesn't need to be as your feet don't exert nearly as much pressure on that part of the chair as the rest of you. Plus, the overwhelming majority of people buying this chair will only be using the footrest a tiny portion of the total time the chair is in use.
The only negative thing we have to say about this model is the fact that putting it together initially can be a bit of an adventure, especially if you don't have an extra pair of hands handy when the box arrives at your door.
Not only does the chair have several additional pieces that most other office chairs don't come with, again, the base is light gauge steel, so wrestling everything into place by yourself can be a bit of a headache.
Once you've got it assembled though, aside from occasional retightening, you won't have any issues. This is a superb model that would be a terrific choice for a significant segment of the market. In fact, many people who have never even considered buying a reclining office chair swear by theirs, having given this model a try!
Hbada Diamond Series High Back Office Chair
Even if you're not normally a fan of mesh office furniture, Hbada's Diamond Series of chairs might make you change your mind. They're stunning.
Sure, they keep with the company's generally minimalist design philosophy, but the Diamond Series is proof positive that Hbada has some serious design chops. This chair compares favorably (from an aesthetic point of view) to Herman Miller's award-winning Sayl chair, and that's really saying something! It's a very different design, obviously, but no less striking.
The Diamond chair is more than just pretty to look at though; it's also an amazingly comfortable chair with well-implemented ergonomic features. Not only is the molded saddle-style seat generously padded and well-suited to handling the rigors of heavy daily usage, but the ergonomic support is superb, and in our view, the best feature the chair has to offer.
If you suffer from chronic back pain, you'll find the exceptional lumbar support to be very helpful. While it won't magically fix your back, it will enable you to put in a full day's work from the comfort of your chair without punishing your back for it, and there's a lot to be said for that.
It should also be noted here in our Hbada Ergonomic Office Chair review that the design team extended the ergonomic support up the entire length of the seatback, which is designed to follow the natural curve of your body's spine.
So, when you lean back in the chair, you'll have proper support from the base of your spine, all the way up to your neck. Although we regard the lumbar support as the best of the ergonomic features, the head and neck support are no slouch, either.
While the headrest isn't articulated, it is well padded, well ventilated, and very comfortable. It provides very good head and neck support while you're sitting up straight, but honestly, the chair really shines when you recline back in it, as the back support provides even more comfort and ergonomic benefit, allowing you to take periodic breaks that will leave you feeling refreshed and ready to continue the day's work.
Even better, the full-length padded arms are designed in such a way that they move with you as you recline in the chair, which we love.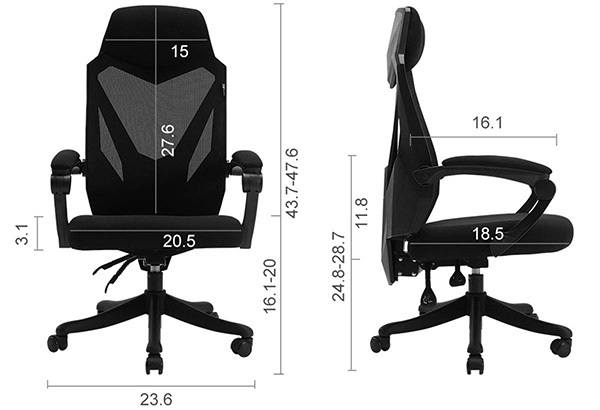 Before we continue, it's important to review the core stats that define the chair. These include:
These stats define the chair as being one that's ideally suited to average sized folk. Big and tall chairs typically have a height adjustment range that starts at 18" and extends to 22" or higher, so if you're a big and tall user, this one isn't a great fit for you.
Also, note the maximum weight limit of the chair. According to the company, they recommend this model for users weighing between 225-300 pounds. Going beyond this limit is likely to result in cracking the base. Even if it doesn't, you're likely to reduce the useful life of the chair, so it's important to take careful measurements before you buy.
As much as we like this model, there are a couple of drawbacks to bear in mind that extend beyond the basic statistics that define the model.
First, although we love the fact that the armrests shift back with you as recline, they're not adjustable in the traditional sense. You can't change the height of the armrests, and the design is such that you're not going to be able to push this chair neatly under your desk when you're not sitting in it. Given that, if you're cramped for space, this might not be the best option for you.
The only other quibble we have with the design is the seat. While the molded seat design is good and certainly provides some ergonomic benefit, we'd have preferred to see a waterfall edge style seat on this model. It's a minor thing and not likely to be a deal breaker for anyone, but in our view, it would be a better fit with the chair's overall design and provide even better ergonomic support.
Even given these things though, this is an excellent model, and it's clear that Hbada pulled out all the stops for this, the flagship model of the company's currently offered products. Unless you're a big and tall user, we recommend it.
Hbada Ergonomic High Back Office Desk Chair
This small chair is a fantastic addition to the Hbada lineup and caters to a segment of the market that often gets overlooked by many other office furniture manufacturers. While the Big and Tall segment of the market tends to be quite crowded, not many manufacturers pay much attention to the needs of shorter people or children, unless they incorporate that segment of the market into a more broadly designed chair.
Let's do a quick recap of the basic stats that drive the model:
In addition to the basics we outlined in the table, this little chair also reclines back to a maximum angle of 120 degrees. That's a pleasant surprise as many tasks chairs rock, but not all of them recline. Kudos to Hbada for adding that functionality to this model!
As you can see, though, this chair is not really suitable for big and tall folk. While the seat height adjustment range does extend part of the way into that territory, the maximum supported weight makes it only marginally useful to that segment of the market and the narrow seat width makes it pretty much a non-starter.
Even so, for the rest of the market, and again, with the proviso that you'll need to take careful measurements before making your purchase, this is a great little chair, offered for a song.
The armrests are ergonomically designed but not padded, and the chair offers solid ergonomic support. Here, we should add that the ergonomic support isn't quite as well implemented in this model as it is on the more expensive chairs that Hbada sells, but it's a terrific option for people looking for a chair for light to moderate daily use.
Even better, given its smaller than normal size, it's a great space saving option, easy to store under any desk when not in use and its relatively small footprint makes it ideal for people who are short on space. If none of the company's more robust and expensive models are a good fit for you, then this is definitely one to consider. It's also a great choice for youngsters, or to use as an "extra" chair if you need a spare seat that won't get used quite as often as your main, go-to office chair.
Pros and Cons of the Hbada Office Chairs
There's a lot to like about the full line of Hbada Chairs, but as we mentioned earlier, the office furniture they sell is largely self-selecting. You either like the aesthetic, or you don't. You either want a mesh office chair, or you don't.
If you do, you'll find the company's offerings to be very much to your liking. We don't really have anything negative to say about their models or the brand itself. They're a good company with an impressive track record for post-sales service and support.
Hbada Ergonomic Office Chair Review Conclusion
Given the above, we recommend the Hbada Ergonomic Office Chairs. They won't be for everyone, but if you're looking for a high-quality office chair with a distinctive look, you'll find yourself very pleased with any chair in the company's lineup.
What we especially like about the Hbada product lineup is the fact that the company has kept the number of available models relatively small, so you're not overwhelmed by dozens of closely related choices. Hand in hand with that, each model is carefully targeted at a specific segment of the market, so the company winds up offering a little something for everyone, and does so, using only a handful of models.
To summarize then:
Overall, and assuming that you like the aesthetic offered by the company, we recommend all of their chairs. While it's true that getting customer support could present a few challenges, the company has a strong track record on that front, and their products offer a distinctive look and feel you'll struggle to find elsewhere in the American office furniture market.
---
REFERENCES & RESOURCES