In a Nutshell:
The HOMCOM Recliner Chair is an excellent combination of massage, heating, and comfort to suit those with lower-back pain or someone who simply needs to relax after a long day.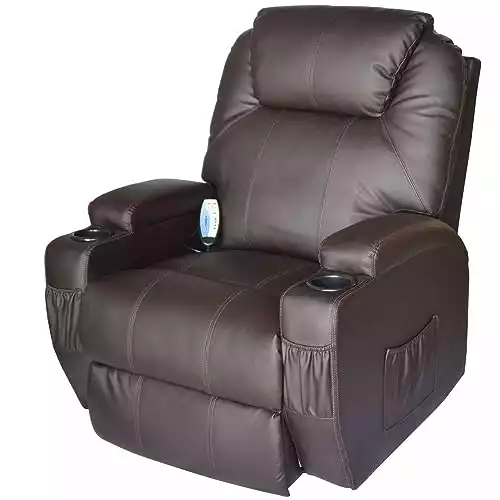 The perfect recliner is one that makes you feel relaxed after a long day of work. If you have lower-back pain, it should be the one seat that takes that away for you.
We reviewed the HOMCOM Swivel Massage PU Leather Recliner Chair to reveal if this chair is a worthy recliner. We will dive deep into the chair's features, specifications, and pros and cons to give you the full picture in one convenient place.
HOMCOM Swivel Massage PU Leather Recliner Chair Overview
The HOMCOM brand is part of a larger group of brands owned by Aosom. In fact, it is one of six total brands owned by the company. Aosom incorporates products from a wide range of categories to offer a massive selection at the lowest prices out there.
The goal of the company is to provide an unbeatable combination of value, customer service, and online shopping. The HOMCOM brand offers computer desks, chairs, and even kitchen supplies.
Essentially, anything you may want or need to spruce up your home, you'll find in HOMCOM's catalog. The HOMCOM recliner chair represents one of the designer options you'll see, equipped with all the features you would expect from a high-quality recliner.
The PU leather feels like the genuine thing, and the option for multiple modes and levels of vibration provides a respectable massage experience. Included remote and drink holders essentially allow you to do everything you want without leaving the seat.
Features of the HOMCOM Recliner Chair
This HOMCOM recliner has a very inviting exterior with large cushions and ample padding. With several high-end features to take advantage of as well, you'll quickly find that this chair is worth the asking price.
Let's take a look at all the features it has to offer:
Vibration and Heat
The vibration massage in this chair has four vibrating motors that focus on four separate zones across your back, thighs, upper and lower back, and calves. The heating is centered on the waist area to help relieve pain in the lumbar region.
Remote Control and Drink Holders
The attached remote gives you full control over the chair's massage and heating functions. A side pocket is perfect for storing other remotes or controllers, while two cup holders round out the package.
Recline and Rocking
The HOMCOM swivel massage PU leather recliner chair does not lean back completely, but you can recline to a very comfortable angle for resting or napping. The chair rocks back-and-forth as well if you enjoy this kind of rhythm for relaxation.
High Back and Padded Headrest
The high back and padded headrest here offer comfort for people of varying heights. The extra padding on the headrest is also beneficial for sleeping or napping as it acts as a kind of built-in pillow.
360-Degree Swivel
The option for 360-degree swiveling is vital for both flexibility and mobility in your seating. Turning and moving in your recliner is something you don't miss until it's gone, but thankfully this chair includes the option.
Chair Specifications
Pros and Cons of the HOMCOM Recliner Chair
A chair with this many high-end features is bound to come at a high cost, but our HOMCOM Recliner review reveals that it is surprisingly affordable, especially when compared to other recliners on the market. Let's take a look at the pros and cons:
It all starts with the cushion. HOMCOM promises a back cushion with 6 inches of thickness, along with a thick seat and armrests. It's the kind of recliner that almost hugs you when you sit on it.
Thankfully, with the added cup holders and remote, you won't need to get back up again for a good long while. Tack on the swivel, and you will have all the mobility you need. If you're also someone who has a lot of back pain, the vibration massage and heat functions are excellent additions.
The massage, in particular, covers multiple areas of the body and offers several choices for speeds and intensity as well. You can even turn on the heating during a massage for added comfort.
The downsides are few, but they are worth mentioning here in our HOMCOM chair review. The price, for starters, is higher than most chairs we've featured for lower-back pain. Given the wide selection of features here, it's reasonable to say that the price could and should be higher.
Some customers have reported issues with the interior foam that pads out the back and armrests. After a year or two of constant use, they have claimed that the padding begins to break down and holds its shape with less efficiency.
Our Verdict – HOMCOM Massage Chair Review
Now that you've finished reading our review of the HOMCOM Swivel Massage PU Leather Recliner Chair, you should have a better picture of what makes this chair unique and special. Massage and heating are both very desirable features in a recliner, but these things also come with a higher price.
If you don't mind a higher price tag, however, this recliner makes a strong first impression in any living room. With the added features, it offers a lot of reasons to check it out.
---
References & Resources