In a Nutshell:
A Muvman clone, offered by a smaller, well-respected brand. Hon Perch Stool is recommended for anyone 250 pounds or less who wants a Muvman but can't quite afford one.
* Brand Reliability is a measure of the strength and longevity of the brand, which by extension, is a measure of the level of support you can expect.
** While aesthetics is a matter of taste, Aesthetic Flexibility is a measure of how easily a given design would fit into a wide range of home or office décor schemes.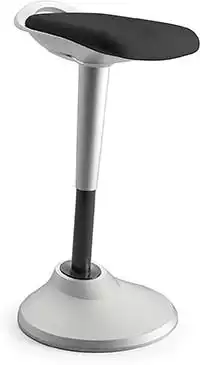 ​Are you dissatisfied with the office chair you're currently sitting in?
Has that dissatisfaction led you to begin investigating alternative office seating options?
If so, and depending on the type of job you have, you may find that the modestly priced Hon Perch Stool is exactly what you're looking for.
It bears unmistakable similarities to a better-known product, the Via Muvman. Of course, the Muvman is significantly more expensive and may be out of reach for a significant portion of the market. If you like the Muvman but simply can't afford one, the little Hon Perch may seem like the answer to a prayer.
Never heard of the Muvman? That's fine too. In the sections that follow, we'll outline everything this versatile, surprisingly great little stool can do, and we'll be quick to let you know about its limitations so you can decide for yourself if it's the alternative seating solution you've been looking for. If that sounds good to you, let's jump right in and see what the Perch can do!
An Overview of the Hon Perch Chair
First and foremost, this little stool looks a lot like the Via Muvman. That's not an accident. The Muvman is one of the most innovative and popular standing stool designs on the market today. It's not the least bit surprising that Hon, being a smaller but still well-respected brand, capitalized on that stool's popularity. Even better, they did a great job making a low-cost alternative to it.
Chair Specifications
Before we look more deeply into that, let's do a quick review of the core stats that define the Hon Perch Stool:
A couple of things jump out at us here.
First, this is a super light stool that's incredibly easy to move from place to place as your needs shift and change throughout the day.
Second, this model suffers from the same limitation that most of the alternative office seating options do; it's only got a 250-pound weight limit.
That's not a huge issue as that weight limit makes the chair accessible to some 75-80% of the market, but it does mean that bigger, taller people will struggle to find an alternative to conventional office seating that will work for them.
The other thing worth mentioning here in our Hon Perch review is that the stool doesn't come with as many options as the Muvman that inspired it.
There's only one gas lift option available, which means the seat height adjustment range is what it is. If it works for you, awesome, but if not, there's no way you can modify or adjust it.
Like the model that inspired it, the Perch is offered in a few different colors, including black, blue, charcoal, or red. Given this and its aesthetic, it's incredibly easy for this little stool to blend seamlessly into just about an home or office environment.
Features of the Hon Perch Stool
Adjustability and Comfort
There's only one adjustable feature on the Hon Perch chair, which is why the user manual is just one page long. You can adjust the height of the seat. That's it.
In terms of comfort, the fabric is stretched over a moderate amount of conventional block foam padding, which is adequate for light to moderate daily use. This is enhanced by the presence of a well-designed sculpted waterfall-edge style seat, which is noteworthy on a stool like this.
Most standing stools feature a simple stool-style seat and in some cases, swap that out for a saddle-style seat like you'd find on a bicycle. The presence of the seat adds a powerful ergonomic feature to the stool and makes it more comfortable than it otherwise would be.
Even so, it's important to realize what you're considering purchasing here. At best, this should be considered as the stool equivalent to a task chair. It's not the kind of seating you want if you plan on sitting at your desk for eight or more uninterrupted hours of computer work.
Seating like this was designed and optimized for people with active jobs who sit for short periods and then get up and move around to do their work before returning to their Perch a short while later.
If that describes your day, this handy little stool is going to look and feel like absolute perfection. If you're a power computer user who spends long hours sitting down, this stool probably isn't going to work for you.
What it will do, though, is it will relieve lower back pain by keeping your spine properly aligned no matter how you move while you're on the stool. It will also greatly improve the circulation of blood to your legs and will give your core a steady, low-impact workout throughout a workday, which will help tone your muscles and help you burn more calories than you would have otherwise burned.
If you're interested in getting fit, but you don't have the time to hit the gym every day, a stool like this can be a powerful addition to your daily exercise routine. That's huge, and honestly, the major reason people consider a product like this.
Assembly is About as Easy As it Gets
While the Perch Standing Stool won't arrive at your door assembled and ready to use, it will probably take longer to get it out of the box than it will to get it ready to sit down on. Expect the process to take no more than fifteen minutes, counting the time it takes you to get it out of the box and put it where you want it.
Many products in the office furniture market come with an expert assembly option. This one doesn't, and even if it did, we wouldn't recommend it. It's super easy to put together.
Color Variants of Hon Perch Backless Stool
---
Pros and Cons of Hon Perch Stool
In no particular order, here are the things we think you'll like best about the Hon Perch:
There are a few negatives to bear in mind, as well. These include:
Final Thoughts on Hon Perch Stool Review
Overall, we feel that the pros far outweigh the cons where the little Hon Perch Stool is concerned. As with all alternative seating options on the market today, this stool is almost entirely self-selecting. If you're in the market for an alternative to a conventional office chair and the idea of sitting on an exercise ball seems a little too 'out there' for you, this is a superb option that won't cost you a ton of money.
If that's not what you're interested in, then no matter how many bells and whistles the company adds to the stool, it's not going to change your mind. On that basis, we provisionally recommend it. Note that we change our provisional recommendation to a full-throated endorsement if you really want to buy a Muvman but can't afford one. This is the closest match to the more popular stool you're likely to find, and it's offered at a significantly lower price.
---
References & Resources