In a Nutshell:
The Infinity Altera massage chair has an excellent design, filled with a good mix of convenience and therapeutic features. Recommended for users who are up to 6' tall.
Are you 6'0" or shorter?
Have you noticed that sometimes, when you sit on a massage chair, it just doesn't seem to "fit" you?
If you've run into that problem, then you're going to love our extended review of the Infinity Altera massage chair. The company has focused all their design expertise on one goal: optimizing the Altera for shorter to average-sized people.
If you don't fall into this category, then this chair almost certainly won't be for you. But given that this describes the greater bulk of the market, the Altera is a wonder. You'll be hard-pressed to find anything else on the market today that can match it for comfort and function.
We'll go over everything this model has to offer, and we think you'll agree. It's amazing.
Infinity Altera Massage Chair Overview
Hybrid Track Design & Quad Rollers
Right off the bat, the Altera gets high marks for the core elements of its design. The Hybrid L/S track is cutting edge massage chair technology that allows its quad rollers to do more than just massage your back, but also extend under the seat to give your glutes and thighs attention as well.
3D Body Scan
An extended massage track and rollers that mimic the feel of human hands are great. But unless those rollers are hitting the sore spots on your back, the massage you get is going to be of limited value. And that's where the 3D Body Scanning comes into play.
Each time you use the chair, it scans your body and adjusts the position of the rollers to ensure they hit your pressure points.
That works more than 90% of the time, but in the rare cases where the tech gets it wrong, the Altera also provides buttons on its included remote that allow you to adjust the roller positions and the width of the massage field manually, guaranteeing a world-class experience, every time you use the chair.
Built With Space-Saving Technology
One of the biggest drawbacks of most massage chairs is that they're big. Really big that they tend to dominate whatever room you put them in. With space-saving technology, the chair pivots on its base as it reclines, minimizing the room required to use it. In fact, the Altera only needs three inches of clearance between the back of the chair and the wall you set it near.
That's amazing, and we wish this was a standard feature of every massage chair on the market.
Zero-Gravity Seating
Our Infinity Altera review would not be complete without drawing particular attention to this.
Inspired by NASA, Zero-Gravity seating enhances the overall quality of the massage experience by reclining you to a position where your knees are elevated slightly above your heart.
From that position, most of your body's weight is pressing down and against the rollers, resulting in a superior experience. Plus, it feels simply amazing. Even better, the Altera offers not one, but two different seating positions, allowing you to experiment to find out which one you like best!
A Tremendous Number of Options
One thing Infinity is known for is that they offer more massage options and combinations than most other comparably priced models. The Altera is no different, and you'll be quite pleased with the total number of available options.
Massage Techniques
As you can see, it's got the basics covered, and provides one excellent advanced technique (Shiatsu). In addition to that, there are a couple of other interesting things to mention here.
First, the music sync function. This isn't a proper massage "technique, " but it is intriguing.
When this mode is activated, the rollers are tied into the chair's built-in speakers, and move to the beat of whatever music you're listening to. Depending on your taste in music, this can result in an extremely gentle, relaxing massage, or you could find yourself in a situation where it feels like the chair is trying to kill you.
Second, the Rhythm feature is worth making a note of. It allows you to select any two other options and use them in tandem, dramatically increasing the total number of combinations available.
In addition to these, the Altera offers six pre-programmed routines.
Pre-Programmed Massage
All these options default to a twenty-minute duration and can be adjusted via six levels of intensity from the remote.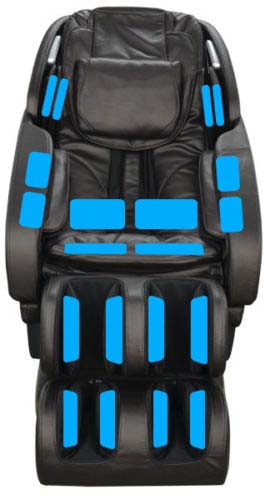 Air Massage Mode
The Altera renders its air massage via 36 Second Generation Airbags, which is slightly on the low end for a chair in its price range. You can find plenty of models that offer more airbags, but there's certainly nothing wrong with the quality of the massage you get.
One nice aspect of this feature is the fact that you can selectively activate the airbags by the following regions:
Also, you can further customize your experience via five levels of intensity via the remote.
One basically counters the other. Although the Altera is slightly underweight where the raw number of airbags is concerned, it comes out ahead in terms of flexibility and customization.
Lumbar Heat
This is always a welcome addition. Heat + massage provides much greater benefit than massage alone and delivers tremendous therapeutic benefit.
Under normal circumstances, if you suffer from chronic lower back pain, this would be your favorite feature. In this case, the Altera offers a range of other benefits that will give this one a run for its money.
The provided heat is binary, with no way of precisely adjusting the temperature. Nonetheless, the fact that it's present at all makes it a great addition to the design.
Zone and Partial Massage Modes
The zone massage function is a powerful therapeutic feature. At the touch of a button, you can interrupt whatever massage program you're running and have the rollers focus on an area six inches in diameter from that spot.
Partial massage is like a super-sized version of Zone mode. Wherever the rollers are when you press the button, it will focus the rollers on an area that encompasses roughly one-third of your back. Both of these options allow you to spend as much time as you need on those problem areas on your back.
Body Stretch
This is the single most powerful therapeutic feature the Altera offers. The stretch is quite robust, and provides almost immediate pain relief in the same way that a chiropractic adjustment does, by taking pressure off compressed discs in your spine.
If the stretch function proves to be too intense for you, you've got two viable options. First, you can enjoy a massage that includes the therapeutic heat function as a warm up to the stretch, or you can make use of the twist function, described below.
Waist Twist
The waist twist is a milder, less aggressive feature that provides the same benefits as body stretching. It's unlikely that you'll use both, but the fact that the Altera offers this as an alternative to the stretch function is tremendously valuable.
Foot & Calf Massage
The Altera gets high marks for this feature implementation. While the airbag portion of the foot massage is quite good, the foot rollers are what make this feature truly stand out.
They provide a Shiatsu massage on the soles, which you can adjust via the remote through three levels of intensity.
This is relatively rare, even among high-end chairs, and is almost unheard of in the mid-range, which is where this model is priced (the high-end of the mid-range, to be sure, but mid-range nonetheless).
If you spend several hours a day on your feet, this feature alone will probably make you fall in love with the model.
Rocking Feature
This is a minor feature, but one that adds polish to the design. You can incorporate the rocking function into most of the offered massage programs, which will help you relax and enhance the overall experience.
It doesn't have any therapeutic value in and of itself, but when combined with the chair's music function, it's likely to make you relax so much that you drift off to sleep while enjoying your massage. A very nice touch.
Bluetooth MP3 Support
Another minor feature that adds a degree of polish and shine to the design, MP3 support is highly popular and always in-demand, so it's very nice to see here.
Even better, the Altera's built-in speakers are Bluetooth compatible, allowing you to connect your smartphone remotely.
This is superior to the "standard" approach, which is to provide a USB port allowing you to download your favorite songs to a jump drive and plug it directly into the chair. Bluetooth compatibility is simply more convenient.
A (Somewhat) Adjustable Timer
Not all chairs offer a time-adjustment feature, so the fact that the Altera does is a plus. On the other hand, the adjustment options are limited. Massage programs default to twenty minutes and can be changed to either ten or thirty minutes at the user's option.
Some other chairs in the Altera's price range that offer this feature allow much more in the way of fine-grained control, making time adjustments in five-minute increments, to taste.
It's not that this is a bad implementation, it's just weaker than many of the Altera's competitors.
Surprisingly Simple Remote
Even though this model offers a generous number of options and massage combinations, the remote is well designed, and no more complicated than your average television remote.
There's no significant learning curve here, and you'll be able to sit down and start enjoying your first massage within minutes, with mastery coming not long after that.
A great job by Infinity!
---
Pros & Cons of Infinity Altera Massage Chair Review
As you can see by our Infinity Altera massage chair review to this point, it has a lot to offer the right person.
It's well-priced and feature rich. Having said that, there's always room for improvement.
Here are some of the things we'd love to see in a future model upgrade:
Note that we're specifically not suggesting the addition of an ottoman extension module because the entire design premise is to optimize this chair for users 6'0" and shorter.
We haven't seen any other chair on the market that takes this approach. And in this particular case, adding an extension module would be precisely the wrong move.
---
Infinity Altera Review Conclusion
If you're 6'0" or shorter, this chair is pretty close to ideal. It's a beautiful, robust design that will please both casual users, and chronic pain sufferers. And because of its focus on shorter to average-sized users, it's one of the most comfortable massage chairs in its price range.
An excellent model and highly recommended.
---
REFERENCES & RESOURCES