In a Nutshell:
Infinity Evolution 3D/4D Massage Chair is a top-of-the-line, general-purpose massage chair with a few notable weaknesses. Recommended for anyone who can afford it, provided that you don't have a specific therapeutic need.
* Brand Reliability is a measure of the strength and longevity of the brand, which by extension, is a measure of the level of support you can expect.
Do you suffer from chronic pain? Do you spend a small fortune each year making regular trips to your local chiropractor?
If you're looking to change that and want the convenience of being able to get a great massage anytime you like, from the comfort of your own home, then you're going to be thrilled with our Infinity Evolution massage chair review.
Infinity is one of the big names in the massage chair industry, and their products are almost always a cut above. This one is no exception, but as you will see, it does have a few almost jarring shortcomings you need to be aware of, especially if you have a specific need.
Those shortcomings don't keep this from being a fantastic massage chair; it's just that it is missing a few very specific therapeutic routines that some users might need. If you fall into that category, this model may not be a good fit for you. On the other hand, this is an awesome choice if you have more general pain management needs.
If you're tired of your aching back getting the better of you and you're curious to know whether or not the infinity evolution 3d/4d is right for you, read on and let's take a closer look.
An Overview of the Infinity Evolution 3D/4D Massage Chair
Most massage chairs aren't very stylish or attractive. There's no mistaking what they are and what they're for. The Infinity Evolution 3d 4d definitely fits this mold. It's by no means an ugly piece of furniture, but the company also didn't go out of its way to make a fashion statement. It looks like a massage chair that's ready to get to work and make your back stop hurting.
That's not a bad thing, but right upfront, if you're looking for a chair that will blend seamlessly into your living room or something that doesn't jump out and scream, "I am a massage chair!" then this isn't the model you want.
It's also a big, burly piece of furniture. If you order one, it will arrive at your doorstep on a pallet, shipped in three separate boxes. If you're curious, the dimensions of those three boxes are as follows:
We mention this because it absolutely won't fit through a standard doorway once the chair is assembled. If you order White Glove service and have someone come set it up for you, make sure they bring the boxes into whatever room the chair will sit in. It will save time and headaches later on.
The chair measures a hefty 66" L x 35" W x 48" H and weighs in at 328 pounds when fully assembled.
Unfortunately, one of the weak points of its design is the fact that it's only capable of supporting 300 pounds of user weight. As big as it is, you'd think it would be capable of supporting more than that.
For most folks, that's not a dealbreaker, but if you are a heavier user, the weight limit on this model is going to be a dealbreaker.
L-Track and Quad Rollers
In other reviews of the Infinity Evolution massage chair, the authors make a big deal about the impressive 49" track length and the chair's L-Track, which allows the massage nodes to travel under the seat and render a massage to your glutes and the backs of your thighs.
We agree that those are impressive things, but honestly, given that this chair costs as much as a decent used car, we wouldn't expect any less. That's not to downplay its significance, merely to point out that chairs at this price range are held to a higher standard.
Here, we have to go into a little additional detail about the use of the word "massage nodes" and the precise definitions of 3d and 4d.
Most massage chairs use rollers. This model does too, but the quad rollers do more than simply roll. The massage track has dimensionality allowing them a greater range of motion than many other chairs offer, which helps render a massage that feels much more like human hands. It's still not perfect, but Infinity has worked hard to improve the technology here, and they deserve credit for it.
The 3D in the chair's name refers to the movement of the four massage nodes on the x, y, and z-axis.
4D is a reference to time, and this chair does have a massage timer that allows you to select a massage duration of either 10, 20, or 30 minutes depending on your needs of the moment.
3D Body Scan
This is a fairly strong, though somewhat short section of our Infinity Evolution massage chair review.
When you settle back in the chair, it will take a moment to scan your body, so you'll want to hold as still as possible until the scan is complete.
The chair is busily finding your pressure points and making incremental adjustments to the massage nodes' position in order to ensure that it gives you the best massage it's capable of.
You can see the results of the scan on the small screen on the remote, and if you need to, you can make further adjustments manually. The good news is that you'll seldom need to. If you remain still, you'll find that the scanning tech will get it right more than 95% of the time. Even so, the addition of a manual interrupt virtually guarantees a superb massage experience.
Note that this scan also adjusts the leg rests and will either extend or retract the legs as needed to give you an optimal foot and leg massage too!
One final point that deserves a mention before we leave this section is this: The remote that comes with the chair is very well designed, and using the chair is a lesson in simplicity.
Having said that, if you'd prefer, you can download the Android or iOS app and control every aspect of your chair from that instead. We love that the company makes both options available!
Wall Hugging Technology and Zero-Gravity Seating
Although this big chair will fill up a room, it does have one important saving grace. It has been designed with wall-hugging technology, which means that you'll only need to put the chair about 4" from the wall in order to recline it fully.
Note, however, that you'll need about 24" of clearance at the front of the chair, so be sure to take a few measurements of the room you're planning to put it in. You may need to do a bit of rearranging!
In addition to that, the Infinity massage chair Evolution offers Zero-G seating. If that's something you haven't heard of, trust us, you're going to love it.
When you recline into Zero-G position, the chair elevates your knees to a point slightly above your heart, which really does leave you with a feeling of weightlessness that improves the overall quality of your massage.
Even better, it has been demonstrated to improve circulation and blood flow. If you've recently had any type of surgery performed, sitting in Zero-G position will facilitate faster healing, making it a solid win no matter how you slice it.
If there's one dark cloud in the silver lining that Zero-G represents, it lies in the fact that this chair only offers a single Zero-G seating position.
One is obviously better than none, but again we come back to the extraordinarily high price of the chair. For the money, we'd have been expecting at least two and preferably three Zero-G seating positions, so this section of our Infinity massage chair review leaves us slightly underwhelmed.
An Average Number of Options
This is a somewhat frustrating section of our infinity massage chair review. On the one hand, there really is a good deal to like here. On the other hand, this chair is almost totally lacking in advanced therapeutic features. Let's take a closer look, starting with the good:
First and foremost, there are a number of built-in massage programs. These include:
Focusing on the neck, shoulders, and upper back, it's a good way to ward off tension headaches caused by too much time in front of the computer.
3D Massage Programs
In addition to the pre-programmed massages, you'll also find the following techniques on offer:
All of these are self-explanatory, save for synch. Since the Infinity Evolution 3d/4d chair is outfitted with Bluetooth speakers built into the headrest, you can attach your phone to the speakers. When you do, choosing Sync will cause the massage nodes to move in tandem with the beat of whatever music you're listening to.
It's a fun feature offered by a number of different companies, but depending on the type of music you listen to, you'll see wildly different results. Some music results in a soothing, relaxing massage, while other music will make the chair feel like it's actively trying to beat you to death, so be warned!
All of this is well and good but here's the issue: This chair is expensive. It's not difficult (at all) to find significantly less expensive models that offer more in the way of advanced massage techniques and more in the way of specific therapeutic benefits.
There is a slight silver lining here, though. The chair does offer two different "save slots," allowing you to design your own totally customized massage. You can set the duration, body zones the chair focuses on, change intensity between zones (five levels of intensity), change the rhythm and technique, and so forth. Save your settings then, so you have one-touch access to your custom creation.
The only real weakness we've found is that since the body stretch feature is only offered in the context of a pre-defined message, you can't build it in as an element of your custom massage designs, which limits its therapeutic value.
An Exceptional Air Massage Too!
This model doesn't just provide an excellent airbag massage, which you can set to "whole body" or zero in on specific body regions that are giving you trouble. The selectable regions here include:
As with the massage nodes, you can set the airbag intensity, choosing between five different levels (1 being mild, while 5 is the most intense massage the chair offers).
Lumbar Heat of Infinity Massage Chair Evolution
We love it any time a massage chair offers heat, and we consider this to be one of the strong points of this design.
That said, the heat is confined to the lumbar region of your back only, and there's no temperature control, so the heat is purely binary. It's either on or off. If it's too hot for you or not hot enough, there's exactly nothing you can do about it.
Again, for a chair in this price range, that leaves us underwhelmed, but we're still very glad to see the presence of this feature!
Body Stretch of Infinity Evolution 3D/4D
As we mentioned a bit earlier, the Infinity massage chair Evolution does offer a body stretch function, but there's a caveat. The only way to access it is via one of the built-in, pre-programmed massage routines. Given that, you can't create your own custom message routine and include body stretching in it, limiting your options somewhat.
It's not a best-in-class body stretch (you'll want a Kahuna chair if that's what you're looking for), but it's certainly not the worst, either.
Calf & Foot Massage of Infinity Massage Chair Evolution
This is an excellent feature implementation, and if you have a job that sees you on your feet for several hours a day, it may well wind up being your favorite aspect of the chair's design.
The foot rollers offer three levels of intensity, and the calf oscillation technique used here is addicting and feels amazing. The only way it could be improved would be if this chair offered heated footwells which we consider an oversight, again, given the price of the chair.
MP3 Support & a Charging Port
We already mentioned the Bluetooth speakers built into the headrest. Still, they deserve another mention here because the chair offers MP3 support and a USB charging port that allows you to keep your trusty smartphone fully charged and listen to your favorite tunes while you relax in your chair.
The speakers are good quality, and they punch slightly above their weight class since they're literally right next to your ears. It's a nice touch and exactly the sort of thing you'd expect to find on a chair of this quality.
Voice Control Too!
This is a cutting-edge feature that you'll probably love. You can put the chair in voice activation mode and simply talk to it, telling it what you want. Here are the voice commands that this model understands:
While the list of recognized voice commands is somewhat limited, there's enough here to control the major aspects of the chair, and we expect that this feature will see further refinements in the future.
Ionized Air
This is mostly a hobbyist feature. There's no direct evidence that it has any health benefits, but those who like it seem to really like it. It basically generates a small current of cool, refreshing air that gently washes over your face while you're enjoying your massage.
You may never use it, or you may fall in love with it. Either way, it's worth experimenting with it to see how well you like it.
Offered in Three Different Colors, But…
If you decide you have to have one of these, you'll be able to order yours in either black, brown, or rose gold. It's not a generous selection of colors, but many models don't offer anything at all on this front, so we love that there's at least some choice here.
Unfortunately, the upholstery leaves us a bit underwhelmed. As is the case with most of the massage chairs sold today, this one utilizes PU.
There's nothing inherently wrong with PU. It looks and feels like leather but is a whole lot less expensive and doesn't tend to last as long, even if you're careful with it.
That's our biggest beef here. A chair this expensive should come with top-tier upholstery, and this one, unfortunately, doesn't. It's not a dealbreaker, but we can't say we were overly impressed with the company's upholstery choice.
Pros & Cons of Infinity Evolution
So, where does that leave us? If you've read our Infinity Evolution massage chair review, then we think you'll agree that this is a superb, feature-rich machine. In no particular order, here are the things we think you'll like best about this model:
PROS
On the other hand, it does have some weaknesses you'll want to keep in mind. These include:
CONS
Despite these limitations, the chair is amazing and really does have a lot to offer.
Infinity Evolution Massage Chair Review Conclusion
We really like this chair, but we don't quite love it. It's a very good chair, that's undeniable, but we've seen other top-end chairs that offer more advanced techniques, more flexible therapeutic options, and more customization options in general.
Even so, we will close our Infinity Evolution massage chair review by saying that this is a superb chair that will serve you very well. We recommend it.
Other Options to Consider
If for some reason the Infinity Evolution 3D/4D Massage Chair isn't a good fit for you, here are a couple of other options you may like better: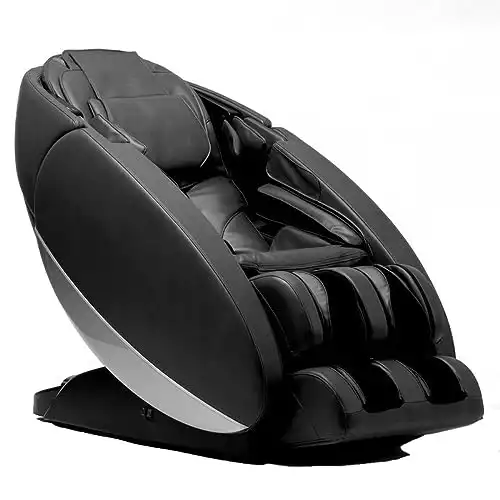 Human Touch is one of the best and most respected companies selling massage chairs today, and the Novo XT is one of Human Touch's finest offerings. This chair not only looks great, sporting a sleek, elegant design, but it makes you feel incredibly well cared for as it cradles you. It is an amazing, inspiring piece of furniture.
While Kahuna chairs don't have a warranty that's quite as good (5 years for Infinity, 2 for Kahuna), they're exceptional chairs that offer arguably the best body stretching routines in the industry. If you have a specific therapeutic need for a good body stretch, this one belongs on your shortlist of options to consider, though the weight limit is somewhat less here (just 250 pounds).
---
Reference & Resources