In a Nutshell:
The Kahuna Hani 2200 Massage Chair is a surprisingly functional hobbyist-level chair with an important therapeutic twist! Recommended for hobbyist and casual users.
Unfortunately, this model has been discontinued by the manufacturer. Check out alternatives below.
Kahuna Hani 2200 Alternatives
Are you short on space, but interested in enjoying the benefits of a basic therapeutic massage chair?
Looking for a great entry level massage chair to try out and see how you'd like it?
If you answered yes to either of these questions, then you might have just found the perfect massage chair.
We'll take a detailed look at what the Kahuna Hani 2200 massage chair is, and what it isn't. What it can do, and point out its limitations. Depending on exactly what you're looking for, this just might be the right chair for you.
Kahuna Hani 2200 Massage Chair Overview
The first thing we need to talk about where this chair is concerned isn't a feature per se but has to do with the design aesthetic of the chair.
At first glance, you won't even notice that it's a massage chair. With the 3D Surrounding Bluetooth speakers on the sides and back, the Kahuna Hani 2200 looks more like a gaming chair.
Since it does look like a gaming chair, it won't fit in with some people's décor. On the other hand, if you like the casual vibe the chair gives off with its ergonomic half dome design, this may be a good fit. Plus, it is lightweight with only 77 pounds! If you plan on moving your massage chair from space to space, it wouldn't be a problem with this chair.
Bear in mind that this is an entry-level chair. As such, it's not going to be feature-packed like more expensive offerings. That doesn't mean it can't give a good, basic massage; it just means that it's going to have certain limitations, by definition. And we'll get into all of that just below.
Features of the Kahuna Hani2200 Massage Chair
Multimodal Back and Neck Massage
The Kahuna Hani 2200 massage chair only offers a single massage style, but it's a good one. Shiatsu massage is one of the most popular massage styles and was an excellent choice for this chair.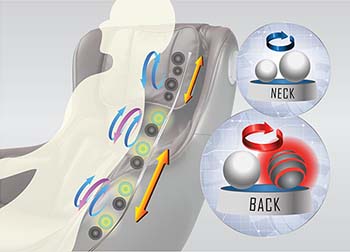 The rollers are framed by an S-Track, which allows them to follow the natural curvature of your spine. This means that although this is a low-priced, entry-level chair, it delivers a back and neck massage of surprising quality.
While there's no specially designed massage programs provided, the Kahuna Hani 2200 allows more customization than you might think. Besides getting a massage that focuses on the neck, full back, or just the lower back, you can also adjust the direction and position of the rollers via the remote.
Each massage is keyed to a fifteen-minute timer, which cannot be modified.
Air Massage Mode
Amazingly, the Hani also has airbags! Six in all, which doesn't sound like many, but these are Second Generation Airbags, which means that the chair doesn't need many to deliver a top-notch massage.
It delivers in style, but it's important to remember that the airbags are only located around your hips and waist as you are sitting in the chair, so you're not going to get a whole-body air massage experience, but a more tightly targeted one.
Heat Therapy Too!
The Kahuna Hani 2200 massage chair features a large heating element in the back rest, which is designed to provide heat therapy to the lumbar region.
Actually, in this instance, the company sells themselves short, because the heating area is quite large, and winds up providing soothing heat from your lumbar region, all the way to the middle of your back.
This one therapeutic benefit is not enough to recommend the chair to anyone who suffers from chronic pain, but it is a very nice, unexpected addition to a chair at this price range.
3D Surround Sound System
While this isn't a stand-out feature, it's a nice touch, and one of the chief reasons that the Hani often gets mistaken for a gaming chair.
The built-in 3D surrounding speakers, which you can connect to via Bluetooth or Aux cable, are of surprisingly high quality. Equipped with subwoofer volume control, you can listen to soothing music or watch movies, while enjoying a relaxing massage at the end of a long, stressful day.
A great feature addition that adds polish to this solid entry-level chair.
Extremely Easy to Use Remote
With only eleven buttons in all, the remote is extremely easy to use and understand. Minutes right after setting the chair where you want it, you can relax and enjoy your first massage without any hassles.
You can turn on and off airbags, heat, and music as well as choose to focus on your full back, upper back, or lower back, with just a press of a button. Absolutely no learning curve here!
Pros & Cons of the Kahuna Hani 2200 Massage Chair
Okay, so as you have seen from our Kahuna Hani2200 review, and there's a lot this chair can and can't do.
What's great about the Kahuna Hani 2200 massage chair:
Major limitations of the Kahuna Hani2200 massage chair:
To a certain extent, those things are to be expected. After all, most entry-level massage chairs come up short on a number of fronts, and the Kahuna Hani 2220 is certainly no exception.
Kahuna Hani2200 Review Conclusion
In Hawaiian, "Hani" means happiness, and the simple fact is that despite the number of things this chair just can't do, it will make the right user quite happy.
The right user could be a gamer or a casual/hobbyist massage chair aficionado, who wants a massage chair that's capable of giving a great, basic upper body and neck massage but doesn't care a lot about extras and customizations.
If that describes you, then you're going to be thrilled with the Kahuna Hani 2200 massage chair. The less that describes you, the less enjoyment you'll get from it.
---
References & Resources