Summary
The Kahuna LM 7000 Massage Chair is an upgrade to the legendary LM6800, this one has eclipsed its predecessor and taken the title of best massage value on the market today. Recommended for anyone between 5' and 6'3" tall.
Are you sick and tired of being sick and tired? Have you always dreamed of owning a full-featured massage chair offered by one of the best companies in the business, but figured such a device was beyond your reach?
If you answered yes to either of those questions, you may have been considering buying the legendary Kahuna LM-6800 massage chair, which we've hailed as being the best value on the market today.
Before you do that though, we urge you to read our in-depth Kahuna LM 7000 review. The fine folks at Kahuna have upgraded the mighty LM-6800, and this is the result. As you'll see in the sections that follow, it offers a raft of high-end features just like the 6800, improving the overall design and extending the chair's capabilities.
It's true that this updated model is marginally more expensive than the 6800, but in our view, this chair has taken the title of the best value in the massage chair world. Throughout this review, we'll tell you why we think so.
The simple truth is that chronic pain can have devastating impacts on other areas of your health, and few people can afford 1-2 visits a week to their friendly neighborhood chiropractor. Make no mistake; although the LM-7000 has lots of features that will appeal to hobbyist users, this chairboasts some impressive therapeutic features that chronic pain sufferers will love.
If you're excited to hear more, keep reading, and get ready to meet your new favorite massage chair!
An Overview of the Kahuna Massage Chair LM-7000
Big and inviting. Those are the first words that are likely to spring to mind when you see the Kahuna LM7000 for the first time. It just has the appearance of a chair you want to sink into and take a nice nap, and as you'll see when we get into the impressive feature set this model has to offer, it would be fantastic for that!
Before we get into the nitty-gritty though, here are a few of the chair's basic stats:
In addition to that, Kahuna has gotten FDA approval to list the LM-7000 as a registered medical device. So, if you suffer from chronic pain, it's possible at least part of the cost can be covered by your insurance. Even without that, this model is, in our view, the best value in the massage chair market today. If you can get your insurance company to pick up the cost, that makes it even better!
L-Track & Quad Rollers
Diving into the details, Kahuna gets it right here, offering a long L-Track to massage from your neck all the way down to the backs of your thighs. Kahuna LM-7000 is also outfitted with quad rollers to render the roller-based massage.
While not everyone needs an L-Track, it's nice to see it on offer on such a modestly priced model, and quad rollers are the current industry standard, so it's nice to see that Kahuna didn't cut any corners. That's sometimes a risk on modestly priced chairs, so kudos to the company for sticking with state-of-the-art tech.
3D Body Scan
As with the vast majority of chairs on the market today, the LM7000 utilizes body scanning tech to reposition the rollers before your massage begin, to ensure they're hitting your pressure points appropriately.
The body scan is quite accurate, but it does occasionally get it wrong. In those rare instances, you'll find controls on the remote that will allow you to fine-tune the roller position, so they'll always be hitting just where you want them, ensuring that you get the best massage this chair is capable of delivering every time you use it.
Zero-Gravity Seating
Here's another thing Kahuna knocked out of the park. While many chairs on the market today now offer Zero-G seating, the more modestly priced models (and even some of the more expensive ones) limit you to 1-2 Zero-G positions. The Kahuna Massage Chair LM-7000 provides three, which is the maximum we've seen on the market, so again, this chair is competing with the best of the best on this front.
If you're not familiar with it, Zero-G seating is a fabulous option that enhances the quality of the massage you get by placing your body in a position such that your knees are elevated slightly above your heart.
This is cunning design because it relies on your own bodyweight to press you more firmly against the rollers, resulting in a deeper, more therapeutic massage. In addition to that, studies have shown that this seating position provides a raft of health benefits including the fact that it promotes better blood flow, helps lower blood pressure and facilitates faster post-operative recovery if you've recently had a surgery of some kind. It's a great feature and very well implemented in this model.
Designed with Space-Saving Technology
This is another big win because as you saw in the first section of this review, the LM-7000 is a big chair. As such, you may be concerned about being able to find somewhere to put it, especially if you've got a smaller living room or a small apartment.
The company has done what they could to help here, utilizing space saving technology which basically sees the chair pivot in place as you recline, reducing the amount of wall clearance you need.
In a chair like this without space-saving tech, you'd probably need at least two feet of clearance between the back of the chair and whatever wall you've decided to set it near. With this chair, you'll only need 3-4 inches, and that can make all the difference in the world if you're cramped for space.
An Average Number of Options
We knew that Kahuna would have to skimp somewhere in order to keep the cost of the chair down, and this is an area where the chair doesn't excel. We'll be quick to say, however, that given the modest price of this model, having "only" an average number of options isn't a knock, really. It's just not an area where the design soars above our expectations.
The LM-7000 has the basics well covered. Regarding massage techniques, you'll find:
We were pleased to see an advanced technique in the lineup, and although more techniques are always better (provided they're well-implemented, of course), this is sufficient for most people's needs. If we could have any one additional technique added, our pick would be Swedish, but as it stands, this list is perfectly acceptable.
On top of that, you'll find six pre-programmed massage routines which also cover the basics. We like this because it means that the moment you get your chair put together (or have it assembled, if you opt for White Glove service), you can start enjoying the chair and worry about learning the finer points later. Once more, great job, Kahuna!
It gets even better though because you can customize your massage via the speed and intensity controls on the remote, selecting from three different speed, and three different intensity levels. If that's not enough to impress you, on the remote, you'll also find targeted massage routines that allow you to focus on specific areas that are causing you pain or problems. These include:
An Excellent Air Massage
Featuring 36 airbags, the Kahuna LM-7000 is well-equipped to render an excellent airbag-based massage, in addition to the world-class roller-based massage the chair is capable of delivering. Although the company doesn't explicitly call them second-generation airbags, these are not the simple inflatable bladders of yesteryear, but small precisely positioned air cells. For our purposes then, and to differentiate from older style airbags, we'll refer to these as "Second Generation."
The big advantage here is that these cells can deliver a superior compression-based massage with fewer airbags, and the LM-7000 has a generous number of them. Additionally, just as you can do with the roller-based massage, you can fine-tune your experience by selecting from one of three different levels of intensity.
Back and Calf Heat
As good as everything we've written so far is, if we had to name one stand out feature that really sets the LM-7000 apart, this would be it.
Not every chair offers heat and most of the ones that do limit it to the lumbar region of your back. This chair provides expansive back heat that covers your mid- and lower back and comes with heated leg massage ports to give your legs heat-based relief too.
In our view, this is the chair's best therapeutic feature, narrowly edging out the excellent body stretch that we'll talk about next. Our only gripe here is that there's no way to adjust the temperature of the offered heat. We can't really hold this against Kahuna though, because very few chairs on the market today offer temperature control.
We wish they would, but even without that, this is an exceptionally well-implemented feature. If you have a job that sees you spending several hours a day on your feet, this is probably going to be your favorite aspect of the chair's design, especially when we talk about the leg massage ports, which we'll do next!
Calf & Foot Massage
Not only are the leg massage ports heated…not only do they have airbags in place to render a delightful leg massage, but in the bottom of the footwells, you'll find dual rollers to give the bottoms of your feet some massage relief as well.
One of the complaints the company got about the LM-6800 was the fact that some people found the roller-based foot massage to be a little too intense. If that proves to be the case here, the company has you covered. They've included a pair of foam inserts. Placing one of these in the bottom of each foot well will provide an added layer of padding that will tone down the intensity of the foot massage.
Our recommendation is to try it without the foam inserts first and then if it proves to be too much for you, add them in.
Although the Kahuna LM-7000 is modestly priced, given the strength of its lower body massage (airbags for your legs, calf heat, and rollers for the bottoms of your feet), this model has powerful therapeutic benefits for people who suffer from chronic leg and foot pain, and is an ideal choice for people who spend a lot of time on their feet. It's a lot more than just a simple hobbyist chair!
Body Stretch
Depending on who you ask, Kahuna has either the best or the second-best body stretch routine in the industry with their patented Yoga stretch. Some people prefer the more aggressive Thai stretch, but this mostly comes down to personal preference.
Note that the body stretch routine will tend to have a greater impact the shorter you are. If you're 6'2" to 6'3" the stretch may be too gentle to provide much practical value, but if you're shorter than that, you'll find that it gives you the same basic benefits that a visit to your local chiropractor to get an adjustment gives you.
When activated, the airbags on the chair will inflate to hold your body in place as the chair slowly reclines, then holds position before releasing you. It's a great way to loosen up your spine, and that, combined with the expansive back heat can provide tremendous relief, almost immediately, to those who suffer from chronic lower back pain, making this another excellent therapeutic addition to the chair.
In addition to the standard Yoga stretch, the LM-7000 also offers a dynamic twist program that can be used on your shoulders, lower back, or hips.
Bluetooth Compatible
One of the two minor quibbles we always had with the LM-6800 was the lack of MP3 support. It certainly wasn't a deal breaker, but we always wished they'd done more in that area with the design.
Now they have!
The company listened, and the redesign is a huge step up, offering Bluetooth compatibility for wireless connection to your smartphone and premium speakers built into the headrest of the chair. We love this feature and its implementation, and once again, kudos to Kahuna for listening to their customers and making the upgrade!
An Adjustable Massage Timer
This is another small quibble we had with the LM-6800. The massage time was fixed at thirty minutes. That's not a bad thing, but we always thought it would be great if the company would allow the person sitting in the chair to tweak the massage duration to their liking.
Again, the company listened, and with this chair, you can do exactly that, selecting the duration of your massage in five-minute increments, to a maximum of thirty minutes.
A Slight Learning Curve
Despite offering a raft of great features, the company has managed to keep the design of the remote intuitive and straightforward.
Thanks to the presence of the pre-programmed massage routines, you can literally start enjoying your first massage just minutes after you get the chair put together.
Then, by the time you've finished a 30-minute massage session, you'll have the basics worked out on the remote, and by the time you've finished enjoying your second massage, you'll have it pretty well mastered.
An increasing percentage of the chairs on the market today rely on a touchscreen tablet for chair controls, but Kahuna opted to keep it simple and old-school here, and we're fine with that.
Everybody knows how to use, and is generally comfortable with remotes, which makes the chair more accessible for older folks, who may not have much experience with touch screens.
A Fantastic Warranty
Kahuna has one of the best warranties in the industry, and the LM-7000 benefits from it. The following information about the warranty was taken directly from the company's website:
No matter how you slice it, this is an amazing warranty.
Even better, Kahuna is known for its world-class post-sales service and support so you can expect to get to a real, live human being very quickly when you call them, and you can expect a rapid response to whatever issue you're having.
Other Improvements
While the 6800 was never a noisy chair, the upgraded version is even quieter. This isn't a huge deal, but quiet operation is always better than the alternative.
The arm panel, which offers a limited set of controls (all of which are mirrored on the remote) has been redesigned and is easier than ever to use. Again, this isn't a huge deal, but it's nice to see that while the company was upgrading, they got into the weeds and tweaked almost every aspect of the chair.
Pros & Cons of the Kahuna LM 7000
Given the score this chair got, and all the glowing praise we've heaped on it, it will probably come as no surprise that at this point in our Kahuna LM 7000 review, we don't have many bad things to say about the chair.
It's a masterpiece in terms of design and has a dizzying array of features, including some powerful therapeutic ones. Best of all, it provides all that at an almost mind-blowingly low price. In fact, when you see how little the company is asking for the massage chair, compared to what it can do, you might even think it's a typo. ​​​​​
It isn't, which is why we rate this model as the best value in the industry today. Simply put, the Kahuna LM-7000, like its predecessor, the LM-6800, punches well above its weight class and can go toe to toe with chairs that cost two or even three times the money. That's really saying something!
While we don't have any genuine gripes about the failings of the chair if we could get any feature or features we wanted, here's what we'd put on our list:
That's it. Those are the only changes we'd make, and we'd happily pay the added cost.
Kahuna LM 7000 Review Conclusion
We'd say here in our Kahuna LM 7000 review that this model is as close to a perfect massage chair as you're likely to find at its price point. In fact, it compares favorably with chairs that cost two or three times more, and it's offered by one of the finest companies in the industry.
We recommend this chair without reservation to anyone 6'3" or shorter, but we especially recommend it to people who suffer from chronic lower back or chronic leg pain. While it's possible to find a massage chair with more powerful therapeutic features that help with those issues, you'll pay thousands of dollars more. Why do that when the Kahuna LM-7000 has you covered for less?
The bottom line is, this is a great massage chair.
---
REFERENCES & RESOURCES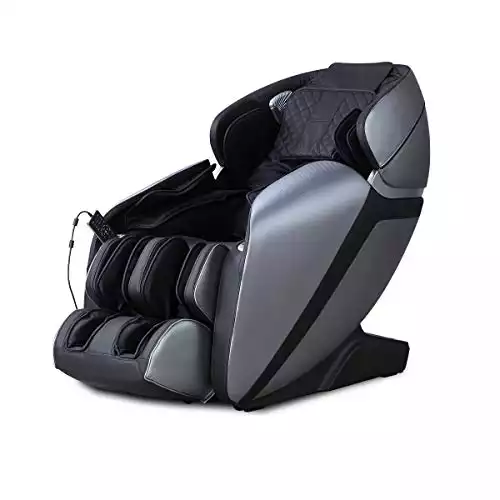 Kahuna LM 7000 Massage Chair (2021)
Recommended For: Anyone weighing up to 280 pounds who's looking to buy a chair from a well-respected company that offers a mix of features that both hobbyists and those with therapeutic needs will love.
Buy Now