In a Nutshell:
The Kyota Yutaka M898 is a solid design with a lot to recommend but FAR too expensive to consider purchasing. You can get 95% of this chair's capabilities for half the price (or less). On technical merits, it's a good design, but we absolutely do not recommend it at the price they're asking.
* Brand Reliability is a measure of the strength and longevity of the brand, which by extension, is a measure of the level of support you can expect.
Every once in a while, a massage chair comes along that just gets everything right. It offers tons of features and lots of customization options, is loaded with extras, and is offered at a price you just can't say no to.
This is not that chair.
Don't get us wrong, Kyota is a fine company. The brand is owned and backed by Infinity, a well-known and highly respected company in the industry, and this chair has a lot of great features that are well implemented.
If the asking price were about half what it currently is, it would be easy to recommend this chair, but its fatal flaw is simply that the company wants too much money for it.
In the following sections, we'll step you through everything this chair offers. And we think you'll agree with our Kyota Yutaka M898 4D Zero Gravity massage chair review that, on technical merits, this model gets almost everything right. It's just that technical merits alone aren't enough to warrant the kind of money Kyota is asking for this product.
Read on, and we'll take a closer look at the particulars.
An Overview Of The Kyota Yutaka M898 4D Zero Gravity Massage Chair
First, let's briefly talk about aesthetics. Most people who are in the market for a massage chair care a lot more about function than form, but form still matters.
Here, the design team of the Yutaka didn't take any chances. This massage chair looks a lot like nearly every other massage chair on the market today, including those that cost about a fifth as much as this one.
While it's certainly not an ugly piece of furniture, if you're hoping to get a chair with a fancy or original aesthetic, you're going to be disappointed.
Second, this is a huge piece of furniture—seriously huge. It measures 67″ L x 35″ W x 49″ H upright and 73″ L x 35″ W x 37″ H when reclined and weighs in at a burly 303.6 pounds. You're definitely going to need help getting this chair in whatever room you plan to place it in, and that room better be pretty sizeable, or this chair is going to utterly dominate it.
One good thing—the Yutaka only requires about 2″ of space between the back of the seat and whatever wall you place it near, which will help some in terms of finding a permanent home for it.
We're also impressed with the fact that this chair is designed to accommodate users ranging in height between 5′ and 6'6″, and it's capable of supporting up to 300 pounds of user weight, which makes it useful to the vast majority of the potential market for it.
The Kyota Yutaka M898 4D Zero Massage Chair Utilizes The Latest Massage Chair Technology
We'd rate this as a very strong component of our Kyota Yutaka M898 4D zero gravity massage chair review because the design team got pretty much everything right here.
The massage track is quite long at 49″ and is L-shaped, so the quad rollers that sit upon it are able to not only massage the whole of your back but also slide under the seat to massage your glutes and the backs of your thighs.
In addition to that, this model utilizes very good body scanning technology, so the roller adjustment is automatic before your massage begins, and the tech almost always places them exactly where they need to be so they hit all of your pressure points precisely.
Every once in a while, something will go wrong where the body scan is concerned, and you'll find that you need to tweak the position of the rollers manually, but the Yutaka makes that easy, with controls built into the remote to do exactly that.
There's no reason you should ever get a substandard massage from this chair.
Also, the Yutaka offers a secondary control system built into one of the chair arms. While it won't allow you to control absolutely every feature of the chair, it gives you control over the basics.
Finally, this model features 4D technology, which varies the speed and intensity of the roller action based on exactly where the rollers are on your body. All of this is excellent, but given the price of the chair, we expect nothing less.
A Disappointing Number of Massage Options
Other Kyota Yutaka M898 4D zero gravity massage chair reviews we've seen talk about this aspect of the design in glowing terms, but we must respectfully disagree. It's not at all difficult to find massage chairs that cost half as much that sport as many, if not more, massage options.
We believe you can't charge top-end prices without delivering top-end results here, and that's exactly what Kyota attempts to do here. Let's take a look at the massage techniques on offer. We find:
There's nothing wrong with that list of techniques, but minus the 4D Shiatsu, those are the techniques you find available on almost every massage chair sold. It's easy to find a two-thousand-dollar chair with this list of techniques, so our view is that if you're charging five times more than that, there ought to be more here.
4D Shiatsu is good, but it's still Shiatsu with greater intensity.
In a similar vein, the Yutaka offers what seems, at first glance, to be an impressive list of auto-programs. Given the price of the chair, it's actually not all that impressive. It's easy to find comparably priced models that offer literally twice as many auto-programs, for example.
Nonetheless, the options you'll find available are as follows:
With the exception of the last two items on this list, it is identical to the massage options you get from the Kenko, another model offered by Kyota.
The Deep Shiatsu technique is excellent and has real therapeutic value as a deep tissue massage, and the "Extension" program is a body stretch, which is another therapeutic feature. Although Kyota doesn't have the best body stretch in the industry, it is quite good.
If you enjoy the chiropractic adjustment you get at your chiropractor's office, this may wind up being your favorite feature.
In addition to that, you'll find spot and partial massage modes available, along with six levels of roller speed adjustment, and you can specify certain body regions if you don't want a full-body massage. These regions are:
Collectively, this gives you a fairly impressive number of customization options, but again, you can get most of this from chairs that cost half as much money. It's not that it's bad; it's just not worth the asking price.
Three-Stage Zero-G Seating!
This is a very strong section of most other Kyota Yutaka M898 4D massage chair reviews we've seen, and in this case, we wholeheartedly agree.
Zero-G seating is an excellent therapeutic feature, and the Yutaka offers three different seating options here. That's excellent, but we must point out that almost every chair in the Yutaka's price range offers three Zero-G seating options, so it's good but about what we expect to see in a high-end chair.
There are a number of reasons that it's noteworthy. First, because it's super comfortable and genuinely leaves you feeling weightless.
Second, it improves your circulation and helps lower blood pressure. Third, it's a way to indirectly increase the intensity of the massage you get from this chair further if the Deep Shiatsu routine isn't intense enough for you.
The Yutaka Offers Impressive Heat
We like the heat implementation here and will rate this as a stronger-than-average component of our Kyota Yutaka M898 4D review.
While the heat itself is limited to the lumbar region, there are three different heat settings on offer. And at the maximum setting, in practice, the offered heat radiates up well into the midback.
We would love to have seen more extensive heat, but even without that, this is a good, well-implemented feature that adds another therapeutic benefit to the chair. We love it, and we think you will too.
An Average Airbag-Based Massage
This is one of the weakest components of our Kyota Yutaka review. The Yutaka features 24 airbags and a total of 56 air cells. For the money, this is scant indeed, although it is enough to render something close to a full-body airbag-based massage.
You can customize this massage via five different intensity levels from the remote, or if you don't want to have a full-body air massage, you can selectively activate airbags by the following body regions:
It's a decent air massage, but again, given the price, this is frankly underwhelming.
The Yutaka Has A Very Good Calf And Foot Massage
In contrast to the uninspiring airbag-based massage, the Yutaka is much better than the average calf and foot massage, which relies on a combination of rollers and airbags for your calves and triple reflexology rollers for the soles of your feet.
It feels amazing.
Sure, it would be even better if the footwells were heated. But even without that, this is probably the strongest single feature in the chair's design.
An Impressive Number Of Extras
This is a delightfully strong component of our Kyota Yutaka M898 4D zero gravity massage chair review.
There's a lot to talk about here.
First, let's talk about the relatively minor extras on offer. This chair offers ionized air and chromotherapy, both of which are supposed to help the user relax.
We're not completely sold on that, but we will say that the Yutaka's take on chromotherapy is pretty impressive. In fact, the company spends two pages of its user manual on it.
You can select from a variety of different light colors (ice blue, red, yellow, lime, green, cyan, blue, and purple). You can also choose from a variety of different lighting patterns, including:
In addition to that, you can choose from five different brightness settings for the lights. All of these are cool, but we won't call this a high-value addition to the chair and certainly not something that makes this model worth the asking price.
In addition to that, the chair features Bluetooth speakers, a USB charging port, and a wireless charging pad.
This is excellent, and we do consider these to be high-value additions. We've never seen a chair that offers both a USB port and a charging pad, and that's pretty cool.
There's more, though. This chair also features a noise generator that works with the speakers built into the chair. If you don't want to listen to music, the chair has a number of built-in sound loops you can tap into. These are:
In addition to that, the Yutaka offers a tertiary control system in the form of an app you can install on your phone. You'll find variants offered for both iOS and Android.
There's more. In addition to that, this chair sports voice-activated features, understanding the following verbal commands:
While this doesn't cover the full extent of the chair's capabilities, it covers just about everything you'll use frequently, which is amazing. Best of all, this is something that will be easy to add to in future model updates.
Finally, this model boasts a massage timer. All massage options default to a 20-minute duration, but you can select either 10 minutes or 30 minutes as you prefer.
Honestly, this is an impressive selection of extras, and this is probably the most space we have ever devoted to this section of a review.
Even so, most people don't buy massage chairs for the extras they offer. People tend to buy massage chairs because they're in pain and want something to help them feel better.
Unfortunately, while the Yutaka does an admirable job at that, it's just too expensive. And these extras, even taken together, don't change that equation enough to guide us to a different conclusion.
Pros & Cons of Kyota Yutaka M898
We don't believe this chair has any design flaws per se, but it has one absolutely crippling weakness, which is the excessive cost. It's simply too expensive for what you're getting.
Kyota Yutaka M898 4D Zero Gravity Massage Chair Review Conclusion
Technically speaking, there's nothing wrong with this chair. All of its features are well implemented, though it has fewer airbags than we'd like to see.
The only real problem we have with the design is the one we keep coming back to. The company is simply asking too much money for this design.
Given that, we cannot recommend the chair, even though we like it and acknowledge that it's a good design overall.
Other Options To Consider
Given that we cannot recommend the chair we just talked about, here are a couple of other options you may want to consider:
This is an insanely good chair offered by one of the biggest and best-known companies in the industry. It's packed with features you'll love and offers the best body stretch in the business. This chair is amazing.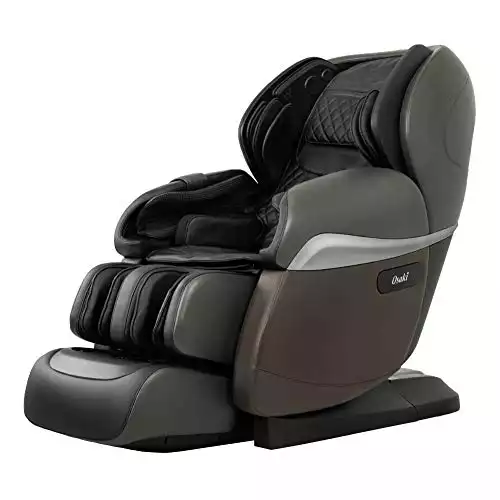 Osaki Paragon 4D Massage Chair
Recommended For: Anyone weighing up to 280 pounds, especially if you can find this model on sale (which is fairly often!). The sale price approaches a 50% discount, making the Paragon an insanely good value.
Check Latest Price
The Paragon is every bit the equal of the Yutaka, and it's less expensive to boot. Even better, this chair is often deeply discounted, meaning that if you catch it on sale, you'll get an absolutely amazing chair for a fraction of the cost. Absolutely superb.
---
Reference & Resources