In a Nutshell:
The MassaMAX is a small off-brand with a surprisingly great collection of massage chairs on offer. Recommended for anyone on a budget. While you may not have heard of this tiny off-brand, their chairs punch well above their weight class.
* Brand Reliability is a measure of the strength and longevity of the brand, which by extension, is a measure of the level of support you can expect.
If you answered yes to both of those questions, you're going to like what you read in this—our massage chair Max reviews.
MassaMax hasn't been in the business for very long, and they seem to be either a subsidiary of iRest, which is itself another off-brand, or in close partnership with them.
We say this because our investigation into the company itself hit a dead end, revealing only that the company was incorporated in 2019 by Qiaofeng Fan, who holds the positions of CEO, CFO, and Secretary. On the company's website, you'll find iRest products for sale, in addition to the company's own product line.
Our supposition is that this fledgling company has access to iRest's design team and is able to leverage the same Chinese manufacturing lines that iRest does but sell their chairs under their own brand. However, none of this could be confirmed.
If you're a brand-conscious individual, then the information we just provided you will most likely be the kiss of death and will be enough to convince you that these chairs aren't worth your time or attention.
We take a different view.
Although it's true that the company hasn't been in existence for very long and appears to be owned by a single individual, we note that this is an increasingly common state of affairs.
Today's technology makes it easier than ever for a well-connected entrepreneur to singlehandedly create a business in a market where the major players are deeply entrenched and manage to carve out a niche for himself.
That appears to be what's happening here.
While MassaMax chairs certainly have their limitations, they're better than you might expect given their modest price tags. And in fairness to this young company, the majority of the massage chair Max reviews you'll find online are positive, which says good things about them and the support they're able to provide to their customers.
In the sections that follow, we'll introduce you to the various models MassaMax has to offer, and we'll go into some detail about what they can do and, just as importantly, where they fall short.
That way, you'll have all the information you need at your fingertips to decide whether one of these chairs is a good fit for you or if your search for the "right" massage chair for you must continue.
If you're curious to find out more, read on, and let's take a closer look!
An Overview Of The MassaMax Brand
At the time this review was written, there were a total of ten chairs on the massagechairmax.com website.
Of those, four bear the iRest name and logo, one (the Alfine) bears no brand or corporate logo, one bears the name Ootori and appears to be another off-brand, and four bear the MassaMax brand name and logo.
This review will focus only on the four chairs that bear the MassaMax name:
Before we look at the details of specific models, let's take a quick look at what they all have in common.
Aesthetically, these designs are very similar. Where some massage chair manufacturers offer models that take pains to disguise the true nature of their massage chairs, these don't even attempt to hide it.
They look like exactly what they are—vaguely futuristic, egg-shaped chairs with plainly visible leg massage ports.
While it's fair to say that none of these designs will win any beauty contests, it would be overselling it to call them outright ugly. They're merely functional. They look like what they are, and they've got a job to do.
That's not a bad thing, but if aesthetics are important to you and you want a massage chair that looks like a standard recliner when not in use, these aren't the massage chairs you're looking for.
Also, note that all of the chairs in the MassaMAX lineup were manufactured in China, and all come with a three-year warranty.
Many Chinese chairs offered at similar prices to the MassaMAX lineup only have a one-year warranty, so these should be considered in the upper echelon of value-priced chairs. Still not as good as a chair offered by Kahuna, for example, which comes with a five-year warranty, but not far from that mark either.
With those things said, let's take a closer look at each of these models to see what the brand has to offer.
MassaMAX A321
This is the second most expensive chair in the MassaMAX lineup. It's honestly an impressive chair for the money, although we've found relatively fewer massage chair Max reviews for this model than for some of the others.
Here's a quick overview of the basic stats that define this model:
There's a lot to like in the above. It's an enormous piece of furniture, though. Unless you've got someone to assist you on the day the chair arrives at your door, you may want to avail yourself of the offered "White Glove" service, which will see professionals help you get it where you want it to go and do most of the assembly for you.
Quad rollers are the current (informal) industry standard, but often, off-brand chairs cut corners and use dual rollers. We were thrilled to see that this wasn't the case here, and quad rollers offer a fantastic massage experience that closely mimics the feeling of human hands.
The body scanning tech is good but not the best in class, and there will be times when it doesn't reposition the rollers quite correctly, so they wind up not hitting the pressure points on your back perfectly.
Not to worry. It won't happen often, but when it does, you'll find controls on the remote that will allow you to manually tweak the position of the rollers, so you get a perfect massage every time you use the chair.
That's good as far as it goes, but to really get a feel for what this chair is capable of, we have to dig a little deeper.
Massage Techniques and Options On Offer
The MassaMAX A321 has what we'd consider an average number of massage techniques on offer. These are:
You will find this basic array of massage techniques on most of the massage chairs on the market today.
A handful of basic techniques, plus one advanced technique in the form of Shiatsu.
It's not bad by any means, but also, there's nothing special about the techniques listed here. This is perfectly in line with our expectations, given the price this chair is offered at.
In addition to the techniques themselves, you'll also find a total of eight auto programs in the chair's menu system, allowing you to choose from any of the following pre-programmed massage routines:
Those seven roller-based massages plus the full body air massage, which we'll talk about momentarily, make eight.
Sticking with the roller-based massages for the moment, the best of the bunch, in our view, is the Stretch Massage. Though massage chair Max doesn't have best-in-class Yoga Stretching, it's quite good and has a genuine therapeutic value that makes it very much like the chiropractic adjustment you get when you pay a visit to your local chiropractor's office.
While the pre-programmed options are nice, what's even better is the fact that you can adjust them to taste for a more personalized experience, choosing from five different speed levels, plus spot and partial modes, if you want the rollers to focus specifically on a certain area of your back, shoulders, or the backs of your thighs.
Even better, this chair offers you unlimited recline angles, allowing you to independently adjust the footrest, which contains the foot rollers and calf massage ports, and the seatback.
If that wasn't enough, the A321 also has a Zero-G seating position. If you want to further enhance the overall quality of the massage you get from this chair, put it in the Zero-G seating position first, close your eyes, and enjoy!
What makes this chair a pleasant surprise and an incredible value, though, is the fact that it sports a total of five memory slots!
That's unheard of in chairs offered at this price range. You can create your own highly customized massage routine, then save your favorite settings for one-touch recall later.
If you're the only person who uses the chair, fantastic! You can give yourself up to five totally custom massage routines. Or, if you live in a busy household and the chair has several users, then everybody (up to five people) can have their own customized routine.
That's something you don't even find on all top-end massage chairs, so we're absolutely stunned to see it here. Kudos to Massa Max!
Before we move on to the airbag massage, we need to mention one other feature that impresses us where this model is concerned: heat!
A well-rendered massage always feels great, but the addition of heat to the equation really takes things to the next level, and we're impressed that this model offers heat in addition to everything else. Granted, you can't fine-tune the exact temperature of the offered heat, but few high-end chairs offer that, so we honestly weren't expecting to see temperature control here.
What About That Airbag-Based Massage?
The air massage on this model is good but falls short of being exceptional. You can modify the airbag-based massage via five levels of intensity from the remote, and if you don't want the full body massage, you can order either an upper or a lower body air massage instead.
Most other massage chairs break the air massage down into more body zones than this, but it's hardly a dealbreaker.
Note, too, that there are airbags in the leg massage ports, and your calf and foot massage is rendered by a combination of airbags and foot rollers. Again, this is quite good, and if you have a job that sees you spending several hours of each day on your feet, it may well be your favorite aspect of the chair.
Having said that, if you want a chair with an exceptional calf and foot massage, it's not too much trouble to find models that do a better job here.
Finishing Touches Too!
One area where off-brand chairs tend to skimp is in the realm of finishing touches. In fact, we weren't expecting to have much to say in this section, but we were once again pleasantly surprised.
The two big things to talk about here are the Bluetooth speakers, which allow you to connect your smartphone to the chair and listen to your favorite music or podcasts while enjoying a massage, and the fact that this chair features voice command!
That's yet another feature that's seldom seen in chairs offered at this price range, so once again, we're both pleasantly surprised and thrilled. Even better, the chair currently supports more than a dozen voice commands, which is more generous than we've seen on many more expensive models.
In addition to those things, you'll find other convenience features like a secondary control system on the chair arm that allows you another means of issuing commands to the chair, a handy holder for your smartphone, and even a USB port to keep it fully charged.
Overall, we regard this as MassaMAX's second-strongest model and a tremendous value for the money!
MassaMAX MD906
A slight majority of the other massage chair Max reviews we've found online have focused on this—MassagechairMax's second least expensive option—and for good reason. While this chair isn't quite as capable as the one we just talked about, it brings a huge amount of value to the table, and it manages to do so at a bargain price, which is no small accomplishment!
Like the chair we just talked about, this model offers the following core set of features:
This is a slightly smaller chair than the one we just talked about, however, with overall dimensions of 29.92" W x 57.87" L (66.14" L when fully reclined) and 43.7" H.
The MassaMax MD906 is surprisingly lightweight for its size, weighing a fairly modest 156 pounds while being able to support up to 330 pounds of user weight. It also has an SL massage track, which measures 53.15" in length.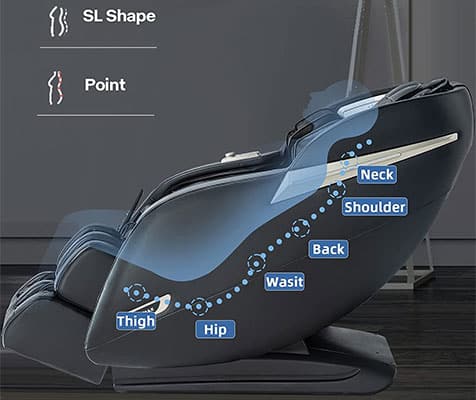 One thing to note, however, is that the wall-hugging design isn't as well implemented here, so you'll need about 9" of clearance between the seatback and whatever wall you place the chair near in order to fully recline. That represents some space-saving for sure, but we know the company could have done a better job here because they did with the model we talked about earlier.
The similarities between this model and the A321 don't stop there. Like the more expensive model, this chair features a secondary control system built into one of the chair arms that make the most often used functions available without needing the remote, and you'll find the same number of massage techniques on offer, though here, they are:
Surprisingly, this model actually offers a greater number of pre-programmed massage routines than the more expensive model. Here, you'll find:
Where the A321 offers a fairly mild Yoga Stretch, this chair features a more aggressive Thai Stretch that may be too aggressive for some users. So if possible, we recommend trying the feature out at a showroom nearest you before committing to a purchase.
If you suffer from chronic back pain, the Thai Stretch will offer some potent therapeutic benefits and will help keep your pain level down, especially if you treat yourself to a heated massage after, but it's admittedly not going to be ideal for everyone.
Although you will find point and partial options available on the remote, there are only three levels of speed to choose from where the roller-based massage is concerned and three levels of airbag intensity where the air massage is concerned (each level of intensity lights up a pair of LED lights on the remote).
Note, too, that the airbag-based massage isn't really full body and is limited to your shoulders, arms, calves, and feet.
The foot massage is every bit equal to the one you'll find in the first model we talked about, however. It is rendered by a combination of airbags and rollers that both roll and scrape. So again, if you spend a lot of time on your feet, this may well wind up being your favorite aspect of the design.
It's worth mentioning, however, that this is a less expensive chair, so while it's got a number of features in common, you'll find fewer massage adjustment options, as we mentioned just a moment ago. You'll also be missing out on the memory slots, which allow members of your family to each save their own customized massage routines for one-touch recall later.
At the end of the day, this is a rock-solid chair with a lot to offer and is a great value in its price bracket, but it ultimately comes down to what you're looking for in a chair.
If you want more options and more finishing touches, it's probably worth spending a little extra and trading up to the A321.
MassaMAX MF600
This is MassaMax's least expensive offering and the only chair in the MassaMax lineup we do not recommend. Even though we don't recommend it, we owe it to you, our readers, to outline everything it has to offer. To do that, let's start by providing a basic overview:
Note that this hair does not have massage rollers. Instead, it offers two sets of somewhat mobile massage heads that provide kneading action.
The first set of these is designed to massage your upper back and shoulders, and the heads move up and down the upper portion of the seatback. The second set is designed to massage your lower back, and again, there is some slight mobility up and down in that region.
In addition to that, there's a vibration plate under the seat that will render a simple vibration-style massage.
Paired with this are a number of airbags that will render a surprisingly good airbag-based massage that covers your shoulders, arms, waist, buttocks, calves, and feet. These may be activated or not, via the remote, by body region, making the airbag massage on this chair arguably better than the one you'll find on some of MassaMax's more expensive models.
Even if you judge that to be true, however, that's offset by the fact that this model doesn't have proper massage rollers and delivers a significantly inferior roller-based massage than those more expensive models.
Note that the massage head strength and the airbag massage intensity can both be adjusted via three levels, giving you at least some ability to customize your experience. And with some patience, it is possible to get a decent massage out of this chair.
If you decide you want one despite our recommendation against it, you'll find the optimal massage experience by placing the chair in zero-G mode and activating heat before your massage begins, then dialing in your desired massage strength (this applies to both the massage head and the airbag-based massages).
This chair also features five different pre-programmed massage options, listed as:
Since the chair doesn't have any massage techniques per se, these are all fairly similar and are essentially slight variations on a theme. If you get one of these, you will want to spend at least a bit of time checking them out, but using the method we outlined above is likely to give you a better overall result.
The simple truth is that you could spend just slightly more than the price they're asking for this chair and get a significantly better product which is why we can't ultimately recommend this model.
MassaMAX MT339
While some of the other massage chair Max reviews we've seen online list this as being Massage Chair Max's flagship model, it hasn't been formally designated as such. Since it is the company's most expensive and feature-rich offering, however, it's fair to call it that.
By any reckoning, the MassaMax MT339 is a really good design. Let's start as we have with the others by listing its basic features:
In addition to that, the MT339 offers nine different massage techniques, aggressive Thai body stretching, and an advanced calf and foot massage that combines Thai rolling with airbag and scraping action to deliver a calf and foot massage that's out of this world.
Honestly, the only way it could be made better would be if they added heating coils to the leg massage ports.
As it stands, the calf massage is better than significantly more expensive chairs, and that's really saying something!
The really cool thing to talk about here, though, is the way that the MT339 handles heat.
At first glance, it offers heat in the lower portion of the user's back, and yes, it absolutely does that. In addition, though, it offers a "vest" that the user encloses him/herself in, which is also heated.
This basically wraps you up in a warm hug of heat while you're enjoying your massage, and it is amazing.
If that wasn't enough, users can select from five levels of speed and intensity to further customize their massage experience, and both spot and partial massage modes are available.
Long story short, there's very little we don't like about this chair. If we had to specify one gripe or another, we'd point out that for all that this model gets right, they left off user profile slots, which means you can't save your favorite massage settings for one-touch recall later, and there's no way to fine-tune the temperature of the offered heat.
If we had a wishlist of improvements we'd love to see that would make this chair even better, those two would be at or near the top of our list. Even without them, though, this model is a masterpiece and highly recommended.
Pros & Cons of MassaMAX Massage Chair
With the notable exception of the cheapest chair this company makes, MassaMax punches well above its weight class. On the whole, these are really good chairs that offer features you'll be hard-pressed to find, even on chairs that cost two or three times as much.
The only real downside is the fact that this is a very young company. Although early indications are that they take good care of their customers, their post-sales support footprint is somewhat limited because they are small.
We've seen some instances, for example, where they couldn't find White Glove service companies willing to contract with them, which means if you order White Glove service, you may not be able to get it, depending on where you live. That's not going to be an absolute dealbreaker for most people, but it is definitely something to bear in mind before you spend your hard-earned money.
Massage Chair Max Reviews Conclusion
We like this company, and we think they're going to make waves in the market. Just about every company in the market today started small, exactly like MassaMAX. They've still got to earn their stripes, but they make good products, and they're well on their way to doing that.
We recommend taking a chance on them (with the exception of their least expensive chair!).
Other Options To Consider
If you're just not willing to take a chance on such a young, untested company, here are a couple of other options to consider:
The iRest brand is in the same "place" in terms of market positioning. They're a smaller, off-brand company, but they've been in the business longer and have more of a proven track record. They make a wide range of massage chairs, all attractively priced, and the best of their offerings punch well above their weight class, just as the chairs we talked about above do.
Like most firms, however, they do swing and miss from time to time, so it's important to look closely at each particular model you're considering to make sure you understand exactly what you're buying.
Kahuna is one of the big names in the massage chair industry, and although they have made model missteps, this is one of those rare companies that make very few of them. The vast majority of Kahuna's chairs are exceptional and offer spectacular value for the money. Yes, you'll spend a bit more, but this is definitely a case of getting what you pay for!
---
REFERENCES AND RESOURCES