In a Nutshell:
The Osaki 4D Escape is one of the coolest, most futuristic-looking massage chairs we've seen, and brimming with cutting-edge features. Recommended for anyone weighing up to 260 pounds who's a fan of the futuristic aesthetic—IF you can afford it.
* Brand Reliability is a measure of the strength and longevity of the brand, which by extension, is a measure of the level of support you can expect.
Do you love science fiction and bleeding-edge technology? If so, and assuming you're in the market for a massage chair that takes the science fiction aesthetic, you're going to absolutely love what you read and discover in this—our Osaki OS 4D Escape review.
We'll be the first to admit that this chair isn't going to be for everyone, and not simply because of its unusual design. But don't worry; in the sections that follow, we'll step you through everything this model brings to the table, and we won't be bashful about highlighting the weak points in its design.
That way, you'll have all the information you need to decide for yourself if this is the chair you've been looking for. If that sounds good to you, read on, and let's take a closer look.
Overview of Osaki Escape Massage Chair
The look of this model really jumps out at you, and as such, it's the first thing we should talk about.
The design team of the Escape really took the futuristic concept and ran with it. This chair just screams science fiction. In fact, you'll find this chair frequently referred to as "the space capsule."
It's a totally fair and accurate description, and unless your home is decorated with a science fiction theme, it's unavoidable that this chair will stick out like a sore thumb.
If you're fine with that, then you'll find that this chair has a lot to offer underneath the flashy exterior. If you're not a fan, then no matter how many bells and whistles we tell you about, this chair probably won't impress you.
Assuming you're okay with the aesthetic, the next thing to mention is that this chair is huge, measuring 59" L x 32.5" W x 54.5" H when upright and 72" L x 32.5" W x 35" H when reclined.
It also weighs a staggering 370.2 pounds, so if you decide you want one, you will absolutely want to pay extra for White Glove service to have someone bring it inside for you or have a couple of friends on standby.
While those two issues are a matter of taste, the final thing to mention isn't—the chair can only support 260 pounds of user weight, making it useful to a somewhat smaller segment of the market than most massage chairs.
If you weigh less than that, it obviously won't be an issue at all, but if you happen to weigh more, this is going to be an outright dealbreaker, even if you absolutely love the design otherwise.
Assuming none of those issues are showstoppers for you and you decide you have to have one, you can order yours in either dark brown with black highlights, grey with black highlights, or black.
The Osaki OS4D Escape Massage Chair Uses (Mostly) Cutting-Edge Technology
Overall, this is a fairly strong component of our Osaki OS 4D Escape review, but there is one area that we find to be a little problematic. Let's address that right out the gate. We don't like that this chair only sports an S-Track. It's only good for massaging your back.
Most of the massage chairs on the market today feature an L-Track design that allows the rollers to travel under the seat so the rollers on the track can massage your glutes and thighs. The fact that this one has a short track is a limitation in our view. But then again, if you don't need a chair that massages your glutes and thighs, why pay extra for that?
So your mileage may vary on that count.
The track may be short, but you'll find quad rollers mounted to it. Those rollers can move along the X-, Y-, and Z-axis, meaning that not only do the rollers do a great job of replicating the feel of human hands, but the chair is also capable of rendering a true deep tissue massage that has real therapeutic benefits.
In addition to that, every chair we've ever seen from Osaki has body scanning technology built in, and this one is no exception. When you order a massage from the Escape, the chair will take a quick scan of your back and adjust the position of the rollers so that they hit your pressure points precisely.
That is effective more than 90% of the time, but once in a while, the body scan will get it wrong.
When that happens, you'll find controls on the remote that enable you to manually tweak the position of the rollers, which means that you'd have to actively try to get a substandard massage from this chair.
On top of that, this chair incorporates a secondary control system into its design. In addition to the remote, you'll find basic chair controls built into one of the chair arms, and if that isn't enough, this chair introduces something we've never seen before in the massage chair world—aromatherapy!
The "space capsule" not only includes mood lighting for the user, but this chair also utilizes aromatherapy cartridges you can use to introduce a wide range of scents into the experience. Whether you put stock in aromatherapy or not, it's a cool concept and one of the many things that set the Escape apart from its peers.
The Osaki Escape Has An About Average Number Of Massage Options For Its Price
We'll rate this an about-average component of our Osaki OS 4D Escape review because although there's an impressive number of massage options here, overall, this is about what we expect to see in a chair offered at this price point.
Starting with basic massage techniques, we find the following:
That gives you access to an impressive number of techniques, even if most of them are simple variations on a theme.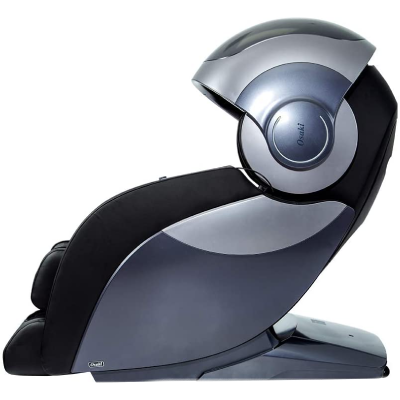 In addition to that, you'll find a modest number of auto-programs. Here's the list:
In another area of the menu, you'll also find:
This isn't a bad list in the least. It's a little light given the price of the chair, but this is made up for with the inclusion of multiple variations of the massage techniques.
Even if there aren't as many pre-programmed options as we like to see, this is a solid list, and there's a lot to like here. The design team did a good job of incorporating their "space capsule" and the lights in it (and the aromatherapy capabilities) into the design of some of these options.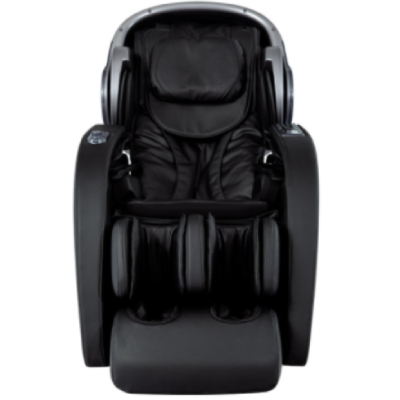 If you decide to get one of these, you'll enjoy experimenting with the various options we've already mentioned.
While we love the three "special" massage options, the real headline for us is the back waist stretch.
Osaki doesn't have the industry's best stretch, but it is very good and gives the Escape a second powerful therapeutic feature.
This model doesn't stop with just techniques and pre-programmed options, though. You'll also find both spot and partial massage modes available, and you'll be able to selectively direct the rollers to your full back, upper back, or lower back, depending on your needs.
If that's still not enough for you, you'll also find five levels of speed adjustment, five levels of intensity adjustment, and width adjustments that can be activated based on which massage technique you select (see list above).
All told, this gives you an impressive number of massage options you can use to custom-create a highly personalized massage routine that's perfect for you.
Two-Stage Zero-G Seating Is Included
This is another average component of our Osaki OS 4D Escape review. We'll only rate this as average because although we love this feature and the fact that it's beautifully implemented here, again, at the price point this chair is offered at, this is exactly what we expect to see.
The inclusion of Zero-G seating options gives the Escape a third therapeutic feature, and even better, you'll find two different options here.
The reason we love seeing this included in the design is that Zero-G offers a variety of benefits, including the fact that it helps lower your blood pressure, improves your circulation in general, and if you've recently had some kind of surgery, it can even facilitate faster healing. That's awesome.
The Osaki 4D Escape Massage Chair Offers Wonderful Heat!
This is one of your favorite aspects of the Escape's design. Only about half of the chairs on the market today offer heat, and most of those offer it only in the lower back (lumbar) region.
Here, you'll find heat not only in the lower back but also in the calf portion of the leg massage ports.
We would have loved it if the heat had also been extended to the footwells themselves, but even without that, this is a superb feature and a great feature implementation. We'll have more to say about the calf and foot massage a bit later in this review, but for now, just know that the heat offered here is amazing and gives the Escape yet another powerful therapeutic feature.
The Osaki 4D Escape Offers A Solid But Not An Extraordinary Air Massage
With airbags distributed strategically throughout the chair, the Escape is capable of giving a good airbag-based massage that you can modify by selecting from three different levels of intensity.
In addition to that, you can selectively activate airbags by body region if you don't want the full-body air massage experience, choosing from any of the following:
This is basic, but it gets the job done. It should be noted that it's paired with an oddly anachronistic element—a vibration-style seat plate. It's a little odd, given the high-tech nature of most of the rest of the chair, and we're not overly fond, but it's worth at least testing to see if you like it. And if you don't, you can simply leave it turned off.
That one element aside, the air massage itself is quite good but falls short of greatness.
An Absolutely Amazing Calf And Foot Massage
The heat function on the Escape is our second favorite aspect of the design. This is our favorite. The calf and foot massage is next-level good. The calf massage is rendered by airbags, while the foot massage is rendered by a combination of airbags and rollers for the soles of your feet.
That's better than most calf and foot massage implementations we've seen (normally, the feet don't get their own airbags), but the thing that really sets this feature apart is the inclusion of heat in the upper portion of the leg massage ports. That's amazing.
If you come home after a long day's work and your legs and feet are killing you, this is probably going to be your favorite feature in the chair's design. It is certainly our favorite feature!
A Number Of Extras On Offer
By our count, there are four well-implemented "extras" on offer here. The first two complement each other nicely: the USB charging port and Bluetooth speakers.
This is an excellent pairing. You can keep your phone fully charged while listening to your favorite music and enjoying a massage. That's fantastic.
Normally, we're not a huge fan of chromotherapy mood lighting, but in this case, we make an exception. Including lights inside the "space capsule" is a nice touch that really adds something to the design, and further, when you add in the aromatherapy feature, this chair really can transport you while giving you a massage. It's incredibly relaxing, and we absolutely love it.
Pros & Cons of Osaki Escape Massage Chair
The only real negative to talk about where the Escape is concerned is the aesthetic. While most people are okay with a vaguely futuristic-looking massage chair, the Escape really pushes the boundaries here, taking that concept to a whole different level. The simple fact is that it's too much for some people, and we totally get that.
Ultimately, this is a matter of personal taste and preference. If you like the Escape's sci-fi appearance, you're probably going to want one in your home. If you find it off-putting, it's easy to find an alternative that offers most of the features you'll find here but has a more subdued aesthetic.
Conclusion Osaki 4D Escape
This chair has some cool innovations but is clearly not for everyone. It's priced in the mid-range, so most people will be able to afford one if they don't mind saving for a bit. That's not really the issue.
Ultimately, it comes down to the fact that not everyone is going to want a chair that looks like a sci-fi movie prop in their living room, and not everyone will be willing to pay a premium for aromatherapy.
Given that, we can only give this one a provisional recommendation. We don't love it, but we do really like it. It pushes the envelope in new and interesting ways, and that's awesome.
Other Options To Consider
If you like the Escape but aren't sure it's the right massage chair for you, here are a couple of other options that are well worth considering: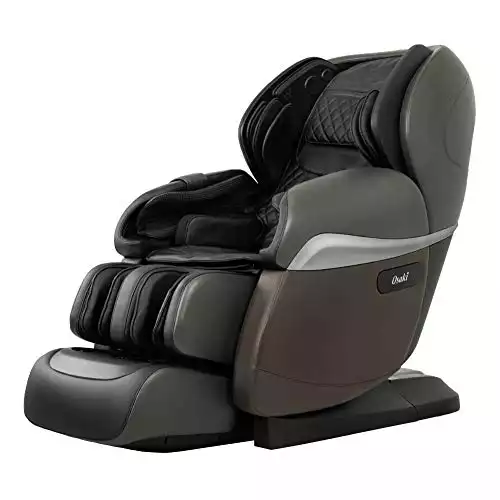 Osaki Paragon 4D Massage Chair
Recommended For: Anyone weighing up to 280 pounds, especially if you can find this model on sale (which is fairly often!). The sale price approaches a 50% discount, making the Paragon an insanely good value.
Check Latest Price
This is a fantastic chair, and even better, it is frequently offered at deep discounts, which means you can get tons of value for your money. In fact, unless your need is dire, we recommend waiting until you can catch it on sale in order to maximize your value, but if that's not possible, it's still a solid purchase at full price.
This is a masterpiece of a design, offered by one of the best companies in the business today. Not only does this model offer the best body stretch in the industry, but it's loaded with features you'll love and has heated rollers for total body heat. This one is not to be missed!
---
Reference & Resources