In a Nutshell:
An exceptional chair for the right user, an average chair for everyone else. The Panasonic EP MA10 Massage Chair is recommended for people who suffer from chronic neck or leg pain and are no taller than 6'2". If this describes you, add 1 star to the overall rating.
Is space an issue for you in your home? Do you suffer from chronic neck or leg pain?
If so, you'll love our detailed Panasonic EP MA10 review. In the following sections, we'll go into detail about every feature this well-designed chair offers, leaving no stone unturned to help you find the perfect massage chair for you.
This review is important because although the Panasonic EP MA10 is an excellent massage chair, it's missing some key things that are common in most models in the market today. You should know exactly what you are (and aren't) getting before you buy!
An Overview of the Panasonic EP MA10 Massage Chair
Before we get into the specific features that drive the chair, we've got to say a few words about its size.
While not a feature per se, the Panasonic EP MA10's small footprint is well worth talking about and is one of the things that makes this chair stand out from the competition.
It doesn't sacrifice comfort, and you don't have to be a midget to use it, but its design has been streamlined so that the massage components of the chair don't take up an undue amount of space, making it something of an engineering marvel that can fit comfortably in even small living spaces.
Panasonic EP MA10 Massage Chair Features
S-Track Design
Starting with the basics, the Panasonic EP MA10 is built around an S-Track frame, which allows its quad massage rollers to follow the natural curvature of your body's spine. These two pieces of technology work well together and deliver a massage that is of superior, consistent quality.
If this feature has a drawback, it is in the way it was implemented. The track is quite short, so if you're taller or most of your height is in your torso, it may not reach as far down your back as you'd like.
3D Body Scan
Many chairs offer this feature, and it's an excellent addition here, further increasing the overall quality of the massage the MA10 can deliver. Before a massage begins, the chair scans the body to locate pressure points, then subtly adjusts the positions of the rollers to ensure that it hits them.
Unfortunately, as good as the body scan is, sometimes the technology misses the mark. In those instances, you can take manual control and adjust the position of the rollers manually via the remote (you can also adjust the width of the massage field). That way, you're always guaranteed that they'll hit the sore spots, further enhancing your experience.
Some Options, But…
Our Panasonic EP MA10 review wouldn't be complete if we wouldn't go into some detail in this section. We'll start by covering what this model has to offer, then point out its key limitation.
In terms of massage styles, the Panasonic EP MA10 gets off to a strong start, offering: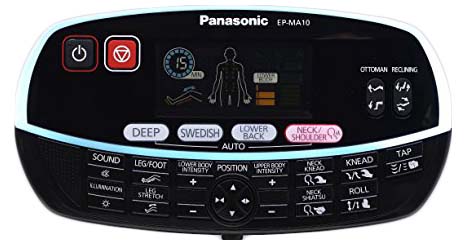 In addition to these, the chair offers four pre-programmed massage routines, which are:
These are accessible via buttons on the remote, and all default to fifteen minutes. They can be adjusted via three intensity levels, allowing you to customize them to suit your needs best.
Also, there are two other buttons to call your attention to:
Several things to note about these options, considered as a whole.
First, the Panasonic EP MA10 offers more advanced massage options than first meets the eye, with both Swedish and (limited) Shiatsu available.
Second, the designers took great pains to separate out the neck massage function from the rest of the chair. While a full-back Shiatsu massage is not available, the fact that the MA10 offers two different massage styles that specifically target the neck is a rarity in the massage chair world, and one of this model's stand-out features.
If you suffer from chronic neck pain due to whiplash or similar condition, this will likely be your favorite feature.
Third, note the presence of a Deep Massage function. Only a small percentage of chairs on the market today offer a deep massage function, and most of those are at the top-end of the price spectrum.
This has to be counted as another of the MA10's stand-out features, especially if you suffer from chronic pain, as this feature will provide tremendous therapeutic benefits.
Casual users will find it too strong by far, but for a certain subset of users, this feature will be welcome indeed.
In all, there is a total of 36 massage combinations available, which is on the low side for a chair in its price range. If you're looking for a chair that allows you a high degree of control and multiple options, there are other models that would better suit your needs and preferences.
It would be fair to say that the MA10 can give a solid, if unexceptional basic back massage, and an exquisite neck and shoulder massage, making it more tightly targeted to a particular segment of the market than many chairs.
(Limited) Air Massage Mode
This is another area of our Panasonic EP MA10 review we need to draw particular attention to. The chair has fourteen Second Generation Airbags, all located in the leg massage ports.
A full-body air massage is out of the question, but the leg massage is exceptional. Again, this points to the fact that the chair is tightly focused on users experiencing specific problems.
Calf & Foot Massage
Most massage chairs offer a calf massage rendered by airbags and a foot massage rendered by rollers located in the foot well.
The Panasonic EP MA10 massage chair does it differently. The entire lower extremity massage (foot included) is delivered via the airbags.
Some users complain that the foot massage is not intense enough, and not very comfortable, but theirs is a minority view. Most users find it quite acceptable, if unremarkable.
Limited Stretch Function
Most massage chairs that offer a body stretch function offer a whole-body experience. Once again though, the MA10 does it differently.
This model's stretch function is limited to the leg, hips and lower back. The airbags do the heavy lifting here, gripping the user's legs firmly as the chair slowly reclines.
Although not as effective as a whole-body stretch, it is effective enough to offer some therapeutic benefits at a fraction of the cost normally required to implement this feature.
The reason that a body stretch in any form has such tremendous therapeutic value is the fact that it takes the pressure off compressed discs in your spine. Disc compression is the #1 cause of chronic back pain, so if you live with that daily, then this feature will offer you almost immediate relief.
We absolutely understand the cost-saving motivation, but judge this to be only an average implementation of the feature. If cost is your biggest concern, then you'll find this acceptable. If quality is more important, then a more expensive model with a full-body stretch will serve your needs better.
Pros & Cons of the Panasonic EP MA10 Massage Chair
As you can see, the Panasonic EP MA10 massage chair is a most unusual design.
While capable of delivering a perfectly adequate basic massage that all users will enjoy, its many therapeutic features were added with various subsets of people in mind who suffer from specific complaints.
This understandably leaves feature gaps that will dissatisfy some users. Among the more glaring examples of these are:
There are others, but we feel that if they add the items above to the feature list when they next upgrade the model, it would be the perfect therapeutic chair.
Before we close out this section, we should also mention the Panasonic EP MA10's price. It lands squarely in the middle of the mid-range, so it's not cheap, but it's also not unduly expensive.
Our assessment is that if you need two or more of the therapeutic features it offers, you'll be hard-pressed to find a better value for your money. If not, it represents an average value, at best, and you'd probably be better served looking at some other model.
Panasonic EP MA10 Review Conclusion
For the right user, this chair is amazing. For everyone else, it's average. If you fall into any of these groups:
You're going to get a lot of value from the Panasonic EP MA10.
---
REFERENCES & RESOURCES