In a Nutshell:
This Ripchair 3.0 half-ton monster is pure power and fun. Rugged and built to last, there's almost nothing that the RipChair can't handle. Not for the faint of heart. Unless you're a diehard adventurer, this is going to be far more chair than you'll ever need.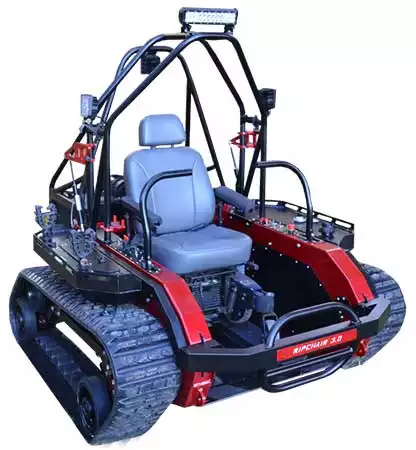 Ripchair 3.0
Not for the faint of heart. Unless you're a diehard adventurer, this is going to be far more chair than you'll ever need.
Check Latest Price
Are you tired of dealing with the limitations your mobility issue places on you? Are you ready to kick those limitations in the teeth?
If so, you're going to love our RipChair 3.0 review, because of all the all-terrain wheelchairs on the market today; the RipChair is the one to do it.
This chair is a monster. It's probably the closest thing to an actual tank that most people will ever get the pleasure of driving. Seriously. It's basically a convertible tank!
If you've always wanted the pleasure of driving a tank, and you're looking for a way to not just regain your freedom, but to beat your mobility issue to a pulp and leave it behind you once and for all, then you're going to love this review.
We'll say right up front that the RipChair is NOT for everyone. It's big, it's brutish, it's expensive, and for the right user, it's the best wheelchair ever made. In our recent roundup review, it placed a respectable third in the tracked chair category.
Third place is not bad, but make no mistake, in terms of raw power and the ability to chew through any terrain you find yourself on, the RipChair is simply without peer. Are you curious to see what it can do and to see what all the fuss is about? Let's jump right in and take a closer look!
An Overview of Howe and Howe Technologies' RipChair 3.0
We'd be surprised if you'd ever heard of Howe and Howe Technologies. They're a tiny company, and they only have one product, so unless you have a mobility issue, you probably wouldn't even think to look for them.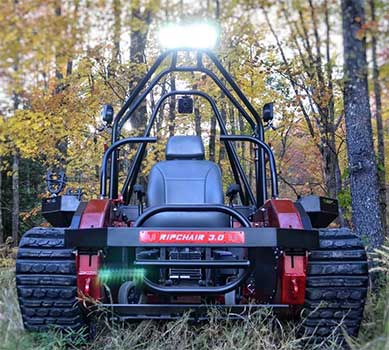 Small or not though, they do have the distinction of being known as the fathers of the tracked wheelchair. Since the development of the RipChair 1.0, many other companies have tried to imitate it, but to date, none have been able to match Howe and Howe Technologies' offering where raw power is concerned.
At first glance, this 1350-pound beast looks like a tank with the top removed. Unlike most other powered wheelchairs (tracked or otherwise) which run on batteries, the RipChair 3.0 takes an entirely different approach and is gas-powered.
Each chair is custom built by Howe and Howe craftsmen, so few features of the chair can't be changed. For that reason, we can't give you much in the way of stats. Here are a few:
Standard Equipment Included
You'll find the following as standard equipment on the stock RipChair: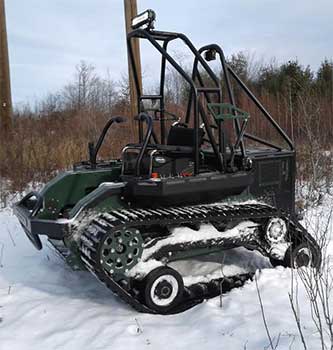 A simple, intuitive joystick control module (you can specify which side you want it mounted on at the time you place your order)
A basic LED lighting package which includes:

One 72-watt front light bar
One 27-watt rear light bar
Note: The lighting package can be upgraded – see next section

A rear bumper
Easy load access ramp
A rear bumper
A bull bar front swing bumper
Brush guard
Easy access engine cover
Quick release fire extinguisher
And lock down chair restraints (see below, where we talk about seating)
Your stock color options are as follows:
As impressive as all that is, you also have almost unlimited options where customization is concerned, which brings us to our next section…
Fully Customizable and as Adjustable as You Want It to Be
Because each RipChair is hand built and the company takes requests, you can customize to your heart's content. If you want some aspect of the machine to be adjustable, you can have it (most of the time). If you want a special feature added, the odds are that it can be done.
While there are some limits, they are relatively few in number. Just let the team at Howe and Howe know what you're looking for, and they'll try to make it a reality.
The big thing to note here in our RipChair 3.0 Track Chair review is the fact that the chair's stock configuration doesn't have a seat. That might make you raise a curious eyebrow; there's a simple explanation.
To get into the chair, you open the loading ramp at the back and roll your "regular" wheelchair into the tank, bolt yourself into position, and get ready to ride. Your regular wheelchair is your seat.
Of course, if you'd rather have a dedicated seat in the RipChair, you can certainly get that, but we heartily recommend using your wheelchair as the seat. Otherwise, transferring into and out of the chair could be a real challenge.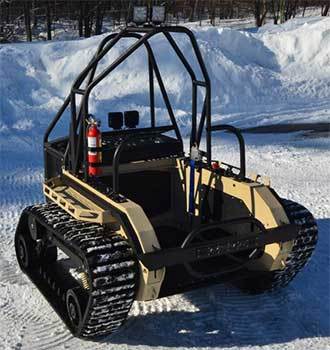 Extras
Concerning extras, the company doesn't offer many, but the ones they've got available are high value and well worth considering. These include:
Not everyone will want or need all of these, of course. Ultimately, it depends on exactly how you plan to use the chair. At a minimum, though, we recommend the bigger engine, the cargo trays, auxiliary outlet, canopy, heated, and the upgraded light kit. If you're going to go, you might as well go big, right?
Where the custom paint job is concerned, the sky's the limit. Just tell them what you want, and they can make it happen.
On top of all that, the RipChair is a do-it-yourselfer's dream machine. After you've made your purchase, if you realize you left something off, or conclude that your tank would be even more impressive with a particular feature, it's easy enough to use some applied creativity and modify it to suit your evolving needs.
The Least Portable Wheelchair We've Ever Seen
Given that the RipChair weighs more than half a ton, it probably comes as no surprise that it doesn't win high marks for portability in Track Chair Ripchair 3.0 reviews. In most cases, given the fact that you can bring extra gas with you, you're better off just driving it where you want to go.
Sometimes, of course, that's not possible, and when it's not, you'll need to invest in some infrastructure to move it. At a minimum, you'll need a big, powerful, full-sized pickup truck and an equally robust pull-behind trailer. Sorry, in this case, a wheelchair lift just isn't going to cut it.
On the other hand, if your car or truck gets stuck, this beast could probably pull it out!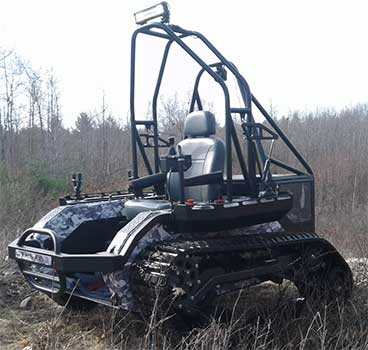 Easy (and Fun) to Drive
The RipChair's controls are intuitive and straightforward. That's not the problem. It will only take you a few minutes to master the basics, but this is such a huge chair that it's going to take time and practice to learn to maneuver it well.
We recommend taking it to a big empty field to get some practice before you start tackling more challenging terrain. Definitely don't practice at home, lest you run the risk of plowing through your garage, your house, knocking down trees, and the like.
One thing's for sure, though, you'll enjoy every second of your quest to master driving this machine, and once you've got some experience under your belt, you'll be able to tackle even the most challenging terrain (rocky ground, steep slopes, snow, sand, etc.) with ease.
Pros & Cons of the Ripchair 3.0
Even though the RipChair doesn't have the highest overall rating, we admit that it's our emotive favorite. It's just such a beast! There really is nothing else like it on the market today. Driving one is like driving a force of nature. Nothing can stop it, which means that when you're in it, nothing can stop you.
In our view, it's only got two weaknesses that will keep most people from ever purchasing one.
The first, obviously, is the price. Although not as expensive as the Ziesel Ground Squirrel, it goes without saying that you're going to pay a premium for this much power and the ability to customize to your heart's content.
Given that, and the fact that there's no way on earth this chair could ever be used indoors, it's simply out of reach for the vast majority of potential buyers.
In a similar vein, 99% (or more) of the people who have mobility issues would never use even a fraction of the RipChair's capability, and if you have no plans to use it to something close to its fullest potential, there's no point in paying extra for all that capability. It's just heads and shoulders more chair than most people would ever want or need.
That means that the market for the RipChair is quite small, but if you fall into that rare group, then it'll be love at first sight.
RipChair 3.0 Track Chair Review Conclusion
We love the RipChair 3.0. It's the most unique mobility aid we've ever come across, and it's far and away the most powerful and fun to drive. Nothing else even comes close.
That said, as we mentioned above, it's only going to appeal to and be a realistic option for a tiny subset of the market. If you're in that subset (i.e., money is no object for you, and you're a true outdoorsman and adventurer), then this is, without a doubt the chair you want. Highly recommended.
---
References & Resources: