In a Nutshell:
A very good, slightly modular recliner that looks great in just about any setting. The Southern Motion Hercules Recliner is recommended for anyone weighing up to 400 pounds who's' looking for a bit more freedom and the flexibility to have at least some control over the design of their recliner.
* Brand Reliability is a measure of the strength and longevity of the brand, which by extension, is a measure of the level of support you can expect.
** While aesthetics is a matter of taste, Aesthetic Flexibility is a measure of how easily a given design would fit into a wide range of home or office décor schemes.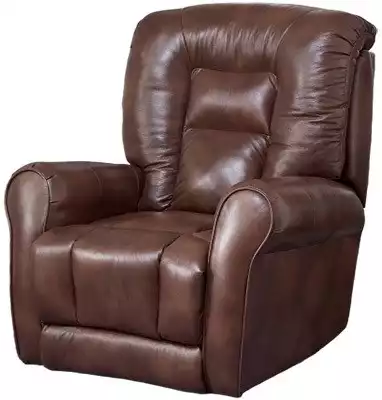 Has your search for a new recliner been a frustrating one? Has finding a well-built chair that's sturdy enough to properly support you been a part of that challenge?
If you answered yes to either of those questions, you're going to be intrigued by what you read here.
Southern Motion is not one of the Titans of the industry, but they've got a long history of making quality furniture. The big thing that stands out about the recliners they offer is their modularity. This varies from one model to the next. But many of the recliners they have for sale allow you to pick and choose the features you want to be included, enabling you to build your perfect chair, as opposed to simply settling for stock options.
The Southern Motion Hercules Recliner follows this tradition. Although it's not as modular as some of the company's other models, you'll find a lot to like in this chair. Unfortunately, it's got its share of weaknesses too.
In the sections that follow, we'll give you the full scoop on this model, both the good and the bad, so you can decide for yourself if this is the elusive recliner you've been looking for, or if the search must continue. If that sounds good to you, let's jump in and take a closer look!
An Overview of the Southern Motion Hercules Recliner
Understated. That's what's likely to cross your mind when you see the Southern Motion Hercules recliner for the first time. It's perhaps a bit of a surprise because, with a name like that, you might be expecting some epic, ostentatious chair.
You won't find that here. The Hercules is designed along purely conventional lines and, as such, should blend in easily with just about any home décor scheme. We don't necessarily mean this as a bad thing, but it basically looks like a generic recliner.
The generic look is okay because lots of people like conventionally designed furniture, but there's literally no aspect of this chair other than its size that stands out and makes you take notice of it. If you put it in a room that's big enough, it will politely fade into the background.
Chair Specifications
Before we go any further, let's take a quick look at the stats that define the chair. Here are the basics:
These numbers mesh together pretty well. There's nothing out of place here. The seat is generously wide, which compliments the chair's 400-pound supported weight limit. With a seat height of 21," it was clearly built with taller, heavier people in mind.
Adjustability and Comfort
The Hercules by Southern Motion is a manual, three-position recliner. You can sit up in the chair, you can partially recline to "TV watching" position, or you can fully recline. If you opt for full recline, note that the chair will not lay completely flat. It goes back to about 160 degrees, which is close enough that it makes a good napper, but sleeping a full night in the chair will probably be uncomfortable. The one possible exception to this is if you've recently had some type of surgery that makes sleeping flat on your back uncomfortable or outright impossible, but that's a pretty limited use case.
According to Southern Motion, they designed this chair to compete head-to-head with Lane Furniture's Stallion recliner. On the whole, this chair doesn't fare all that well against the Stallion, which is cheaper, better looking, and every bit as well-padded and comfortable, given that they both use spring-supported block foam for padding, and it's present in almost identical quantities in both chairs.
The one area where the Hercules wins out is in the implementation of its wall-hugging technology, which only requires you to have about 5" of clearance between the back of the chair and whatever wall you place it near, vs. twice that for the Stallion.
Even where this chair's upholstery is concerned, we find it to be at least a half step behind the Stallion. The Stallion is upholstered with bonded leather, which is problematic on a few different levels. Still, the Hercules is upholstered with a polyester/polyurethane blend.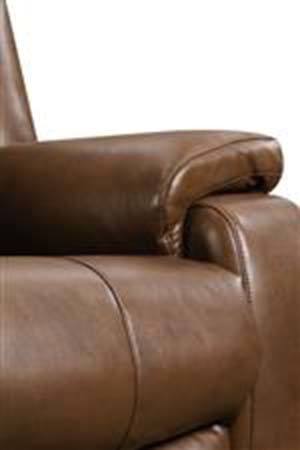 We regard that as a bad thing because both materials on their own are decidedly low-end upholstery options, and blending them together does nothing to change or improve that. Expect the upholstery to start showing its age after about a year, even under the best of conditions. If you have pets, it probably won't survive the first full day in your home.
That's a pity and something of a surprise given the price of the chair. There is a bit of a silver lining here, though. The frame itself is sturdy and durable and will provide years of reliable service with proper care. So, when the upholstery starts to go (and it will, much more quickly than you'd like), it's easy enough to have the chair reupholstered with something more durable and long-lasting.
Earlier, we made mention of the fact that this chair is modular. It is, but there are only two options available on this model: Wall Hugger technology and the Recline-a-pedic feature. Both add to the price of the chair marginally, but both are highly recommended.
The wall-hugging technology is a space-saving feature that makes it easier to fit the chair into smaller rooms. The recline-a-pedic feature adds a layer of memory foam on top of the conventional block foam padding, which enhances the comfort of the chair, making it superior to the Stallion, which it was designed to compete against. Our overall ranking was done based on the assumption that both of those features would be added to the chair that you buy.
No Storage & Extras
This will be a short section here in our Southern Motion Hercules Recliner review because, unfortunately, the Hercules doesn't come equipped with side storage pockets or extras of any kind. It's just a basic, three-position recliner. If that's all you're looking for, it will serve you well, but if you're looking for extras, this isn't the chair for you.
No Assembly Required
On the other hand, the Hercules does arrive at your door, fully assembled, and ready to use. Unfortunately, Southern Motion doesn't offer White Glove service. They'll deliver it to your door, but you'll have to figure out a way to get it into the room you plan to use it in on your own. Given the weight of the chair, you'll almost certainly want to have an extra pair of hands standing by for when the chair arrives as it's too big for most people to manhandle into position by themselves.
---
Pros and Cons of Southern Motion Hercules Recliner
---
Southern Motion Hercules Recliner Review Conclusion
The Southern Motion Hercules is a very good recliner. With both extras included, it's almost, but not quite a great recliner. Even so, if you've been underwhelmed by the other options you've been finding, and if you're cramped for space, it belongs on your shortlist for consideration. On that basis, we provisionally recommend it.
---
References & Resources: