In a Nutshell:
The Osaki Titan Pro Commander Massage Chair is a good entry-level massage chair, offered by one of the bright lights in the industry. It's recommended for anyone on a budget with basic therapeutic needs, provided you weigh no more than 240 pounds.
* Brand Reliability is a measure of the strength and longevity of the brand, which by extension, is a measure of the level of support you can expect.
Do you find yourself in need of a massage chair, either to soothe your aching muscles after a long day's work or to help you manage your chronic pain? If so, then you're going to be intrigued by what you read in this – our Titan Pro Commander review.
The Titan is an interesting design offered by one of the major players in the massage chair industry and an incredibly well-respected company.
One of the things that makes the Titan such an intriguing design is that it's one part cutting edge and one part retro – so, an unusual mix of features and design decisions. Given that, we'll be quick to say that this chair won't be for everyone, but it may be perfect for you.
In the sections that follow, we'll outline everything the Titan has to offer so you can decide for yourself. If that sounds good to you, read on, and let's take a closer look!
An Overview Of The Titan Pro Commander Massage Chair
Osaki calls this their "space capsule" massage chair. It's an apt description, as this model almost seems to go out of its way to give off a futuristic, sci-fi vibe.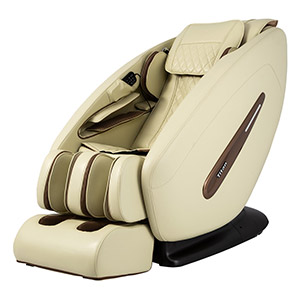 That's great if you're a fan of sci-fi. But the simple truth is that most people haven't decorated their homes with a futuristic theme, which means that in almost every case, this chair is going to really stick out in whatever room you place it in – even if it does look pretty cool (and we think it does!).
Most people who are interested in getting a massage chair care much more about results and less about aesthetics. But if you were hoping to find a chair that you could blend pretty easily with whatever your home décor scheme is, you'll probably have a relatively tough time with this one, and you may want to look in some other direction.
Either way, it's worth at least giving the look of the chair a quick mention.
It's also worth mentioning that this is a relatively smallish piece of furniture as massage chairs go, measuring 29.5" W x 63-72" L x 38-48" H and weighing in at 231.7 pounds. Note that when this review was written, the Amazon sales page had the weight incorrectly listed as 190 pounds. This is incorrect because it does not include the weight of the leg massage ports.
In any case, it's got a fairly modest footprint as massage chairs go, so it shouldn't be too difficult to find a permanent home for the chair.
The last thing to mention before leaving this initial section is the supported weight. While there is no formal industry standard where supported weight is concerned, most of the chairs on the market today support at least 300 pounds, with many models supporting a good deal more than that.
This one only supports 240.
That's pretty close to 300, but it doesn't quite measure up, which means that it can accommodate a relatively smaller slice of the market. If you're taller than 6'3" and weigh more than 240 pounds, this chair just isn't going to work for you.
L-Track & Quad Rollers
Getting beyond simple aesthetics and footprint size, the first thing to talk about is the fact that the Titan has very good bones, which is to say that it's built using the current best in class technology.
It has quad rollers – which closely mimic the feel of human hands – and a long L-shaped massage track that is capable of delivering a massage from your neck to the backs of your thighs.
Even better, the track is designed to allow the rollers to move in three dimensions (the X-, Y-, and Z-axis are all covered). This means that the chair is capable of delivering something pretty close to a deep tissue massage, which is outstanding. We'll have more to say about that a bit later.
For now, just know that the "3D massage track" isn't just a marketing gimmick!
No Body Scanning Tech
This is an interesting segment of our Titan Pro Commander review because while most of the massage chairs being sold today offer body scanning technology, this one simply doesn't.
That's an intriguing contrast between the use of industry-standard quad rollers and the L-track design.
We understand why the design team made the decision, but here, we're not sure we agree. We know that Osaki has exceptional body scanning tech, and it's not a terribly expensive feature to implement, so excluding it here didn't save much money. Even so, we have to assume that it was excluded in a bid to keep the cost of the Titan as low as possible.
The main purpose of body scanning tech is convenience. On models that include it, when you sit in the chair, it scans your body and quietly adjusts the position of the rollers so that they align with your body's pressure points – improving the overall quality of the massage you get.
Here, there's no automatic feature to attend to that. But there are manual controls on the remote that allow you to adjust the position of the rollers, so there is some setup involved before you can actually use the chair.
It's not awful, and it doesn't take much time, but it's a step you've simply got to take before you enjoy your first massage. If you live alone, then you'll probably only have to adjust the roller positions the first time you sit in the chair. After that, unless someone else enjoys a massage, they'll stay where you want them.
On the other hand, if you live with others and you're not the only person using the chair, you're going to need to play the "Roller Shuffle Game" every time you want a massage.
Basic Massage Options On Offer
The Osaki Titan Pro Commander has the basics covered when it comes to massage techniques, which is about what we expected from an entry-level chair. The following techniques are on offer here:
These are the standard techniques that nearly every massage chair on the market today offer. Yes, we would love to have seen a little more here. But again, as an entry-level chair, this is what we were expecting.
In addition to the techniques, you'll also find a total of five pre-programmed massage routines. These are:
The Good Morning massage is fairly vigorous, designed to jumpstart your day, while the Good Night program is gentle and relaxing, designed to send you off to dreamland.
The Relief massage is medium intensity but can be increased if desired. Both the Yoga and Stretch programs involve body stretching, which is another powerful therapeutic feature that the Titan chair offers.
In the world of body stretching, Kahuna has the best tech available. But Osaki's body stretch is certainly nothing to sneeze at, and both of these massage routines do a good job of replicating a chiropractic adjustment.
Unfortunately, this model doesn't offer as much as many comparable models in terms of body zone control.
While many chairs break the body down into five or six separate regions – allowing you to create partial massages – the Titan only offers "Upper Body" and "Lower Body" for the rollers. Though as you'll see in the next section, the airbag massage has more options on this front.
Additionally, this chair allows you to select three different speed and intensity settings, allowing you to fine-tune your massage further.
Note that this chair also does not offer a massage timer, and again, we conclude that this feature was left off as a cost-saving measure. All of the massages on offer here have a fifteen-minute runtime, though you can cut any massage short simply by ending it.
As with the absence of body scanning tech, we're not completely sold on the decision to leave a massage timer off. It's not an expensive feature to implement, so the cost savings gained by leaving it off is minimal. In any case, working around it is as simple as ordering a new massage when the first one ends.
A Decent Airbag Massage Too
This model offers good airbag massage, but it falls short of being exceptional. As such, we rate it as an average feature implementation and an average component of our Osaki Titan Pro Commander review.
You'll find an even dozen airbags here, strategically placed throughout the chair.
A dozen is enough to get the job done, but generally speaking, the more airbags, the better. So while the airbag massage feels pretty good, it's not the best or most compelling feature the chair has to offer.
One thing we like, however, is the fact that you can specify the number of body zones, which allows you to focus on specific body regions where the air massage is concerned, choosing from one of the following:
On top of that, you can adjust the pressure of the massage via the remote, choosing from three different intensity levels.
Zero-G Seating Options Available
This is an exceptional feature addition and, as such, an important component of our Titan Pro Commander review. Zero-G seating was inspired by NASA, and although it won't make you float around your living room, it really does leave you feeling weightless and is incredibly comfortable.
In addition to being super relaxing, it also promotes better circulation and faster post-operative healing, as well as enhancing the overall quality and depth of the massage you get from the chair. So its inclusion here is a powerful therapeutic addition.
Only a minority of the chairs on the market today offer Zero-G in any form, and most of those that do make the feature available only offer a single seating position.
The Titan Commander massage chair really takes things to a whole different level – offering three different Zero-G seating options, which is amazing. It may not be your absolute favorite feature of the design, but it is a very good one. Kudos to Osaki for that!
Lumbar Heat
Although this will be a short section, this is another strong component of our Titan Pro review because heat is another powerful therapeutic addition to the design. Here, the heat is limited to the lumbar region of the seat, which is the most common implementation on the market today.
While we would have preferred to see more extensive heat on offer here, that's almost unheard of in the world of entry-level massage chairs, so the fact that it's present at all is a big win as far as we're concerned.
The Titan Also Offers A Calf and Foot Massage
If you come home after a hard day's work with aching calves and feet, this might become your favorite aspect of the chair's design.
The calf massage is rendered by airbags in the leg massage ports, while the foot massage is delivered via acupressure rollers located at the bottom of the footwells.
This is a good combination that delivers solid results and almost immediate pain relief. It also feels amazing. Granted, it would feel even better if Osaki had seen fit to incorporate heat into the leg massage ports, but that would have raised the price of the chair and probably taken it out of the value segment of the market.
Even without that, this is a solid, well-implemented feature. You'll be impressed!
A High Value "Extra" On Offer As Well!
Honestly, we weren't expecting much – if anything – in terms of extras or finishing touches, given the relatively modest price of the chair. But we were surprised to find one on offer here, and it's a good one!
Although this model doesn't have a built-in USB port that would allow you to keep your phone charged while using the chair, it does offer built-in Bluetooth speakers. This allows you to sync your phone with the speakers and listen to your favorite music, an audiobook, or a podcast while enjoying a massage.
The speakers are a fantastic addition to the design, and we were thrilled to see them included.
Pros & Cons of Titan Pro Commander Massage Chair
In our view, this chair doesn't have any genuine points of weakness. Sure, we would love to have seen more massage techniques, a massage timer, body scanning tech, more extensive heat, and things like that, but those were left off on purpose in order to keep the price of the chair as low as possible.
Even when and where we disagree with the reasoning, we have to admit that it was effective. So although we may grumble about some of the design decisions, we absolutely understand them.
In our view, the best features this chair brings to the table are the therapeutic ones: a trio of zero-g seating options, a good body stretch program, and heat. Those, bundled in a relatively modestly priced chair, are amazing.
Titan Pro Commander Review Conclusion
Ultimately, whether you decide to spend money on this chair or not will be driven by thinking about what your specific needs are. If you suffer from chronic pain, you'll probably benefit greatly from the three powerful therapeutic features on offer here.
If you're more of a hobbyist or casual user, you may be looking for more extras and design flourishes, but the existing feature set may be enough to persuade you.
Although this chair has its share of limitations, it offers a lot of value as a therapeutic model, and we recommend it.
Other Options To Consider
If, after reading this review, you just don't feel as though the Titan is a good fit for you, here are some other options you may want to consider:
Similarly priced, this chair offers the same therapeutic features but has a few more refinements you may want at your fingertips. Although the manufacturer is not particularly large or well-known, this is a great option to consider.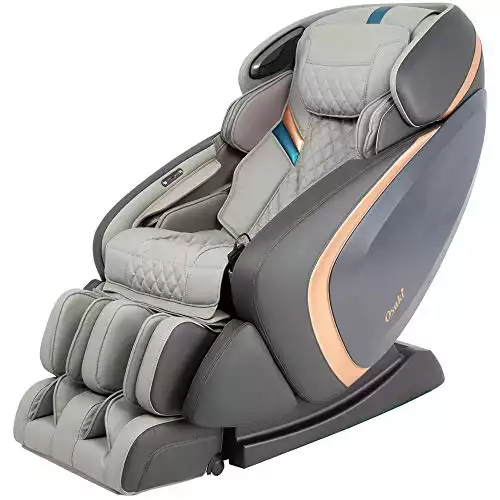 Another chair in the Osaki lineup – this one will cost you a bit more, but it is packed with high-value features you're sure to love. If you don't mind spending extra or delaying your purchase until you can afford it, this is an exceptional pick.
---
References & Resources: