In a Nutshell:
The original kneeling chair, designed by the legendary Peter Opsvik, this is the second-bestkneeling chair on the market today! Variable Balans Kneeling Chair is recommended for any and every one interested in getting a great kneeling chair.
* Brand Reliability is a measure of the strength and longevity of the brand, which by extension, is a measure of the level of support you can expect.
** While aesthetics is a matter of taste, Aesthetic Flexibility is a measure of how easily a given design would fit into a wide range of home or office décor schemes.
Is your aching back getting the better of you? Is your current office chair not doing enough to help? If you answered yes to either of those questions, and you're looking for an alternative office seating solution, you're going to love our Varier Balans Chair review.
This is the original kneeling chair, designed in 1979 by the legendary Peter Opsvik, of Norway. To date, the only chair to surpass it is the Wing chair, also designed by Opsvik for Varier. As such, any time you see a kneeling chair offered by some other company, this is the one they're trying to emulate. This is the standard they're attempting to match or beat.
Not everybody will want or be interested in a kneeling chair, but if you've found yourself dissatisfied by the level of comfort and ergonomic support you're getting from your current office chair, it may be time to consider other options. If that's the situation you find yourself, read on, and we'll tell you more about this fantastic design that's still considered cutting edge, even today!
An Overview of the Variable Balans by Varier
Chair Specifications
Let's start by taking a closer look at the basic stats that drive and define the model. These are:
Seat Height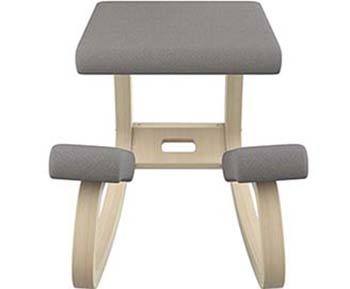 One thing you'll note that's absent from the list of stats is a seat height adjustment range. This chair doesn't have one. It's a stationary 20" off the ground, which makes it ideally suited for use with a standard sized desk.
The seat height measurement here isn't really comparable with the seat height of a conventional chair, because of the way you sit on it, with your knees resting on the knee pads at the front.
Note too that the frame has curved rails on the bottom, which allows you to rock back and forth slightly while sitting in it, giving you the freedom to shift your sitting position comfortably.
No Casters
Also note, however, that this chair doesn't come with casters, which simply wouldn't work with its design. Not to worry though; if you plan on using this chair on a hardwood floor or other surface that you fear might get scuffed up, the company also sells soft tape as an accessory, which we'll talk about more in the next section.
Aesthetics
Perhaps the best thing about this chair is the deceptive simplicity of its design. Its shape and the way the chair is engineered provide superb ergonomic support, and once you've adjusted to sitting in a kneeling chair, you'll find that you can use it for long periods every day without discomfort.
The padding is sufficient to remain comfortable even after extended periods sitting in it but isn't excessive.
Every element of this chair's design and manufacture has been carefully considered and expertly assembled. The assembly, by the way, is done by hand in Europe, which goes a long way toward explaining why it costs a little more.
Lacquered Ash Frame
Varier is known for producing top quality products, and this chair is no exception. The frame is constructed of lacquered ash that has been sustainably harvested from European forests, and the overall production quality is superb.
Upholstery Options
Where upholstery is concerned, the company offers a variety of different options, including your choice of the company's proprietary "Revive" or "Fame" fabric. Revive is a slightly less expensive upholstery made from 100% recycled polyester, while Fame is more durable and a bit more expensive, being made primarily of New Zealand Wool.
Whichever option you choose, you can order your chair with your chosen fabric upholstery in the following colors:
You can also choose to order your chair with a natural finish that shows off the beauty of the ash wood used in its construction, or matte black.
Extras Are Available
The Variable Balans Ergonomic Desk Chair is a lesson in simplicity, but some people are looking for a bit more. Varier has you covered on that front! The company makes the following items available as options and add-ons:
This last item is ideal for people who plan to use their chair on a hardwood floor. Without the addition of soft tape, inevitably, as you use the chair, it will produce scuff marks on your pretty flooring.
Other than the soft tape, which you'll know whether you need or not right away, our recommendation would be to buy the chair as is.
Test it out for a while and then, based on your experience with it, order one or more of the pieces of optional equipment to create a more customized and comfortable seating experience.
Some Assembly Required (but It's Simple!)
Unsurprisingly, since this chair is coming to you from Europe, it will arrive at your door in a medium-sized box and in several pieces. Not to worry, the instructions are clear and well-written, and the assembly process itself is simple and can be conducted by one person with delightful ease.
Be advised, however, that if you've never used a kneeling chair before, you will find yourself spending a few minutes puzzling out how the various pieces go together. That adds a bit to the total assembly time, but even with that, it's not bad.
Pros and Cons of the Variable Balans Chair
When this chair was first developed, it was the gold standard. The model that every other company making kneeling chairs sought to emulate. To date, the only chair to beat it was also developed by Peter Opsvik, for Varier. That would be the Varier Balans Wing Chair.
This model has the advantage of being significantly less expensive than the Wing Balans Chair, and as such, is more accessible and appealing to a broader swath of the market.
The only real catch here is that kneeling chairs tend to be self-selecting. The vast majority of the market is composed of people looking for a conventional office chair. For them, it doesn't matter how awesome this model is from an ergonomic standpoint; odds are that they just won't be interested. It's simply not what they're looking for.
That's the only negative associated with the Balans though. If you're specifically looking for a kneeling chair, and you don't have the money for a Wing, this is the one you want. The only thing to be mindful of is the chair's weight limit. At 250 pounds, it won't work for everyone, but if you're under that weight, this is a stellar choice.
Final Thoughts on Variable Balans Review
To complete our Varier Balans review, we can say that it is the second-best kneeling chair on the market today. It's high-quality and although a little on the pricey side, it's still well within the realm of possibility for a broad swath of the market.
If you've found yourself disappointed by office chairs you've owned in the past and are looking for the ultimate expression of ergonomic excellence and comfort, it may be time to consider venturing off the beaten path and looking for something a little on the unconventional side. Kneeling chairs are a fantastic option, and we recommend this one without reservation.
---
REFERENCES & RESOURCES