In a Nutshell:
The Best Choice Recliner Sofa is a very basic massage chair that looks like a standard living room recliner. If you have an extremely low budget, this could be a good choice. But, for slightly more money, you can get a much better chair.
* Brand Reliability is a measure of the strength and longevity of the brand, which by extension, is a measure of the level of support you can expect.
Are you looking for a basic massage chair that doesn't stick out like a sore thumb in your living room, but you don't have a lot of money to spend?
If you're looking for something that can deliver a basic, no-frills massage without breaking the bank, this may be a good option for you.
At this price point, it should go without saying that the Best Choice Recliner has some severe limitations. That's unavoidable, really. But again, if you just don't have anymore to spend and you find yourself in desperate need of a decent chair, this one could work in a pinch.
We'll cover everything it does (and doesn't) do in the sections that follow so you can make an informed decision about whether or not it's right for you.
An Overview of the Best Choice Recliner / Massage Chair
Track Design
We're not sure why other Best Choice Recliner reviews on the internet don't call more attention to this, but we regard it as a critical factor to the analysis and discussion of the model.
This is not a "true" massage chair in the strictest sense of the word. It is a vibrating chair.
The difference is that full-fledged massage chairs use a track and roller system, whereas this design uses a fixed-frame system, combined with stationary massage heads. That's a crucial distinction that impacts your massage in a couple of important ways.
Impact on Massage Quality
First, there's no need for body scanning tech, because the massage heads can't move, which also, of course, precludes the need to include manual adjustment options.
From a practical standpoint, what that means for you is that the massage can be hit or miss.
If your body shape happens to align with the position of the heads, you're in luck and will get a decent massage. If not, then you'll have to shift around in the chair to try and get a good "fit." That may work, and it may not. If not, you're destined for a substandard experience.
Second, and just as crucially, since the massage heads don't move, there's not a lot you can do to vary the massage experience. For example, you cannot get the most basic kneading-style massage from a stationary head. It's just not possible. Those limitations bring us to our next section.
Limited Options
The fixed-frame design doesn't lend itself well to much in the way of choices. Nonetheless, the company gamely tries to engineer some by indicating five different "modes" on the remote, which are as follows:
There's just one problem. All of these feel pretty much the same. They're just subtle variations on the basic vibration-style massage, which is the only kind of massage this model is capable of rendering.
On the plus side, the massage heads can be selectively activated by the following body regions: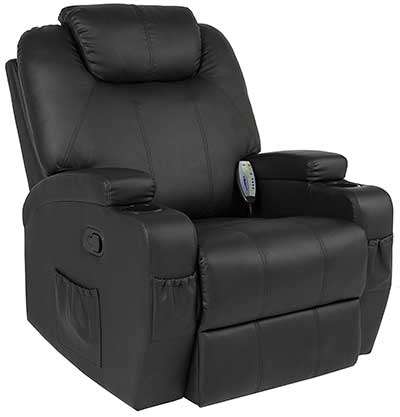 That way, if you don't want a full massage and want to focus on a particular area or group of areas, you can do that.
Further, you can pick between two intensity levels (high and low). That's not a huge amount of variability, but more's always better than less.
Regarding options, though, that's all you get.
A vibration style massage, selective activation, and two intensity settings.
Heat
Our Best Choice Recliner review wouldn't be complete if we wouldn't draw particular attention to this because it's honestly the only standout feature of the design.
We were frankly surprised to see heat offered in such a low-cost model.
Sure, it's got some limitations. The heat provided is available only in the lumbar region and has no temperature adjustment option, but the absence of those things isn't all that surprising. After all, many mid-range massage chairs don't offer them either!
In any case, limitations or not, the heat function will likely be your favorite aspect of the chair.
Aesthetics and Design
The big problem with most conventional massage chairs is that they tend to stick out like a proverbial sore thumb.
They're huge. They're clunky, and they take up a lot of space.
The Best Choice recliner doesn't suffer from any of those limitations. In fact, at first, and even at second glance, you may not realize it is a massager at all.
It's reasonably stylish and blends in seamlessly with the décor of most homes. In addition to that, the chair rocks and swivels, has four roomy pockets for books, magazines, and newspapers, and a pair of cup holders.
It's easy to understand why these things were added. In the absence of traditional massage chair features, the designers wanted to provide as many "extras" as they could to make their offering more attractive.
That works for the most part, but in at least one case, two of the features have the potential to clash.
If the chair rocks forward while you're having a drink in the cupholder, you could wind up spilling your drink. A small thing, but something to be mindful of!
All in all, though, this chair will make an unobtrusive, fairly comfortable addition to your living room.
A Very Simple Remote
Because there aren't very many features, the remote is incredibly simple to use and has no learning curve to speak of. The few buttons are clearly labeled, and the various functions are easy to understand. You won't have any difficulty whatsoever in terms of mastering this chair.
Best Choice Recliner Reviews Pros & Cons
We're reluctant to make any recommendations about changes to the model. This isn't because it's a perfect chair but rather because any recommendations we could make on this front would have the effect of dramatically inflating the price of the chair, which would move it to an entirely different segment of the market.
About the only exception to this rule would be that we'd like to see the swivel action operate more smoothly. Perhaps installing some kind of a brake to prevent the chair from rocking so far forward that it put your drinks at risk would make a nice modification. But these are just minor points.
On the plus side, you're getting a decent looking recliner with some basic massage functionality. On the minus side, you're only getting really basic (rudimentary) massage functionality.
Best Choice Recliner Review Conclusion
As you can see from our Best Choice recliner review, this chair is only capable of providing the most rudimentary of massage experiences.
If you're looking for something more advanced or if you're in the market for anything that even remotely resembles honest to goodness therapeutic features, then this isn't the model for you.
On the other hand, if you're looking for a recliner that can blend in pretty seamlessly with your home's décor, doesn't cost an arm and a leg, and provides some very basic massage functionality, this could be a good fit.
---
References & Resources: