In a Nutshell:
The Bodyfriend Palace II is a fantastic massage chair a great company offers at a high-end price. It is recommended for anybody weighing 265 pounds or less, assuming you can afford it. It's an especially good chair for anyone with therapeutic needs as it covers a lot of bases.
* Brand Reliability is a measure of the strength and longevity of the brand, which by extension, is a measure of the level of support you can expect.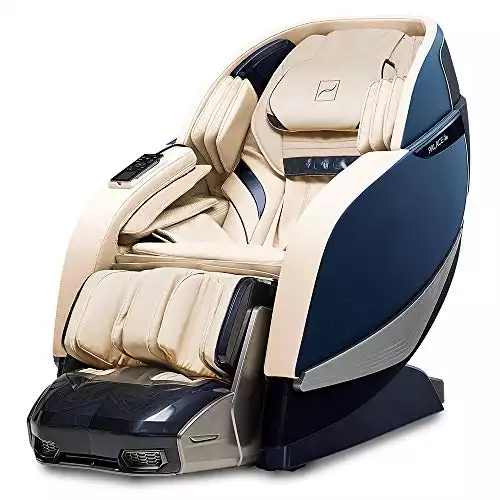 Do you suffer from chronic pain? Are you tired of hurting all the time and constantly shelling out money to head to your friendly neighborhood chiropractor?
If you answered yes to those questions and you've got enough money in your budget to support it, you owe it to yourself to check out the amazing Bodyfriend Palace II massage chair, especially if you've looked at the Pharaoh II offered by the same company and decided that you don't want to spend that kind of cash on a chair.
The Palace II is filled with cutting-edge features and loaded with hard-hitting therapeutic features too, but it's an expensive piece of engineering. And as such, it's going to be out of the reach of many people who really want one.
In addition to that, it's got a couple of features we're not especially fond of (we'll tell you why later in this review) and has a few limitations to be mindful of. On balance, though, this is an impressive design indeed, and we think you'll love it, even if you ultimately decide it isn't the chair you've been searching for.
In the sections that follow, we'll go over every aspect of the design, highlighting its strongest and weakest features so you can decide for yourself. If that sounds good to you, read on, and let's have a closer look.
An Overview Of The Palace 2 Massage Chair
We'll be making regular comparisons between this model and Bodyfriend's Pharaoh II chair because they are highly similar, although the Palace 2 is cheaper by a couple of thousand dollars. And, amazingly, you don't really have to give up a lot to realize those savings, which makes this model the better value in our book.
Stylistically, they are virtually identical, and although massage chairs aren't known for their stunning good looks, we really like the styling on most of Bodyfriend's designs.
Where the Pharaoh II is only offered in one color (gold-tone), the Palace II gives you two great-looking options to choose from. If you decide you want one, you can order yours in either silver and blue or burgundy and cream, depending on your personal preferences and which option will blend more easily with the rest of your home décor scheme.
It should be noted, though, that this is a fearsomely big piece of furniture. When sitting upright, it measures 66.5" L x 35.5" W x 49" H, and when it's reclined, it has a footprint of 75" L x 35" W x 33" H, which is to say that if you've got a smaller home or apartment, it's probably going to be an uphill battle to try to find a place to put this monster.
One thing that works to the chair's advantage, though, is the fact that it was built using wall-hugging technology, so you actually only need about four inches of clearance between the seatback and whatever wall you place it near. Even so, given its hulking size, finding a permanent home for it can be challenging.
And you'll want to find a permanent home for it and not move it around a lot because the chair weighs 324 pounds. So if you ever have to move it, you'll almost certainly need assistance unless you've been hitting the gym a lot!
Given the sheer size of the chair, it probably won't surprise anyone to learn that it can support users up to 6'3" tall. One area of disappointment, though, stems from its relatively modest weight limit.
Most of the chairs on the market today can support at least 300 pounds, with many models offering support for significantly more user weight than that.
Sadly, this model will only support users weighing up to 265 pounds. If you weigh less than that anyway, you won't even give that fact a second thought, but if you happen to weigh more, the disappointing weight limit is going to be an outright deal-breaker.
In our view, this is a genuine point of weakness because, given the price of the chair, it would have been easy to ruggedize the frame, enabling it to support significantly more weight.
Adding a few hundred bucks for a project like that on a low-end chair will dramatically increase the price, but here, the price is already at the top end of the band.
Adding a couple of hundred dollars more to make it accessible to a broader swath of the market won't even create a notable price increase, so we're both disappointed and mystified as to why this wasn't done.
In any case, it looks great and is available in two color configurations, so assuming the hefty price tag and the modest weight limit aren't sticking points for you, you'll probably love it!
The final thing we need to mention before leaving this section is that unlike the Pharaoh II, which is upholstered in genuine leather, this chair is upholstered in PU.
PU is less expensive; it's less breathable, and it's less durable. But the simple truth is that almost every massage chair on the market today—regardless of price—uses PU upholstery, so we can't really fault Bodyfriend for going with the crowd on that front.
In any case, stripping the genuine leather off and going with a less expensive alternative is one of the reasons this model is significantly less expensive than the Pharaoh, so even though the quality of the upholstery isn't as high, we still count it as a net positive.
The Bodyfriend Palace II Uses The Latest In Massage Chair Technology
This shouldn't surprise anyone because almost every high-end massage chair sold today uses all the latest massage technology.
To quickly review, the Palace 2 boasts quad rollers, which do a great job at mimicking the feeling of human hands during a massage.
These rollers travel on an SL track, which allows them to render a massage that starts at the user's neck and travels under the seat to massage the glutes and backs of the thighs of the person sitting in the chair.
And the track is designed to provide roller movement on the X-, Y-, and the Z-axis, which means that the Palace 2 is capable of delivering an incredible deep tissue massage.
That (deep tissue massage) is the first of many therapeutic features we'll be talking about where this model is concerned, and we'll have much more to say about that feature in the next section.
For now, suffice it to say that if you suffer from chronic pain and you're looking for a chair that can really work the sore spots on your back and shoulders out, this one has you covered.
The final thing to mention in this section is the fact that the Palace massage chair has excellent body scanning technology, so when you sit in the chair, it will take a quick scan of your body and quietly adjust the position of the rollers to ensure an optimal massage experience.
The vast majority of the time, you'll find that the body scan gets the rollers just where they need to be. But if something happens to be a little off, you'll find buttons on the remote that allow you to tweak the position of the rollers manually, so you'll never have to worry about getting a suboptimal massage with this chair and that's pure awesome.
4D Massage Rollers of Bodyfriend Palace 2
Here, we have to provide a bit of context because not everyone may be sufficiently fluent in the industry's terminology to fully appreciate what this means.
Let's start with a massage chair that offers a 2D massage. What that means specifically is that the track only allows the rollers to move along the X- and Y-axis, so the rollers can move up and down or left and right along the track, and that's it.
That's not bad, and if you put quad rollers on a 2D track, you'll get a good massage. What you won't get, though, is a true deep tissue massage.
For that, you'll need a chair that offers a track that allows the rollers to move along the Z-axis as well, so those rollers can really dig into the sore places on your back.
Then there's 4D. Unlike the two we just talked about, there's no formal standard on what 4D means.
Different companies use the term to mean different things.
For some companies, it's little more than a marketing gimmick. In this case, though, the way Bodyfriend uses the term means that the rollers are "smart." When you need a light touch and finesse, all four rollers are engaged, which gives you a massage that feels more like human hands.
Then, for the really troublesome sore spots on your back, you can engage XD mode. When you do, two rollers retract, allowing the motors to drive more power into the remaining two rollers.
There are five intensity levels in XD mode, and if you choose the most intense setting, it really takes the concept of a deep tissue massage to the next level. If you suffer from chronic pain, you're going to love XD mode.
This definitely counts as one of those cutting-edge massage technology features we mentioned at the start. It's amazing.
The Palace II Massage Chair Offers Lots Of Options (But Fewer Techniques Than We'd Like)
Aesthetics are important to some people and less important to others, but every single person who is interested in buying a massage chair wants one with tons of great, high-value features. That is, after all, what the product is for!
The Bodyfriend Palace II has lots of features and options on offer, but it does have one weak spot, in our view, and that is related to the number of massage techniques the chair offers. The available techniques are:
For the most part, this is standard fare. This is basically what you find on just about every massage chair on the market today.
The only difference lies in the Palace 2's advanced technique, which is Acupressure.
A quick word about that.
Bodyfriend describes the Acupressure technique as being "Open Palm Shiatsu." It isn't.
The two are similar, but Acupressure is its own unique technique.
That's actually a good thing because there aren't many chairs on the market today that offer that particular advanced technique. And in our opinion, the company has missed a marketing opportunity by not highlighting that fact.
In any case, it's got an average number of techniques on offer, which isn't bad, but given the high price tag this chair comes with, we were hoping for a bit more on this front.
The good news is that when it comes to pre-programmed massage routines, the Palace II delivers in style, offering the following massage options:
These sixteen routines precisely mirror those offered by the more expensive Pharaoh 2 chair, so you're not losing or giving up anything on this front if you opt for this model rather than Bodyfriend's more expensive chair.
In addition to that, if we count the two Lymphatic variants as collectively being another therapeutic option, we find a total of three more therapeutic features here (body stretch, the Lymphatic options, and the option aimed at improving digestion).
That's powerful, and when paired with the deep tissue massage we touched on before, we're beginning to assemble an impressive list of therapeutic features (and even better, there's more to come!).
We will say that of these, the Body Stretch feature is, in our view, the best of the bunch. While it's not the industry's best body stretch, it is quite good and closely mimics the "chiropractic adjustment" you get from your local chiropractor's office, except, in this case, you can enjoy it any time you like without having to schedule an appointment or even leave the house!
In addition to these, you'll also find a number of what the company calls "brain massage" techniques.
This is another cutting-edge feature, but we're not as sold on this one as we are on the XD mode and 4D rollers.
How It Works
The idea here is that the chair pairs massage with what they describe as "binaural beat music." It supposedly relaxes you and helps improve and increase your brain activity.
The company has really put some effort and research into this, and we can definitely report that the massage options in this section feel great, and the music is pretty relaxing too. But, in our view, there's not (yet) enough scientific evidence to support their conclusions where benefits are concerned.
Given that, we're not counting these as additional therapeutic benefits, but by all means, experiment with them and see how they work for you! The massage options in this section include:
Again, this precisely mirrors the options available on the more expensive Pharaoh chair and brings us to a grand total of 24 pre-programmed options.
That's impressive, but it gets even better. In addition to all of the above, you can customize your massage experience by adjusting the speed (five different speed settings) and the intensity (six different intensity settings), and you can also engage spot or partial massage mode if you've got a particularly sore spot that you want the massage rollers to spend extra time on.
Put all these options together, and you've got tons of different customization options. Note, however, that the XD mode only works when you're in manual massage mode. You can't use one of the pre-programmed massage options and engage XD mode.
A Quality Airbag Massage
The Bodyfriend Palace 2 can render a very good, full-body airbag-based massage. We'd rate this as a good feature implementation, but there's nothing remarkable about it. It's not what we'd describe as a signature feature of the chair, but we're certainly glad that it is present!
In addition to enjoying a full-body air massage, you can selectively activate airbags by body region if you decide you don't want the full treatment. The body regions you can select from the remote are:
Additionally, you can customize your air massage experience by adjusting the intensity level of the massage with five different options to choose from on the remote.
Zero-G Seating Included
Most high-end chairs offer Zero-G seating in one form or another, so we were very glad to see this feature included here.
Inspired by NASA, it really does leave you with a feeling of weightlessness when you put the chair into its Zero-G seating configuration. Unfortunately, there's only one such option available. It's fairly easy to find massage chairs that feature two or even three Zero-G seating positions, and for the money, we found this implementation to be a little underwhelming.
Nonetheless, the feature is present, and we're very glad for that because it's yet another therapeutic feature (which brings us to five so far—deep tissue massage, body stretching, digestive care, lymphatic care, and now this).
We especially like the fact that Zero-G seating can enhance the value of the deep tissue massage you can get from this chair, making it even deeper and more intense.
If you put the chair in Zero-G position, then order a manual massage and crank the XD mode intensity as high as it will go, you'll get an incredibly deep massage. In fact, it may even prove to be too intense for some users!
In addition to that, Zero-G seating, in general, helps control blood pressure and improves circulation, which facilitates faster healing in post-surgical patients. So it's a good all-around therapeutic feature, in addition to the fact that it makes the massage functions better in general.
Generous Heat Included!
This is yet another powerful therapeutic feature, which brings our running total to six. The chair uses a twin coil heating system, and the coils are located such that they run up the sides of the seatback.
While many massage chairs that offer heat limit their inclusion to the lumbar area of your back, this model gives you something close to full-back heat, which is outstanding.
Massage all by itself is nice, but heated massage is a whole new level of bliss. Even better, you can control the offered heat via the remote, selecting from among three different temperature levels (1-3, with the higher numbers representing relatively more heat, with the maximum temperature topping out at 140 degrees Fahrenheit).
This is a solid, well-implemented feature. It may not be your absolute favorite, but it will almost certainly be in the upper tier.
A Simply Amazing Calf and Foot Massage
In our view, this is the standout feature of the design, and for many users, this will be the feature they keep returning to.
The calf and foot massage this chair can deliver is incredible. The only way we can see to improve it will be to include heat in the footwells, which is on our wish list for this model. Even without that, though, this is flat-out amazing.
Bodyfriend does something here that very few other companies do. Most companies render their calf massage with airbags and their foot massage via rollers at the bottom of the footwell. Bodyfriend uses both for both, so you get airbags and rollers on your calves and airbags and rollers on your feet.
The results are mind-blowing, and if you spend big portions of your day on your feet and they're aching and causing you trouble by the time you get home, this feature alone will be a game-changer for you.
High-Value Finishing Touches Also Included
Naturally, given that this is a top-end chair, it's got some nice finishing touches too. It offers a USB port to keep your phone charged while you're enjoying a massage, Bluetooth speakers you can wirelessly connect your phone to (so you can listen to your favorite music or podcast while enjoying a massage), and a massage timer.
The timer is structured so that any massage you order can be set to a duration of either 10, 20, or 30 minutes at your option.
We would love to have seen even longer massage durations, but 30 minutes is about what you typically see on chairs that offer a timer. And if you want a longer massage, it's as easy as ordering another when the first one ends.
The one thing we love to see added to this list, though, is memory slots. This is super easy to do these days and will not significantly increase the price. Given that there are so many massage options available being able to customize your perfect massage and save it for a one-touch recall later will be a nice touch.
Perhaps the company will include it in some future model update—here's hoping!
Pros & Cons of Bodyfriend Palace
This is a great chair. We like almost everything about it. In our view, it's only got three genuine weaknesses:
If you can live with those weaknesses, you're going to love this chair.
Bodyfriend Palace II Massage Chair Review Conclusion
We love the Palace 2!
Sure, it's expensive, but it also brings tremendous therapeutic value to the table, and if you suffer from chronic pain, this is the next best thing to living with a chiropractor. It's a great-looking, rock-solid design with relatively few weaknesses. If you decide to get one, you may have to save up for a bit to be able to afford it, but you won't be disappointed.
We recommend it, especially to those with therapeutic needs, provided that the weight limit doesn't prove to be a deal-breaker.
Other Options To Consider
Having reached the end of this review, if you decide this isn't the model you've been searching for, here are a couple of other alternatives that are well worth considering:
If your big issue with the chair we just reviewed is the fact that the upholstery is a bit underwhelming, then the chair you want is the Pharaoh II. It has an identical feature set but is upholstered with genuine leather. You'll pay more for it, but it's a fantastic option.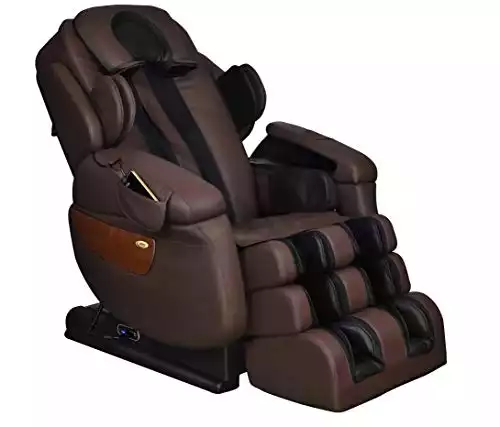 The i7 by Luraco is one of the best therapeutic massage chairs on the market today. Honestly, this is the standard by which every other therapeutic chair should be judged.
So even if you're mostly convinced that you want a Palace 2, you owe it to yourself to at least have a look at this model to make a quick comparison and see which feature set makes the most sense for you.
---
Reference & Resources