In a Nutshell:
The Forever Rest FR-6KSL massage chair is an almost ridiculously good, basic, no-frills massage chair offered by a company you've probably never heard of. It is recommended for anyone weighing up to 300 pounds who is on a budget and doesn't have a specific therapeutic need.
* Brand Reliability is a measure of the strength and longevity of the brand, which by extension, is a measure of the level of support you can expect.
Do you suffer from chronic back pain? Are you on a bit of a budget? Do you consider yourself to be not brand-conscious?
If you answered yes to the questions above, then you're almost certain to love this FR-6KSL massage chair review.
The odds are good that you've never heard of Forever Rest, and yes, that's the name of a massage chair company, not a funeral home. Don't let the company's unusual name fool you, though – this little company makes almost astonishingly good massage chairs.
Brand-conscious people will tend to reflexively steer clear of them, but if you're willing to take a chance, you'll quickly discover that this chair has a lot to offer.
In the sections that follow, we'll walk you through everything the 6KSL has to offer, and we won't be shy when it comes to pointing out the model's shortcomings. If that sounds good to you, read on, and let's take a closer look at the FR-6KSL.
An Overview of the Forever Rest FR-6KSL Massage Chair
Let's talk about first impressions. The FR-6KSL looks like a massage chair. It doesn't make any special effort to hide what it is. That doesn't mean it's ugly, but unless you have a science fiction décor scheme in your living room, it's going to stand out.
The other thing to consider is that it's a fairly sizeable piece of furniture, measuring 44.5" L X 29.5" W X 44.5" H (69" L X 29.5" W X 37.5" H fully reclined) and weighing in at 216 pounds.
Of interest, it can support up to 300 pounds of user weight, which is about average in the furniture market. It also has an extendable ottoman that can be made up to 9" longer, making this model useful for people ranging from 5' to 6' 1" in height.
Despite being a sizeable piece of furniture, it doesn't take as much room to use it effectively as you might think, thanks to its space-saving design.
Chairs that are not designed with space-saving technology require you to place them at least 12" from whatever wall you set them near. This chair only requires about 1" of clearance between the seatback and whatever wall it is placed near, and that's pretty cool.
As with most of the massage chairs sold today, this one is upholstered with PU, which has a look and feel that's similar to leather but isn't as durable. Given the relatively low price point on this model, we're totally fine with the choice of upholstery, and if you decide you want one, you can order yours in either beige, black, or dark brown.
Before we leave the general overview section, the last thing to draw your attention to is that this isn't a 3D massage chair. The massage rollers only move along the X- and Y- axis.
Since they cannot move along the Z-axis, it cannot deliver a deep tissue massage nor can it render a massage of the same level of intensity that 3D massage chairs are capable of.
That's not the end of the world, but it is something to bear in mind as you read the rest of this review.
L-Track, Quad Rollers, and Zero-G Seating, Oh My!
Despite the fact that the track is somewhat limited compared to the tracks on chairs offered by the big-name brands, it uses cutting-edge technology. It also features quad rollers on a 50" long massage track (SL-Track), which extends under the seat so that the rollers can massage your glutes and the backs of your thighs as well as your back, shoulders, and neck.
We regard this as a really good move on the part of Forever Rest. They saved money by utilizing a simpler track design but didn't sacrifice much in the way of overall massage quality.
Naturally, if you have a therapeutic need, you're going to want a chair that's capable of delivering a deep tissue massage. But if you're more of a hobbyist, a chair like this is perfect and will save you money.
Even better, this model has a secret weapon in the form of one Zero-G seating position that increases the intensity of the massage offered. It's still not quite a true deep-tissue massage, but it's more intense than you might expect.
NASA-inspired Zero-G seating leaves you feeling weightless by placing you in a position such that your knees are elevated slightly above your heart.
This allows your own body weight to press you more firmly down against the rollers, increasing the intensity. It has also been proven to improve blood flow and recovery time if you've recently had surgery of any kind, which is fantastic.
Only about a third of the chairs on the market today offer Zero-G seating, and we're thrilled to see it included here. Sure, we would love to have seen multiple seating positions, but the presence of Zero-G seating is a really big win for anyone who purchases this model.
Body Scanning Tech Included
This is a short but important component of our FR-6KSL massage chair review. As is the case with the big-name brands, Forever Rest utilizes body scanning technology. When you sit in the chair, it will perform a quick scan and quietly move the rollers into position to align with your pressure points.
Forever Rest's tech isn't cutting-edge here, and in practice, it's somewhat less accurate than the tech used by the larger and more established brands. Even so, you can expect the chair to get it right about 90% of the time. On the occasions where it's a little off, you have the option to exert manual control and tweak the positions of the rollers to taste.
This is great news for you. It also virtually guarantees that you'll get the best massage this chair is capable of delivering, which is great news for you!
It's Got the Basics Covered in Terms of Massage Options
The track size, roller configuration, and body scanning tech tell part of the story, but they certainly don't provide the complete picture. In this section, we'll get down to brass tacks and take a much closer look at what this chair is actually capable of delivering.
There are two components to this section: massage techniques and pre-programmed routines.
Starting with the techniques on offer, we find:
This is essentially the lowest common denominator. These techniques are the bare minimum you'd expect to find on a "proper" massage chair. Given the price this one is being sold for, we would have been genuinely surprised to see much more than this.
As it stands, you get one advanced massage technique and all the basics, which is a decent starting point.
It gets better, though, because you can control the width of the massage field via three settings (narrow, normal, and broad), you can control the speed of the rollers via five different speed settings, and you have at least some control over the particular body region(s) massaged, which is broken out as follows:
Note that some of these body regions are also applicable to the airbag massage, but you are limited to full body, upper body, or legs and feet where the air massage is concerned. We'll have more to say about the air massage a little later on.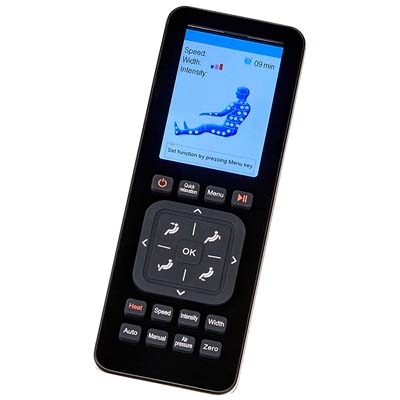 Finally, via the remote, you can interrupt any massage routine to order the rollers to hold on to their current position (pinpoint) or to roam around a roughly 3" diameter area from their current position (partial), which allows you to modify any massage routine on the fly to really spend time on the places that hurt the most.
Turning our attention to the other dimension, we find a total of nine different pre-programmed massage options offered by the FR-6KSL. These include:
Put all of these elements together and you've got a surprisingly capable massage chair for the money. It manages to get quite a lot of mileage out of the basic massage techniques.
One final thing to mention before we leave this section is this: All of these massages default to a twenty-minute duration, and the massage time can be adjusted in five-minute increments (up or down) to an absolute maximum of 30 minutes.
Massage timers aren't terribly common to begin with, so we certainly can't fault little Forever Rest for not including one here. Just bear it in mind when you sit down in the chair. It will run for twenty minutes, then turn itself off.
An Airbag Massage Too!
The FR-6KSL comes equipped with 30 airbags scattered throughout the chair (shoulders, arms, and hands, calves, and feet), and these are capable of delivering a surprisingly good airbag-based massage that users can adjust via five different levels of intensity.
As with the roller-based massage, you can activate the airbags for your entire body, or you can zero in on specific body parts (either upper body or legs and feet), depending on what your needs of the moment are. It's a well-implemented feature that you'll definitely get a lot of use out of.
Lumbar Heat
This is the second of two therapeutic features the FR-6KSL massage chair has on offer (the first being the body stretch we talked about earlier).
Heat enhances any massage, and we're always thrilled to see it. In this case, the heat is binary, either on or off, with no temperature control and limited to the lumbar region.
That's a pretty standard implementation, and there's not much to say about it beyond the fact that we found its inclusion here to be a pleasant surprise indeed.
A Very Good Calf & Foot Massage
If you spend several hours of every day on your feet, this may well become your favorite aspect of this chair's design. It utilizes rollers at the bottom of the footwells for a Shiatsu-style foot massage and airbags for the calf massage.
Both of these elements can be customized via the remote, and you'll have five different intensity levels to choose from. Although the foot massage isn't best in class, it is very good, and the only thing we can think of that would improve it would be the addition of heated footwells. You'll be impressed by this feature's implementation.
It's Even Got Some Finishing Touches
Most massage chairs offered by smaller brands don't tend to offer much of anything in the way of extras and finishing touches. Smaller brands tend to stick to bare-bones designs. Forever Rest is a pleasant surprise in this regard, and you'll find two notable extras. These are:
Variants of Forever Rest Massage Chair
Pros & Cons of FR-6KSL Massage Chair
We said at the start that Forever Rest makes almost ridiculously good massage chairs, and we meant that.
Don't let the overall ranking score fool you. You'll find that the score for this chair shoots up to an impressive 4.4 stars out of 5 if you strip out the brand reliability metric, which is a measure of the overall size of the brand's footprint (how well they are known and how much relative ability they have to stand behind their products).
In no particular order, here are the things we think you'll like best about this model:
Sure, there are some tradeoffs here, and you do need to be mindful of them. In our view, the weakest aspect of this chair can be summarized as follows:
We feel that the pros far outweigh the cons, in this case, making this model a tremendous value for the money.
FR-6KSL Massage Chair Review Conclusion
We will close our FR-6KSL massage chair review by saying that we really like this model despite the relatively modest overall score, but we can only give it a provisional recommendation. It's a great chair for a casual or hobbyist user. It's a very good chair for someone with limited therapeutic needs.
But if you have a specific therapeutic need, this one is probably going to leave you underwhelmed and not meet that need as well as you'd like.
If you're just looking for a chair that can give you a great basic massage and offer up a bit of therapeutic value on the side, you're going to love it.
Other Options to Consider
If the Forever Rest gives you pause and you're not sure it's a good fit, here are a couple of other options to consider: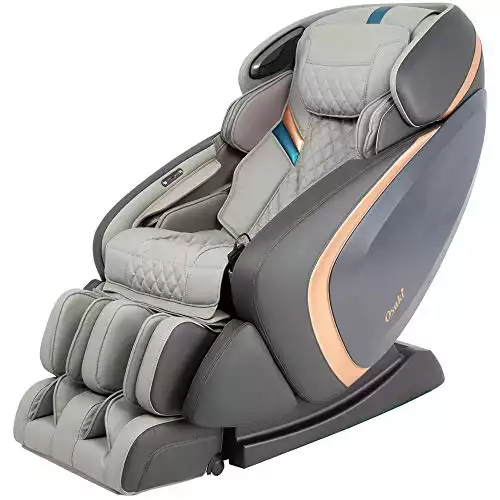 Osaki is one of the big names in the industry, and the company is very well respected. You'll pay a premium for the Admiral, but you'll find it positively brimming with features that will leave you smiling. This is definitely a step up from the Forever Rest, though, so you may need to save a bit longer to be able to afford it. It is well worth the extra money, however.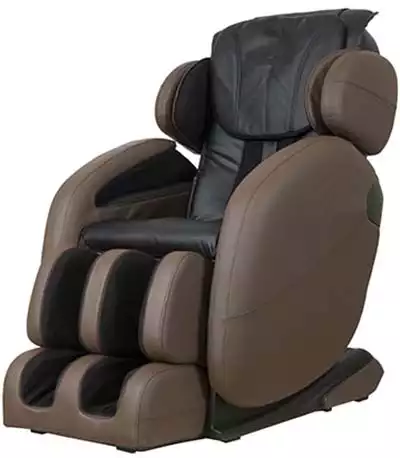 In our view, the 6800 is the best value on the massage chair market today. Kahuna is another very well-respected brand, and this little chair is amazing. If the Forever Rest has left you wanting, this one will blow your mind.
---
References & Resources