In a Nutshell:
The Ideal is a decent massage chair—it's just not the chair the company is trying to sell. We do not recommend this model, but the company makes some excellent alternatives.
* Brand Reliability is a measure of the strength and longevity of the brand, which by extension, is a measure of the level of support you can expect.
Are you on a budget and looking for a decent massage chair to buy, so you can skip the periodic visits to the chiropractor? If so, then you may have stumbled across a little company called Forever Rest.
Forever Rest LLC isn't one of the giants in the industry. They don't have a sprawling product line. They don't have a big footprint in the market, and they don't have a big, robust support center for post-sales handholding.
Despite their limitations, though, this is a good company, and they make surprisingly good massage chairs.
This model isn't one of them, in our view. You'll understand why as you read our Ideal luxury massage chair review.
Oh, it's a decent chair, all things considered, but there's a ton of misinformation about this model, and a fair portion of it comes from the manufacturer. We're not really sure why. Maybe some wires got crossed between the design and marketing departments.
Whatever the case, most of the information you'll find on the Amazon sales page is just flat out wrong, and a fair bit of the information on the company's own sales page is incorrect.
That, combined with the fact that the company is incredibly guarded where the user manual for this product is concerned, makes finding out accurate information about this chair a real challenge.
We decided to go straight to the source, so we asked direct resellers and the manufacturer themselves to clarify what this chair is and what it does. This review is the fruit of those conversations.
In the sections that follow, we'll give you the straight scoop about the Ideal massage chair recliner, and we'll tell you ultimately why we cannot recommend it. Then, we'll give you some links to some other models that will almost certainly serve you better.
If that sounds good to you, read on, and let's take a closer look.
An Overview of the Ideal Zero Gravity Massage Chair
This chair, like so many of the models you find for sale these days, makes no effort to hide its true function. It looks like exactly what it is: a massage chair. Thus, with its vaguely futuristic aesthetic, it's probably going to clash with the rest of the furniture in your home.
If you're in the market for one of these, then you've probably already made peace with that fact. And to the company's credit, they do offer this model in a modest selection of colors, which helps you match the chair with the prevailing color scheme found in whatever room you plan to put it in.
If you decide you want one of these, you can order yours in black, dark brown, beige, or red.
In terms of the overall footprint, this is a sizeable piece of furniture, measuring 33" W x 55" L x 49" H when sitting upright and 33" W x 68" D x 31" H when fully reclined. The chair weighs in at a hefty 245 pounds and can support up to 300 pounds of user weight.
In terms of user height, the recommended height range for the chair is about 5' to 6'1". Though, as the company indicates, the exact maximum height range is virtually impossible to determine because, ultimately, it depends on your body shape. Still, the range we listed is a very good guide and rule of thumb.
Here's where things get a little messy. This model was built using wall-hugging technology, but if you go online to try and find out how far you need to place the chair from whatever wall you plan on putting it near, you'll find everything from 4" to 20."
Per the company, the official answer is 8". This model needs about 8" of space between the seatback and the wall it's set near.
That's not bad, but if you're cramped for space, you can find other models with wall-hugging technology that only require 2-4" of clearance, so it is a point to keep in the back of your mind while you're weighing options.
What Exactly Is This Chair Built Around?
If you look on the Amazon sales page, you'll probably find this chair listed as an SL Track, a 3D massage chair.
It isn't any of those things. Literally, 100% of that is wrong. So if you see someone marketing this chair as the "Ideal 3D massage chair", don't believe it.
In order for a massage chair to be considered "3D", the track has to be designed in such a way that the massage heads can move in the X-, Y-, and Z-axis. Here, the track is only designed to allow for X- and Y-axis movement, which makes it, by definition, a 2D massage chair, and no amount of wishful thinking is going to change that.
Now, the company makes this claim because this chair offers Zero-G seating, which we'll talk about later.
And if you have the chair in one of the Zero-G seating positions, your body weight presses you against the rollers more firmly than it otherwise would, which sorta kinda replicates 3D. But it is not the same thing, and don't let anybody tell you otherwise.
Also, this chair doesn't have an L Track (some companies list it as an SL track, but the L track includes the S track, so it's a little redundant to say it that way). Either way, though, this chair's massage track stops at the base of your spine. It's 32" long. It doesn't bend and go under the seat. Therefore, it's an S track, full stop.
Again, the company has engineered this chair in such a way that it does massage your glutes and thighs via a simple vibration plate in the seat, which can be turned on or off independently of the massage rollers.
This, however, IS NOT THE SAME as having an L-shaped massage track that allows the rollers to travel under the seat. Yes, the chair sorta-kinda replicates that experience, but the results aren't as good because a vibration plate isn't as good as the quad rollers (which this model does have).
At the end of the day then, this chair is built around a mashup of technologies, with the result being kind of a mixed bag.
The S-track is generally regarded as being inferior to the L-track. Quad rollers are the current state of the art and do a good job of replicating the feel of human hands, while the vibration style massage in the seat is decidedly substandard and usually only found on the least expensive models out there.
Body Scanning Tech Included
Given the "mixed bag" approach above, we were half expecting this chair to not have body scanning tech either, but it does, which makes this a very good (if short) component of our Ideal luxury massage chair review.
Any time you select one of the pre-programmed massage routines, the chair will scan your body and adjust the positions of the rollers, so they hit your pressure points just right.
In practice, Forever Rest's body scan gets it right about 95% of the time. And in those odd occasions where it's a little off, you'll find buttons on the remote that will allow you to tweak the roller position manually, so you should never get a "bad" massage from this chair, and that's a point very much in the Ideal massage chair's favor.
The Ideal Electric Massage Chair Comes Up A Bit Short In Terms Of Techniques
As with so many other aspects of this chair, there's a lot of contradictory information about what this model can and can't do and what it does and does not offer. Here's what we learned from the manufacturer:
In terms of techniques, this model offers:
In the marketing materials, you may see "Kneading and Tapping" listed, but we confirmed that this model DOES NOT offer tapping in any form.
In addition to these, you'll also find the following pre-programmed options:
We note that "Buttocks" isn't actually a pre-programmed massage routine but merely the means by which the vibration plate in the seat is activated, and that "Sleep" and "Relax" are so similar that they probably could have been combined into a single option.
Again, in the marketing materials, you'll probably see "Stretch" and "Swedish" listed. Don't get your hopes up; neither of these is actually present in this model.
Overall, and given the modest price of the chair, this isn't bad. It's just that the marketing materials make it sound like there's a whole lot more than what's actually present, and that's disappointing.
The good news is that the Shiatsu technique is well rendered here and is far and away the best of the bunch. And while there are no roller intensity adjustments on offer, you can adjust the rollers for speed—choosing from three different settings—so you do have some means of customizing your massage experience.
Three Different Zero-G Seating Options Available
So far, we've been pointing out a number of this model's limitations, but this section is definitely a bright spot in our Ideal luxury massage chair review.
Zero-G seating was inspired by NASA, and it has some significant health and therapeutic benefits, making this one of the most powerful features that this model brings to the table.
It's worth mentioning, too, that only about a third of the chairs on the market today offer Zero-G seating, and of those, most only offer a single seating position.
Forever Rest went above and beyond here, offering three different seating options, which is superb.
In addition to being amazingly comfortable, you'll find that it helps improve your circulation, and if you've recently had surgery of one sort or another, it will help facilitate faster healing.
In addition to that, while there are no intensity adjustments on offer in the chair, you can approximate one by putting the chair in one of the Zero-G modes before ordering the massage of your choice.
Doing that will press your body more firmly against the rollers, giving you a slightly more intense massage than you'd get if you were just sitting upright or only partially reclined in the chair.
A Surprisingly Good Air Massage
Most of the massage chairs offered at this price range don't come equipped with many airbags. Here, though, the Ideal comes shining through, and we regard this as another very strong segment of our Ideal luxury massage chair review.
You'll find a total of 48 airbags in this chair, and you can either enable them all or enable them selectively, choosing from calf, shoulder, arms, and feet—depending on your needs and desires at the time you order the massage.
Even better, while there are no intensity adjustments on offer for the rollers, you'll find three different intensity settings for the airbags, which gives you a few additional ways you can customize your massage experience.
A Decent (But Not Great) Calf and Foot Massage Too
Current best practices, where calf and foot massage are concerned, see the calf massage rendered by airbags and the soles of the feet attended to by massage rollers. In absolutely top-of-the-line calf and foot massage implementations, you'll also find heated footwells and rollers that accompany the calf airbags.
The Ideal massage recliner chair doesn't do that. It's got airbags for the calf massage and little rolling balls that massage the soles of your feet.
The balls at the bottom of the footwell kinda wander about, so they may not always be massaging where you want them to, but the result isn't bad. It's not as good as utilizing proper rollers, but we would imagine that it was significantly less expensive to implement, and the results are…at least 75% of what you'd get from a roller-based foot massage.
Is that worth the tradeoff?
Ultimately, it depends on how important a great calf and foot massage is to you. If it's medium to low on your list of priorities, this configuration should be fine. If you spend a lot of time on your feet and are interested in buying a massage chair specifically for an awesome calf and foot massage, this implementation isn't going to cut it.
Good Back Heat
This is another good feature implementation by Forever Rest and another excellent therapeutic feature for the Ideal full-body massage chair.
Many companies utilize a single heating element in the center of the seatback for heat. Forever Rest uses two, posted on either side of your spine. The result is a wider heated area that, in practice, covers the lower half of your back as opposed to just along your spine and in the lumbar region.
About the only way to improve this would be if the company offered precise temperature controls, but that's almost unheard of. And you never see it on value-priced chairs, so we can't really fault the company for not including it.
Heated massage is amazing, and in our view, this is the keystone feature of the design. You'll love it.
Only One Extra
There's only one "extra" to talk about where the Ideal back massage chair is concerned, and that is the massage timer.
All of this chair's massage routines default to a 20-minute duration, which can be increased or decreased by 5-minute increments to a minimum of five minutes and an absolute maximum of thirty minutes.
While many massage chairs on the market today offer a USB port and Bluetooth speakers, this model skimps on those types of things in order to keep the price as low as possible.
In our view, this is a pretty good trade. Most people who want a massage chair would rather that the designers focus on bringing more actual massage options to the table, even if that means skimping on extras like this.
Pros & Cons of the Ideal Massage Chair
As we said at the start, this is a decent chair, but it's definitely not one of the best in Forever Rest's lineup. In our view, the biggest strengths of the design are the fact that it offers three different Zero-G seating options and generous heat, with an honorable mention going to its better-than-expected airbag-based massage.
Our single biggest complaint comes from how the company chose to market this chair.
In our view, some of their claims stretched the truth a bit too far, and that sets up lofty expectations for the chair that are sure to be dashed when buyers actually take delivery and discover that there are significant differences between what they thought they were getting and what they actually got.
Ideal Luxury Massage Chair Review Conclusion
We don't recommend this model. While it's got a couple of good features, and it's a decent design overall, the simple reality is that the company has better options available for about the same money. And if you want to look beyond Forever Rest, you'll find tons of better options out there.
Other Options To Consider
If the Ideal shiatsu massage chair left you feeling a bit underwhelmed, here are some other options to consider:
This is a better massage chair, across the board, and it costs about the same amount of money. We can't see why anybody would intentionally pick the Ideal over this model; it's just got more of everything most people are looking for in an entry-level massage chair.
Kahuna LM6800 Massage Chair
Recommended For: Hobbyist/casual users, chronic pain sufferers, and taller users, almost anybody, will love this chair!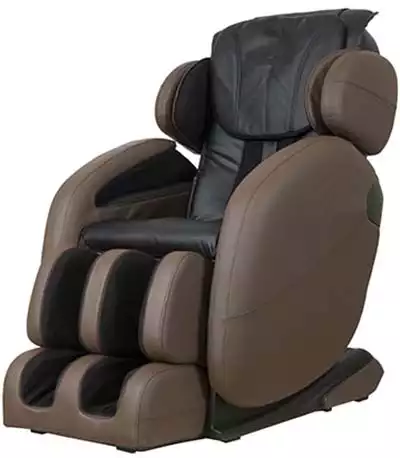 Although this model is more expensive than the one we just talked about, it's also heads and shoulders superior to the Ideal. In fact, this is the best value in the massage chair ecosystem today, in our view.
Yes, you'll probably have to delay your purchase a bit to save up the extra money to be able to afford this one, and it will be worth every penny!
---
References & Resources: