In a Nutshell:
The iRest A306 is a surprisingly great design offered by a tiny brand. This is a capable, full-featured chair for the money. It is recommended for anyone weighing up to 330 pounds, provided that you don't mind buying from an off-brand.
* Brand Reliability is a measure of the strength and longevity of the brand, which by extension, is a measure of the level of support you can expect.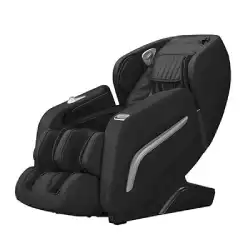 Are you on a budget? Do you suffer from chronic pain that sees you spending more time and money than you care to admit going to your local chiropractor's office?
If you answered yes to both of those questions, then you're going to be intrigued and impressed by what you read in this—our iRest A306 review.
Haven't heard of iRest? We'd be surprised if you had. They're one of a number of smaller players in the massage chair industry—an off-brand with a limited footprint and limited post-sales support capabilities.
As with most smaller companies, iRest chairs tend to be a bit of a mixed bag, with some being almost shockingly good and others genuinely disappointing.
The A306 falls into that first category. This is a great chair, no matter how you slice it, especially given its modest price tag.
In the sections that follow, we'll step you through everything this model has to offer, and by the time you reach the end of our review, we think you'll agree that even if you ultimately decide it's not a good fit for you, this is an almost absurdly capable chair.
If your curiosity is piqued, let's take a closer look at exactly what it has to offer.
An Overview Of The iRest A306 Massage Chair
Aesthetically, the A306 isn't going to win any beauty contest. While the design team stuck with the basic conventions of massage chair design, they made it look a bit boxy—for lack of a better word.
It's still got the same vaguely futuristic look that most of the massage chairs on the market today sport, but it somehow manages to look more primitive than most.
It's not ugly by any means, but it's also not an understatement to say that it's going to stick out in whatever room you put it in, whether you order yours in black or brown—the two color options iRest makes available.
It's also a fairly large piece of furniture, with a footprint that measures 61.02" L x 29.53" W x 45.08" H when the chair is sitting upright and 68.9" L x 29.53" W x 35.8" H when it is fully reclined. It weighs in at 198.4 pounds, too, so you'll probably need a second pair of hands at the ready on the day the chair arrives if you decide you want this one.
The good news is that it's a wall hugger and only requires about 2" of clearance between the back of the chair and whatever wall you decide to place it near, which may make finding a permanent home for it somewhat easier.
In addition, this model can support up to 330 pounds of user weight and will accommodate users ranging in height from 5'2" to 6'2". Taken together, those parameters describe a solid majority of the massage chair market, giving this model a broad base of appeal.
The A306 Doesn't Cut Corners Where Basic Technology Is Concerned
This was a very pleasant surprise for us because many smaller brands do cut corners where the underlying technology is concerned. As it stands, this is a very strong component of our iRest A306 review.
First, the chair is built around an SL-Track, which allows its quad rollers to render a massage that starts at your neck, travels down the length of the seatback to massage your back, and then turns and continues under the seat so the rollers can massage your glutes and the backs of your thighs.
From there, the airbags in the leg ports take over, assisted by foot rollers to give you something very close to a full body massage. That's superb.
Even better is the fact that this is a 3D massage track, so the rollers have movement along the X-, Y-, and Z-axis, making this chair capable of rendering a passingly good deep tissue massage.
Note, however, that there are no intensity adjustment controls for the rollers. Still, if the default intensity level isn't enough for you, there is a "trick" you can perform to increase the intensity a bit, which we'll talk about later on in this review.
We'll rate the default intensity as being "not quite a deep tissue massage," or at least one that's not deep or intense enough for some prospective buyers. Even so, it's very good, and the quad rollers do an admirable job of replicating the feel of human hands.
In addition to that, this model sports decent body scanning technology that will adjust the position of the rollers before your massage begins so that they hit your pressure points more precisely.
iRest doesn't have the industry's best body scan, but it's pretty good and will get the rollers in the right place most of the time.
In the event that they're not quite where you want them, you'll find controls on the remote that allow you to fine-tune as needed.
Also, this chair has a secondary command system built in (the primary being the remote). The secondary control panel is built into one of the chair arms, and while it doesn't allow you to control every aspect of the chair, it does put the basics right at your fingertips, which is a very nice touch.
Finally, this chair has a tertiary control system—it understands a few voice commands! Granted, this feature is fairly limited, and the only commands you'll be able to issue via voice are:
Even so, for a little brand, that's huge, and we hope that if this model gets an update at some point, iRest will expand the number of voice commands on the list. Kudos to iRest for really nailing the basics!
The A306 Has An Impressive Number of Massage Options For Its Price
This is another area where the A306 impressed us, and we'll mark this down as another very strong component of our iRest A306 review. There's a lot to like here, starting with the massage techniques on offer. These are:
This is the standard list of techniques you find on most of the massage chairs on the market today, so there's nothing special here, but the little A306 is just getting warmed up.
In addition to that, the chair features a dozen different pre-programmed massage routines. These are:
Granted, some of these are bog-standard options (full body and full air), but there is a lot to like here, and you'll have fun experimenting with the different options available to find out which ones you like best.
Even though this chair falls just shy of being able to deliver a really hard, deep tissue massage, it does offer a waist twist (the back and waist routine) and a body stretch, which gives it two powerful therapeutic features from this section alone.
Neither of these is best in class, but both are quite good and deliver genuine therapeutic value, which is superb.
In addition, you'll find five different roller speed options available, which gives you a surprising number of customization possibilities for a chair in this price range.
Zero-G Seating Is Available
The feature implementation here is extremely good, and this is yet another very strong component of our iRest A306 review.
In the world of modestly priced massage chairs, you're lucky if you find one that offers Zero-G seating.
You're very lucky if you find an inexpensive chair that boasts two Zero-G seating positions. This one has three, and that's insanely good.
It matters because, in addition to leaving you with a feeling of weightlessness, Zero-G options help lower your blood pressure, facilitate post-surgical healing, and help improve your circulation in general.
On top of that, although this chair doesn't offer intensity adjustments for the rollers, if you place the chair in one of its Zero-G positions before you start your massage, the intensity will increase marginally because your body weight is pressing you more firmly against the rollers.
It's not perfect, and it still doesn't quite rise to the level of a deep tissue massage, but it's pretty close, and for some users, it may even be close enough, which is awesome.
Lumbar Heat
Heat is always a welcome addition to any chair design; we're thrilled to see it included here.
This marks another excellent therapeutic feature for the chair, and as has been the case across the board with this design, it's competently implemented.
Sure, sure, you only get heat in the lumbar region of the chair, but you almost never see more extensive heat than that on chairs in the budget segment of the market. So again, this is amazing. It's probably our second favorite aspect of the design.
A Decent Airbag-Based Massage On Top Of That
While we won't call this the strongest aspect of the design, it's not bad either. The A306 features a total of 28 airbags, which is a bit above average for chairs selling at this price point.
In addition to that, you can customize your air massage via the remote, choosing from three different intensity levels.
We feel that the main reason the airbags are present in the design is so they can facilitate the stretching and twisting routines. Still, they do an admirable job of giving you a relaxing massage, so we're happy that this feature was included, even if it won't be why most people choose this model over others.
An Awesome Calf and Foot Massage
If heat is our second favorite aspect of the design, this is our favorite.
Most massage chairs offer a calf massage that's rendered by airbags and a foot massage rendered by rollers. This one uses airbags for your calves, but it uses a combination of airbags and rollers for your feet, and it feels amazing.
If you get home after a hard day's work and your legs are screaming in protest, and your feet are aching, this is almost certain to be your favorite aspect of the design too. Our view is that it's almost worth the purchase price on the strength of this feature alone. Thanks to the calf and foot massage, the A306 punches well above its weight class.
A Trio of Extras
Honestly, we hadn't expected to see any extras offered here, so the fact that there are three also impressed us. The A306 boasts artistic LED lights, a USB charging port, and Bluetooth speakers.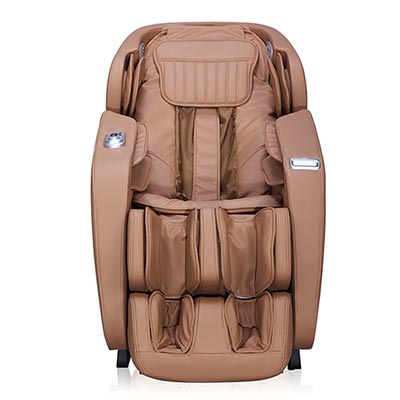 We can take or leave the mood lighting, but the other two are high value indeed, allowing you to keep your phone fully charged and listen to your favorite music while enjoying a massage.
The only thing missing is a massage timer, but that's not at all uncommon on chairs sold at this price point (all of the A306's massage options default to a 20-minute runtime).
Pros & Cons of iRest A306 Massage Chair
As far as we're concerned, this chair has no weaknesses. Yes, it has consciously made design decisions that limit it in some ways. But all of those were made in a bid to keep the price as low as possible, and the company succeeded wildly on that front.
The closest thing we can find to a weakness in the design is the lack of intensity levels. It feels like a missed opportunity to use a 3D track and then not include intensity levels. If some future model upgrade adds 2-3, this will be a masterpiece at the offered price.
iRest A306 Review Conclusion
We actually kind of love this chair and recommend it without reservation. iRest may not be a big company, nor particularly well-known, but this is a great chair!
Other Options To Consider
If you've read to the end of this review and you're just not sold on the iRest A306, here are a couple of other models you may want to consider: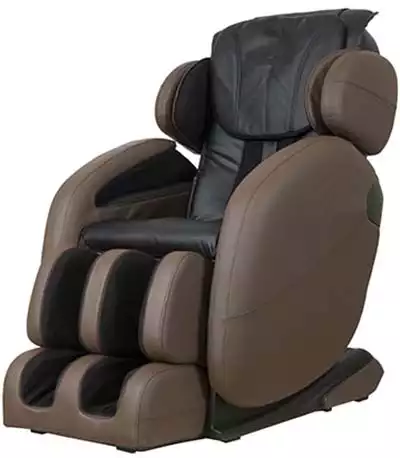 This model is more expensive than the chair we just reviewed, so if you decide you want one, you'll have to save a little longer to get it.
On the plus side, it's got an amazing feature set and the best body stretch in the business. On the minus side, it doesn't support as much user weight as the chair we just talked about, making it more narrowly targeted. But if it's a good fit for you and you for it, this is the best value on the massage chair market today—by a wide margin.
This chair is actually a little cheaper than the one we just reviewed, so if money is tight at your house, this may be an even better way to go.
While it doesn't boast as many features as the A306, it's an incredibly capable chair priced so low it's almost unbelievable. Forever Rest may be another company you've never heard of, but this chair is well worth a closer look!
---
Reference & Resources