In a Nutshell:
An exceptional, well-appointed mid-range massage chair, filled with features, options, and therapeutic benefits. The Kahuna LM7800 Massage Chair is recommended for hobbyist users and chronic pain sufferers.
* Brand Reliability is a measure of the strength and longevity of the brand, which by extension, is a measure of the level of support you can expect.
Are you looking for a massage chair that's loaded with premium features and therapeutic benefit, but don't want to have to pay top dollar to get those things?
If so, then you're going to love our review of the Kahuna LM7800 massage chair.
You can tell that Kahuna takes great pride in their work, because not only is this chair loaded with popular, high-impact features, but also with little details and finishing touches that make it a joy to own and use.
We'll outline everything this chair has to offer in the sections below, and we think you'll agree – this is a fantastic offering.
Kahuna LM7800 Massage Chair Overview
Hybrid S/L -Track Design
Starting with the basics, the Kahuna LM7800 massage chair is built around a hybrid S/L-Track, which is cutting edge massage chair technology.
The standard S-Track extends to the tailbone and allows the chair's quad rollers to follow the natural curve of the body's spine, which ensures a world-class massage that closely mimics the feel of human hands.
Then, the track continues, running further, to allow the rollers to render the same quality massage to your glutes and the backs of your thighs.
3D Body Scan
To ensure the best massage possible, the rollers have to hit all the pressure points on your body. To make sure that happens, the Kahuna massage chair LM7800 employs two solutions, in tandem. First, 3D Body Scanning Technology allows the computer built into the chair to automatically position the rollers.
If the computer gets it wrong, though, and the rollers aren't quite hitting the spots you need them to, the remote features buttons that allow you to manually tweak the position of the rollers, and even to adjust the width of the massage field.
This is a comprehensive solution that provides foolproof results. You know your body, so even when the computer gets it wrong (which doesn't happen often), you're always guaranteed the perfect massage.
Space Saving
No Kahuna LM7800 review would be complete without giving a nod of recognition to the Space-Saving Technology engineered into the chair. When it reclines, it pivots on its base, requiring just four inches of clearance between the back of the chair and the wall you set it near.
This is a big win for any potential buyer for whom space is an issue.
Zero-Gravity Seating
NASA-inspired Zero-G seating is a popular feature not offered in all chairs. It is considered a mark of distinction in any model that features it.
It's normal for chairs offering Zero-Gravity seating positions to provide two. Some chairs offer only one as a cost-saving measure, but very few offer three. The Kahuna LM7800 massage chair is one of those.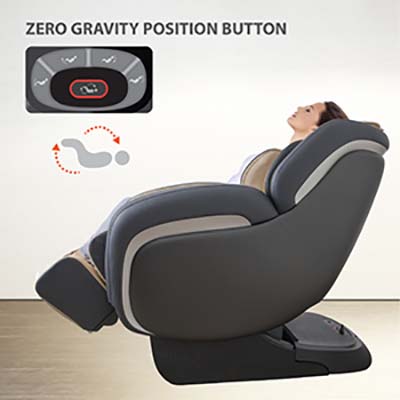 What makes Zero-G such a fantastic feature addition is the fact that it provides tremendous synergy, improving the overall massage experience.
This is accomplished by reclining the user such that the knees are elevated slightly above the heart. This causes most of the body's weight to press down, and more firmly against the rollers, allowing them to deliver a deeper, more penetrating, and ultimately more therapeutic massage.
Plenty of Options
While the massage options offered by the Kahuna LM7800 massage chair include only one advanced technique, it's an excellent one (Shiatsu). Here's what you get regarding technique:

The chair also offers several pre-programmed massage options that focus on specific areas of the body:
Any of the pre-programmed massages can be ordered using any of the techniques, and further modified via three intensity levels from the remote.
Air Massage Mode
There are a total of 36 Second Generation airbags scattered throughout the chair. These are used to deliver a comprehensive, head-to-toe air massage, adjustable through three different intensity levels.
You won't find many massage chairs (including some that are priced significantly higher) with more airbags or offering a better air massage.
Adjustable Timer
All of the massage options provided by the LM7800 default to a fifteen-minute length. These programs can be time-adjusted by five-minute increments, to a maximum of thirty minutes.
Not all chairs offer a time adjustment feature, but it is always welcome when present, and gives one more element of control. One more variable that can be fine-tuned to craft the perfect massage experience.
Extensive Heat
Heat is something that Kahuna does exceptionally well. In the case of the Kahuna LM7800 massage chair, there are heating elements in both the seat back and in the leg massage ports.
Although Kahuna advertises its back heat as being in the lumbar region only, the elements span such a large area that they actually provide heat all the way up through the mid-back as well.
In elements in the leg, massage ports provide heat not just for the calves, but for the feet as well.
While this is a popular feature, it's one you don't find in most massage chairs. When you do find it, the heat is typically confined to the lumbar region. It's relatively rare, even among high-end chairs, to find heat anywhere else, which makes the LM7800 even more noteworthy.
If you suffer from chronic back and/or leg pain, this comprehensive heating system will likely stand out as being your favorite feature because heat + massage provides much greater therapeutic benefit than massage alone.
The only drawback to the system is that it's binary. You can turn it on, or you can leave it off. You can't selectively activate the calf heating elements and leave the ones in the lumbar region off (or vice versa), and you can't adjust the temperature.
Even given these limitations, it is an excellent feature, and a great addition to the chair's capabilities.
Twist Function
Some chairs are known for their full body stretch function. Kahuna is famous for what they call a "Yoga Stretch."
Unfortunately, this feature is not present in the LM7800. In its place is a "Hip Twist" feature that, while not as good as a body stretch, still provides some therapeutic benefit.
It is rendered by the airbags in the chair. When in "Twist" mode, first, the airbags in one side of the seat will inflate, and then the other.
This has the effect of twisting your body in the chair, which helps to take pressure off compressed discs in your spine. Compressed discs are, of course, the leading cause of chronic back pain, and anything done to relieve that pain must be considered a bit win.
Comprehensive Calf & Foot Massage
The LM7800's leg massage is arguably its best feature.
Most chairs render their calf massage via airbags, and this is part of the LM7800's methodology, but only part. It also utilizes a special set of rollers in the calf region and additional rollers for the soles of the feet.
The company sells itself somewhat short in this regard. It describes its foot rollers as a "dual roller system." On the company's website, however, they show a cutaway, illustrating their foot roller system, and it clearly contains two sets of dual rollers per foot.
Two dual rollers per foot are, by most people's reckoning, a quad foot roller, and delivers a massage far superior to a true dual roller system. All that to say the description is misleading, and the chair gives a far better foot massage than they imply.
Combine those things with therapeutic heat, and you get a sublime calf and foot massage.
Extendable Ottoman
The chair's ottoman features an extension module, and it automatically adjusts to the height of the user, allowing the LM7800 to render an optimal massage to people as tall as 6'3". Taller users, rejoice!
MP3 Support
This isn't a critical feature, but it is always welcome when present. The chair features two high-quality speakers in the headrest. Plug your phone in, recline, and enjoy a spectacular massagewhile listening to your favorite music. What could be better?
Streamlined Remote
With all of these features, you might think it would take a significant time investment to master the chair. In this, you would be pleasantly surprised.
It's clear that Kahuna put a lot of thought into the layout and design of the remote. All the features are easy to access, and the control buttons are logically arranged and organized. This is not to say that there isn't some learning curve involved, but it's a much easier chair than you might imagine.
Convenience Features
This is a small thing, but a nice touch, and something you don't find in massage chairs offered by most other companies.
With the understanding that the leg massage port is going to be the first part of the chair to show signs of wear, Kahuna has made it possible to remove the covering via a zipper. You can unzip, remove, and replace as needed to keep your chair looking like new.
Kahuna Massage Chair LM7800 Pros & Cons
The Kahuna LM7800 massage chair is well-priced and loaded with features, including many that provide solid therapeutic benefits. By any definition, it's a great option and priced to be well within reach of much of the market.
Having said that, there are always a few things that could be improved upon.
In this case, our chief complaint is the heat. While it is a great addition, it would be even better if you could control the calf and back heat independently, and adjust the temperature.
The only other issue we could find in the current design is our desire that they upgrade the "Twist" feature to a full body stretch, which would provide even more therapeutic benefit. It's not that the Twist is bad, it's just that we know the company's Yoga Body Stretch to be better.
Aside from those two small issues, neither of which are deal breakers, this model has no real weaknesses.
Kahuna LM7800 Massage Chair Variants
Kahuna LM7800 Review Conclusion
The Kahuna LM7800 massage chair offers tremendous value for the money. If you're a hobbyist user, you'll love having access to all the features and customization options it brings to the table.
If you suffer from chronic pain, you'll be thrilled with the sheer number of features on offer that provide therapeutic relief.
Its space-saving design makes it ideal for home use, even if space is at a premium for you. It is, simply put, an excellent massage chair.
---
References & Resources