In a Nutshell:
The Nouhaus is an oddity in the massage chair world because it's a genuinely good-looking chair. Unfortunately, in terms of features and functionality, it comes up short. Recommended for anyone weighing up to 250 pounds who only needs basic massage functionality and for whom aesthetics are at least as important as massage functions.
* Brand Reliability is a measure of the strength and longevity of the brand, which by extension, is a measure of the level of support you can expect.
Do you place a premium on aesthetics? Are you in the market for a massage chair that can give you a decent, basic massage but one that won't stick out like a sore thumb in whatever room you place it in?
If you answered yes to both of those questions, then you're going to be intrigued by what you read in this—our Nouhaus massage chair review.
We'll be the first to admit, this chair won't be for everyone, as evidenced by its relatively modest overall ranking. That said, this model definitely hits some high notes that most other massage chairs on the market today miss, making it an ideal fit for the right user.
Are you the "right user" for a chair like this? The short answer is that you might be. And in the sections that follow, we'll walk you through everything the Nouhaus N0003 has to offer, so you'll have all the information you need to decide whether or not this is the model you've been searching for.
Sound good? Let's take a closer look.
An Overview Of The Nouhaus Classic Massage Chair With Ottoman
The first thing you'll notice about the N0003 is the fact that it doesn't look like a massage chair.
Aesthetically, it looks like a cross between a modern office chair (minus the rolling casters) and a casual living room recliner with vague European styling.
In other words, it's a pretty sharp-looking piece of furniture, and even better, it's offered in a modest selection of colors that make it very easy to blend the chair with your existing home décor scheme—whatever it might be. If you decide you want one, you can order yours in:
We should also point out that the vast majority of massage chairs on the market today are upholstered in PU. This one is a rare exception to that rule, being upholstered in genuine leather.
We think that's fantastic as leather tends to be more durable and longer-lasting. Though, admittedly, coaxing that longer lifespan out of it requires more in the way of upkeep and maintenance.
It's also not a big piece of furniture, measuring just 25.98" W x 39.76" D x 37.59" H and weighing in at a scant 72.9 pounds. Even if you live in a smaller home or apartment, you won't have any real difficulty finding a permanent home for the chair.
It's also worth mentioning that given the weight of the chair, you can probably move it from place to place or room to room by yourself if you had to. You may need to sit down and enjoy a massage after, and it would still be easier with a second pair of hands, but it is at least theoretically doable!
The one potential downside is the fact that the chair has a rather disappointing supported weight limit of just 250 pounds.
If you do a broad survey of the market, you'll find that the informal average supported weight is right at 300 pounds. This model doesn't quite rise to that level. But, admittedly, it's only an issue for people who weigh more than that.
Crucially, however, if you do weigh more, then this fact alone is a deal-breaker, and no matter how much you may like the chair, it's just not going to work for you.
The final thing to note before we leave this section is the fact that although we compared this model aesthetically to a casual recliner, this chair does not have a recline function.
It features a 90-degree swivel and will rock back by as much as fifteen degrees, but if you're expecting a proper recline function, you won't find one here.
The Nouhaus Modern Massage Chair + Ottoman Has Good Bones (For The Most Part)
With one exception, this is a very strong component of our Nouhaus massage chair review. The chair sports a long SL massage track that begins in the area of your neck and shoulders and follows the course of your spine down the seatback.
Then, the track turns and moves under the seat, giving the rollers on the track access to a greater percentage of your body.
In addition to that, there are quad rollers attached to the track, which is the current industry standard.
These rollers do an admirable job of replicating the feel of human hands but note that this is a 2D massage track. Although some of the massage descriptions describe a "deep tissue" massage, it really isn't. The rollers can only move along the X- and Y-axis.
That's not the worst thing in the world, but since the rollers lack the ability to move along the Z-axis and the chair has no Zero-G seating option, the massage you get from this chair isn't going to be as deep as the massage you will get from a 3D massage chair.
Curiously, this model does not feature body scanning technology, which means that every time you want a massage, you'll have to spend a bit of time fiddling with the controls to get the rollers where you want them.
If you live alone or you're the only member of your household who will be using the chair, this won't be a big deal. You'll set the rollers when you get the chair, and then you won't have to worry about it again.
If multiple people use the chair, you'll have to tweak the position of the rollers just about every time you use it, which may get tiresome after a while. It's not the end of the world, but it is a point to keep in mind.
A Disappointing Number of Massage Options
Most entry-level massage chairs offer 4-5 basic techniques, plus Shiatsu. That's the informal standard—the lowest common denominator that you find on 90% or more of the massage chairs sold today.
Surprisingly, this chair doesn't rise to that level, making this a relatively weak component of our Nouhaus massage chair review. In terms of techniques, you'll find:
That's it. There are no advanced techniques on offer and not even the full range of basic techniques you typically find.
If you're not looking for a ton of options and you don't mind the absence of an advanced technique, this won't bother you. But generally speaking, more options mean a more highly personalized massage experience; in our view, this one's technique offerings are underwhelming.
This problem is compounded by the fact that there are only two speed settings and no intensity settings. However, you can reverse the direction of the kneading motion, which gives you a minor customization feature.
The Nouhaus classic massage chair does fare better where pre-programmed routines are concerned, offering six massage options available at the touch of a button. These are:
Technically, the presence of the "Deep Massage" mode does give you a second level of intensity, but it's only available as a pre-programmed massage option, and it only utilizes the combination technique (kneading and tapping). It does, however, massage you from your neck to your glutes, which is a plus.
The final customization option available here is that the remote makes spot and partial (range) massage modes available. You can cause the rollers to zero in on the specific parts of your body that are in the greatest need where massage relief is concerned.
Note that each massage this chair offers has a run time of fifteen minutes, and there is no massage timer.
If you'd like a longer massage, you'll need to press the button again to order another once the current program ends.
A Minimalist Airbag Massage
In addition to the roller-based massage, the Nouhaus modern massage chair sports four airbags that are capable of rendering a massage to your hips, thighs, and glutes. Here, you can select from two different massage intensity options.
Not every massage chair on the market features airbags, but most of the ones that do offer at least a dozen or so airbags. This one takes a decidedly minimalist approach. The results aren't bad, but they are, by definition, somewhat limited.
No Zero-G and No Calf and Foot Massage
We mentioned earlier that this chair doesn't offer Zero-G seating options. It doesn't recline, so it literally can't. It also doesn't offer anything in the way of a calf and foot massage because, in the place of leg massage ports, you get an ottoman.
While the ottoman supports the chair's aesthetic and helps it blend in more easily with your other furniture, the trade-off is a more limited massage function since it doesn't have rollers, heat, or any other way of implementing an airbag-based massage.
Better Heat Than We Were Expecting
The Nouhaus massage chair with ottoman offers a pleasant surprise where heat is concerned. The heat function is incorporated into a special massage function on the chair.
Two heating elements line the sides of the seat. When you activate "Thermo Massage," you'll be treated to a heated kneading massage of your glutes and thighs. Even better, there are three different levels of the massage, which offer progressively more heat.
While it's not as good as having precise temperature control, it really is an exceptional feature and, in our view, one of the strongest aspects of the design.
Sure, we would love to have seen the heating elements extend into the seatback, but if you suffer from chronic pain centered in your glutes or the backs of your thighs, this will almost certainly wind up being your favorite feature of the chair.
A Pair of Finishing Touches To Boot
Although we were disappointed by the absence of a massage timer, we were thrilled to see both a USB charging port and Bluetooth speakers included in the design. The ability to keep your phone charged and enjoy your favorite music, movies, or podcasts while getting a massage is absolutely superb.
Pros & Cons of Nouhaus Classic Massage Chair With Ottoman
There's a lot to like about this design, and there are more than a few shortcomings to consider as well. In no particular order, here are the things we think you'll like best about the Nouhaus:
PROS
On the flip side, here are the things you probably won't like so much:
CONS
On balance, we regard the model's strong points as outweighing its negatives, but the negatives are serious enough to give potential buyers pause.
Variants of Nouhaus Classic Massage Chair
Nouhaus Massage Chair Review Conclusion
This was a tricky chair to review. We suspect that people will either love it or despise it, and the ones who love it will either cite the aesthetic or the glute heat as the reason why.
It's definitely not a bad chair. The design team clearly knows what they're doing, and they've managed to create a great-looking piece of furniture that also happens to give a decent, basic massage.
If that's what you're looking for…if you place a premium on aesthetics and don't have any serious therapeutic needs, this is a great option to consider.
If, on the other hand, you suffer from chronic pain and need a chair that's brimming with hard-hitting therapeutic features and you don't really care if it sticks out like a sore thumb in your living room or not, then this model will likely leave you feeling underwhelmed.
On that basis, we provisionally recommend it for users who place a premium on aesthetics, and we do not recommend it overall.
Other Options To Consider
If, having reached the end of this review, you decide that the Nouhaus just isn't the right model for you, here are a couple of other options to consider:
This is a great little chair offered by another smaller company you may not have heard of. While it's not perfect, it's offered at an amazingly low price and has more features and massage options than the chair we just talked about.
The downside is, it looks like a massage chair. So again, if aesthetics matter, then you'll probably still like the chair we just talked about more, but if you're more interested in features, then this one has a lot to love.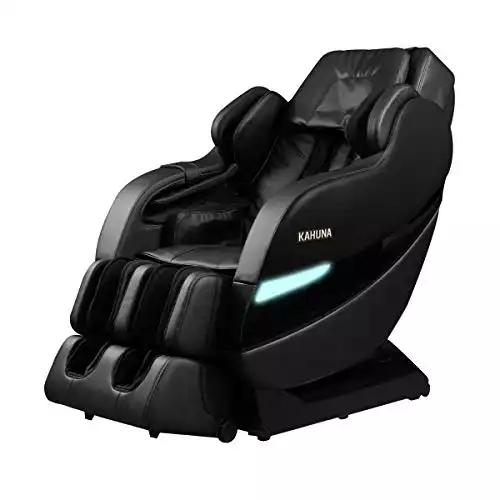 Although this chair also looks like a massage chair, and most people won't find it as aesthetically pleasing as the chair we just reviewed, Kahuna is one of the biggest and most respected names in the industry.
This chair is flat-out amazing, offering a six-roller array in the place of the standard quad rollers, which makes it capable of rendering a simply mind-boggling roller-based massage.
In addition to that, it's absolutely packed with features, and most of the chairs that Kahuna makes (including this one) offer body stretching, which Kahuna does better than anybody. This superb chair is offered at a price that will leave you smiling.
---
Reference & Resources