In a Nutshell:
The Ootori Nova N802 Massage Chair is a surprisingly good massage chair for a fixed-frame model. Ootori has really stretched the limits of the older tech used here. Recommended for anyone on a budget who's looking for a decent massage chair.
* Brand Reliability is a measure of the strength and longevity of the brand, which by extension, is a measure of the level of support you can expect.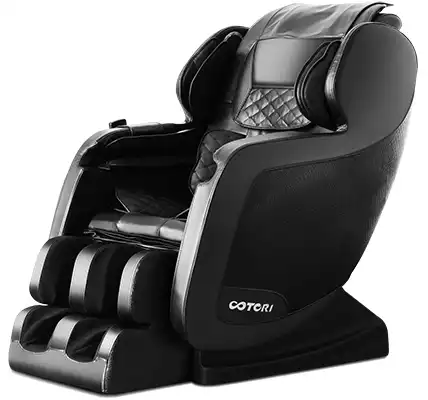 Do you suffer from chronic pain, especially in your lower back or your calves and feet?
Have you been searching for a cost-effective solution? Some way to feel better without having to give yourself a massage or run to the chiropractor all the time?
If you answered "yes" to any of those questions, you're going to be pleasantly surprised by what you read in this Ootori Nova N802 massage chair review.
We'll be the first to admit that Ootori's Nova N802 isn't a perfect chair. For one thing, it doesn't have a massage track or moving rollers. Instead, it utilizes older technology; a fixed frame with stationary massage heads.
Most people don't put much stock in fixed frame massage chairs – simply because S-Track and L-Track chairs outfitted with industry-standard quad rollers do a better job overall. However, in the value segment of the market, you still find a few fixed frame models.
It's worth mentioning, though, that until Ootori moved into the space, no major brand paid any attention to this part of the market. All the major players have moved on. Ootori, however, took a different approach. And as the N802 demonstrates, it's possible to create a surprisingly robust massage chair using dated technology.
While these chairs clearly aren't for everyone, if your needs are limited and you're on a budget, you'll find a surprising amount to like here. If you're intrigued, read on. In the sections that follow, we'll tell you everything Ootori gets right with this model, and we'll be quick to point out the chair's limitations. Even if you opt to give it a pass, we think you'll be impressed. Let's take a closer look!
Ootori Nova N802 Massage Chair Overview
Ootori describes this as their most cost-effective massage chair, and we tend to agree with that assessment. By all outward appearances, the Ootori Nova N802 massage chair looks just like their more robust chairs with massage tracks, rollers, and all the usual bells and whistles. It is, of course, much limited than a modern massage chair, but before we talk about the specific features on offer, let's take a quick look at the core stats that define the model. Here they are:
It's a sizeable piece of furniture, and the designers made no effort to disguise the true function of the chair. So, it's all but guaranteed to stand out in whatever room you put it in. And, if you live in a smaller home or apartment or if you're just cramped for space in general, you may have a tough time finding a permanent home for the Nova N802.
On the other hand, the company did build the chair with space-saving technology, so it only requires 5" of clearance between the back of the chair and whatever wall you choose to place it near, which certainly helps.
Fixed Frame, and Basic Massage Options Available
As we mentioned at the start, the N802 doesn't have a massage track. It uses older technology, a fixed frame paired with eight massage heads placed in the seat – six in the seatback, and two higher up so they can massage your upper shoulders.
In terms of massage options, the chair has the basics well covered, offering the following:
In addition to those, the N802 also offers a surprisingly well-rendered Shiatsu massage. Granted, it's not as good as the Shiatsu massage function offered on chairs with rollers because the movement of the stationary massage heads is quite limited. But we were pleasantly surprised, and we think you will be too.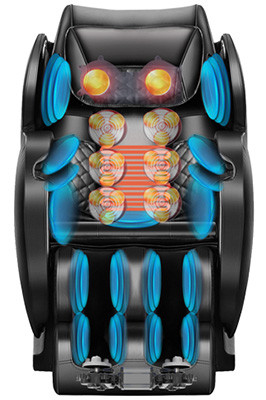 Even better, the chair does give you some ability to customize your massage experience, offering three different massage speeds and three intensity levels, all easily accessible from the included remote.
Although there's no spot or partial massage function available, the design team did take some effort to replicate the feature. From the remote, you can choose to activate or deactivate the stationary heads positioned near your upper shoulders. It's not much, but it's something, and given the limitations, Ootori was working with on this model, that's not bad.
In addition to that, the N802 has a plate in the seat that can be set to vibrate. People tend to either love or hate simple, vibration style massage. Proponents say that it helps soothe their thighs and buttocks and promotes improved blood flow, while detractors say it feels like the chair is trying to vibrate their teeth right out of their head.
In any case, it's a feature that's available, and you should at least experiment with it to find out which camp you fall into.
No 3D Body Scan Feature (And None Needed)
Although this feature is missing, we wanted to give it at least a quick mention here in our Ootori Nova N802 review so that readers wouldn't think we forgot about it. Since this is a fixed frame chair with stationary heads, there was nothing to be gained by incorporating 3D body scanning tech, which more modern chairs use to adjust the position of the rollers.
In a chair like this, the massage heads would either align fairly well with your body or, they wouldn't. If they did, you'd get a better massage than you might expect. If they didn't, you'd be underwhelmed. That's why it's important to pay close attention to the recommended height range before committing to a purchase.
Zero-Gravity Seating
This is huge, and in our view, one of the better features the chair has on offer (not the absolute best, but we'll get to that a few sections from now!). Very few fixed frame massage chairs offer Zero-G seating. While the technology is more common on more modern massage chairs, you certainly don't find it on every model, and even when present, most companies only offer a single Zero-G seating position.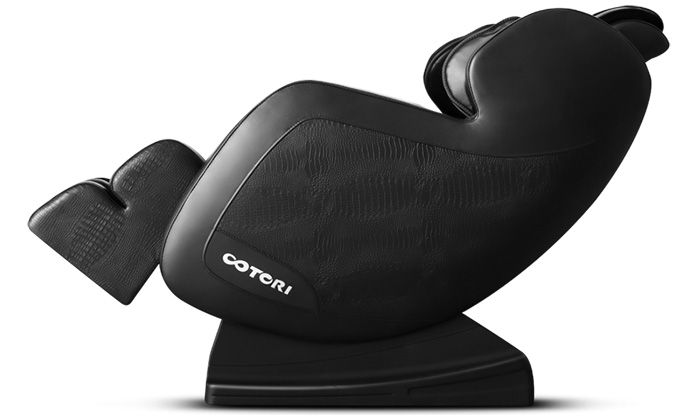 Ootori went above and beyond that on the Nova N802 massage chair, offering not one, but three different Zero-G options. Not only do Zero-G seating positions feel great (and they really do make you feel like you're weightless), but they also provide solid therapeutic value, helping to improve blood flow and lower blood pressure.
In addition to that, though, if you place the chair into one of the three Zero-G positions before beginning your massage head-based massage, it will improve its overall quality because your body's weight will press you more firmly against the heads. That makes it a win all around and very good feature addition. Kudos to Ootori for taking things to the next level on this front!
An Air Massage That Will Pleasantly Surprise You
While the stationary massage heads do a decent but not outstanding job at providing a basic massage experience, the 38 airbags on the N802 do a remarkable job at delivering an air massage that's easily on par with what you'd get from more modern chairs. Even better, since the airbags are placed throughout, you'll get something quite close to a full body massage, where the stationary heads are only good for your back and shoulders.
Best of all, though, is the fact that from the remote, you can selectively activate only the airbags you want to use, choosing from the following body zones:
This is a substantial improvement over the limited zone options (back/shoulder) offered by the stationary massage heads. On top of that, you can choose from three different airbag intensity levels, giving you even more ways to customize your experience.
(Weak) Lumbar Heat Offered
Heat always makes a massage better and is a powerful therapeutic addition. In this case, though, we were a bit underwhelmed by the offered heat. You'll definitely feel a difference when you activate it, but it doesn't get nearly hot enough to our liking. Even worse, we know the company can deliver on this front because their high-end chairs do a better job.
We won't call this a swing and a miss, but it's not nearly as good or effective as it could be. That's certainly not a deal-breaker, but it did disappoint us. In any case, if you suffer from chronic lower back pain, combining a Zero-G seating position with a massage from the massage heads plus gentle heat will make a difference and you'll be glad it's present in some form, even if it doesn't deliver as much heat as you'd like.
No Body Stretch Offered
The absence of this feature is actually a bit of a mystery to us. The chair reclines, and it has airbags. Adding a body stretch to it would be a piece of cake that wouldn't add much to the cost of the chair. In addition to that, body stretching is something Ootori does really well (they offer a Yoga Stretch on some of their other models), and would have added another powerful therapeutic feature to the model. Our hope is that even though it's not present now, the company will see fit to include it in some future upgrade.
An Out of This World Calf & Foot Massage
In our view, this is the single best feature on the chair, and if you suffer from chronic leg or foot pain, this, more than anything else, will be the reason you gravitate toward this model. Honestly, the N802 gives better calf and foot massages than most modern massage chairs, regardless of price. It's so good; it almost seems out of place on a chair that utilizes older tech.
What makes it next level is the fact that the calf and foot massage is rendered by a combination of airbags and a complex system of rollers that deliver a simply unbelievable experience. There are a few chairs that can outperform it on this front, but not many. We'd place the N802's performance on this front to be the top twenty on the market. Probably not top ten, but maybe top fifteen, and that's really saying something. You'll be impressed.
It Even Has a (Good) Massage Timer
Ootori makes a couple of other fixed-frame massage chairs besides this one, but we don't care much for the timers used on those other models because the massage durations are too short. Here, Ootori does a much better job. You can custom tailor the length of your massage in five-minute increments, choosing from a quick 5-minute massage all the way up to a 30-minute massage. In other words, this is the same timer the company uses on its more expensive models. Kudos to Ootori for including it here!
No Fun Extras Or Finishing Features On Offer
Unfortunately, one thing the N802 really skimps on is finishing and convenience features. You won't find a USB charging port, Bluetooth speakers, Chromotherapy lighting, or any of the other fun "extras" that feature prominently in more modern massage chairs.
We totally understand the reasoning here. After all, the goal is to keep the price of these chairs as low as possible, and the more of these kinds of things that are left off, the cheaper the chair. On balance, we regard that as a good thing, and even though they're not essential to the functioning of a good chair, we sure do miss them here.
Does Not Come Fully Assembled
If you decide you want one of these, it will arrive on your doorstep in two boxes, and you'll have to put it together yourself. Fortunately, there's not much to this process, and it will probably take as long to unbox the pieces as it will to actually put it together.
There is another option, though. The company offers White Glove service on every chair they sell, so if you'd rather not be bothered with the process of putting it together yourself, you certainly won't have to. Kudos to Ootori for going the extra mile here too!
A Very Slight Learning Curve
Given the limited number of options on offer, it probably comes as no surprise that there's not much of a learning curve where this chair is concerned. The remote itself is well-designed, and you should have no difficulty when it comes to working out the basic controls. Expect to spend no more than five to ten minutes working out the basics. You'll be relaxing and enjoying your first massage in no time at all.
A Better Than Average Warranty
Although Ootori doesn't offer an industry-leading warranty, it does offer a comprehensive 3-year warranty, which is much better than average. Even better, the company has an exceptional reputation where post-sales service and support are concerned, so if you do have trouble, getting help is super easy.
Pros & Cons of the Nova N802 Massage Chair
We said at the start that there's actually a lot to like about this chair, and we stand by that assessment. The N802 is proof positive that there's still life in the older technology it utilizes to render its massage. In no particular order, here are the things we think you'll like about it:
On the other hand,
Depending on who you are and what your needs are, some of this model's negatives might be deal-breakers, but for most people, we think the scales will wind up being tipped strongly in a positive direction.
Final Thoughts on Ootori Nova N802 Review
The Ootori Nova N802 Massage Chair is surprisingly good. Ootori has made excellent use of its skills and older technology or not; they've produced a model that shines. We don't love it, but we do really like it, and we think you will too, especially if you suffer from chronic leg and foot pain. We provisionally recommend it.
---
Official Manufacturer Support
REFERENCES & RESOURCES