In a Nutshell:
The Osaki OS Pro Alpina is a good chair that falls short of greatness, with a more limited suite of therapeutic features than we like to see. Recommended for people who weigh 260 pounds or less, who don't need a true deep tissue massage.
* Brand Reliability is a measure of the strength and longevity of the brand, which by extension, is a measure of the level of support you can expect.
Are you in the market for a good massage chair that offers some basic therapeutic benefits at a price you can afford? If so, you may be intrigued by what you read in this⁠—our Osaki Alpina massage chair review.
Before we take a closer look, though, we should clear up a couple of misconceptions. First, the Alpina isn't technically an Osaki chair; it's sold by their subsidiary brand⁠—Titan. Titan specializes in chairs offered at the low-end and mid-range, and they typically offer a mix of current and older technology in a bid to keep costs low.
All that to say that their product lineup can be a little spotty. They've produced some real gems, and they've also had a few models that weren't so great. In all cases, though, they are backed by the decades of experience that their parent company⁠—Osaki⁠—brings to the table.
We'll be the first to admit that this chair isn't going to be a good fit for everyone. As you'll see when we step through its capabilities, the design team of the Alpina got a lot right, but this chair is saddled with two significant limitations that prospective buyers need to be aware of.
In the sections that follow, we'll step you through everything this model has to offer, and we won't pull any punches when it comes to defining those limitations. That way, you'll have all the details you need to decide for yourself if this is the chair you've been looking for. If that sounds good to you, read on, and let's talk about what this chair can do.
Osaki Pro Alpina Massage Chair Overview
Aesthetics are not the most important aspect of a massage chair, but they do matter because nobody wants an ugly piece of furniture sitting in their living room.
Here, the Titan's design team took no chances, which is to say that the general look of the Alpina is highly similar to most of the other massage chairs on the market today.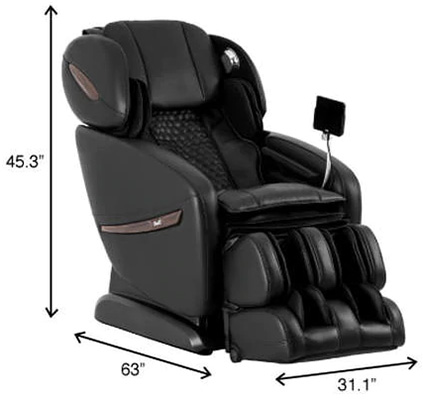 That's not the worst thing. While the typical massage chair won't win any beauty contest, they're certainly not ugly. They're just slightly futuristic-looking. Assuming you're okay with that, you won't have a problem with this design.
We should also point out that this is a fairly big piece of furniture. It has a footprint that measures 63" L x 31.1" W x 45.3" H when sitting upright and 78.7" L x 31.1" W x 35.4" H when reclined and weighs in at a respectable 236.5 pounds.
This is not a chair you can just pick up and move around your house by yourself. If you don't pay extra for White Glove service, you'll definitely want to have a friend on standby for the day the chair arrives at your doorstep.
To the Alpina's credit, it is designed with space-saving technology built in, so you'll only need about 4.7" of space between the back of the chair and whatever wall you decide to place it near. Even so, if you live in a smaller home or apartment, you may struggle to find a permanent home for the chair.
If that's not an issue for you, and you decide you want one, you can order yours in either black, brown, or beige.
The final thing we should mention before we leave this section is the fact that this chair will only support a maximum of 260 pounds. That's significantly below the informal industry average of 300. If you weigh 260 or less, it won't be an issue at all, but if you happen to weigh more, then it won't matter how much you like this chair; it's simply not going to work for you.
The Alpina Features Older And State-Of-The-Art Massage Chair Technology
This isn't as strong of a component of our Osaki Pro Alpina review as we like it to be because the chair features a mix of older and current massage chair technology. Overall, we do like what we see here, but it could be better.
Let's start with the basics:
The massage track is an SL design, which means that it starts at your neck and shoulders, travels down the length of the seatback, and then turns and continues under the seat so that the quad rollers mounted on the track can massage your glutes and the backs of your thighs.
That's good, and the quad rollers are excellent. They do an admirable job of mimicking the feel of human hands.
Unfortunately, the big limitation here is that the track is a 2D design, which means that the rollers mounted to it can only move along the X- and Y-axis. That limits the intensity of the massage from this chair, and as you'll see, one of Alpina's pre-programmed massage options claims to be a "Deep Tissue" massage.
Sadly, it isn't. 2D chairs can't really give a true deep tissue massage, though we will tell you about a workaround you can do that can approximate the experience.
Even with our workaround, though, we still wouldn't rate this chair as capable of delivering a true deep tissue massage. It comes close, but it's not quite intense enough to deliver solid therapeutic results.
If you're looking for a chair that can give you a really deep massage, then you're almost certainly going to want to look elsewhere, and specifically, at similarly priced 3D models.
On the other hand, the Alpina uses Osaki's excellent body-scanning tech. When you order a massage, the chair will take a scan of your body and adjust the position of the rollers to ensure that they hit your body's pressure points precisely.
In addition to that, on one of the chair arms, you'll find a sensor designed to accommodate your fingertips.
Keeping contact with this sensor gives the capability of adjusting the position of the rollers based on your reactions to where they're hitting. When they hit a particularly sore spot, your body will react. The sensor will read that and pay more attention to the areas that are giving you the most problems.
It's an ingenious system that we haven't seen incorporated into any other design, and we love it.
The final thing to talk about here is the control system. Most massage chairs utilize a remote. With this chair, you access the controls on an impressively sized 7" touch screen.
Curiously, the touch screen is wired rather than wireless, though to the chair's credit, the wire is more than long enough that it won't cause any issues.
We love the sizeable tablet.
One of the biggest problems with standard massage chair remotes is the fact that the screens built into them are often too small to really see what's going on. This is much better.
The Alpina Massage Chair Offers A Surprising Number of Massage Options
This is an incredibly strong component of our Osaki Alpina massage chair review, and of interest, Titan downplays it. For example, the sales page for the Alpina says the chair boasts six massage techniques and lists them as follows:
The thing is, though, you can actually combine kneading with tapping, clapping, or Shiatsu if you like, which gives you three additional techniques:
That's awesome and represents significantly more techniques than you find on most chairs, including those that are significantly more expensive than the Osaki Alpina.
Even better, note that this chair offers two different advanced massage techniques.
You almost never see Swedish massage on a chair. There may be a dozen models on the market today that offer it, so its presence here, on a relatively inexpensive model, is huge.
The company sells itself and the Alpina short by not drawing attention to this.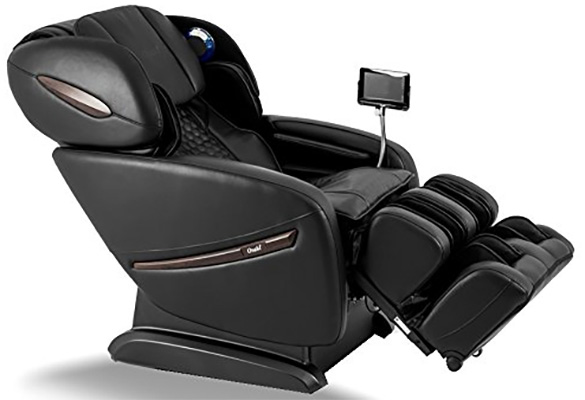 In addition to that, Titan says that the Alpina has 12 different auto programs, but when you start exploring the menu, you actually find thirteen. These are:
There's a lot here, especially given the price of this chair, and there's something for just about everyone.
Most of the routines are self-explanatory, but there are a few points of interest that deserve special mention.
We love that the company included a special routine that makes use of the ache sensor we talked about earlier. That's a nice touch that makes the new feature even more versatile.
We also love that this chair includes a Stretch routine. Although Osaki's body stretch isn't one of the industry's best, it's still quite good and has genuine therapeutic value.
Unfortunately, we can't say the same for the offered deep tissue massage. As we mentioned earlier, this is a 2D massage chair. With no Z-axis movement, it can't really increase the massage intensity. All it can do is increase the speed of the rollers, which is not the same thing.
We will talk about one way you can marginally increase the intensity of the rollers, but even then, the deep tissue massage really isn't. It still feels good and is well worth trying out; just don't expect it to provide any therapeutic benefit.
In addition to that, the Alpina offers both spot and partial massage modes and five different speed settings. This is very good, but honestly, given the Alpina's capabilities, the design would be greatly strengthened by upgrading to a 3D track and including five intensity levels as well.
The Osaki Alpina Also Includes Two-Stage Zero-G Seating
This is another very good component of our Osaki Alpina massage chair review. Less than half of the massage chairs on the market today offer Zero-G seating, and most of those only offer one position.
Given the relatively modest price of the Alpina, we weren't sure we'd see this feature at all, but when we saw that it offered not one but two different positions, we were thrilled.
Zero-G is a powerful therapeutic feature in its own right. It can help lower your blood pressure, and if you've recently had surgery, it can help speed your recovery. In addition to that, it also helps improve your circulation in general.
There's more, though.
Earlier, we mentioned that there was a trick you could use to marginally increase the intensity of the not-quite-deep tissue massage that the chair offers.
To do that, put the chair in one of the two Zero-G positions, then select the Deep Tissue option from the touch screen. Your body's weight will press you more firmly against the rollers, which will nominally increase the intensity of the massage. Even using that trick, it still doesn't quite rise to the level of a true deep tissue massage, but it may be close enough for some.
The Osaki Pro Alpina Has Heat, Too!
This is yet another surprisingly strong component of our Osaki Alpina massage chair review. A lot of massage chairs offered at the lower end of the price spectrum don't offer heat. This one does.
Osaki calls it lumbar heat, but again, they sell this chair's capabilities short. Two heating coils are located in the seatback, and they radiate heat well into the midback as you're sitting in the chair.
Sure, we love to see more extensive heat⁠—including heated footwells⁠—but this is a rock-solid feature implementation that gives the Alpina another powerful therapeutic feature.
A Decent Air Massage That Falls Short of Greatness
Our Osaki OS Pro Alpina review won't be complete without giving the air massage a mention, but honestly, this isn't one of the strongest features the chair brings to the table.
The Alpina boasts a modest number of airbags⁠—22 in all⁠—that cover your calves and feet, arms, hips, and shoulders. They can be activated all at once, or, from the touch screen, you can selectively activate only the body regions you want. You can also customize your air massage via five levels of intensity from the touchpad.
It's not bad, but it is rather unremarkable. We sense that the airbags mostly exist to support the body stretch routine we discussed earlier in this review.
One other thing to mention here is that there's a vibration plate in the seat. We personally don't care much for a simple vibration-style massage.
It's usually something you find included in low-end models, paired with stationary massage heads.
By all means, try it out, and if you like it, it's easy enough to incorporate it into your massage routine. If you don't care for it, it's just as easy to leave the vibrating plate turned off.
A Good Calf and Foot Massage
This is another average component of our Osaki Alpina review. We like that the chair offers a calf and foot massage, but there's nothing special or noteworthy about the implementation. It utilizes airbags for the calf massage and a combination of airbags and rollers for the foot massage.
It certainly feels good, and if you spend several hours of each day on your feet, it may wind up being your favorite aspect of the design, but there's nothing "next-level good" about the way it's implemented here.
The Alpina Has A Few Extras, To Boot
We weren't really expecting much in the way of extras, given the modest price of this chair, but we were pleasantly surprised.
While the Alpina doesn't boast an abundance of extras, the three it has are quite good. You'll find Bluetooth speakers, LED chromotherapy lights, and a basic massage timer.
Of the three, the timer is our favorite extra. The default massage duration is 15 minutes, and you can set the massage time for any program to as little as five minutes or as much as thirty minutes. It's simple but effective.
Pros & Cons of Osaki Alpina Massage Chair
As you can see, we actually like and are pleasantly surprised by many of the features on offer here.
That said, the Osaki Alpina has two key shortcomings that ultimately limit its appeal. The first may or may not be a dealbreaker, depending on what you're looking for.
If you want a chair that offers a true deep tissue massage, this isn't it. At best, you get a close approximation. If you're looking for a massage chair that's capable of closely replicating a visit to your local chiropractor, then you want a 3D chair that offers a body stretch.
That will give you an actual deep tissue massage (and not just an approximation of one) and the functional equivalent of a chiropractic adjustment.
If you don't outright need a deep tissue massage, then this chair's approximation of one may be good enough for you.
The other shortcoming, though, could be an outright dealbreaker. It just doesn't support a lot of user weight. As long as you weigh less than 260 pounds, you're golden. If you weigh more than that, then the Alpina is a nonstarter.
Osaki Pro Alpina Conclusion
We like the Alpina, but we don't love it. Given its twin limitations, we can only offer a provisional recommendation. If you don't suffer from chronic pain and aren't looking specifically for a chair that offers deep tissue massage, and if you weigh less than 260 pounds, this is a good option.
Other Options To Consider
If you've read to the end of this Osaki Alpina massage chair review and have concluded that this isn't the chair you're looking for, here are a couple of other options to consider: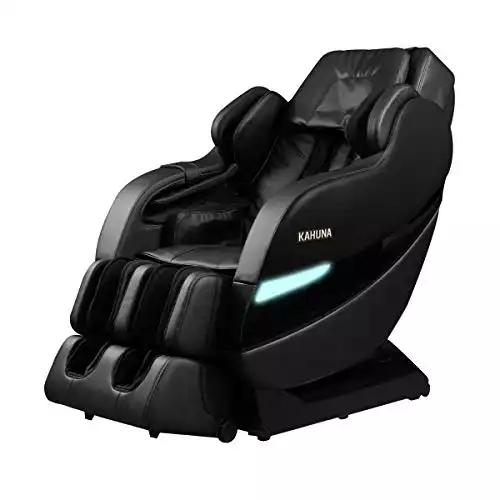 This is a fantastic chair offered by one of the best companies in the industry. It features the industry's best body stretch and is loaded with other hard-hitting features you'll appreciate. Even better, it supports significantly more user weight, so if the Alpina doesn't work for you for that reason, this is a great alternative.
Osaki Paragon 4D Massage Chair
Recommended For: Anyone weighing up to 280 pounds, especially if you can find this model on sale (which is fairly often!). The sale price approaches a 50% discount, making the Paragon an insanely good value.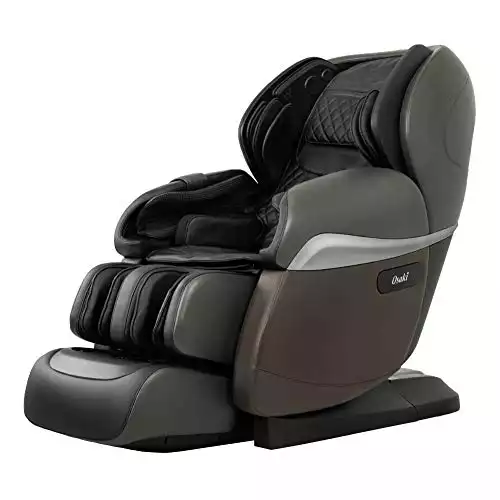 If you're interested in sticking with the same brand or family, then the Paragon is an excellent choice.
Note that if you pay full price, it is significantly more expensive than the chair we just talked about. Normally, we wouldn't recommend a model that is so much more expensive, but the Paragon is often offered at deeply discounted prices, and if you can catch it on sale, you'll get one of the best values in the massage chair industry today.
It's worth at least checking to see if the Paragon is on sale before making a final decision.
---
REFERENCES AND RESOURCES