In a Nutshell:
The Osaki OS-Pro Admiral is an extremely effective design with genuine therapeutic value, especially for people who suffer from sore feet and calves. Recommended for anyone who suffers from aching feet and legs, provided that the modest weight limit isn't a dealbreaker.
* Brand Reliability is a measure of the strength and longevity of the brand, which by extension, is a measure of the level of support you can expect.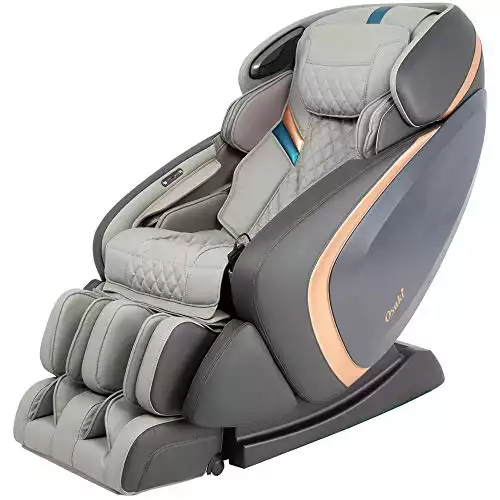 Do you have a job that sees you on your feet most of the day? Have you been looking for a massage chair designed to not only help you solve that problem but also give you a great full-body massage anytime you want one?
If you answered yes to either or both of those questions, you would be impressed with what you read in our Osaki OS-Pro Admiral massage chair review.
Osaki is one of the major players in the massage chair ecosystem. They make consistently great products, offer them at surprisingly attractive prices, and are extremely well-regarded in the industry. Their products deserve to be on your shortlist of options to consider if you're in the market.
In the sections that follow, we'll outline everything that the Osaki Pro Admiral electric massage chair is capable of, and we won't pull any punches when it comes to describing this model's points of weakness (and it has a few).
By the time you reach the end, even if you conclude that this isn't the model you're looking for, we think you'll agree—it's an amazing design with a lot to offer. If you're interested to know more, read on, and let's take a closer look.
An Overview of the Osaki OS-Pro Admiral Massage Chair
Let's start this section of our Osaki OS-Pro Admiral massage chair review with first impressions. If you've looked at massage chairs before, you know that they don't win high marks for beauty. They're not necessarily ugly, but unless your living room looks a lot like the bridge of the Starship Enterprise, a massage chair will probably look a little out of place.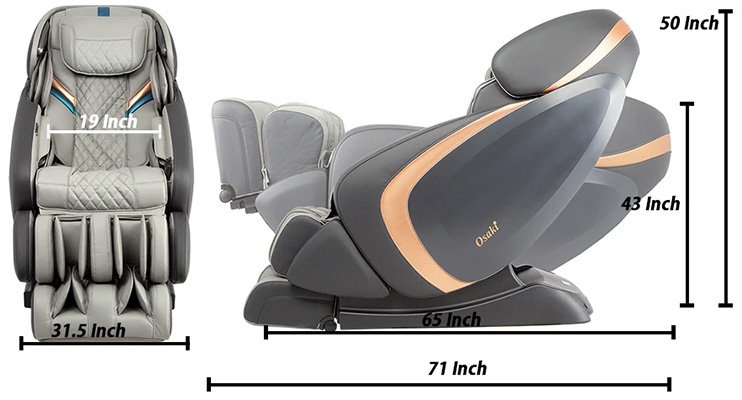 On top of that, these are big pieces of furniture, and the Admiral is no exception. It measures 64.2" x 30.7" x 50" when upright and 74.8" x 30.7" x 40.6" when fully reclined.
It's also a heavy piece of furniture, weighing in at a healthy 239 pounds. Of interest, though, this model can only support 220 pounds of user weight. Most of the chairs on the market today support at least 300 pounds. This model supports disappointingly less than that.
Naturally, if you weigh less than 220 pounds, it's not an issue at all, but if you weigh more, this limitation is going to be an outright dealbreaker. That's a pity because this model really does have a lot to offer.
Before we get into the specifics, we'll close out this section by saying that assuming the modest weight limit isn't an issue for you, you can get yours in either black, brown, or grey if you order one of these. While the color selection isn't what we'd call generous, the available colors are neutral, and one of them is almost certain to be a good fit for whatever room you're planning on putting the chair in.
Our one quibble here is that the chair is upholstered with PU. That's incredibly common in the massage chair industry, but we don't have to like it. PU looks and feels like leather, but it's just not as durable as we'd like and will probably start showing its age by peeling and cracking long before you hope it will.
Unfortunately, only a handful of chairs on the market today are upholstered with top-grain leather, so it's just something we've learned to live with. Even so, we're a little underwhelmed by the upholstery.
Another thing we should draw your attention to is the fact that although the chair is a large and imposing piece of furniture, it doesn't take quite as much room as you might think to use it effectively.
That's because the Admiral is designed with space-saving technology, which means that when you recline in it, it pivots on its base.
Chairs that aren't designed in this manner typically require a couple of feet of clearance between the seatback and whatever wall you place it near. With this chair, you only need about 4" of clearance, and that's huge.
It makes the Admiral a lot more user-friendly. It still fills up a room, but the minimal clearance needed definitely helps.
The final thing to bring to your attention before we leave this section is the fact that you may find this referenced as the Osaki Pro Admiral II. That's because the Admiral is one of the company's older models. Osaki has worked hard to keep this model up to date and has recently upgraded the underlying tech.
Many websites still simply refer to the chair as "The Admiral," but under the hood, what you're actually getting is the Osaki Pro Admiral 2 unless you're buying from a warehouse vendor that stocks older and discontinued models.
L-Track & Quad Rollers
This is the major thing that defines the quality of a massage chair. After all, the type of track the chair has and the number of rollers it sports play major roles in determining the overall quality of the massage a given chair can render.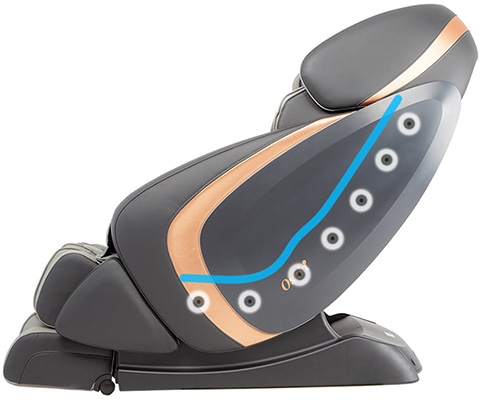 Here, Osaki OS Pro Admiral gets off to a great start with an L-Track that extends beneath the seat, allowing the rollers to give you not just a neck, back, and shoulder massage but one that can also attend to your glutes and the backs of your thighs.
That's superb, but it gets better because the Osaki Pro Admiral massage chair sports quad rollers, which do an "admirable" (pun very much intended) job of replicating the feel of human hands. Every time you sit in the chair to enjoy a massage, you get a feeling that's similar to actually paying a visit to your local chiropractor's office.
The massage track has dimensionality to it. The rollers can move on the x-, y-, and z-axis, which means that when you increase the intensity of the rollers, they will press more firmly into your back.
3D Body Scan
This section will be another short but incredibly important part of our Osaki Admiral massage chair review because Osaki's body scanning technology is another critical element in the overall massage quality.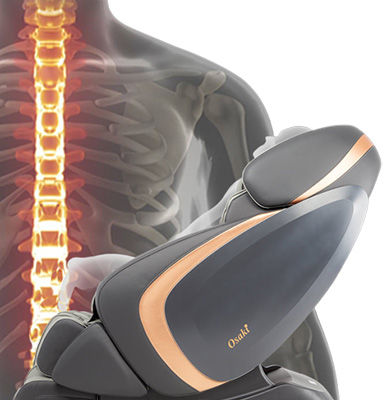 Each time you sit in the chair, the sensors inside it get busy scanning you. Based on the results of the scan (the chair identifying your body's pressure points), the rollers shift around quietly. When your massage starts, they hit where you need them to, which makes the massage you get feel amazing.
Not all body scanning routines are created equal, however. Some companies use routines that are absolutely wretched and seldom get the job done.
Osaki's body scanning tech is exceptional, and in practice, you'll find that it gets the rollers in exactly the right spot about 95% of the time. In the few instances where the tech misses the mark, the remote has controls that allow you to tweak the roller positions manually.
Combining those two things virtually guarantees that the rollers will be precisely where you want them every time you order a massage.
Zero-Gravity Seating Offered
Only about a third of the massage chairs on the market today offer Zero-G seating, and the Osaki Pro Admiral massage chair is one of them.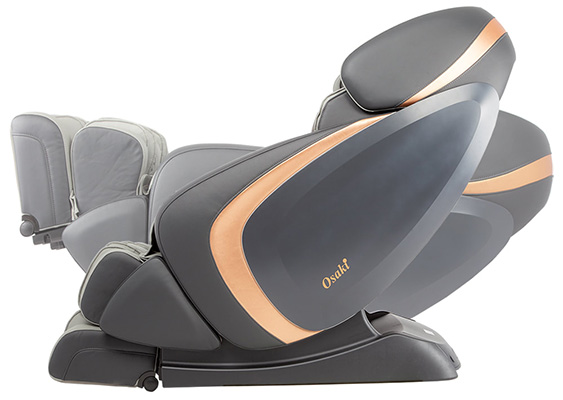 Inspired by NASA, Zero-G seating works by reclining you into a position where your knees are elevated slightly above your heart. This is not only exceptionally comfortable, but it also really does leave you with a feeling of weightlessness.
In addition to being a cool-sounding feature, it has also been documented to help improve blood flow. If you've recently had surgery of any kind, it will facilitate faster healing, which means you'll be back to enjoying life to the fullest before you know it.
The one drawback here is that only a single Zero-G seating position is offered. That's not horrible given the price of the chair, but you can find some models that offer two or even three different Zero-G positions. Even so, we certainly can't complain about the one offered here, and we think you'll love it!
An Above Average Number of Massage Options
Now we get to the meat of it. Different companies take varying approaches where massage implementation is concerned.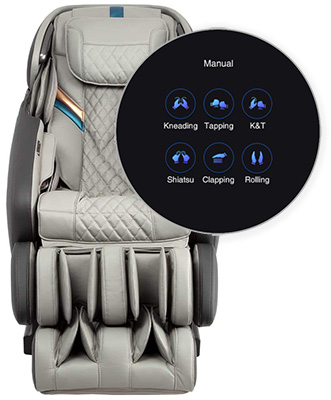 Some offer a broad range of techniques but relatively few pre-programmed options.
Osaki goes in the other direction. You'll only find a handful of massage techniques on offer, but the company goes out of its way to give you lots of one-touch options.
That's a good approach for people who aren't very tech-savvy and don't want to have to fiddle with the controls. Getting a massage in the Osaki Pro Admiral 2 is as simple as sitting down and pressing a button. Sure, you can take more control and tweak settings, but you don't need to.
In terms of precisely what the Admiral offers, you get access to the following massage techniques:
As you can see, it's got the basics covered, and it gives you access to one advanced technique.
Shiatsu is far and away the most common advanced massage technique offered on massage chairs, so there aren't really any surprises here.
As we said earlier, where Osaki really shines is in the number of pre-programmed massage options available. You get a total of sixteen on the Admiral. They are:
Experiment and decide for yourself which one works best for you.
In addition to selecting from a number of pre-programmed options, the Admiral allows you to control the roller intensity via six adjustment levels. You can also control the roller speed via five different adjustment levels.
On top of that, you can create your custom massage, but there's no way to save your settings for one-touch recall later.
Even so, you can create pretty much any type of massage you want. Via the remote, you can focus the rollers on just your shoulders and neck, your full-back, just your lower back, or your feet and calves.
Airbag Massage Too!
The Admiral doesn't stop with just a great roller-based massage, though. It also offers a fantastic airbag-based massage that makes good use of the 24 airbags scattered throughout the chair.
As with the rollers, users can set the intensity of the airbag massage via five levels of intensity and can dial their massage into specific regions of the body (the same regions we outlined above for the roller-based massage).
Lumbar & Calf Heat
We regard this as one of the most important components of our Osaki Pro Admiral electric massage chair review.
Heat is only offered on a minority of the chairs on the market today, and most of the chairs that feature heat, only have heat in the lower back region (lumbar). The Admiral is a notable exception because it offers both lumbar heat and heated footwells.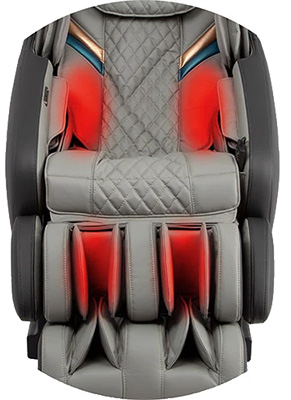 Heat is a powerful therapeutic feature, and the fact that it's offered in two different areas is outstanding.
Our only issue with the implementation of this feature is the fact that you can't activate heat in just the footwell.
The first time you press the heat button, you get lumbar heat. A second press of the button adds heat to the footwells, and a third press turns the heat off.
The heat activation button, in our view, is a small but annoying design flaw. It would have been a simple matter to add a couple of additional options which would allow you to add heat to only the region you want it. Even so, heat is far better than no heat, and two heated regions make the Admiral absolutely superb.
Calf & Foot Massage
Lots of Osaki Admiral massage chair reviews rightly key in on the exceptional calf and foot massage as being a highlight of the design.
We agree but would argue that it's even bigger than that. In our view, this is the reason to buy the Admiral.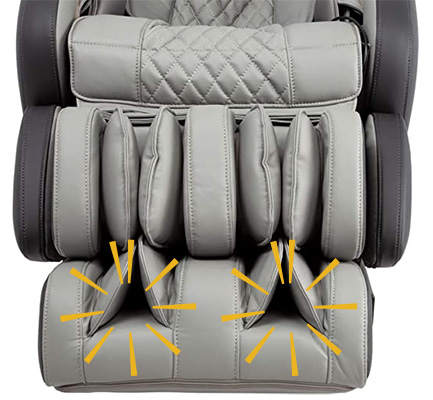 Sure, sure, it gives a great general massage, and it has a decent but not best in class body stretch, which is a powerful therapeutic feature in its own right. However, it's the foot massage with the heated footwells that really sets this chair apart from the competition.
The foot and calf massage is rendered via three rollers for your feet and airbags for your calves.
The intensity of the rollers and airbags can be set independently via three different intensity settings (three for the rollers and three for the airbags). By itself, the reflexology technology that Osaki incorporates into their foot massage makes it one of the best in the business. However, it comes pretty close to nirvana when you combine it with heat.
If you're looking for a chair that can bring your aching feet some soothing relief, this is going to wind up being hands down your favorite aspect of the Admiral's design.
The heated foot massage is absolutely decadent. You're going to love it.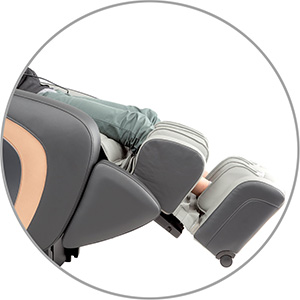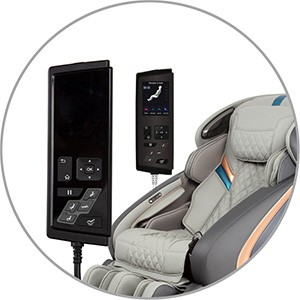 A Generous Number of Finishing Touches on Top of All That!
While it's certainly easy to find other models with more in the way of finishing touches, there's a lot to like here. When you combine it with all the other great features we've already discussed, it's easy to see why the Admiral is such a popular model and one of Osaki's best sellers.
Pros & Cons of Osaki Admiral Massage Chair
We like almost everything about the Osaki Admiral, but in our view, the highlights are:
Unfortunately, it does have a couple of weaknesses, and one of them is quite serious.
The biggest issue we have is that the chair only supports 220 pounds of user weight. That's genuinely disappointing and makes this chair fairly narrowly focused.
We were also underwhelmed by the upholstery (PU) and the fact that the Admiral only offers one advanced massage technique (Shiatsu).
Those two points won't be dealbreakers for most folks, but the weight limit certainly may.
Osaki OS-Pro Admiral Massage Chair Review Conclusion
We wanted to love the Admiral, and we almost did, but it didn't quite get there for us. The modest weight limit is a significant drawback that almost makes this a niche product. We'd say here in our Osaki OS-Pro Admiral massage chair review that it still appeals to more of the market than it alienates, though. So it's not quite niche, but it does come fairly close to that.
Assuming the weight limit isn't a dealbreaker where you are concerned, and especially if you are looking for a model that will help ease the pain in your aching feet, this one belongs on your shortlist of options to consider. We recommend it.
Other Options to Consider
If the Admiral is a non-starter for you for any reason, here are a couple of other options you may want to consider.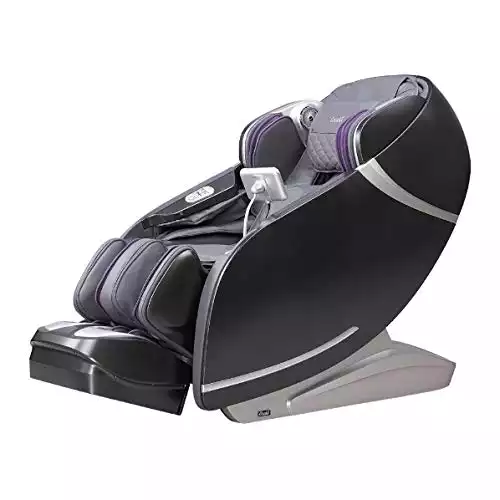 This model not only gives you more of everything you like best about the Admiral, but it also supports more user weight.
Note, however, that you give up the heated footwell, but you get a better and more versatile chair overall.
Kahuna LM6800 Massage Chair
Recommended For: Hobbyist/casual users, chronic pain sufferers, and taller users, almost anybody, will love this chair!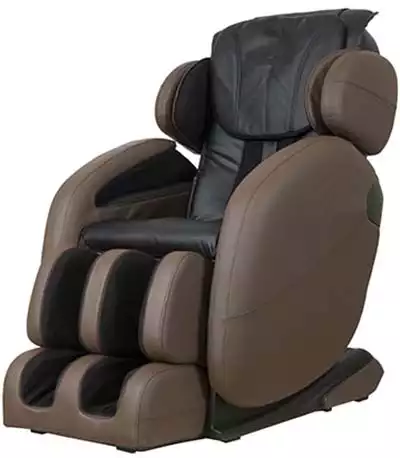 One of the best values in the massage chair market today, the Kahuna LM6800 sports the best body stretch in the industry, along with an impressive array of hard-hitting features that you typically only find in much more expensive chairs. In other words, the 6800 punches well above its weight class and is a superb option, no matter what kind of chair you're looking for.
---
References & Resources: