In a Nutshell:
For the most part, the Osaki Titan Summit Flex is a good chair, but it has some limitations—some quite serious—that potential buyers should be mindful of. We can only provisionally recommend this chair for users weighing up to 260 pounds.
* Brand Reliability is a measure of the strength and longevity of the brand, which by extension, is a measure of the level of support you can expect.
Are you on a budget? In the market for a decent massage chair that provides real therapeutic value without breaking the bank?
If you answered yes to those questions, then you're going to be intrigued by what you read in this—our Osaki Titan Summit Flex SL review, but fair warning: while this is a decent massage chair, it does have some shortcomings and limitations that make it a poor fit for some users.
Are you the kind of user the Summit was built for? In the following sections, we'll step you through everything this chair offers, and we'll point out those shortcomings mentioned earlier. That way, you'll have all the information you need to decide for yourself if this model is a good fit or if your search must continue.
If that sounds good to you, read on, and let's take a closer look.
Overview of the Osaki Titan Summit Flex SL
Let's talk about aesthetics first because they do matter. Granted, if you're in the market for a massage chair, then your primary concern is almost certainly function, not form, but aesthetics aren't totally unimportant either.
With that in mind, the first thing to say is that the Summit looks quite a bit like most of the other massage chairs on the market today, but the design team gave it a slightly less sleek and blockier look that tones down its futuristic look and gives it more of an industrial feel.
It still looks a little futuristic but less than other models we've seen. In any case, unless your house is decorated with a sci-fi theme, it's probably going to stand out in whatever room you decide to place it in.
That's not the end of the world, and the company does offer the chair in your choice of black, brown, or gray—neutral colors that make it easy to match it with the prevailing color scheme in your house, which is a good thing.
The next thing to mention is the company itself. Titan is a subsidiary of Osaki, which is one of the giants in the massage chair industry, so you're not buying from an off-brand you've never heard of. These chairs are designed by the fine folks at Osaki, who have a long history of making great massage chairs.
Their Titan chairs are generally designed to be a bit less expensive, and there are tradeoffs that come with that. All that to say, you're getting the full weight of Osaki's expertise when you buy a Titan, and that's a good thing.
If you decide you want one, be aware of the fact that they're fairly big chairs but designed so that they fit through even narrow doorways. The Summit has a footprint that measures 62″ L 29″ W 46″ H upright and 73″ L x 29″ W x 33.5″ reclined, which is to say that if you have smallish-sized rooms in your home, you may struggle to find a good home for the chair.
The good news is that it's designed with space-saving technology and only requires 4″ of clearance between the back of the seat and whatever wall you decide to place it near, so that will help some.
Unfortunately, there is a weakness to highlight here. This chair will only support up to 260 pounds of user weight.
That's disappointing.
The informal average supported weight in the market is 300 pounds, and this chair falls well short of that mark.
It's fine if you weigh less, but if you happen to weigh more, then this weakness will prove to be an absolute dealbreaker.
The Titan Summit Flex Has Good Bones (For The Most Part)
With one glaring exception, this is a very strong component of our Osaki Titan Summit Flex SL review, but due to that limitation, we must downgrade this to an average component of our review.
The Summit starts strong, offering a delightfully long massage track (52″!) and boasting quad rollers to move along them. The company describes this as a "Flex Track," which differs from a standard SL track in that the base of the chair is always fixed angle relative to the backrest.
How much of a difference this makes is a matter of some debate, but we don't regard it as one of the more important aspects of the chair's design.
In addition to that, the chair sports Osaki's body scanning technology, which scans your body before your massage begins and adjusts the position of the rollers, so they always hit your pressure points correctly.
Well, "always" is probably too strong. In practice, the tech gets it right about 95% of the time, and when that fails, you'll find controls on the remote that enable you to tweak the roller position until it's perfect.
Very good.
On top of that, you'll find auxiliary controls on one of the chair arms that allow you to access the more common features of the chair. The design isn't great, but it's present, and we like that very much.
All of that sounds great, so you may be wondering what the problem is.
Well, the problem is the track itself. It only allows the rollers to move along the X- and the Y-axis. There is no Z-axis motion, so this is only a 2D chair.
Now, if you're interested in buying a massage chair because you consider yourself a casual user and want a relaxing massage when you get home after a long workday, 2D is fine.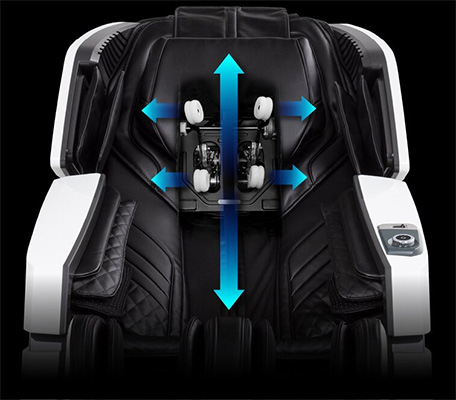 On the other hand, if you're in chronic pain and you're looking for a chair that can render a deep tissue massage with therapeutic benefits, this chair will not cut it. Ultimately then, the real question is: what kind of user are you?
That, as much as anything, will decide whether this chair is a good fit for you because if you suffer from chronic pain, the loss of deep tissue massage is a major blow.
An Impressive Number Of Massage Options On Offer
While the last segment of our Osaki Titan Summit Flex SL review left us a little wanting, the Summit Flex massage chair makes up the difference here. There's a lot to like in this section.
Let's start with massage techniques. This model offers the following:
There's nothing remarkable about this list. This is the standard offering of massage techniques that most of the chairs sold today to have on offer. It's not bad; there's just nothing special here.
In terms of pre-programmed massage options, though, we find a lot to like. Here are the options the Summit makes available:
This is a truly impressive list, especially given the modest price of the chair. All of these are well-rendered massage programs, but the real headline here is the body stretch. Although Osaki/Titan doesn't have the best body stretch in the industry, it's quite good and offers real therapeutic benefits, which is outstanding.
If that isn't enough, the Titan Summit Flex SL track offers six different massage speed options, as well as spot and partial massage modes.
Notably absent, however, is any sort of intensity adjustment for the massage rollers. The chair does offer intensity adjustment but only for the airbags, which we will discuss in just a bit.
Zero-G Seating Too
This is a surprisingly strong component of our Osaki Titan Summit Flex SL review. Less than half of the massage chairs on the market today offer Zero-G seating, and about half of those only offer a single seating position.
This model makes two available, and both are competently implemented. That's excellent, and this feature marks the second therapeutic feature we've talked about thus far. Zero-G's value lies in the fact that it helps to lower blood pressure, improves circulation in general, and can even help make the massage you get from this chair slightly more intense.
That last bit is especially important since there is no intensity adjustment setting for the rollers themselves.
Excellent Heat
We'll rate this as one of the keystone features of the design, as the Summit offers heat both in the lumbar region of your back and in the calf portion of the footwells on the chair.
You don't find many chairs that offer calf heat, so this is one of just a handful on the market, and we love it. Even better, the Summit gives you three different temperature settings you can choose from, and you seldom find that even on massage chairs that are two or three times the price of this one.
This is our favorite aspect of the Summit's design, hands down. We love it, and we think you will too.
A Good Air Massage That Falls Short Of Greatness
Boasting 48 airbags, the Summit offers a very good airbag-based massage, made even better by the presence of five levels of intensity adjustment.
It's important to bear in mind, however, that this is a fairly modestly priced chair. As such, the airbags are based primarily on the shoulders, arms, legs, and feet, and if you opt to selectively activate airbags by body regions, sure enough, those are the choices you are presented with.
Again, it's a competently implemented feature, but we find it doubtful that anyone will look at the airbag massage and rush out to buy this model in particular on the strength of this feature alone.
An Exceptional Calf and Foot Massage
We already mentioned the heated calf portion of the footwells, and this is, in fact, what makes the calf and foot massage far better than the average implementation.
Heat almost always makes massage better, and here, remember that you can choose from three different heat settings while the airbags in the chair attend to your calves and feet, and rollers gently massage the soles of your feet.
It's glorious, and if you spend extended periods of time on your feet each day, this will likely be your favorite feature. If you suffer from chronic leg/foot pain, the feature implementation here is good enough that this one belongs on your shortlist of options to consider.
Two Good And One Average Extra Included As Well
The Summit actually sports four extras, but one of them is quite minor. The two best are the USB charging port and the Bluetooth speakers.
This is a powerful combination that allows you to keep your phone charged, wirelessly sync it to the speakers in the chair, and enjoy your favorite music or listen to an audiobook while enjoying a massage.
A good-but-not-great feature is the massage timer, which allows you to set the duration of your massage, choosing either 10, 20, or 30 minutes as you prefer. Note that all massages default to a twenty-minute duration, but of course, you can adjust this as needed.
Finally, the chair also sports chromotherapy lighting, which some people say is healing, but mostly, it just provides a bit of mood lighting while you're getting a massage. Overall, these are quite good, and we hadn't expected so many on such a modestly priced chair.
Pros & Cons of Osaki Titan Summit Flex SL Track Massage Chair
Here are the things we think you'll like best about the Summit:
On the other hand:
Of the negatives, the only one we consider being an outright dealbreaker is the weight limit, but if you're shopping for a chair to give you relief from chronic pain, the lack of a deep tissue massage may well be considered deal-breaking too.
Osaki Titan Summit Flex SL Review Conclusion
We like the Summit, but we don't love it. We can only give it a provisional recommendation because while casual users will be fine with the feature set, for the most part, the lack of a deep tissue massage option really hurts it on the therapeutic front.
Other Options To Consider
If—having reached the end of this review—you're not convinced that the Summit is right for you, here are a couple of other options you may want to consider: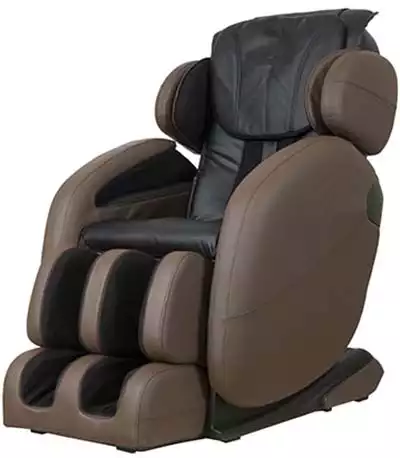 We can't say enough good things about this chair. In addition to offering a 3D massage track and a deeper overall massage, this one is packed with features and includes the best body stretch in the massage chair industry. We regard it as the best value on the market today, and it deserves to be on your shortlist of options to consider.
OR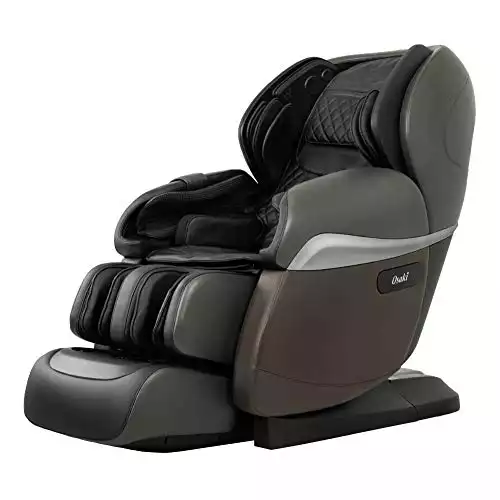 Osaki Paragon 4D Massage Chair
Recommended For: Anyone weighing up to 280 pounds, especially if you can find this model on sale (which is fairly often!). The sale price approaches a 50% discount, making the Paragon an insanely good value.
Check Latest Price
At full price, this chair is much too expensive to be considered a viable alternative to the chair we just reviewed, but that's the beauty of the Paragon—Osaki often offers it at a deep discount.
In fact, at the time this review was written, you could get a Paragon for 50% off, which puts it in the same ballpark, price-wise, as the Summit. At that price, this is the better chair by a wide margin.
---
References & Resources: