In a Nutshell:
The Real Relax Favor-03 is a budget massage chair built around fixed heads. For its inherent limitations, it delivers surprisingly good results. It is only provisionally recommended. Most folks would be better served by delaying their purchase and saving for a "proper" massage chair.
* Brand Reliability is a measure of the strength and longevity of the brand, which by extension, is a measure of the level of support you can expect.
Do you suffer from an aching back? Are you tired of having to make an appointment with your local chiropractor every time you want some relief?
If you answered yes to either of those questions, you might have begun thinking about investing in a massage chair so you can enjoy the benefits of a soothing, relaxing massage from the comfort of your own home, any time you like.
Unfortunately, there's a huge amount of variance in the massage chair ecosystem, and some models are just objectively better than others.
The Real Relax brand first saw the light in 2014. In order to produce chairs that didn't cost much money, the company made the decision to do away with the entire concept of the massage track, relying instead on stationary massage nodes strategically placed around the chair.
It's a novel concept, but unfortunately, the stationary heads simply cannot compete with massage rollers in terms of overall massage quality.
That's not to say that Real Relax is a terrible brand or that its concept is without merit. The company has managed to carve out a good-sized niche at the low end of the market, and for a good reason. Their products deliver a surprisingly good massage for very little money, but they have a few limitations you should be aware of before spending your hard-earned money.
In the sections that follow in our Real Relax Favor-03 review, we'll outline everything this model has going for it, and we won't pull any punches when it comes to describing the chair's limitations and shortcomings. That way, you'll have all the information you need to decide for yourself if this model is a good fit for you.
An Overview of the Real Relax Favor 03 Plus
By all outward appearances, the Real Relax Favor 03 massage chair looks just like a conventional massage chair with a proper track and rollers. You can't tell just by looking at it that it employs stationary heads.
Its appearance is both a good thing and a bad thing. On the one hand, it's good that the Favor 3 doesn't represent a major departure from other massage chairs on the market, which means it looks pretty much like you'd expect it to.
On the other hand, massage chairs aren't exactly known for their gorgeous appearance and stylishness. Favor 03 is going to stand out in whatever room you place it in.
This one isn't gigantic as massage chairs go, but it will still go a long way toward filling up whatever room you place it in. It measures 63" L x 30" W x 34" H, and it weighs in at a surprisingly modest 176 pounds (most massage chairs on the market today weigh significantly more than this).
Even better, it supports up to 400 pounds of user weight, which is well above the 300-pound informal average. If you decide you want one, you'll be able to order yours in brown & beige, or black.
It's not much of a color selection, but it at least allows you to do some basic color-matching with your existing décor scheme, which is helpful.
Eight Massage Nodes & a Few Basic Options
As we mentioned at the start, Favor 3 uses eight stationary massage nodes strategically placed throughout the seatback to render the massage.
Most roller-based massage chairs offer 4-6 different massage techniques. This one offers just one: Kneading. It's not very versatile, but the one technique on offer here is well implemented and feels good (with a caveat that we'll talk about in just a moment).
On the other hand, Favor 3 has four pre-programmed massage routines giving you a few options that amount to variations on a theme. These pre-programmed options are:
In addition to these four pre-programmed options, the chair allows you to create your customized massage, combining both the stationary massage heads with the airbags, which we'll talk about a little later on.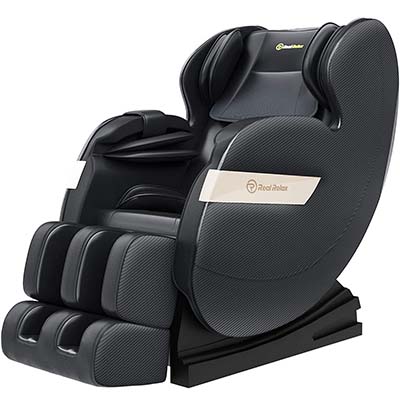 All massage options default to a 20-minute duration but can be increased or decreased in five-minute increments. The maximum possible duration of a massage on this chair is 30 minutes. The speed and intensity of the rollers can be controlled via three options (mild/moderate/strong), so you do have at least a few customization options available.
The final thing to mention before we leave this section is that if you do decide to create your custom massage, there's no way to save it for use later on. If you want that same massage again, you'll have to create it from scratch every time.
3D Body Scan
This will be a short section because the Favor 03 massage chair doesn't utilize any sort of body scanning technology.
It's simply not needed, given the fact of stationary massage heads. Note that this has implications for the overall quality of the massage this chair is capable of giving you. The heads are either going to be placed somewhere close to your body's pressure points or not.
If they are, you'll be fairly impressed with the massage quality. If they're not, you'll be underwhelmed. Worse, there's absolutely nothing you can do about it because you have no means of shifting or changing the position of the massage nodes. Most of the other Real Relax Favor 03 plus reviews we've read online don't make a big deal about this, but in our view, this is a key consideration.
The Air Massage is Very Good, Verging on Great
Needless to say, the fixed node massage offered by the Favor 3 isn't the best feature of the chair.
If you get lucky and the nodes align with your pressure points, you'll get a decent massage. We find that the node massage is not a great one but also not bad.
The good news is that the Favor 3 has more than just this one trick up its sleeves. It also sports a rather impressive fifty airbags, which can render a surprisingly good full-body airbag massage that you can adjust via three different intensity levels.
While the stationary massage nodes can't really compete with mobile massage rollers, the Favor 3's airbag massage is every bit equal to the airbag-based massage you get from much more expensive chairs. B itself, that's probably not enough to warrant purchasing this model, but it's a big step in that direction.
Two Heated Regions
This is an important part of our Real Relax massage chair Favor-03 review. We love the fact that this model offers heat in two different body regions.
Lumbar heat was something we more than half expected to see, but heated footwells are a bit of a rarity.
Some chairs cost four or five times what the Favor 3 costs that don't offer heat in the footwells, making its presence here nothing short of amazing.
From the remote, you may select to run without heat, with heat in the lumbar area, in the footwells, or both places at once. T ere's no way to adjust the temperature levels, so it's strictly binary. You either run with the heat on or heat off, but temperature control is only offered on a handful of models anyway, so it's not something we were expecting to see in any case.
The bottom line is that heat is a powerful therapeutic addition to the chair, and it's surprisingly well implemented here. It stands as one of Favor 3's strongest selling points.
A Well-Implemented Calf and Foot Massage
In our view, this is the most important component of our Real Relax Favor-03 review, and this is why we'd recommend buying this model.
If you spend a lot of time on your feet every day, and you're looking for a chair you can kick back and relax in, enjoying a very good calf and foot massage with heat, this is the chair you want.
The Favor 3 utilizes rollers in the footwells to massage the bottoms of your feet (adjustable via three different intensity settings), and airbags in the calf ports take care of your calves (also adjustable via three different intensity settings).
Add heat to the equation. Where the calf and foot massage is concerned, the Favor 3 punches well above its weight class, delivering a massage experience that is every bit the equal of massage chairs that cost many times more.
This feature alone is worth the modest asking price of the chair, provided, of course, that you don't especially care that you're losing the roller-based back massage entirely and that the stationary nodes may or may not align well with your body's pressure points. Then again, if your main goal is pain relief for your feet, those things may not matter much.
Some Nice Finishing Touches Too!
Most value-priced massage chairs offer little or most commonly nothing at all when it comes to finishing touches and little flourishes that evoke a sense of quality.
You can imagine our surprise then when we found a few such flourishes on this little chair. They're not major, game-changing features, but the fact that they exist at all on a chair at this price point is beyond impressive.
They include:
We were almost stunned to see Zero-G offered here. G anted, there's only one seating position on offer, but the fact that it exists is amazing.
Note that since there's no body scanning feature, if the leg ports are too short, you'll have to manually adjust the length via the remote.
These are good, high-value additions to the model. W were impressed, and we think you will be too.
Comparing the Real Relax Favor 03 vs. Favor 04
When Real Relax first launched its brand, the Favor 01 was the company's first massage chair. Over the years, Real Relax has updated the original design, and they now sell several different Favor variants.
While the Favor 4 is quite similar to the Favor 3, there are a couple of differences to be mindful of.
First and foremost, Favor 04 has a different aesthetic. O inions will vary but, in our view, Favor 03 is the better-looking chair.
Also, note that the Favor 04 doesn't have heat in the footwells, so you lose that, but you gain a vibration plate that sits under the seat. This renders a simple, vibration-style massage to your glutes.
We're not huge fans of vibration-style massage, but if you are, you'll probably find it to be a good addition.
Finally, Favor 4 offers an impressive three different Zero-G seating positions, where Favor 3 only offers one.
Both are decent chairs, but it depends on what you're looking for at the end of the day. If you want heated footwells, Favor 3 is your chair of choice. If you want more Zero-G seating options and a vibration massage in the seat, then Favor 4 is the better option for you.
Pros & Cons of Real Relax Favor 03
This is a surprisingly good little massage chair. It's got its share of limitations, but there really is a lot to like here.
In our view, here are Favor 3's best features:
There are, however, some weak points in the design. T e most significant of which is the use of stationary massage heads rather than rollers. It also only has one technique on offer (Kneading) and no advanced techniques at all. Finally, there are only a handful of customization options on offer where the massage heads are concerned.
Real Relax Favor-03 Review Conclusion
We readily admit here in our Real Relax Favor-03 review that we don't love this model, but they did an amazing job given its modest price tag and the constraints that put the design team under. For the money, it delivers fantastic results in a couple of key areas.
While we can't give it a glowing recommendation, we can give it a provisional one, especially if you're most interested in an airbag massage or a quality heated foot massage. You'll love it in those two specific instances and probably have money left over after purchasing this model, and that's awesome.
Other Options to Consider
If this chair just doesn't work for you, here are a couple of other options to consider:
This is an example of a "proper" massage chair from the same company. S re, it's more expensive but still incredibly well-priced and capable. If you like the brand and want to support it, this is a great example of their work.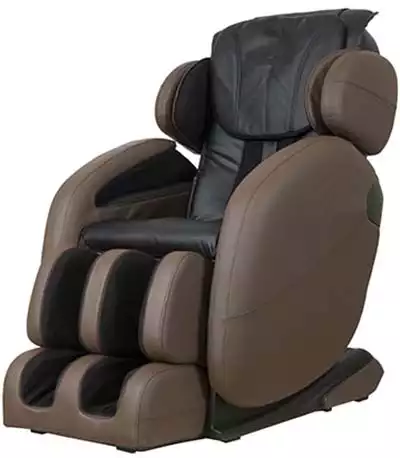 If you're on a budget, you'll have to delay your purchase and save up or wait for this entry-level model to go on sale. You'll absolutely love it when you make your purchase.
Kahuna is one of the big names in the massage chair industry, and this model is one of the best values you'll find anywhere. It's well-priced and brimming with features you're sure to love.
---
References & Resources