In a Nutshell:
The Real Relax PS2000 is one of the least expensive massage chairs that looks like a conventional easy chair when not in use. It is, however, incredibly limited and may not be right for everyone. Recommended for we can't recommend this model in good conscience. While it has some features we're sure some users will like, it's too limited to be a good massage chair even for those on a budget.
* Brand Reliability is a measure of the strength and longevity of the brand, which by extension, is a measure of the level of support you can expect.
Real Relax PS2000 Massage Chair
Recommended For: We can't recommend this model in good conscience. While it has some features we're sure some users will like, it's too limited to be a good massage chair, even for those on a budget.
Check Latest Price
Does your back bother you often enough that you've got your local chiropractor on speed dial? Are you looking for an affordable massage chair you can buy so you can get the pain relief you need from the comfort of your home, any time day or night?
If you answered yes to those questions and your search has brought you to our Real Relax PS2000 review, we're sorry to report that your search will likely have to continue, but no worries, we can help with that.
The simple truth is that while this chair does have some attractive features, it's probably not going to be enough for most prospective buyers.
On the other hand, you might find the features on offer here to be exactly what you're looking for.
In the sections that follow, we'll step you through everything this model has to offer, and we won't pull any punches when it comes to describing the model's shortcomings.
That way, you'll have all the details at your fingertips so you can make that decision.
Sounds good? Then read on, and let's take a closer look.
An Overview of the Real Relax PS2000 Massage Chair
This is a surprisingly strong component of our Real Relax PS2000 review.
You may not be familiar with the name "Real Relax." They're an off-brand with a relatively small footprint in the American market. Despite this fact, the company has a reputation for making surprisingly good chairs that punch well above their weight class.
Unfortunately, the PS2000 isn't one of those. Every company makes weaker models, and in our view, in their quest to create a value-priced massage chair, Real Relax cut a few too many corners here. That's not to say this is a bad chair. It's got some decent features, but it is…limited.
The odds are that it's simply not going to give you the quality massage experience you're looking for.
Starting with the basics, if you've spent any time at all browsing the massage chair market, then you know that most massage chairs don't make any effort to disguise what they are. There are only a couple of companies that make massage chairs that look like conventional living room furniture when they're not in use, and most of those designs are incredibly expensive.
Real Relax decided to take a crack at it, and they did a surprisingly good job.
When you're not enjoying a massage, the PS2000 looks pretty much like a conventional living room chair. Even better, if you decide you want one, you can order yours in either bronze or black, which gives you at least some flexibility in terms of blending your massage chair in with the rest of your home décor.
That may not matter to some potential buyers, but if it's important to you, then you should know that this is about the least expensive massage chair that doesn't actually look like a massage chair, and that's pretty cool.
It's also not a very big chair, measuring just 29.8" W x 35.6" D x 44.4" H and weighing a scant 120 pounds, which is to say that if you decide you want one of these, you probably won't have any trouble getting it from the porch to whatever room you plan on putting it in, even if you don't have help.
Even better, the chair comes fully assembled. All you have to do is slide the box where you want it, cut the box away, plug it in, and take a seat. When you sit down, you'll be delighted by how comfortable the chair is. The seat pad isn't conventional block foam like you find in most chairs. It's memory foam.
That's fantastic, but there's a catch. You'll be incredibly comfortable, but it's worth mentioning that this isn't an L-track massage chair. The rollers don't travel under the seat to massage your glutes and the backs of your thighs. Their range of motion stops at your lower back.
It's also worth mentioning that this chair can only support up to 250 pounds of user weight. This is significantly below the informal average of around 300 pounds that you find on most of the massage chairs sold today.
If you weigh less than that, this limitation won't bother you in the least. If you happen to weigh more, it's going to be an absolute dealbreaker.
Assuming it's not an issue for you, there's a lot to like here. The aesthetic, the small size and light weight of the chair, the fact that there's no assembly required and that the seat cushion is memory foam—those are all strong selling points.
On top of that, the company offers this chair with a handy removable tray/work table you can use to play around with your laptop or tablet, have dinner and a drink, or similar. It's a small thing, but it's actually a really handy, versatile addition that definitely adds value to the chair.
We like it, and we think you will too. Unfortunately, as you'll see, the bloom is about to come off the rose.
The Real Relax PS 2000 Massage Chair Incorporates Mostly State-Of-The-Art Technology
We'd rate this as an average to a slightly below-average component of our Real Relax PS2000 review.
As is the case with most of the massage chairs on the market today, this one comes with body scanning technology.
While the body scanning tech offered by Real Relax isn't quite as good as that offered by big names like Kahuna and Osaki, it's quite accurate and will reliably reposition the rollers so they hit your back's pressure points with precision.
In the event that the body scan doesn't get it right, you'll find controls on the remote that will allow you to manually nudge them where they need to be, so you'll always get the best massage this chair is capable of giving you.
The PS2000 utilizes quad rollers on an S-track that allows the rollers to travel from your upper shoulders to the small of your back. Although the rollers can't travel under the seat, your consolation prize is the memory foam seat pad, which will make sitting in the chair amazingly comfortable while you're enjoying your back massage.
Normally, we'd wait until later to talk about the leg massage ports, but it's worth giving them a mention now because they've got some limitations to be aware of.
First of all, this chair does offer an airbag-based massage, which is rendered by a dozen strategically located airbags, some of which are in the leg massage ports where they can tend to your calves.
Although at first glance, it appears that this chair has foot rollers for the soles of your feet. It doesn't.
What it has is a stationary ridge that you can rub your foot on. Needless to say, this isn't exactly ideal.
The airbag massage for your calves is competently implemented, but ultimately, the calf and foot massage comes up a bit short because the foot massage is substandard (and entirely manual).
The quad rollers do have a unique feature that's worth talking about, though. The company refers to them as "3D convex-concave robotic hand rollers." Where most rollers are smooth and round, these are dimpled, for lack of a better word.
We're not convinced that this makes a huge difference in terms of overall massage quality, but it is interesting.
It's also worth mentioning that Real Relax refers to their massage track in different places as an S track and a W track.
We're not sure what a W-track is, so for the purposes of this review, we're going to stick with industry conventions and call it an S-track. In any case, much of the technology you'll find on this little chair is state-of-the-art, with the notable weak point being the leg massage ports.
The Real Relax PS2000 Massage Chair Offers a Surprising Number of Massage Options For the Money
Even though there are a surprising number of massage options on offer here, we'd actually only rate this as an average component of our Real Relax PS2000 review because those massage options come with some serious caveats. Let's review.
First, in terms of massage modes (techniques), we find an amazing eleven on offer! Bear in mind that most of the massage chairs on the market today, including the ones that cost ten thousand dollars or more, offer between five and eight different massage techniques, so the fact that this inexpensive chair offers eleven should raise some eyebrows.
Here are the techniques on offer:
On its face, this looks fantastic, but in practice, most of these are very slight variations on a theme.
There are three different variants of "knocking," then kneading and knocking, then two variants of kneading, two very slight variations of Shiatsu, and two variants of something that is billed as Swedish massage but only bears a passing resemblance to it.
In our view, you're not actually getting two advanced techniques. What the company calls Swedish massage is actually yet another slight variation of their basic techniques, but it does feel good, and at the end of the day, that's what most people are looking for in a massage.
Long story short, while there are nominally a ton of options here, in practice, you won't find a huge difference between them. Even so, it's well worth spending some time experimenting with them all so you can zero in on your favorites.
In terms of pre-programmed massage options, the chair fares better. There are six on offer, and they are:
All of these are quite good, but our favorite is the Deep Tissue massage, which has genuine therapeutic value. If you suffer from chronic pain, this will probably be your go-to massage, though all of these are different enough that you'll have fun trying them out and alternating between them.
Even better, this chair does offer at least some ability to customize your experience, offering five levels of roller intensity and five levels of airbag intensity from the simply designed remote.
Surprisingly, the PS2000 Massage Chair Offers Heat!
This is probably our favorite aspect of the chair's design and the single strongest component of our Real Relax PS2000 review. This little chair has heat!
Granted, it's only located in the lumbar region of the seatback, and you can't control the temperature, but honestly, the fact that heat is available on a chair this modestly priced blows us away.
This stands as a second therapeutic feature the PS2000 chair has to offer. If you suffer from chronic pain, using this in conjunction with the deep tissue massage will probably be your preferred mode of operation where the PS2000 is concerned.
It's Even Got a High-Value Extra
If heat wasn't enough, the PS2000 chair also offers a basic massage timer that allows you to set the duration of any massage to either 10, 20, or 30 minutes at your preference.
While you won't find Bluetooth speakers or other design flourishes, the massage timer is a nice addition that definitely adds value to the chair.
Pros & Cons of Real Relax PS2000 Massage Chair
Here are the things we think you'll like best about this little chair:
On the flip side:
Real Relax PS2000 Review Conclusion
This isn't an awful massage chair by any means, and it might be perfect for a very specific class of users.
In our view, the ideal user is someone who:
The more of those that apply to you, the happier you'll be with this chair, but in our view, this defines a very specific type of user. Based on that, we can't recommend it to the broader market.
Other Options to Consider
If you've read to this point and have decided this chair isn't a good fit for you, here are a couple of other options you may want to consider.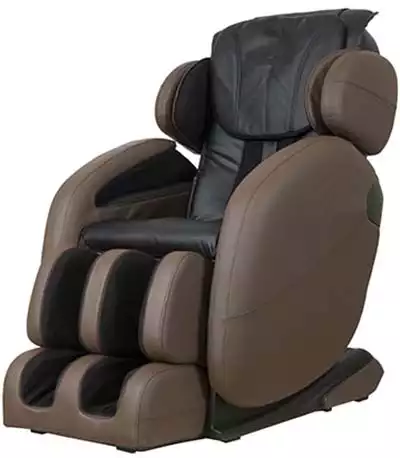 In our view, this is the best value on the massage market today. It's a tremendously good design offered by one of the most respected companies in the industry. It is more expensive than the chair we just reviewed, but it's well worth the extra money.
If you like the Real Relax brand, then give the 6500 some serious consideration. It is also more expensive than the chair we just reviewed but is a much more feature-rich offering and an incredibly capable, versatile chair. It definitely belongs on your short list of options to consider.
---
References and Resources