In a Nutshell:
The Real Relax PS3100 is a very good, basic massage chair that falls somewhat short of true greatness. Recommended for anyone on a budget who weighs 400 pounds or less and is looking for a basic massage chair with a couple of basic therapeutic options.
* Brand Reliability is a measure of the strength and longevity of the brand, which by extension, is a measure of the level of support you can expect.
Are you on a budget? Do you have to make regular visits to your local chiropractor in order to help mitigate the chronic pain you suffer from?
If you answered yes to either of those questions, then you're going to be intrigued and then some by what you read in this – our detailed Real Relax PS3100 review.
Real Relax isn't a giant in the industry. They are a smaller company with a limited brand footprint, but their products are well worth considering if you're on a budget.
In the sections that follow, we'll tell you everything that the Real Relax PS3100 has to offer, and we'll be quick to point out the areas in which the chair comes up a little short.
Even if you ultimately decide that this isn't the model you're looking for, we think that by the time you reach the end of this review, you'll be impressed.
If your interest is piqued, let's jump right in and take a closer look at what this machine brings to the table.
An Overview Of The Real Relax PS3100 Massage Chair
The first time you see the 3100, you'll know exactly what it is and what it's for because it looks like what it is. There's absolutely no mistaking that it's a massage chair.
That's not a bad thing because most people who are in the market for one care more about results than aesthetics. But it's important to at least mention that unless you've got a high-tech or sci-fi décor scheme in your house, the 3100 will tend to stick out.
The good news is that this isn't a huge chair, at least not by massage chair standards. With a footprint of 30" W x 54" L x 48" H and a total weight of 152 pounds, it won't be too much of a challenge to find a permanent home for it – even if space is at a bit of a premium in your living room.
Even better, despite its modest footprint, this model can support up to 400 pounds of user weight, which is substantially above the industry average of 300 pounds. So right off the bat, kudos to Real Relax for designing a chair that more than 95% of the market can make use of!
One final point to mention here is the fact that the company did try to incorporate "wall-hugging" technology here and was at least somewhat successful at it. Chairs without this feature can require up to two feet of clearance between the seatback and whatever wall you place the chair near.
In this case, you only need about twelve inches.
That's decent but certainly not best in class. It's not difficult at all to find models that only require 3-4" of clearance. So if space in your house is at a premium, you may be better off looking for a model that hugs the wall more closely than this one does.
SL-Track Paired With Quad Rollers
Many smaller companies tend to cut corners here, but this is actually a pretty strong component of our Real Relax PS3100 review. The company has incorporated the current industry standard of quad rollers, which do an admirable job of mimicking the feel of human hands.
Even better, Real Relax decided to go with an "SL" massage track. It starts at your head and neck and travels down the length of the seatback, then turns and continues on underneath the seat so the rollers can massage your glutes and the backs of your thighs.
Best of all, this is a 3D massage track – meaning that the rollers can move along the X-, Y-, and Z-axis, which allows the rollers to render a deeper and ultimately more satisfying massage. That's outstanding, and we're happy to see Real Relax using the latest technology in this design.
Body Scanning Tech
Most of the massage chairs on the market today offer some kind of body scanning tech, which positions the rollers before your massage begins in order to hit your pressure points precisely.
Here, Real Relax does fairly well, but their body scanning tech is a bit inferior to that found in some of the bigger brands.
Even so, in practice, it gets the rollers in the right spot more than 90% of the time. In those rare instances where the rollers aren't positioned exactly where you want them, the 3100 does offer manual roller positioning via the remote, so you'll never have a substandard massage with this chair.
Basic Massage Options Available
Here, the PS3100 massage chair winds up being a little underwhelming. The company says their chair offers twelve different massage techniques, but that's not actually the case. You'll find the following techniques on offer:
Those are the basic massage options you find on most of the chairs sold today, so what's going on here?
Well, the company is apparently counting the three intensity settings for each option as a separate technique.
It isn't, so we'd ask readers to disregard that claim (note too that the rollers can also be adjusted via the remote through three different speed settings).
In addition to that, you can either enjoy a full body massage or choose from the following body regions if you one to focus on a particular area:
Note that these body regions are applicable to the airbag massage too, which we'll talk about a bit later.
Finally, the 3100 offers six pre-programmed massage options for one-touch convenience. These are:
Taken together, this gives you an impressive number of options, given the modest price of the chair.
A Decent But Not Outstanding Air Massage
A moment ago, we mentioned that the three different intensity levels applied to both the airbags and rollers, which was a giveaway that this model has airbags. It does, although there aren't a tremendous number of them.
The older PS3000 massage chair, which the PS3100 replaces, had 20 airbags. This one has 24. Generally speaking, more airbags equals more fine-tuned control and a better overall air massage. But twenty-four – strategically placed on the chair – are sufficient to give you a decent, relaxing air massage.
It's not world-class, and we don't think that anybody would buy this chair on the strength of its airbag massage, but it's very good that the company incorporated airbags into the design. It provides a solid, relaxing experience that definitely enhances the chair's value.
Two (and a Half?) Therapeutic Features On Offer
So far, everything we've talked about in our Real Relax PS3100 review has painted this as being a massage chair ideal for casual users on a budget.
The 3100 is that, but it also has a couple of very good therapeutic features that make it useful to those who live with chronic pain.
The first therapeutic feature to draw your attention to is Zero-G seating. Inspired by NASA, this feature won't actually make you float around your living room, but it will do a good job of making you feel weightless, which is very relaxing.
On top of that, Zero-G seating has been shown to help improve blood flow and circulation, and it helps people who have had surgery recover more quickly.
The final benefit is that if you combine your Zero-G seating position with a massage at the highest intensity setting, the 3100 can come pretty close to rendering a deep tissue massage. It's not quite that intense, but it comes pretty close. And for a chair offered at such a modest price, that's amazing.
This, the "almost a deep tissue massage," is the "half of a therapeutic feature" we referenced in the bolded heading for this section.
The second "full-sized" therapeutic feature to talk about is heat. Massage feels great, but heated massage takes it to the next level. Only about a third of the chairs on the market today offer heat, and most of those only offer heat in the lumbar region of the seatback.
The 3100 takes it a step further, with the offered heat extending well into the mid-back. We would have loved it if the 3100 would have also offered heated footwells, but that's almost unheard-of in value-priced massage chairs, so we can't really hold that against the design team.
A Surprisingly Good Calf & Foot Massage
The calf massage is rendered by airbags located in the leg massage ports, and the foot massage by rollers located at the bottom of the footwells. Both of these can be adjusted via the remote through three different intensity levels.
The net result is a surprisingly good calf and foot massage. And if you spend several hours of each day on your feet, this feature may wind up being the reason you pick this chair over one of the other models you're considering.
The only thing that would make it better would be if the design team had included heat in the footwells, but that would have increased the price of the chair, so we understand why they opted not to. Even so, this is a solid feature implementation, and it makes this chair punch a bit above its weight class. Again, kudos to Real Relax!
A Trio of Finishing Touches On Offer Too!
If you've been impressed by what you've read thus far, you're going to really love the fact that the Real Relax PS3100 massage chair offers a few high-value extras too. These include:
A handy USB port that allows you to keep your phone charged while you're enjoying your massage
Built-in Bluetooth speakers, which you can easily sync your phone to and listen to your favorite music or podcasts while getting a massage.
And a massage timer that allows you to customize the duration of whatever massage you choose. All of the massages default to a fifteen-minute duration, but you can customize this to a minimum of five minutes or a maximum of thirty.
These are all outstanding additions we hadn't expected to see in such a modestly priced chair offered by a smaller company.
Pros & Cons of Real Relax PS3100
As long as you're not especially brand conscious, the Real Relax PS-3100 is a surprisingly good chair that's as attractive to casual users as it is to those with basic therapeutic needs.
Although it's not hard to find a massage chair with more in the way of therapeutic features and better implementations (more extensive heat, a more advanced body scanning system, more Zero-G positions, etc.), those chairs will inevitably cost you a lot more money.
In our view, the strongest selling points of this model are:
On the other hand, the model is not without its drawbacks and limitations. These include the fact that:
Keeping in mind that this is a value-priced chair, we regard all of this model's shortcomings as forgivable, and we think most people will agree.
Real Relax PS3100 Review Conclusion
The Real Relax PS-3100 massage chair does a good job of straddling the line between a chair that's attractive to casual users while simultaneously offering enough therapeutic features to make it attractive to people who suffer from chronic pain.
Most remarkably, it does this without raising the price to the point where the chair is out of reach for many of the people who could benefit the most from it.
That's no easy feat, and we regard this model as an impressive design. We recommend it, especially if you're on a budget. This chair, offered by a plucky little company you may not have heard of before, really delivers.
Other Options To Consider
If you're not completely sold on the PS-3100 or it's just not a great fit for you, here are a couple of other options you may want to consider:
Kahuna LM6800 Massage Chair
Recommended For: Hobbyist/casual users, chronic pain sufferers, and taller users, almost anybody, will love this chair!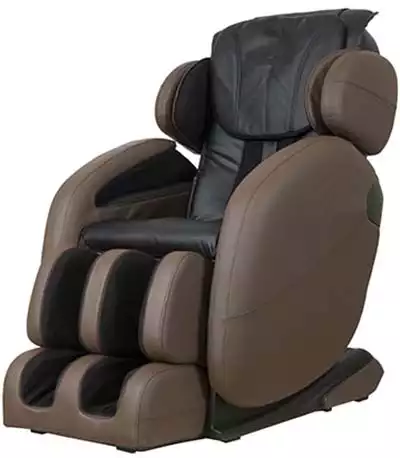 This is one of the best values in the massage chair market today. Kahuna is a legend in the industry, and all the chairs they offer are loaded with features. It's also worth mentioning that Kahuna offers the best body stretch in the industry today, and the little 6800 makes that available to you.
It is a little more expensive than the model we just reviewed, but if you're interested in buying from an industry leader, this one belongs on your shortlist of options to consider.
Osaki OS-Monarch Massage Chair
Unless you're specifically looking for a low-priced chair that can deliver a good foot massage, there are better options out there, and we can only provisionally recommend this one.
Osaki is another industry leader, and the OS Monarch is an excellent example of their work. This model features more auto-programs than the model we just reviewed and has a fantastic suite of features on offer – all of them superbly implemented.
While we don't regard Osaki chairs as being quite as good as Kahuna's models, they don't miss the mark by much, and Osaki's quality is consistently good. This is a superb value-priced option to consider.
---
References & Resources: