In a Nutshell:
The Relaxonchair Ion 3D massage chair is a stunning new design from one of the smaller players in the industry. It is recommended for anyone weighing up to 320 pounds, especially those on a budget. This chair punches well above its weight class.
* Brand Reliability is a measure of the strength and longevity of the brand, which by extension, is a measure of the level of support you can expect.
Are you on a budget? Have you been searching for a well-priced massage chair that's packed with features and offers enough therapeutic value that it can replace your periodic trips to the chiropractor?
If you answered yes to those questions, then you will be thrilled by what you read in this—our Relaxonchair Ion 3D review.
Relaxonchair isn't one of the titans of the industry. An off-brand—they don't have a big marketing budget nor a big footprint in the marketplace, so you may not be familiar with the name.
If not, know that even though they're on the small side, they've been in the game for a while. Their products are designed in the US and manufactured in China, and while they do produce a few lackluster designs, they have been known to create surprisingly good robust chairs.
The Ion falls into that latter category, and in the sections that follow, we'll step you through everything this fairly recent addition to the Relaxonchair has to offer, so you'll have all the information you need to decide for yourself if this is the chair you've been looking for. We think you'll be impressed even if it's not a good fit for you. Let's take a closer look.
An Overview Of The Relaxonchair Ion 3D Massage Chair
The design team behind the Ion didn't stray out the lines or attempt to push any boundaries when it came to the overall aesthetic of the chair. It looks like most of the other massage chairs on the market today.
That's not a bad thing unless you're specifically looking for a chair that works hard to disguise its true function. If you are, then this one will be a non-starter right out the gate. You'll probably be happier with a chair by Human Touch or some other company with a reputation for building massage chairs that can pass for conventional recliners at first glance.
Assuming you don't mind the slightly futuristic vibe the chair gives off and assuming that champagne grey will blend easily enough into your existing home décor scheme, you'll find a lot to like about this model.
Before we get to the particulars, though, we should point out that this is a pretty sizeable piece of furniture, with an upright footprint that measures 61″ L x 33″ W x 50″ H and a fully reclined footprint of 68″ L x 33″ W x 41″ H. The chair weighs a hefty 255 pounds and, of significance, can support up to 320 pounds of user weight.
That matters because oftentimes, off-brand chairs tend to support a disappointing amount of weight.
The Ion is a happy exception to that rule, and this chair can accommodate the vast majority of the market, built for users up to 6'5″ tall!
Big as it is, if you live in a smaller home or apartment, you may struggle to find a permanent home for it, but its saving grace is that it's built with space-saving technology and only requires 3.5″ of space between the back of the chair and whatever wall you decide to place it near.
The Relaxonchair MK-Ion 3D Sports All The Latest Massage Chair Technology, Plus…
This is a surprisingly strong component of our Relaxonchair Ion 3D review. The company knows how to build a great massage chair, and they pulled out all the stops when creating the Ion.
The chair is built around a very long SL massage track that starts high in the seatback and travels all the way down its length. Then, it turns and continues under the seat, allowing the rollers to massage your glutes and the backs of your thighs.
While no industry standard is defined, all the best massage chairs being produced today feature quad rollers that move along the track. The Ion is one of only a handful of chairs on the market today that features an impressive six-roller array.
Generally speaking, the more rollers, the more the massage you get from the chair in question feels like human hands.
The inclusion of a six-roller array here is incredible and really gives the massage that the Ion is capable of delivering a superb, difficult-to-define quality. You'll definitely be able to feel the difference between the massage this chair gives you and the massage most other chairs are capable of. It's fantastic.
It's also worth mentioning that the track allows the rollers to move along the X-, Y-, and Z-axis, making this a 3D massage chair, which means that the Ion can give you a deep tissue massage.
If you suffer from chronic pain and pay regular visits to your friendly neighborhood chiropractor for a massage, you'll really appreciate this feature, which has genuine therapeutic value.
In addition to that, Relaxonchair has included body scanning tech so that when you order a massage, the chair will take a quick scan of your body and adjust the positions of the rollers so that they align precisely with your pressure points.
The tech gets the position of the rollers right about 95% of the time, and in those relatively rare instances where things are a little out of place, you'll find controls on the remote that allow you to manually tweak the position of the rollers. That way, you'll never get anything less than the best massage this chair can deliver.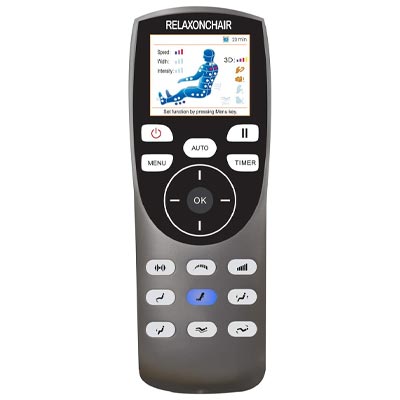 For the control system, the folks at Relaxonchair didn't take any chances, relying on a wireless remote that looks like a wider version of your TV remote, except that this one also happens to include a smallish LCD screen used to provide visual indicators about what the chair is currently doing.
In our view, what makes this a noteworthy section is the fact that most smaller brands don't do a lot of innovating. They follow the pack, so we're very pleasantly surprised to see a six-roller array in use here. Kudos to Relaxonchair!
The Ion 3D Massage Chair Sports An Above-Average Number Of Massage Options
Although the Ion only offers an average number of massage techniques, overall, we're impressed by the total number of massage options available. Let's start by looking at the techniques available. These include:
This is the standard set of techniques that most chairs bring to the table. There's nothing remarkable about this list, but of course, available techniques are just the tip of the iceberg. In addition to these, the Ion has ten pre-programmed massage options available. These are:
We're seeing more and more brands offer pre-programmed massage routines based on lifestyle, so we're very happy to see Relaxonchair follow suit here.
Music Sync is often described as a technique rather than a pre-programmed routine, but either way, it's an interesting addition. It varies the action of the rollers based on what type of music you're listening to—courtesy of the speakers built into the chair—and is well worth experimenting with.
Be aware, though, of the fact that depending on your musical tastes, this routine may either be one of your favorites or feel like it's beating you to death!
The other big, noteworthy pre-programmed option to talk about is the body stretch.
We mentioned deep tissue massage earlier and highlighted it as one of the therapeutic features the Ion brings to the table. Body stretching is a second and is designed to replicate the "adjustment" you get when you head down to the chiropractor's office.
While Relaxonchair's body stretch isn't one of the industry's best, it is still very good and has genuine therapeutic value. If you suffer from chronic pain, the combination of a deep tissue massage and a good stretch will go a long way toward making you feel better.
On top of the pre-programmed options, this chair offers spot and partial massage modes, three different roller speed settings, and a 3D mode with four different intensity settings, which combine to give you an impressive number of massage customization options, especially given the price this chair is being sold at.
Zero-G Seating Is Available
Zero-G seating is a third therapeutic feature that the Relaxonchair Ion 3D brings to the table. Inspired by NASA, it truly does leave the person sitting in the chair in that position with a feeling of weightlessness.
While that's relaxing, its therapeutic value stems from the fact that it helps lower blood pressure, improves circulation, and even assists with post-surgical recovery, so if you've had an operation of some kind recently, you're probably going to fall in love with this feature.
Unfortunately, there's only one Zero-G seating option available. We're not stunned by this limitation, especially given the relatively modest price of the chair, but we would love to have seen two or even three Zero-G seating positions. Here's hoping we will in some future model update!
Lumbar Heat
We love that this feature is present and gives the chair yet another therapeutic feature, but there's nothing exceptional or remarkable about the feature implementation.
We've read other Ion 3D massage chair reviews that go on and on about the offered heat.
While we absolutely love heat combined with massage, and this feature is competently implemented, it's not especially noteworthy. It's not as though Relaxonchair offered heat in the footwells or gave precise temperature control to the end-user, but yes, it's a good feature, and we're glad the company included it.
An Okay Airbag-Based Massage
This isn't a particularly strong component of our Relaxonchair Ion 3D review, but it's not awful either.
Outfitted with a total of 38 airbags scattered around the chair, the Ion can give a decent but not superior airbag-based massage that users can adjust via the remote through three different levels of intensity.
In addition to that, you can selectively activate airbags by body region if you don't want to activate them all at once, choosing from "Overall" (full body), "Upper" (shoulders), "Middle" (arms and waist), and "Lower" (legs and feet).
More expensive chairs with more airbags give you a greater number of body activation regions, but given that this is a lower-priced chair, we weren't at all surprised to see a few corners cut in a bid to keep the final price of the chair as low as possible.
An Outright Awesome Calf and Foot Massage
In our view, this is the keystone feature of the design.
Most massage chairs use airbags to massage your calves and rollers for the soles of your feet. This chair uses a combination of airbags and rollers for your calves and a combination of airbags and rollers for your feet, giving you a calf and foot treatment that will blow your mind.
Honestly, the only way it could be improved upon would be if Relaxonchair added heat to the footwells.
You can find a few models that do that, but they tend to be pricey, and honestly, if this chair sported the feature, you may never want to leave your house again.
As it stands, if your big complaint is chronically sore feet, this is almost certain to be your favorite feature, made even better by virtue of the fact that you can adjust the speed of the rollers (your choice of two settings).
Only A Couple Of Extras
When it comes to modestly priced chairs, the companies that produce them invariably make sacrifices in a bid to keep costs down. In this case, most of the fun extras got pitched over the side, but the company kept two particularly high-value ones.
The first thing to mention here is the fact that the chair includes a pair of high-quality Bluetooth speakers. You can sync your phone to them and listen to your favorite music, audiobook, or podcast while enjoying a massage.
The second is the massage timer. All of the massages here default to a 20-minute duration, but you can select either 10 or 30 minutes at your option.
Note, however, that Relaxonchair only recommends using this model for a maximum of one hour a day.
This is mostly due to the reliance on lower-cost materials, which just don't stand up as well to rigorous use.
In many, if not most cases, this restriction is fine, but if you see yourself as a power user and need a massage chair that can stand up to more frequent use, then you'll probably want to steer clear.
Pros & Cons of Relaxonchair Ion 3D Massage Chair
PROS
These are the things we think you'll like best about the Ion:
CONS
It does have some limitations to be mindful of, however. These include:
In our view, the strengths of the design far outweigh its weaknesses.
Relaxonchair Ion 3D Review Conclusion
This chair is superb.
We absolutely recommend it for all users. It's got enough therapeutic features on offer to help anyone suffering from chronic pain, and it's low-priced enough to make it a good addition to the home of any casual user.
Other Options To Consider
If you've read to the end of this review and you're just not sold on the Ion, here are a couple of other models you may want to consider: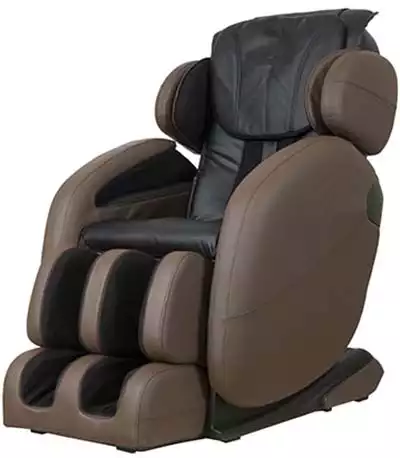 If the thought of buying from a smaller brand sets your teeth on edge, it's well worth saving up for the LM-6800. Kahuna is one of the biggest names in the massage chair industry, and the 6800 is the best value in the industry today, in our view. It's packed with features and design flourishes you're sure to love.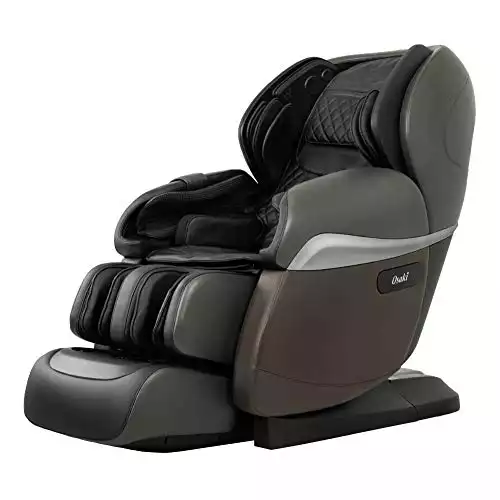 Osaki Paragon 4D Massage Chair
Recommended For: Anyone weighing up to 280 pounds, especially if you can find this model on sale (which is fairly often!). The sale price approaches a 50% discount, making the Paragon an insanely good value.
Check Latest Price
Normally, we wouldn't recommend this chair on a review of a product that's modestly priced because the Paragon at full price is more than twice as expensive as the chair we just talked about. The thing is, though, the Paragon is often on sale and deeply discounted. In fact, when this review was being written, Osaki offered it at a staggering 50% off! That still makes it a bit more expensive than the Ion, but the price difference is well worth saving up for because if you can get the Paragon at half price, it's an absolutely staggering value.
---
Reference & Resources