In a Nutshell:
The Relaxonchair Rio massage chair feels rushed and unfinished. It does sport two reasonably well-implemented therapeutic features, though.
Recommended For: Not recommended.
* Brand Reliability is a measure of the strength and longevity of the brand, which by extension, is a measure of the level of support you can expect.
Are you on a budget? Are you also looking for a low-priced, entry-level massage chair to take the place of your regular visits to your local chiropractor in a bid to help relieve your chronic pain?
If so, then please, before you spend your money, read this Relaxonchair Rio massage chair review to the end to see why we do not recommend this model. For about the same money, you can get a much better chair, and this one is saddled with a few tragic design flaws and limitations that make it impossible for us to recommend it.
The sad thing is, it didn't have to be that way. Although Relaxonchair is a smaller, off-brand, they do make some pretty good models, but, unfortunately, this isn't one of them. Sure, the things it does, it does reasonably well. So on technical merits, it's not categorically awful, but as you'll see in the sections that follow, it's just not a very good design overall.
Let's take a closer look at why.
An Overview Of The Rio Massage Recliner Chair
Aesthetically, we like this model. The design team put some effort into making it look more like a conventional recliner because the leg massage ports fold under the chair and can be 'flipped out' when you want to use them.
Unfortunately, you may never actually want to use them. We'll get to why in a bit. For now, let's just say it's not a bad-looking chair, and its coffee-colored upholstery blends in pretty easily with most home décor schemes.
It's also not a terribly large piece of furniture, with dimensions of 45" L x 26" W x 43" H (so, not much bigger than a regular recliner) and weighing in at 123 pounds.
If it's not the lightest massage chair on the market today, it comes pretty close.
In addition to not being a very big chair, it's also built using space-saving technology, so it only requires 3.5" of space between the back of the chair and whatever wall you place it near. That's solid.
That's proof positive that Relaxonchair knows how to build a good product.
The bad part about that, though, is the fact that since it's not very big and is lightly built, it doesn't support a lot of user weight. This chair was made for people no taller than 6' and weighing no more than 250 pounds. Right off the bat, then, it's catering to a smaller slice of the market than most massage chairs, and those figures may wind up being deal-breakers for you.
It's Got Good Bones Too (Mostly)
In addition to being a decent-looking chair, the Rio is built using mostly industry-standard tech.
You'll find a nice, long SL massage track that allows the rollers to travel from your neck, down the length of your back, and then under the seat to massage your glutes and the backs of your thighs.
You'll also find quad rollers and body scanning tech that allows the chair to detect your body shape and style and move the rollers into position.
Most chairs that offer body scanning tech also offer some means of manually adjusting the rollers, just in case the body scan doesn't get it right. Unfortunately, this one only offers the ability to move the rollers up or down (along the Y-axis).
There is no ability on the remote to move them left or right (X-axis), so if the rollers don't wind up exactly where you want them, there may not be much you can do about that.
This is a huge failing, in our view, because this speaks to design basics. A massage chair is only as good as the quality of the massage it can give, and by not providing a robust backup to the body scan, it can leave some users getting a decidedly substandard massage.
Not good and a really basic failing in design, which is one of the reasons we said earlier that the design felt unfinished.
The final thing to mention before we leave this section is the remote. It's sewn into the chair, so it's like a control pad in the shape of a remote on the chair arm.
That's not awful, but it seems unnecessary. Why not just offer a remote like almost every other massage chair? If you don't like the position or if you find that it's in your way, there's literally nothing you can do about it.
Basic Massage Options But Not Many Customizations
This is a fairly weak point in our Relaxonchair Rio massage chair review, and honestly, this is the heart and soul of any massage chair review, so to mess up here is major.
In terms of techniques, you'll find the following available:
That's more or less the standard loadout you find on every decent massage chair sold today, so we'll call this the minimum necessary to play the game seriously. It's not a bad list of techniques; it's just the minimum we expect to see, which, given that this is an entry-level chair, is fine.
Sadly though, where most chairs in this price range offer at least three different intensity settings, you'll only find two on offer here and no speed adjustment settings at all, which gives you very little in the way of customization options.
On the other hand, the Relaxonchair Rio does offer eight different auto-programs, but the implementation is awful.
Normally, when a chair offers auto-programs, there's either a menu button on a remote with an LCD screen, allowing you to navigate to the auto-program selection screen and pick the one you want, or there's a separate button for each pre-programmed option.
Not here.
Not only are none of the options named, but there's just one button. You just keep pressing it until you find one you like, then you've got to remember how many button presses that took so you can get back to your favorite next time.
That's terrible design, and we know Relaxonchair can do better because they have on most of their other models! Again, we're left with the impression that this is an unfinished model.
There is one saving grace, and that is the spot massage mode, which allows you to move the rollers to the point on your back that hurts the most. Unfortunately, this too is limited by the fact that you can only control the position of the rollers on one axis, but even with that limitation, this feature adds value.
Well-Implemented Heat
This is something of a saving grace for the design and one of the stronger points of our Relaxonchair Rio massage chair review. First, the chair does offer heat, and that's always a plus.
Second thought, the company actually sells itself a bit short here. It describes the offered heat as "lumbar heat", but really, the twin heating coils are bigger than that and provide heat well past the lumbar area of your back and onto your mid-back.
Heat plus massage is almost always better than a massage by itself, so this is a good feature and well implemented, to boot. It's also one of two therapeutic features that the Rio brings to the table.
A Minimalist Air Massage
As a value-priced chair, we weren't expecting to see much, if anything, in the way of an airbag-based massage.
This chair does offer one, but it's quite basic. There are a total of two airbags located in and around the seat, designed to give your hips and thighs a gentle massage.
As with the roller-based massage, the airbag massage offers two levels of intensity. And since the airbags are located in the hip/thigh region and leg ports, there is no "zone activation" feature that allows you to selectively activate airbags. It's air massage on or air massage off, and pick either low or high intensity (which is actually more like low or medium intensity).
One Zero-G Seating Position On Offer
This is the second of two therapeutic features that the Rio brings to the table. Zero-G seating was inspired by NASA. And, as the name suggests, it really does leave you feeling weightless. It's a good feature that promotes faster healing, helps to lower your blood pressure, and improves your circulation overall.
It can also be used to help increase the intensity of the massage the chair is capable of giving.
Put the chair in its Zero-G seating position, select the higher of the two intensity levels, and let your body's weight press you more firmly against the rollers.
Even with that, it still won't qualify as a deep tissue massage, but it feels good just the same.
The Calf and Foot Massage Is Mostly Absent!
In our view, this is the single weakest part of our Relaxonchair Rio massage chair review and, honestly, a disastrous design decision on the part of the company.
They took the time and trouble to build leg massage ports into the chair and then—just didn't include a foot massage at all. And the calf massage is quite minimal, being rendered by four airbags (two per leg port), adjustable via two levels of intensity.
This could have been the highlight of the design had the company actually used the leg ports to their fullest extent. A real missed opportunity here.
Don't Forget Extras!
The Rio doesn't offer a lot in the way of extras, but it's got the most popular basics covered.
Namely, you'll find a handy slot to stash your cellphone in and a USB charging port next to it. You'll also find Bluetooth speakers built into the chair, so you can sync your phone to them and listen to your favorite music or catch up on podcasts while enjoying a massage.
One thing notably absent here, though, is a massage timer. All of the massages you can get from the chair default to a 30-minute duration, and that can't be changed short of just shutting the chair off mid-massage and getting up to do something else.
Here's something important to be aware of, however. In the user manual, you'll find a note to the effect that the company only recommends using the chair for a maximum of sixty minutes per day. Elsewhere in the manual, the company mentions that the chair will shut off automatically if it starts to overheat.
These are serious limitations you don't find on many other entry-level chairs, and it's a bad, bad sign. A chair you're not supposed to use more than an hour a day? No thanks.
Pros & Cons of Rio Massage Recliner Chair
If you've stayed with us through this review, then we think you'll agree—this chair gets some things right, but on balance, there's more bad than good here.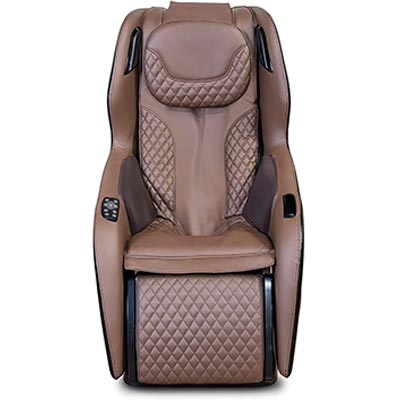 We feel that the two strongest points to the design are the offered heat and the Zero-G seating, while the bad covers a whole host of design sins—from shoddy implementation on the auto-massage routines, the lack of customization options, the inclusion of leg massage ports while simultaneously excluding any sort of foot massage, and only a minimal calf massage.
As we said at the start, the design just feels unfinished—like the design team got called away to dinner in the middle of the job or something.
Relaxonchair Rio Massage Chair Review Conclusion
Given that there are only a couple of things this model gets right and the fact that it seems to almost go out of its way to get things wrong, we can't recommend this model. For about the same money, you can find a chair that offers more features, better overall design, and greater reliability. So, why wouldn't you want to?
Other Options To Consider
If you agree with our assessment about this design and you like to look at some more capable models that are similarly priced, here are a couple of others to consider:
Another entry-level chair offered by an off-brand, but this one has pretty much everything that the model we just reviewed is lacking. Compare the two side by side, and we think you'll be impressed by the 650 and even less impressed with the Rio.
Kahuna LM6800 Massage Chair
Recommended For: Hobbyist/casual users, chronic pain sufferers, and taller users, almost anybody, will love this chair!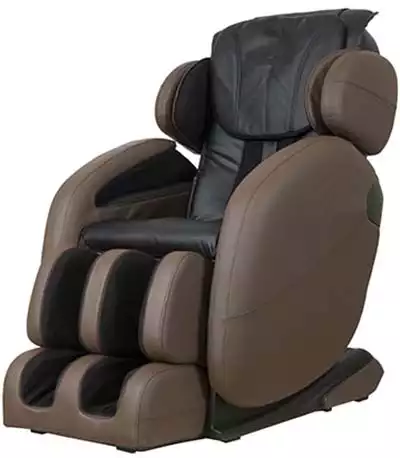 This one is, admittedly, a bit more expensive, but it's offered by one of the biggest and best names in the industry and is honestly the best value in the massage chair world at any price. It's simply an amazing chair that can do so much more than the Rio that it's not even funny!
---
References & Resources