In a Nutshell:
The Titan 3D Pro Prestige Massage Chair is a really good model that uses a mix of older, but still industry-standard tech, and a few more modern innovations.
Recommended for anyone ranging in height from 5' to 6'3", weighing 260 pounds or less, who can afford a high-end massage chair.
* Brand Reliability is a measure of the strength and longevity of the brand, which by extension, is a measure of the level of support you can expect.
Are you tired of suffering from chronic back and/or calf and foot pain? If so, and if you're currently in the habit of alleviating that pain by making regular visits to your local chiropractor, you're going to like what you read in this—our Titan 3D Pro Prestige massage chair review.
Titan is the largest massage chair company in the US and is a subsidiary of Osaki, which is one of the biggest names in the global massage chair industry. As is the case with most companies, some of the products they release are better than others. Titan Massage Chair has some smash hits, and they have the occasional dud.
The Titan 3D Prestige is about in the middle. It's certainly not a dud, but also, it won't blow you away with its litany of bleeding-edge features, though you will find that it incorporates some modern and honestly impressive tech in its design.
Here's the thing, though:
Bleeding-edge massage chair designs are atrociously expensive, and in practice, the only people who buy them with regularity are the ones with big, heaping piles of spare cash. If that describes you, then you're almost certainly not going to find anything in this model that will impress you.
On the other hand, if you're like most of the rest of us mortals and you're in the market for a good massage chair priced in the midrange and sporting features designed to relieve your chronic pain and make you feel better and more relaxed, we think you'll find a lot to like in the Pro Prestige.
In the sections that follow, we'll outline everything this model can do for you, and we won't be shy when it comes to pointing out the chair's limitations. By the time we're finished, we think that even if you ultimately decide that this model isn't right for you, you'll be pretty impressed by it.
If your interest is piqued, read on, and let's take a closer look.
An Overview Of The Titan 3D Pro Prestige Massage Chair
The first thing to point out about this design is among the most obvious. It looks about like you'd expect a massage chair to look, which is to say, vaguely egg-shaped with a futuristic aesthetic. It's obvious, even at a glance, that this thing is a massage chair.
That's not a bad thing, but it's fair to say that most massage chairs won't win any beauty contests, this one included.
On the other hand, most people get that, and if you're suffering from chronic back, calf, or foot pain, the odds are good that you're a lot more interested in finding a reliable way to alleviate that pain than you are worrying about what the solution looks like.
Sure, aesthetics matter, but functionality usually matters more. If that describes your view, then you won't have an issue with the aesthetic of the Pro Prestige.
Having said that, aesthetics aren't completely unimportant either, and if you're specifically looking for a massage chair that looks like a conventional recliner when you're not using it, you'll be pleased to know that there are companies out there that make chairs like that.
Unfortunately, this isn't the chair you're looking for, and Titan isn't the company. What you probably want is a chair from a company called Human Touch.
Assuming you don't have a problem with the look of the chair, you'll be happy to learn that you can get this model in your choice of taupe, brown or black. Color options aren't widely available in the massage chair world, but we're pleased to find a few options here.
The three color choices Titan makes available on this model make it easy to blend the chair in with whatever your prevailing color scheme might be, and that's a good thing.
Moving beyond simple aesthetics, it's worth mentioning that this is a sizeable piece of furniture, measuring 29.9" W x 61.4" L (72.4" L when fully reclined) x 47.2" H and weighing a hefty 210.6 pounds.
That's probably bigger than most people can manhandle on their own, so if you didn't order yours with White Glove service, then you'll most likely want to have a trusty assistant standing by on the day the chair arrives.
Speaking of White Glove service, we don't recommend it.
There's not much assembly that needs to be done on the chair (essentially, hooking up a couple of hoses and attaching the leg massage ports). In our view, it's not really worth paying someone a hefty premium for ten minutes' worth of work, but everyone's needs are different and if you just don't want to bother with it, know that White Glove service is an option.
Even though this is a sizeable piece of furniture, it should be noted that the Pro Prestige is built using space-saving technology, so you'll only need about 1" of clearance between the seatback and whatever wall you decide to place the chair near. That's huge and really does make finding a permanent home for the chair easier.
All of that is interesting, but none of it speaks to the quality of the massage you can get out of this chair, so it's time to move beyond the basics and start taking a closer look at the core technologies that drive and define this model.
The Titan 3D Prestige Massage Chair Boasts a Mix of Older and Newer Technologies
We consider this to be an above-average but not outstanding component of our Titan 3D Pro Prestige massage chair review.
The design team of the Prestige Pro made some interesting decisions in terms of what specific technologies to incorporate into the chair, with some new technology being mingled with some slightly dated tech. The result is certainly a capable chair, but the mix of older and newer technologies may be off-putting to some.
In some cases, it won't matter and isn't particularly notable to the end user. For example, this model sports Bluetooth speakers. That tech has been around for a long while now, and most massage chair companies offer it as a standard feature.
The same can be said for Titan's body scanning technology. Each time you sit in the chair, it will quietly scan your body and adjust the positions of the rollers, so they always hit your pressure points precisely, which results in a better massage for you. That technology has been incrementally updated but hasn't fundamentally changed since the company first began using it.
On the other hand, many companies have abandoned remote-controlled chairs for chairs run via touchpads, which are larger and offer better visibility and the ability to display more detailed information.
The companies that haven't yet moved to touchpad displays typically use wireless remotes with LCD screens. Here, you'll find a wired remote. It does just as good a job at allowing you to control the basic functions of the chair that a wireless remote would do, but ask yourself, when was the last time you saw a television controlled by a wired remote? Were you even alive when they still offered those?
It's not awful. It's just…somewhat jarring.
On top of these things, Titan places a generously sized 52" SL massage track that starts at your neck/upper shoulders and travels down the length of the seatback before turning and continuing under the seat itself, which enables it to render a fantastic massage of your glutes and the backs of your thighs.
While it is possible to find a massage chair with an even longer track, 52" is pretty impressive, and it makes the chair capable of delivering a world-class massage to anyone ranging in height from 5' to about 6'3" and can support users weighing up to 260 pounds.
We're a bit underwhelmed about the supported weight limit, honestly. While there's no formalized standard, most of the chairs on the market today are able to support up to 300 pounds, with some models being able to support substantially more than this.
The Prestige Pro doesn't really measure up in that regard, but this fact will be completely immaterial to you if you weigh less. Of course, it will be a complete deal breaker if you happen to weigh more, so it's something to keep in the forefront of your mind as you evaluate your options.
The final thing to mention before we leave this section sees us ending on a high note. The Titan Pro Prestige pairs 3D quad rollers with its massage track, which is the current informal industry standard.
Quad rollers do an admirable job of mimicking the feel of human hands, and the fact that the track is 3D means that the rollers can move along the X-, Y-, and Z-axis, which both improves the overall quality of the massage you can get from the chair and gives the designers more customization option possibilities, which we'll talk about in the next section!
The Titan Prestige 3D Massage Chair Offers A Fantastic Mix Of Massage Options
There's a lot to talk about in this section, and we consider this a very strong component of our Titan 3D Pro Prestige massage chair review.
For starters, this chair offers six different massage techniques, which is average to slightly above average. These are:
The first four are basic massage techniques similar to what you'll find on most of the massage chairs on the market today. They feel good, but there's nothing truly special about them.
The last two, on the other hand, are advanced massage techniques, and both are exceptional. While Shiatsu is quite common on most of the "good" massage chairs on the market today, Swedish is notoriously hard to find, and as such, we're thrilled to see it offered here.
You can order a massage rendered with any of the techniques above, and it will default to a fifteen-minute duration. Just push the button, recline back, and close your eyes. It's as simple as that.
Or, if you want something a bit more complex, you can choose from any of the following pre-programmed massage routines:
These are all remarkably varied, with the "Relax" and "Sleeping" options being on the gentle end of the scale and the Thai stretching routine being quite aggressive and similar to the chiropractic adjustment you get when you visit your friendly neighborhood chiropractor.
Thai stretching is either the first or second best stretch in the industry, trading places with Yoga stretching (offered on just about every Kahuna chair on the market, for example).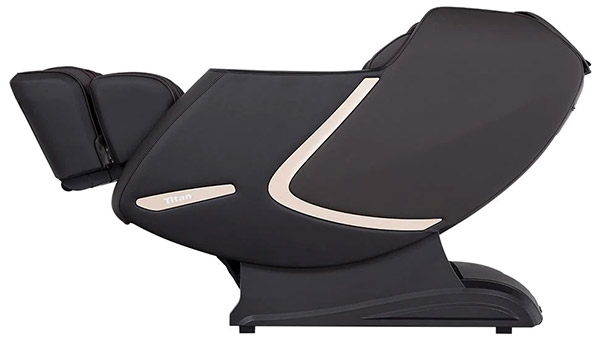 The Yoga stretch is a gentler option, but both have real therapeutic value, and if you suffer from chronic back or neck pain, this will probably be one of your favorite options on the chair.
By themselves, these twelve options would be quite good, but Titan offers you a variety of ways to personalize and customize your massage experience, allowing you to make adjustments in the following ways:
All told, that gives you crazy amounts of freedom and flexibility to personalize your massage experience.
We love it, and we think you will too!
It gets better, though, because, in addition to those options, you'll find both spot and partial massage modes, lumbar heat that can be toggled on or off, and two different zero-gravity seating positions—all of which offer additional ways to relax you and further modify your massage.
Our only quibble here is that with so many different personalization options, we kind of wish that this model also featured a few profile slots that would allow you to save your favorite massage settings for one-touch recall later.
We really like the fact that although this chair can be enjoyed by someone who doesn't suffer from serious chronic pain issues, there are enough therapeutic features on offer with the lumbar heat, the Zero-G seating options, and the excellent Thai stretch routine that if you are a chronic pain sufferer, this chair can really help make you feel better.
Kudos to Titan for managing to cater to both markets!
The Titan Prestige Massage Chair Offers An Average Air Massage
We regard this as an average component of our Titan 3D Pro Prestige massage chair review as we don't see anything remarkable in the air massage implementation here.
The company utilizes 24 strategically placed airbags to render the massage. That's enough for adequate coverage, and it's certainly enough to provide the "gripping action" during the Thai stretching routine, but the coverage isn't as comprehensive as we'd like. And with relatively few airbags to cover the whole of your body, the quality of the massage begins to suffer.
That's not to say it's a bad massage. It isn't, but also, it's not hard to find other massage chairs in the same price range that do this part better.
Few people make a purchasing decision based on the quality of the chair's airbag-based massage, but if this is a critical feature for you, then this is almost certainly not the chair you want.
If you're okay with an average feature implementation, then the five intensity levels will serve you well enough, and note that you can activate the airbags by the following body regions from the remote:
The Titan 3D Pro Prestige Has A Decent Calf and Foot Massage
We'd rate this as a fairly weak component of our Titan 3D Pro Prestige massage chair review because although this chair offers a calf and foot massage, we found the implementation to be a bit wanting.
The one bright spot in the equation lies in the fact that the calf and foot massage is rendered via a combination of both airbags and foot rollers. It feels good, but you don't get any calf and foot-specific settings that allow you to customize that part of your massage, and there's no heat in the leg massage ports.
Even so, if you've got a job that sees you spending several hours of each day on your feet, this just might wind up being your favorite aspect of the chair. We will say, however, that if you're buying a massage chair specifically for an out-of-this-world calf and foot massage, it won't be hard to find better options on the market.
Now, Let's Talk About Extras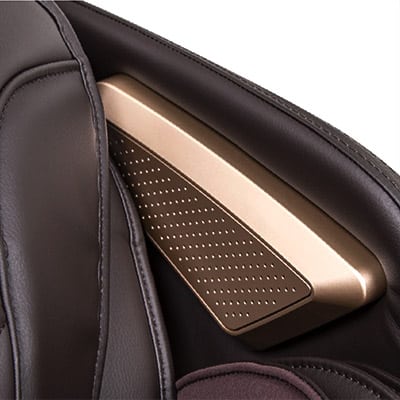 The Pro Prestige isn't blessed with an abundance of extras, but it does have one high-value one that we want to draw your attention to again, and that is the presence of Bluetooth speakers.
These allow you to sync your phone to the speakers and listen to your favorite music or podcast while enjoying an exceptional massage. While it's a common "extra" on massage chairs these days, it's always a welcome addition that enhances the experience.
One thing we want to draw your attention to in this section, though, is the fact that this model lacks a massage timer. All of the massages you can order from the remote default to a fifteen-minute duration, and there's no way to alter that.
It's easy enough to simply turn the machine off if you want a shorter massage or order a second one right after the first massage finishes if you want something longer, but this is a genuine point of weakness in the design, and we wanted to point it out to any prospective buyer.
Pros & Cons of Titan 3D Pro Prestige Massage Chair
The Titan Pro Prestige isn't a perfect massage chair, but it does have a lot going for it. Here are the things we think you'll like best about this model:
It does have some downsides to be aware of, however. The biggest of these are:
In our view, the positives far outweigh the negatives, but we understand that everyone has different needs and priorities.
Titan 3D Pro Prestige Massage Chair Review Conclusion
We like this chair, but we don't love it. There are a few simple things the company could do to update this model and make it significantly more attractive than it currently is. Adding more airbags would be a good start.
Offering heat in the footwells and including options to allow customization of the calf and foot massage would be another. Adding a massage timer and a music sync massage technique would really round the model out and make it feel competitive with the top-end machines in its price range.
As things currently stand, we can only give this one a provisional recommendation. If you buy one, we think you'll enjoy it, but if airbag massage and the calf and foot routines are important to you, you can do better.
Other Options To Consider
If you've read to this point and aren't sold on the model we just reviewed, here are a couple of other options to consider:
Osaki OS Pro 4D Emperor
If you like Titan/Osaki and want to stay in that product family but are looking for a chair that's more up-to-date, the Pro Emperor is a magnificent option to consider. This is a 4D massage chair and will give you a massage that's out of this world. It's got tons of other features you'll love besides, and you'll be absolutely thrilled with its performance!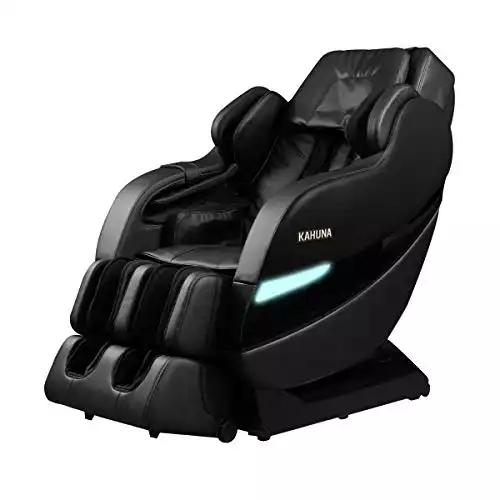 Kahuna is another big name in the massage chair world, and their chairs are uniformly excellent. Instead of offering the aggressive Thai stretch on the models they sell, they gravitate more toward the gentler "Yoga Stretch," which is amazing and not to be missed.
All of their chairs are brimming with cutting-edge features, and this one offers a six-roller array in the place of quad rollers, which gives a massage that will absolutely dazzle you. Well worth a closer look!
---
REFERENCES AND RESOURCES