In a Nutshell:
The Titan Elite 3D is an excellent entry-level, therapeutic massage chair with some cutting-edge features that will impress. Recommended for anyone on a budget, who weighs 260 pounds or less, who's looking for a chair with a solid therapeutic punch.
* Brand Reliability is a measure of the strength and longevity of the brand, which by extension, is a measure of the level of support you can expect.
Do you come home from work every day with sore feet and an aching back? After working in the yard, do you rush for the heating pad or find yourself reaching for the Icy Hot or BenGay to take the edge off?
If you answered yes to either of those questions or if you suffer from chronic pain and are in the market for a good massage chair—priced right and offering some solid therapeutic features—then you're going to love what you read in this, our Titan Elite review.
Don't recognize the Titan brand? Not to worry, this chair is made by one of the leaders in the industry—Osaki.
Titan is simply another brand under the company's umbrella. And as you'll see, it is a sturdy, capable chair by any reckoning.
Having said that, we'll be quick to admit that it's not for everyone. It does have a few shortcomings and limitations to be aware of before you spend your hard-earned money. Ready to find out if this is the massage chair you've been looking for?
Read on, and let's find out!
An Overview Of The Titan Elite 3D Massage Chair
Let's talk about first impressions. The Titan Elite's design team didn't make any special effort to hide the true function of their massage chair, which means that unless you have a space-age-inspired home décor scheme, this model is going to clash with the rest of your furniture.
That's not the end of the world, but it is something to be mindful of.
The good news is that the Titan Elite does come in three different colors (Taupe, Brown, or Black). So although it may not be a match aesthetically, at least you'll be able to do some basic color matching.
In truth, though, most of the chairs sold today don't blend in seamlessly with existing décor schemes, so we can't really count that as a strike against this model. Still, we would have been remiss if we hadn't at least given it a quick mention.
It's about average in terms of its overall footprint, measuring 30″ W x 46″ H (upright) 41″ H (reclined) x 61″ L (upright) to 68″ (reclined) and weighing in at 230 pounds.
It's a sizeable piece of furniture, but if you've got space for a recliner, it should be easy enough to swap it out for this chair.
One point worth mentioning is the fact that the Titan Elite is built with space-saving technology, which means that when you recline in it, it pivots on its base. That's significant because it reduces the amount of space you need between the back of the chair and whatever wall you place it near.
In fact, you'll only need about two inches of clearance, which is superb and makes it even easier to find a permanent home for the chair. Kudos to Osaki for a job very well done on that front!
Unfortunately, before we leave this section, we have to highlight a potentially deal-breaking weakness in the design.
Most of the chairs on the market today (regardless of type) are capable of supporting about 300 pounds of user weight. Some chairs support significantly more than that. The Titan Elite, however, can only support 260 pounds of user weight.
That won't matter to you if you weigh less than that, But if you happen to weigh more, it's going to be a deal-breaker—no matter how much you may like the design overall.
SL-Track & Quad Rollers
Moving beyond aesthetics, the Titan Elite 3D has very good bones, being built with tech that's considered to be the current industry standard. The 3D SL track is delightfully long and allows the quad rollers to travel from your neck down the length of your spine, then move under the seat to massage the back of your thighs and your glutes.
In addition to that, note that we said "3D quad rollers." That's significant because any massage chair that features rollers that can move along the X-, Y-, and Z-axis gives a better overall massage. And on this model's maximum intensity setting, you can get a deep tissue massage from the Titan, which is something we'll have more to say about a little later in this review.
Body Scanning Tech Included
Most of the massage chairs on the market today feature some type of body scanning tech, so the fact that this one does isn't a huge surprise. Even so, Osaki has a very good, highly effective body scanning routine that gets the rollers in exactly the right position based on your body's pressure points—about 98% of the time.
Even better, you'll find buttons on the remote that allow you to manually tweak the roller positions on those rare occasions that the body scan doesn't get it quite right.
That means that every time you order a massage, you'll get the best one this chair is capable of giving, which is pretty awesome.
A Surprising Number Of Massage Options On Offer
This is where the rubber hits the road, and as such, it's a pivotal component of our Titan Elite 3D massage chair review.
The first thing to mention is that the chair offers a stunning eleven different massage techniques.
That's impressive. But before you get too excited, there's actually only one advanced technique, and many of the offered techniques are variations. Here's what you'll find:
We're not 100% sold on the notion of calling the variants distinct massage styles. But even if you strip those out of the count, you're still left with six good techniques and five variations on a theme. This is a lot more than you'll get from just about any other comparably priced chair on the market today, which is amazing.
Even better, the Titan Elite offers 21 different preprogrammed massages, giving you tons of options available at the touch of a button. These options are:
Most of these are self-explanatory, but there are a couple of key things to draw your attention to here.
First, the user manual describes the full body massage as a "deep tissue" offering, which is in alignment with what we were talking about earlier regarding this machine's capabilities.
Second, note that there are a few different highly specialized routines, including neck and shoulder care, spine care, and two different options for your hips and waist.
Finally, this chair offers a body stretch massage routine that utilizes a combination of airbags and rollers. That's huge and represents another significant therapeutic feature (with the deep tissue massage being the first).
While Osaki doesn't have the best body stretch in the industry in our view (that honor falls to Kahuna), theirs is pretty good and definitely adds value to this model.
If that's not enough for you, this chair offers a lot of different customization options, including three different speed settings for the rollers and both spot and partial massage modes that allow you to zero the rollers in on specific areas of your body. Given the Titan Elite's modest price tag, that's simply amazing.
A Very Good Airbag Massage Too
In addition to offering a stellar roller-based massage with a couple of different therapeutic options, the Titan Elite offers a surprisingly good airbag-based massage too.
We'd rate this as an above-average feature implementation, mostly because the air massage can be customized via five levels of intensity—just like the roller-based massage can—but the relatively low number of airbags puts some limitations on the overall quality.
It's still very good, and the company did a good job with strategic placement, but if the chair had more airbags, this feature would be even better.
Also, note that many other chairs (including many of Osaki's other offerings) allow you to specify a number of different body regions, so you can focus on specific areas with your airbag massage. The Titan comes up a bit short in this regard, offering only Upper and Lower body options.
On the other hand, you will find acupressure nodes that will give your hands a delightful massage—a rare feature on massage chairs at any price—so that's definitely a point in the Titan's favor, especially if you suffer from arthritis. In fact, if you do have arthritis, this feature may wind up being your favorite aspect of the chair's design.
Zero-G Seating Options Available
This will be a relatively short section, but it is an incredibly important component of our Titan Elite review.
Only a minority of massage chairs on the market today offer Zero-G seating, and most of those only offer a single seating position. The Titan Elite offers three different seating options, which is amazing.
Even better, if you order a massage using the highest roller intensity setting and put the chair in one of the three Zero-G positions, it will allow the rollers to press even more deeply into your back, so you'll really be able to break up those knots.
On top of that, if you have recently had any type of surgery or if you plan to have surgery in the near future, you'll really fall in love with the Zero-G feature of this chair because it will help mitigate your pain and facilitate your recovery by improving blood flow. That's good stuff!
Lumbar Heat
So far, we've talked about three different therapeutic features the Titan Elite brings to the table (deep tissue massage, Zero-G seating, and body stretching). Well, now we get to talk about a fourth one because this chair also offers heat for the lumbar region of your back.
The massage you get from this model feels good, but adding heat to the equation makes it even better and further enhances the value of the deep tissue massage the chair is capable of giving.
We would love to have seen more extensive heat on offer here, but given the chair's attractive price, we're honestly surprised to see it anywhere.
An Outstanding Calf and Foot Massage Too
This will be another relatively short but incredibly important segment of our Titan Elite review because this chair's calf and foot massage is outstanding, even without heat in the footwells (which, if it had been included, would have made it one of the best in the industry).
Most of the chairs on the market today that offer a calf and foot massage use airbags for the calf massage and rollers for the bottoms of your feet.
This chair does that too, but it also includes a special roller in each leg massage port for your calves, giving it a dimension that we've literally never seen on any other model. It feels great, and if you have a job that sees you spending several hours a day on your feet, then you're probably going to fall in love with this feature.
Best of all, you can adjust the intensity of both the airbags and the rollers via the remote through three different levels of intensity. We love it, and we think you will too.
The Titan Elite Has A Stunning Number Of Extras Too
Given how many therapeutic features we've talked about, and given the relatively low price of the chair, we weren't really expecting anything at all in the way of extras.
The Titan Elite really delivers on this front, which makes it a pleasant surprise, and then some. Here's what you'll find on this chair:
The voice control is somewhat limited as the chair only understands fifteen different commands.
Even so, the fact that you can access so many of the chair's features without bothering with the remote at all is nothing short of amazing!
The commands the chair recognizes are:
"Hi Alice" or "Hey Alice" (activation phrase)
On top of all of that, the remote is incredibly well designed and easy to use. While it will take some time to explore all the chair's features, you can be enjoying your first massage mere minutes after getting it set up in your living room, and that is superb.
Pros & Cons of Titan Elite 3D Massage Chair
We like almost everything about this Titan Elite 3D chair. It's offered at an almost shockingly low price, packed with therapeutic features, and it's got a huge number of finishing touches and design flourishes on top of that, including voice control, which is beginning to become more common but still only offered on a handful of models at this point.
The one big weak point of the design is the fact that it only supports 260 pounds of user weight.
We also wish the heat was more extensive and that the company had nixed the massage variants and offered an additional advanced technique, but everything other than the supported weight limit is more of a minor gripe rather than a genuine problem.
Titan Elite Review Conclusion
Whether you're a hobbyist user or someone who suffers from chronic pain and is looking for a chair with real therapeutic value, you'll find a lot to like here. Assuming that the weight limit isn't a deal-breaker for you, we absolutely recommend it. This chair will impress.
Other Options To Consider
There really aren't any other massage chairs on the market that deliver this level of therapeutic value for the money, so it's not easy to find a comparably priced alternative. That said, here are a couple of other options you may want to consider:
This is a great chair that punches well above its weight class. It has a similar feature set but a slightly different aesthetic and a few functionalities you won't find on the chair we just reviewed. It is a worthy alternative.
Kahuna LM6800 Massage Chair
Recommended For: Hobbyist/casual users, chronic pain sufferers, and taller users, almost anybody, will love this chair!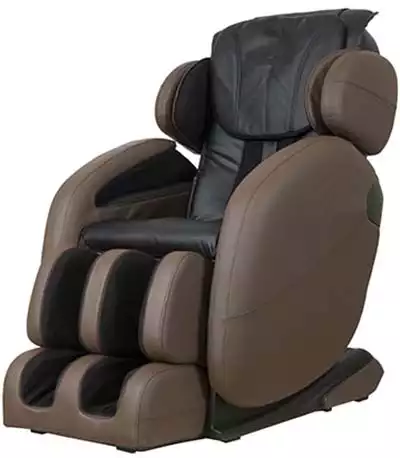 In the value segment of the market, we almost can't help but mention this chair as it is the best value on the market today in our view. Packed with features and sporting the best body stretch in the industry, this is a good alternative for anyone who is looking for the best body stretch around.
---
References & Resources: