For many people, sitting is a large part of their day. Whether it's sitting in an office or working from home, sitting can lead to health problems later in life. The best balance ball chairs of 2023 offer you the chance to be more active, even while sitting.
These chairs also make for great exercise programs that keep you limber and your muscles engaged while you complete other tasks. Join us as we look at the best balance ball seats to meet all of your needs.
Before we go into detail, here's a quick look at our top three picks for the best balance ball chair in the market today.
Best Balance Ball Chair in 2023 Comparison Table
Pros:

Multiple adjustable back positions Large wheels

Pros:

Portable, easy to use for exercise

Cons:

The ball can sink into the frame

Cons:

Chair width may not be enough for some people

Extras:

Adjustable back, multiple colors

Extras:

Open design, rolling wheels
Our Pick
Pros:
Multiple adjustable back positions Large wheels
Cons:
The ball can sink into the frame
Extras:
Adjustable back, multiple colors
Cons:
Chair width may not be enough for some people
Pros:
Portable, easy to use for exercise
Extras:
Open design, rolling wheels
09/20/2023 04:50 pm GMT
The Isokinetics Inc. adjustable fitness ball chair is our top pick for 2023. This design combines everything we want to see from this type of chair. With four different back positions that support a wide range of heights, it's great for tall or short people.
With several different colors to choose from, you can also fit it into any office setting without much trouble. Switching this out for your standard office chair will give you a better posture throughout your day.
Since the back support is adjustable, you can also decide whether you want total support or a more engaging position that engages your muscles.
The CanDo Metal balance ball chair is a great mixture between an office chair and a ball chair. With a wide backrest, armrests, and rolling wheels, it looks just like your standard chair. In the center, a metal frame holds the balance ball in place.
Once you start using this type of chair consistently, you'll notice that you have better posture and less pain from sitting for long periods of time. While sitting and doing your daily activities, your muscles will remain engaged and even allow you to burn calories without moving an inch.
If you prefer a chair without arms, you can choose a different model without arms. The rolling wheels also let you move it around on any surface without difficulty. Some light assembly also makes it easy to get this chair up and ready when it arrives.
Budget Pick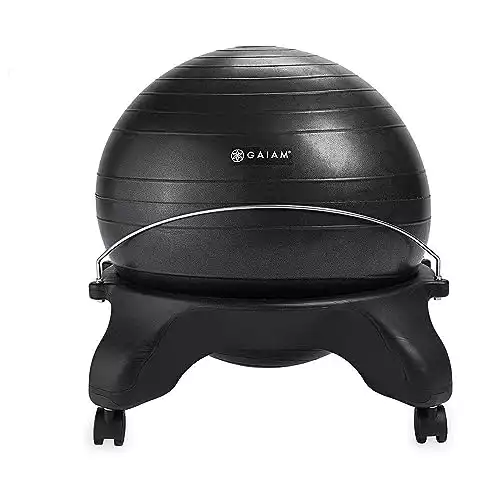 Gaiam is a brand that is known for its chairs that promote "active sitting." This is a simple, but powerful term that describes how ball chairs can change the way you think about sitting still. If you suffer from pain in your back or legs, a chair like this one helps keep your core muscles active.
It also helps you sit in a better posture for your spine. The Gaiam ball chair is best used by people who have a height between five feet and five feet/eleven inches and uses the same ball that this brand is known for. The maximum weight capacity is three hundred pounds.
While the original Gaiam ball chair includes a back, this design is more open and allows you to engage in more activities, especially exercise. A hand pump is included with the purchase, so you can inflate the ball or add air as needed.
The Gaiam Ball Chair model is preferable for many people because the backrest can be cumbersome if you're trying to work in several directions. Without a back, this chair can also be stored underneath your table or desk.
The sturdy base and wheels keep the ball from touching the ground, which also makes it easier to avoid getting the surface dirty. The wheels do not work incredibly well on carpet, which is one downside. The assembly can also be complicated as the instructions are somewhat vague.
Also Great
Also Great
This chair makes a great first impression. The self-standing design pairs with a felt exterior for a great look. A carrying handle also makes the Vivora Luno ball chair easy to move around. Like other types of balance chairs, this one can help relieve sore muscles and give you the freedom to move.
It's a great chair for yoga, but can also be used as an ottoman because of its patented self-standing base. Vivora uses this ball to promote a term they call "Explorative Body Shifting."
This concept describes the body's ability to move naturally while in a sitting position. This will keep your joints and muscles engaged and remove any strain on them.
For those who want a simple and effective solution, the CalCore Exercise Ball Chair is an elegant solution and a great entry-level option. It offers the core engagement and height you need to use it as a chair without any bells or whistles.
While some of these things may be missed, the price for this exercise ball cannot be beaten. The flexibility of the ball allows you to change how much air you put inside, which will make it suitable for sitting in an office or doing exercise.
Why Are Ball Exercise Chairs So Popular?
These types of chairs are incredibly versatile. You can use them for various exercises, but that's only the beginning. Simply sitting on them offers several health benefits over regular chairs.
Here are some of the top reasons why people enjoy these chairs:
While standard chairs allow you to slouch or lean forward, a balance ball chair forces you to maintain your posture and stay active throughout your day.
Let's find out which chairs are best for specific situations.
The Perfect Ball Chair That Has Arms
For this type of chair, your best bet is the CanDo chair on our list. This chair has two options for a model with or without arms. They resemble the same armrests you would see on any other office chair, so the only difference is the ball.
This preserves the look and feel of an office chair, while offering the benefits you want from a ball chair.
Our Top Pick for an Office Ball Seat
While the CanDo chair makes a great option for an office ball chair, we would also like to submit the Sivan Health ball chair.
Its simple design includes a 4-wheelbase and an adjustable back with a wide backrest. The sleek design also puts you in a perfect position for working at a desk. If you prefer the CanDo chair on our list, this one will serve as a great office chair, too.
A Terrific Yoga Ball Chair
Yoga accessories demand a combination of form and function. That is why we recommend the Vivora Luno Chair for yoga enthusiasts. It comes in a variety of colors and materials, but all of them buck the normal trend of being rubber on the exterior.
Instead, you can choose from felt, chenille, and olefin. This makes for some very stylish designs that combine the function of a balance ball with a style that would fit perfectly into any contemporary yoga studio.
The Ideal Ball Chair for Tall People
The best ball chairs for tall people either have an adjustable back or no back at all. The Gaiam Balance Ball Chair on our list is a perfect fit because it has no height limit.
It still retains the wheels and base you want from a balance ball chair, so you don't need to sacrifice any of the features you want, even if you're tall.
The Best Exercise Ball Chair
The CalCore Exercise Ball Chair from our list is a great fit for someone who wants the best exercise ball chair. It doesn't have a base or a structure to sit in, but that makes it more flexible for a variety of exercise techniques.
Choosing Your Ideal Balance Ball Chair in 2023
The best balance ball chair reviews are often given to the chairs featured on our list. These types of chairs offer a lot of health benefits over standard chairs and come in familiar designs.
It's an ideal chair design that offers a lot more than a standard chair. When you're looking for the perfect chair, consider the activities you need it for. Whether it's yoga, exercise, or in your office, there's a balance ball chair for every need.
---
REFERENCES & RESOURCES