In a Nutshell:
The Human Touch Sana is an excellent entry-level massage chair with a good mix of therapeutic features, combined with those that casual users will appreciate. Recommended for anyone weighing 285 pounds or less who's in the market for a basic massage chair with some therapeutic features, offered by a company famous for post-purchase support.
* Brand Reliability is a measure of the strength and longevity of the brand, which by extension, is a measure of the level of support you can expect.
Do you spend time and money heading to your local chiropractor's office on a regular basis? Are you in the market for a massage chair that can replicate those visits, allowing you to enjoy a great massage and even a "chiropractic adjustment" from the comfort of your home, any time you want?
If you answered yes to the questions above, and especially if you want to buy from one of the most respected companies in the business—with a reputation for really taking care of their customers—then you're going to love what you read here.
We readily admit that this chair is a good example of the company's work, but unlike other Human Touch Sana massage chair reviews you may have read online, we actually don't regard this as one of the company's strongest models.
We like the chair and agree that it has a lot to offer, but Human Touch really excels at creating high-end models. This one is a great way to gain an introduction to the brand, but it doesn't shine as brightly as some of the company's other offerings, which are true masterpieces.
That said, if you want a massage chair that does a bit of everything—including offering some good therapeutic features—and you don't mind paying extra for the company's legendary post-sales support, then the Sana belongs on your shortlist of options to consider.
In the sections that follow, we'll step you through everything the chair has to offer, which will enable you to decide for yourself if this is the model you've been looking for. If your interest is piqued, read on, and let's take a closer look.
Overview of the Human Touch Sana Full-Body Massage Chair
Human Touch is one of only a handful of companies in the industry with a habit of designing massage chairs that hide their true function. Many of the company's models feature things like fold-away leg massage ports so that when the chair is not in use, it looks like any other living room recliner.
This isn't one of those models. Here, the design team didn't make any special effort to disguise the chair's function, but they still managed to create a surprisingly attractive chair.
Granted, it still sports an almost futuristic look, which is common among most of the chairs in the industry, but the company does offer the chair in a few different color options.
If you decide you have to have one, you can order your Human Touch Sana massage chair in Espresso, Cream, or Gray Sofhyde.
Softyhde is a term you may not be familiar with. It's the company's proprietary version of PU, which is slightly more durable than the standard stuff. It's worth mentioning because it demonstrates the lengths that the company goes to in order to take care of its customers.
Human Touch leaves no stone unturned. They obsess over every aspect and detail of every design they create.
In terms of basic specs, here's what you're looking at:
There are a number of things to talk about here.
First, as we mentioned, this isn't a huge piece of furniture by massage chair standards. That, combined with the fact that the design sports space-saving wall-hugging technology—only requiring 4" of clearance between the seatback and whatever wall you place the chair near—means that it should be surprisingly easy to find a permanent home for the chair.
Second, be aware that there's a little confusion about the recommended height range for the Sana.
The manual hints at a height range between 5' and 6' tall, while several vendors have specifically stated a maximum height of 6'3." Ultimately, this will depend on your body shape.
If you have a long torso, the 6' range is closer to the truth. But if you have longer legs, then the 6'3" maximum height is the more appropriate measure.
Finally, note the chair's maximum supported weight. While there is no formal industry standard, a survey of the market as a whole reveals that most chairs support an average of about 300 pounds, with many models supporting significantly more than this.
The Human Touch Sana almost meets the informal average but doesn't quite get there.
It's not necessarily a deal-breaker. But if you happen to weigh more than 285, then no matter how much you may love this chair, it's just not a good fit for you.
SL Massage Track and Quad Rollers, But…
Overall, this is a strong component of our Human Touch Sana massage chair review, but not quite as strong as we'd like.
For the most part, the Sana has good bones, being built around a 47" SL massage track and equipped with industry-standard quad rollers.
The track is about average length, allowing the rollers to deliver a massage that starts at your neck and shoulders and down the length of your back. From there, the rollers turn, following the track under the seat, which allows them to massage your glutes and the backs of your thighs.
That's good, but there is an issue. The track is only 2D, so the rollers can only move along the X- and Y-axis. While the rollers do a good job at mimicking the feel of human hands, given the lack of Z-axis mobility, they can't deliver a true deep tissue massage.
It feels good, make no mistake about that, but for chronic pain sufferers looking for a deep tissue experience, this chair's basic massage is going to come up a little short.
No Body Scanning Tech
Almost all of the massage chairs on the market today have some type of body scanning tech, and in fact, most of Human Touch's other models include an automatic body scan.
The Sana does not. Instead of that, you'll find a couple of settings on the remote that allow you to manually position the rollers where you want them, so there's a bit of setup to be done before you can actually start enjoying a massage.
Fortunately, there's a handy "shoulder guide" that has recommended settings for the height and width of the rollers. So the setup process isn't complicated, but if you live in a household with multiple people and they all want to use the chair, you'll find that you have to tweak settings on a regular basis, which may prove to be a bit of an annoyance.
While we understand the desire to save a bit of money by leaving off the scanning tech, we regard this as a poor design choice from the perspective of convenience.
A Good Selection Of Massage And Customization Options
While we were a little underwhelmed by the lack of body scanning tech, this is another very strong component of our Human Touch Sana massage chair review. We were impressed by the number of options available here, which include nine very good pre-programmed massage routines. These are:
Most of these are self-explanatory, but there are a couple of notable things to draw your attention to here.
Naturally, most people will gravitate to the Full Body massage as their go-to choice, but it is nice that you can specify upper or lower body if you want to focus on a particular problem area.
While it's true that many other chairs on the market offer a much more detailed breakdown of body zones, incorporating those into pre-programmed options, the Sana offers both spot and partial massage functionality—so you can get the same effect using a slightly different implementation, and that's fine.
The Stretch routine is the real headline here because it's the first of the therapeutic features the HT Sana brings to the table.
Body stretching utilizes airbags to hold your body in position as the chair reclines, which closely replicates a standard chiropractic adjustment. Human Touch doesn't have the best body stretch in the business, but it's quite good, and you won't be disappointed.
In fact, if you're looking for a chair to take the place of chiropractic visits, this may wind up being one of your favorite features.
In terms of massage techniques, we find: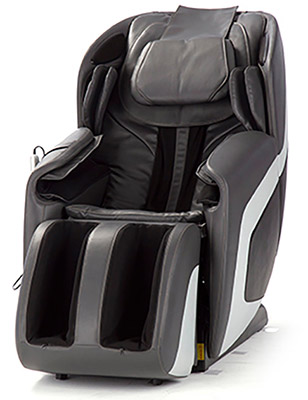 This is about what we'd expect to find on entry-level chairs, but here's the thing: although the Sana is an entry-level chair (and one of the least expensive that Human Touch offers), it's at the very top end of entry-level. As such, we were hoping to see a little more here. Perhaps one additional advanced technique?
That's not to say that these are bad options, but they are a little underwhelming in our view.
One cool thing, though, is the audio sync technique, which ties in with your smartphone and the built-in Bluetooth speakers. Whatever music you listen to will influence how the rollers massage your back.
It's interesting and definitely fun to experiment with, but how well you wind up liking this "technique" will depend on what kind of music you listen to and what impact that has on the roller action.
Note that while users can choose from 6 different speed settings, there are no intensity settings on offer here, so we'd recommend trying this chair in-store before you buy in order to make sure that the default massage intensity works for you.
Zero-G Seating Included!
Only about one massage chair in 3 on the market today offers Zero-G seating, and this is one of those models.
That's fantastic because Zero-G is another therapeutic option you're sure to love. In addition to feeling great (and genuinely giving you a sense of weightlessness), Zero-G seating increases the massage intensity slightly and helps to improve your blood flow and circulation. So if you've recently had surgery of any kind, it will facilitate faster healing, which is amazing.
The only drawback here is that there's only a single Zero-G seating position on offer. We would love to have seen two, or even three, but the fact that the feature is present at all has to be counted as a win.
Air Massage Included
Most of Human Touch's massage chairs offer an airbag-based massage, and this one is no exception.
The company's "Cloud Touch" technology delivers a superb air massage that really does leave you feeling as though you're floating on and being embraced by clouds, especially if you set the chair into its Zero-G seating position.
Best of all, while there are no roller intensity settings included, you will find five different airbag intensity settings, which allow you to customize your air massage experience.
Lumbar Heat
Heat is one of the most sought-after and appreciated therapeutic features out there, which is why we're surprised that only a minority of massage chairs on the market today offer it.
Thankfully, the Sana is one of those models.
Although the manual says that the chair has lumbar heat, they're actually selling themselves a bit short here.
With two heating elements, the offered heat actually extends well into the mid-back, which is superb.
Yes, given the price of the chair, it's true that we wished the heat was even more extensive, but we'll certainly take it! Massage feels great, but massage combined with heat feels absolutely amazing, and this is one of our favorite aspects of the chair's design.
An Excellent Calf and Foot Massage
While the rollers that follow the massage track can't be adjusted for intensity, the rollers in the leg massage ports can.
The calf massage here is rendered via a combination of airbags and calf rollers, which you almost never see in massage chairs. And the foot massage is rendered via rollers, which is the standard feature implementation.
This combination, along with the rare calf rollers, makes the calf and foot massage excellent. The only thing that keeps it from being the capstone feature of the design is the fact that the footwells aren't heated.
If they were, this would be hands down the best feature on the chair and one of the best calf and foot massages on the market.
Even without the heat, though, it's superb. And you're sure to love it, especially if you have a job that sees you on your feet for several hours each day.
Extras and Finishing Touches
This is something Human Touch excels at, so we were not surprised in the least to find some impressive extras and design flourishes on offer here. These include:
All that and a five-year warranty too (which is one of the industry's best) make this a compelling design indeed.
Pros & Cons of Human Touch Sana Massage Chair
As you can see, this chair has a lot going for it. We like it, but we don't love it because, as good as it is, it's got some shortcomings that hold it back from true greatness.
For instance, we understand that the company charges a premium for its legendary post-sales support and excellent product quality, but in order to make this one of Human Touch's best designs, we need to see:
Even without those features, of course, this is a rock-solid design. The above is just our vision of how to take it from "very good" to "must-have."
Human Touch Sana Massage Chair Review Conclusion
The HT Sana is a very good massage chair by any definition. It's got a generous number of finishing touches and design flourishes and offers a solid basic massage experience, along with a trio of high-value therapeutic options (body stretching, Zero-G seating, and heat).
Even better, it's offered by one of the finest companies in the business, with one of the longest warranties you'll find anywhere.
Combine that with the fact that the company has a reputation for excellent post-sales service, and it's hard to say no to the Sana. Our only real issue is its price. It is relatively more expensive than comparable chairs, but we feel the extra money spent is worth it, and we recommend the Sana.
Other Options To Consider
If money is tight and you just can't afford the Sana, here are a couple of other options to consider:
Kahuna LM6800 Massage Chair
Recommended For: Hobbyist/casual users, chronic pain sufferers, and taller users, almost anybody, will love this chair!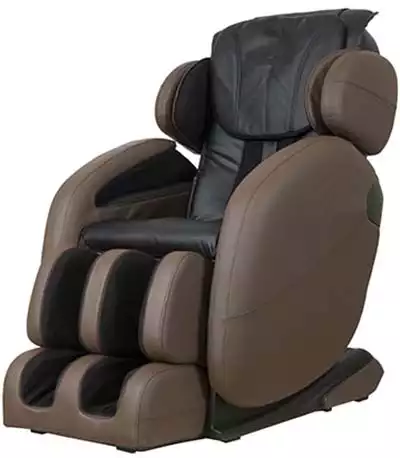 This chair has an even better body stretch than the chair we just reviewed (best in the industry, in fact) and is the best overall value on the massage chair market today. If you can't afford a Human Touch machine, this is an excellent option to consider.
Although you probably haven't heard of Forever Rest, this is a serious piece of engineering with a surprisingly robust feature set. Sure, you'll lose out on the overall quality and the incomparable customer support, but if you can live without those things, this one will probably leave you impressed.
---
References & Resources: