In a Nutshell:
A surprisingly good chair, the Inner Balance Wellness Jin is offered by a company that may surprise you. It's built more for those with therapeutic needs, rather than hobbyist users.
* Brand Reliability is a measure of the strength and longevity of the brand, which by extension, is a measure of the level of support you can expect.
Do you suffer from chronic pain? Have you recently had surgery of one type or another, and are you looking for a way to speed your recovery?
If you answered yes to either of those questions, then you're going to like what you read in this, our Jin massage chair review.
The Jin is an interesting chair as much for what it can do as who it is offered by. You may not have heard of the Inner Balance brand that the chair is sold under, but you may be more familiar with the parent company's luxury brand, Synca.
Even if you're not familiar with that brand, if you're a home fitness enthusiast, then you're probably familiar with the parent company of both of these, Johnson Health Tech, a well-known and globally respected manufacturer of quality exercise equipment.
That's interesting because although the company doesn't have a deep background in designing and building massage chairs, they know a lot about the sore muscles that arise from performing vigorous exercises, and a bit part of what makes their massage chairs special arises from that.
These chairs are a breath of fresh air in the industry, and their "take" on what constitutes a good quality massage chair is an interesting one.
To make a long story short, there's a lot to like here, and in the sections that follow, we'll tell you everything that the Jin 2.0 deluxe massage chair gets right, and we won't pull any punches when it comes to defining the model's shortcomings. That way, you'll have all the information you need, right at your fingertips, to decide if this is the chair you've been searching for.
If your interest is piqued, read on, and let's have a closer look.
Inner Balance Wellness Jin Massage Chair Overview
Aesthetics are a matter of tastes and personal preference, so you may disagree with this first bit.
In our view, though, the Jin black contemporary synthetic leather SL track deluxe zero gravity massage chair (also offered in Espresso) really isn't a great-looking piece of furniture.
It would be an overstatement to call it ugly, but it's certainly not difficult to find a better-looking chair on the market today. Clearly, the design team behind the chair put much more emphasis on function than they did on the form.
That's not the end of the world, but if you're looking for something that will make a stylish addition to your living room, this model probably isn't it, and first impressions do matter.
We should also point out that the Jin is a sizeable piece of furniture, measuring 54.75" L x 32" w x 49" H and weighing in at a hefty 212 pounds. Although it's certainly not the biggest nor heaviest chair on the market, if you live in a smaller home or apartment, it may be somewhat difficult to find a permanent home for it.
On the other hand, this model is a "wall hugger," which means that you'll only need about 2" of clearance between the seatback and whatever wall you place the Jin near, which definitely helps.
The final thing to note here is that the manufacturer lists 300 pounds as the chair's maximum supported weight, but the user manual indicates that it can support up to 297 pounds.
While there's no formal standard around maximum supported weight, most of the chairs on the market support around 300 pounds (with some obviously supporting a great deal more than that).
In our view, 297 is close enough to 300 that we feel comfortable saying the Jin is about average in terms of supported weight, but it is a point to keep in the back of your mind because if you happen to weigh more than that, then this model will be a nonstarter for you.
One final point to mention before we leave this section is that based on the chair's dimensions and supported weight, Inner Balance recommends this model for users ranging in height from 5' to 6'5" tall.
It Sports an SL-Track Design Paired With Quad Rollers
In terms of the basic tech that renders the massage, the Inner Balance Jin 2.0 utilizes the current industry standard, pairing quad rollers with a relatively long (43") massage track that starts at where your neck and shoulders hit the back of the chair and run under the seat. So, it's capable of giving your glutes and the back of your thighs a world-class massage that does an admirable job of mimicking the feel of human hands.
It's not hard to find a model with a longer massage track, so the Jin is slightly above the middle of the pack in this regard, which goes a long way toward explaining the maximum user height that the company recommends.
Body Scanning Tech & Manual Adjustments Via The Remote
This will be a short but rather important component of our Jin massage chair review. Some companies that don't have a long history in the massage chair market don't get the body scanning routine quite right, and the rollers wind up not being aligned with your body's pressure points, which reduces the overall quality of the massage.
Here, the experience of Inner Balance's parent company serves them well. As respected makers of exercise equipment, Johnson knows a lot about the body's pressure points and where people are likely to hurt. They put that expertise to good use when making this chair, and you'll find that the body scanning tech gets it right about 98% of the time.
Even better, there's a built-in backup because if the rollers aren't hitting exactly where you want or need them to, there are controls on the remote that enable you to fine-tune their positioning, which virtually guarantees an excellent massage. Kudos to Inner Balance and Johnson for that!
Basic Massage Options On Offer
While Inner Balance does a surprisingly good job where the body scanning tech is concerned, we found the actual massage options on offer to be a little underwhelming. On the plus side, it has the basics well covered, offering the following techniques:
There's nothing wrong with this selection, but these are the massage techniques you find on just about every chair on the market today. You can get this array on a chair that costs about one-third as much as this one, so honestly, we were expecting a little more here.
On the other hand, the Inner Balance Jin 2.0 massage chair makes pretty good use of the techniques on offer and gives you a number of ways to customize your massage experience.
For example, you can adjust the roller intensity via the remote, choosing from five different speed levels, and on top of that, you can select specific body regions to focus on, choosing from:
In addition to that, there are six auto-programs on offer. These are:
The default duration for all of these is 20 minutes, but the Jin comes with a massage timer, allowing you to decrease the duration to a minimum of five minutes or increase it to a maximum of thirty. Despite not having a ton of options on offer, this is a very good feature addition that definitely enhances the value of the chair.
The chair also features a spot massage function which allows you to stop the rollers on a given point on your body, allowing you to pay as much attention as you like to the areas that need the most attention.
Finally, we mentioned body stretching in the pre-programmed massage descriptions, so we need to say a bit more about that. This is huge and a very powerful therapeutic feature that simulates a chiropractic adjustment. While the Jin's body stretch isn't best in class, it's not bad, and we were thrilled to see it included here. As you'll see, this is but one of the chair's therapeutic features.
Zero-G Seating
This will be another relatively short section, but the feature implementation is quite good here, making this another important component of our Jin massage chair review.
Zero-G seating was originally inspired by NASA, and it really does leave you with a feeling of weightlessness. It's also a powerful therapeutic feature in its own right that helps to improve blood flow, is demonstrated to help those who have recently had surgery recover more quickly, and even improves the overall quality of the massage you get from this chair.
It accomplishes this last bit by taking advantage of the fact that when you're in one of the three offered Zero-G seating positions, your body weight is pressing you more firmly into the seat, which means that the massage rollers can render a deeper massage.
That's awesome, and the fact that there are three different seating options present here is also outstanding.
Only about half of the chairs on the market today offer Zero-G seating, and about half of those only make a single position available. We love the fact that you get three different options here!
A Decent Air Massage Too
The Jin 2.0 massage chair features a total of 42 airbags, which is average to slightly above average for a chair in its price range.
These can be adjusted for intensity via the remote through three different levels, and as with the rollers, you can activate specific body regions if you don't want a full airbag-based body massage.
The airbag body zones you can choose from are arm, calf, foot, hip & thigh, seat, upper arm, and shoulder.
We like the fine-grained body region control, but overall, this is an average feature implementation.
There's nothing wrong with the Jin's airbag massage, but there's also nothing exceptional about it. It's good; it just falls short of being great.
Multi-Region Heat
So far, we've talked about two powerful therapeutic features that this model brings to the table (body stretching and Zero-G seating). Heat is the third, and honestly, the heat function here is amazing.
A fair percentage of chairs on the market today offer lumbar heat, but that's where most chairs stop.
A few offer lumbar heat paired with heated footwells, which is amazing. The Jin offers both of those, and then, it goes a little further, also offering heat in the arm ports.
The massage you can get from this chair is fantastic, but massage plus heat is absolutely glorious, and the fact that this chair offers heat in three different regions is mind-blowing. It is hands down our favorite aspect of the design.
Our one quibble is that there's no way to adjust the temperature of the offered heat, but to be fair, that capability is only found on a handful of models on the market today, so the fact that temperature control isn't present here isn't something we can really hold against Inner Balance.
Long story short: The heat this chair has on offer is amazing. We love it, and we think you will too.
An Outstanding Calf & Foot Massage
If you spend several hours of each day on your feet, this might wind up being your favorite aspect of the design. The Jin utilizes a combination of airbags and foot rollers to render the calf and foot massage, with both the rollers and the airbags being adjustable via the remote through three levels of intensity.
The massage itself is good, but what takes it to the next level is the heat in the leg ports. There's something just this side of magical about coming home after a long day's work and getting treated to a heated calf and foot massage. An absolutely superb feature implementation!
Extras and Finishing Touches
There's really only one extra to talk about here. The Jin has Bluetooth speakers, so you can connect your phone to the speakers and listen to your favorite music, or podcasts, or whatever while enjoying a massage.
Although the feature itself is fine, we'd have liked it even better if the company had left the speakers off and maybe used the money saved to incorporate temperature-controlled heat or another advanced massage technique. It's easy enough to grab some headphones or earbuds and work around the absence of the speakers, but that's just our opinion.
Variants of Jin 2.0 Massage Chair
Pros & Cons of Inner Balance Jin 2.0
We came pretty close to falling in love with this chair, though we readily admit that this is much more a design for people who suffer from chronic pain and are looking for a therapeutic device. That's not to say that hobbyists can't enjoy it – naturally, they can, but when you look at the relative lack of extras and the trio of powerful therapeutic features, it seems clear who this model was made for.
We don't really have much that's negative to say about the design, and the things we've mentioned to this point are relatively minor. Sure, we'd love to see at least one more advanced massage technique, and it would be nice if the chair had temperature control for the heat. We'd also like it if the design was a little more interesting, but again, those are nits, not outright complaints.
On the plus side, the headline here are the three therapeutic features: A trio of Zero-G seating options, a good body stretch routine, and multi-region heat that makes the calf and foot massage out of this world.
Inner Balance Wellness Jin Conclusion
This chair offers decent value for the money if you're a hobbyist user and exceptional value for the money if you have therapeutic needs.
For hobbyists, we can only give it a provisional recommendation, but if you're looking for a surprisingly modestly priced chair that's brimming with therapeutic value, we highly recommend this one. You won't be disappointed.
Other Options To Consider
If the Jin just isn't a good fit for you, whatever the reason, here are some other options to consider: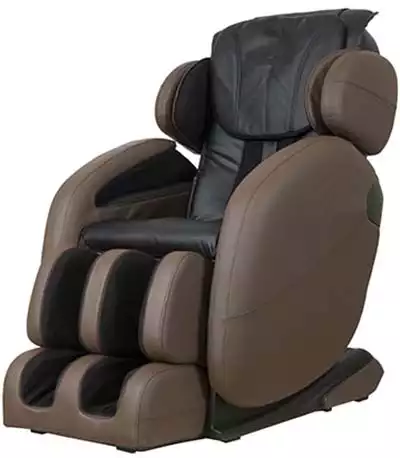 Hands down the best value in the massage chair world today, you can frequently find this model on sale.
While it offers fewer therapeutic features than the Jin, it has a slightly better body stretch and more refinements and finishing touches that make it a good choice whether you're a hobbyist user or someone with a specific therapeutic need.
This model is more than twice the price of the chair we just reviewed but should be considered the gold standard of therapeutic massage chairs. If you suffer from chronic pain and you don't think the Jin has enough to offer, save up until you can spring for an i7. A supremely capable therapeutic chair that you're sure to love.
---
References & Resources